With its range of skin and hair care products, Imroz promises to deliver the goodness of hemp seed oil to those on a budget.
Ananta Hemp Works is an industry leader when it comes to hemp based nutrition and wellness products. Their catalogue includes beauty and wellness products, nutritional products and even a pet care line!
Each product combines ancient Ayurvedic herbs with modern techniques to make each ounce beneficial and effective.
The founders', Mr. Abhinav Bhaskar and Mr. Vikrambir Singh, decade long experience of working within the healthcare industry supplements each product with a rich knowledge of the human body and what it requires.
When they discovered the wonder herb hemp and its many benefits, they were inspired to create a line of products containing it to address various modern day health and beauty concerns using this age old herb.
The word 'Ananta' means endless or limitless in Sanskrit and no other word could so aptly describe Ananta Hemp Works' relentless pursuit of high quality products infused with the many benefits of hemp. Their newest endeavour, Imroz, is no different.
Imroz – An Affordable Hemp Infused Brand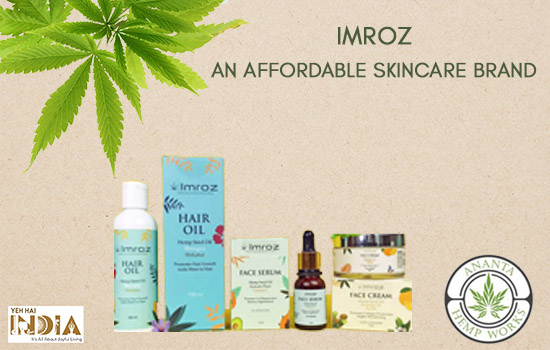 Imroz is Ananta Hemp Works' body and skin care line that is, as always, infused with the magical herb 'hemp'.
The word Imroz means 'today' and it is a line of products that was created to deal with the modern day skin care problems borne out of pollution and other concerns.
Imroz's products are created to heal modern ailments with traditional methods straight out of ayurveda and supplemented with hemp.
Imroz's slogan states that it is effective, natural and most importantly, and what sets it apart from the other Ananta Hemp Works products, affordable. Imroz's mission statement is providing the best products at cheaper rates without compromising on quality.
Imroz is an incredibly affordable line of skin care and beauty products curated in order to allow the benefits of hemp to reach the maximum amount of people.
The products are luxurious and rich with the benefits of hemp and the other natural ingredients used by Ananta Hemp Works but still pocket friendly and is therefore the best hemp infused beauty brand. Through Imroz people of different backgrounds can now access the benefits of Hemp.
Recommended Story – Hemp In Skincare: What Makes Hemp A Promising Ingredient?
Product Line
Their products are effective, affordable and most importantly natural and cruelty free. They are manufactured in a GMP certified facility and all proven to be extremely beneficial to skin, health or hair.
A few of their products infused with hemp seed oil are listed below:
1. Face Wash with Hemp Seed Oil & Papaya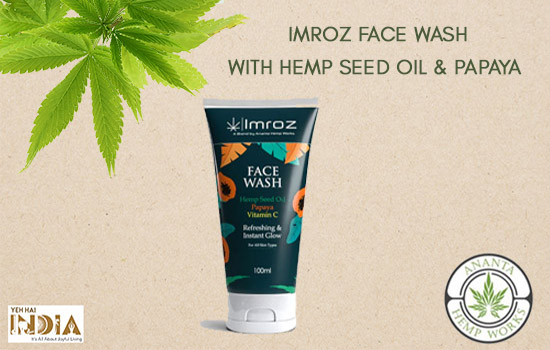 The Imroz face wash is packed with hemp seed oil and papaya in order to give your face a luminescent and poreless look.
It is a gentle cleanser that deep cleanses the skin and leaves it looking fresh. It's great for blemish prone skin and with regular use healps clear up your skin.
2. Vitamin C Face Serum with Hemp Seed Oil & Kakadu Plum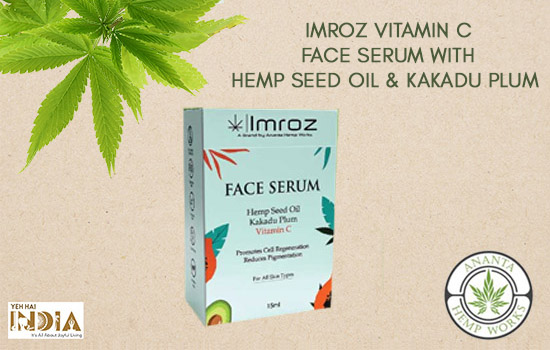 This Face Serum is packed with regenerating ingredients that will keep your skin young looking and baby soft. It is rich in vitamin C and E and adds to your natural glow and reduces skin pigmentation.
Just a few drops of this serum helps keep it moisturized and blurs fine lines.
3. Bhringraj Hair Oil with Hemp Seed Oil & Shikakai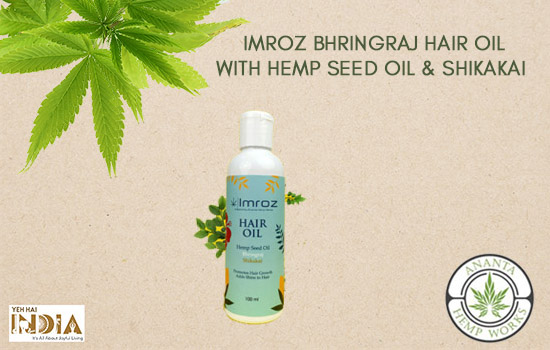 This hair oil works to increase the blood flow to the scalp and helps fight hair loss from the very first use. It is the perfect solution for soft, shiny and healthy hair.
It also helps the scalp fight infections and soothes any inflammations. Hemp seed oil works to detoxify the scalp and infuse a healthy shine to dull and damaged hair.
4. Face Cream With Hemp Seed Oil & Rosehip Oil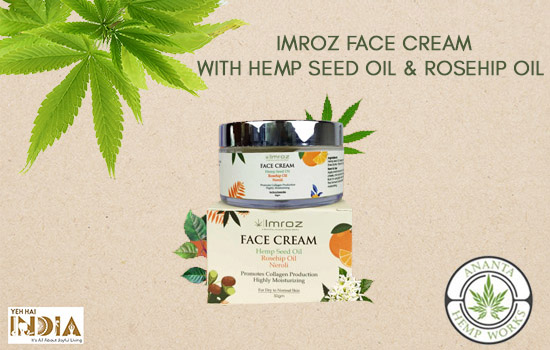 This face cream has been designed for busy modern day lifestyle and can be applied during the day or night. It absorbs quickly but is highly moisturizing and instantly improves your skin texture.
It promotes collagen production and slows down aging to give you skin that's replenished from within. It is suitable for all skin types.
5. Sunscreen SPF 30+ with Hemp Seed Oil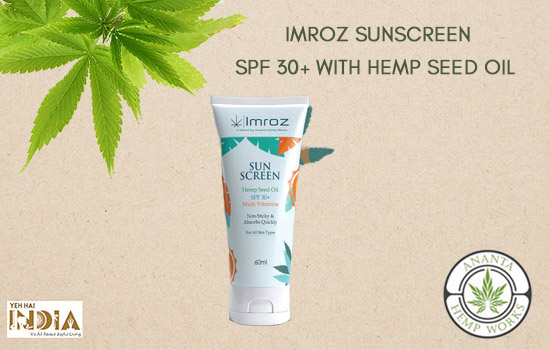 The sunscreen has an SPF of 30+ and is one of the few sunscreens that come with the power of hemp seed oil. It is a gentle formula that protects the skin from the sun's harsh UV rays.
It also heals any existing skin damage and lightens the skin. It is meant for every day use and helps retain moisture and elasticity on regular use.
Why hemp seed oil?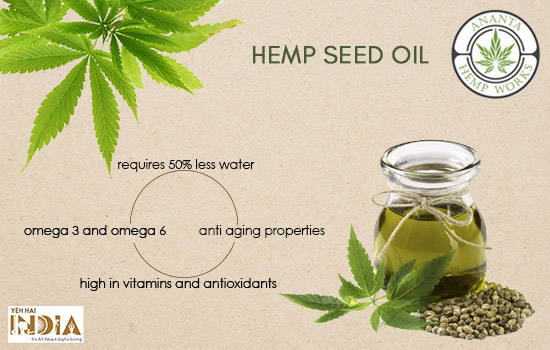 One reason for choosing Hemp seed oil in IMROZ skin care range is its rich anti-inflammatory qualities that help support dermal functions and makes skin healthy and supple.
Hemp seed oil is also high in vitamins and antioxidants. It also contains the primary omega 3 and omega 6 polyunsaturated fatty acids, and specifically linolenic acid Therefore, it acts as a potent moisturizer. It moderates oily skin and has natural anti aging properties..
Hemp also requires 50% less water and land for commercial production as compared to other such herbs. The usage of hemp as the main ingredient by Ananta Hemp Works is a sign of their dedication, not only towards health and beauty and wellness but also to the planet
Recommended Story – Ananta Hemp Works: An Ayurvedic Health & Beauty Brand
Active Ingredients: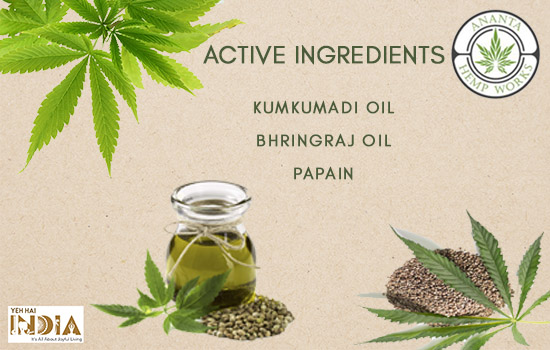 Each product is made with natural ingredients and is cruelty free. Some of the key ingredients and the exact benefits they provide are discussed below.
Kumkumadi oil, an ayurvedic oil and also a miracle skin ingredient evens out the skin tone, enhances natural glow, fights acne, heals damaged or inflamed skin and more.
Bhringraj oil,on the other hand, has every conceivable nutrient within it from Iron, magnesium, Vitamin D and E, calcium. It is majorly used in IMROZ hair care products and helps with hair loss, hair growth, greying and more.
Papain, an enzyme found in papaya fruit is a significant help when it comes to healing the skin. It fights acne and blemishes and reduces the flakiness of skin and pigmentation. It is also known to be a great skin exfoliator that removes the dead tissues in a gentle manner.
Kakadu plum is rich with carotenoids, folic acid and Vitamin C and E. It is a powerful anti aging ingredient that is used in skin care. It also helps reduce puffiness and dark circles and retains the skin's natural moisture without making it oily.
Why should you choose Imroz?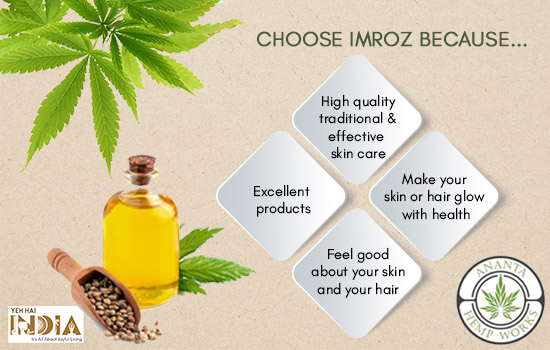 Imroz's aim is to make high quality, traditional and effective skin care available and affordable to everyone. They believe that what is nourished flourishes and have created products that effectively pamper your skin.
Every single product in their catalogue is well curated in order to best serve your needs.
Every ingredient in every product is included after meticulous research to ensure that it will serve you in multiple ways and make your skin or hair glow with health.
Imroz aims to make you feel good about your skin and your hair, to restore or add to their shine and health and to refresh you and its products reflect this idea.
With this stellar new line up, Ananta Hemp Works has proved that it is only growing better day by day.
This is only the beginning of Imroz and we eagerly wait to see the excellent products that are going to come out next.
One thing is for sure, the products will be natural, high quality and beneficial for skin and health and of course, come with the power of hemp seed oil as their star ingredient.
If you're looking for an inexpensive skin and hair care range infused with hemp, IMROZ is a brand you can trust as a solution to your skin and hair problems.
Also Read – Product Review: Ananta Hemp Works' Hemp, Tea Tree & Neem Face Wash