Hemp seed oil, also known as hemp oil, is a nutrient-rich oil extracted from the hemp plant's seeds. Hemp oil is a promising natural remedy with potential health benefits that are worth exploring further. Unlike cannabidiol (CBD) oil, hemp seed oil contains little to no tetrahydrocannabinol (THC). Thus it offers health benefits without the psychoactive effects of CBD.
Recently, it has gained popularity for its potential health benefits. It is also a main ingredient in many popular skincare products, supplements, and food products.
Hemp Seed Oil Benefits
Hemp seed oil is rich in omega-3 and omega-6 fatty acids, which play a crucial role in brain function, cell growth, and inflammation regulation. Chronic inflammation is a major contributor to many chronic diseases, including arthritis, diabetes, and heart disease. It contains compounds (like gamma-linolenic acid) that can reduce inflammation. It makes this oil a natural anti-inflammatory, and effective against skin conditions such as atopic dermatitis, psoriasis, acne, etc.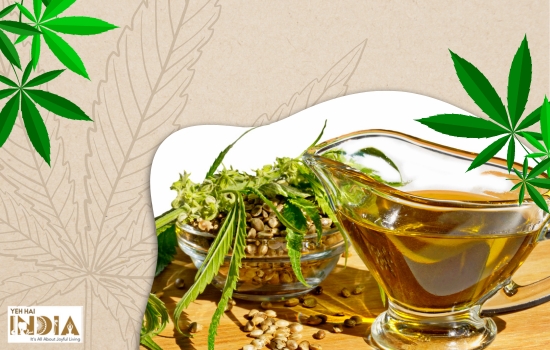 Hemp seed oil also lowers blood pressure, reduces total cholesterol, and reduces your overall risk of stroke and heart disease. Another benefit is its potential to improve general skin health. The high levels of fatty acids in this oil can help nourish and moisturise the skin, making it a popular ingredient in skincare products.
Best Hemp Seed Oil Brands in India
Are you someone who values natural wellness products? If so, it should interest you to know that hemp-based brands are on the rise in the market.
Hemp, a versatile and sustainable crop, is becoming a popular choice for those who seek natural alternatives for their wellness needs. Hemp seed oil, in particular, is rich in essential fatty acids and other nutrients. It provides numerous benefits for your overall health and well-being.
Recommended Article: Hemp: Nature's Best Kept Anti-ageing Secret
Whether you're looking to support healthy skin, reduce inflammation, or simply incorporate more natural ingredients into your daily diet, there's a hemp seed oil on this list that will meet your needs. So why not give it a try and experience the natural benefits of this wonder oil for yourself?
To make your search for high-quality hemp seed oils easier, we have curated the top 5 hemp oil brands in India.
1. BOHECO Himalayan Hemp Seed Oil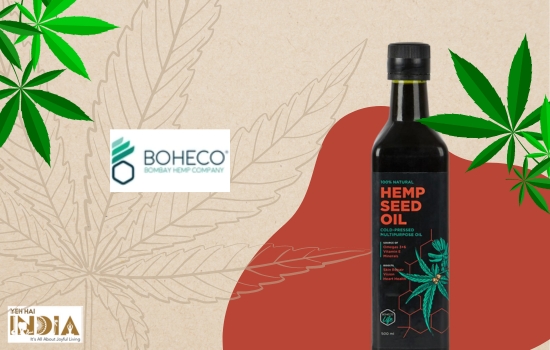 Bombay Hemp Company, or BOHECO, is a name that resonates with sustainability and innovation in the Indian hemp industry. It is at the forefront of transforming the ancient marvel plant, Cannabis, from the Himalayan region into a sustainable powerhouse.
BOHECO offers an incredible range of nutrition and health products, as well as an impressive selection of hemp-based textiles and fabrics from their hemp lab. But that's not all, they also conduct research, manufacture, process, trade, wholesale, and innovate to promote the use of industrial hemp.
One of BOHECO's flagship products is their Himalayan Hemp Nutrition & Wellness Range. It is made from power-packed hemp seeds sourced from Uttarakhand state in the Himalayan region. Try their cold-pressed raw hemp seed oil in your salads and other favourite recipes to enjoy its goodness.
Why did we choose this product?
BOHECO's hemp seed oil is sourced directly from the slopes of the Himalayas to your tables. This hemp oil is raw, unrefined, and cold-pressed, without the addition of any enhancers.
How to use this product?
It brings all the wholesome nutrition of hemp seeds for you to enjoy and benefit from. This oil is not for cooking or frying. You need to consume it raw. Drizzle it over a salad, your kachumber, toast, or rice to infuse a slightly nutty flavour into your meal.
You can also apply it to your skin or hair as a part of your daily routine. It prevents breakouts and heals inflammatory skin conditions like acne and dermatitis. It also nourishes and hydrates your hair, leaving it lustrous and shiny.
Price: Rs 529 (100ml)
Recommended Article: Product Review: Imroz' Bhringraj Hair Oil with Hemp Seed Oil And Shikakai
2. India Hemp and Co.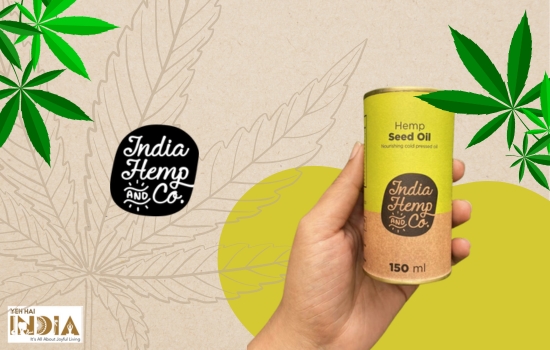 India Hemp and Co. is a bold start-up that is breaking stereotypes and creating magic in an entirely new industry. Shalini and Jayanti, the founders, have driven the company to achieve significant milestones. Their growth has been impressive, and they also offer a new line of 100% natural and plant-based hemp treats for pets in India, a first of its kind.
What sets India Hemp and Co. apart is its commitment to creating value for a more sustainable future. They are one with the UN's Sustainable Development Goals and seek to provide solutions desirable for their customers and the environment.
Why did we choose this product?
This cold-pressed hemp seed oil has a delicious nutty flavour and is perfect for marinades, dipping sauces, and salad dressings. Plus, it is very similar to olive oil in consistency but has 40% less saturated fat and no trans fats, making it an excellent choice for health-conscious consumers.
Not only is India Hemp and Co. Hemp Seed Oil a delicious and healthy addition to your meals, but it also boasts a wide range of health benefits, including hormonal balance, making it a great choice for women who are looking to regulate their menstrual cycles or reduce symptoms of PMS.
How to use this product?
As this is a multipurpose oil, it is safe to ingest and also great for topical application on your skin and hair to moisturise and improve overall health. India Hemp and Co. also offers a heap of nutritious and delicious recipes using this oil.
Price: Rs 580 (150ml)
3. Ananta Hemp Works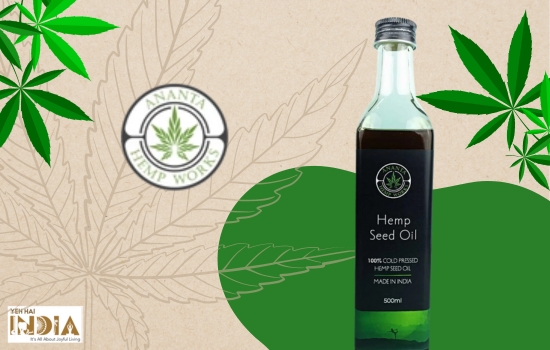 Looking for a holistic and conscious approach to wellness and nutrition? Look no further than Ananta Hemp Works, the hemp-based startup that is revolutionising the industry with its commitment to sustainability and Ayurvedic ingredients. With its structured approach and capable leadership, Ananta Hemp Works strives to become the industry leader in providing various hemp-infused products to its customers.
Ananta Hemp Works products are specifically for those willing to live a sustainable and conscious lifestyle. From oils and oral consumption powders and tablets to a range of products for pain relief, sleep inducement, stress relief, skin protection, and cramp relief, there is something for everyone.
Ananta Hemp Works offers a range of hemp nutrition products, including hemp hearts and seeds, hemp seed powder, and hemp seed cold-pressed oils.
Why did we choose this product?
You can consume this cold-pressed hemp seed oil or apply it topically. What's more, Ananta Hemp Works is one of the rare breeds of brands with full transparency regarding their certifications. They have approvals and certifications from ISO, FSSAI, AYUSH, KOSHER, WHO-GMP, and HACCP. It is always essential to know and understand the product we use to make the most of it. And also, Ananta sells hemp oil in bottles that are safely sealed in attractive packaging. You can buy their products from Amazon or directly from their website.
How to use this product?
For cooking, keep in mind that the oil is not meant to be used for frying. Simply drizzle a small amount over your meals before serving. This will add a nutty flavour and provide essential fatty acids such as omega-3 and omega-6, which are important for maintaining good gut and heart health.
For external use, apply Ananta hemp seed oil directly to your skin and hair. Then, massage a small amount of the oil onto your skin to help renew and hydrate it.
Price: Rs 439 (100ml)
4. Satliva Hemp with Moringa Face & Body Oil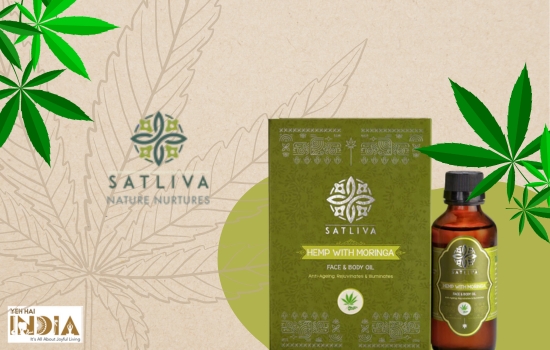 Satliva is not just a brand; it is a passion-driven venture of Namrata Hemp Company (NHCO) with a mission to create a sustainable and organic ecosystem. The founders, Harshaavardhan Redi Sirupa and Namrata Reddy Sirupa, after extensive research and exploration, established NHCO with a vision to create an organic, natural, non-polluting, and safe hemp ecosystem.
Satliva is a unique range of luxury wellness products that offer the natural preventive and curative benefits of industrial hemp seed oil. So, the brand sources the industrial hemp seed oil used in Satliva products from government-approved vendors in the Himalayan states of Himachal Pradesh, Uttarakhand, and Madhya Pradesh. There, the hemp grows in natural surroundings, nurtured by the purity of spring water and the rich soil of the mountains.
Why did we choose this product?
Satliva products are 100% natural and pure, with no added chemicals or preservatives. Importantly, they manufacture products only on order. And the hemp seed oil is extracted, activated with sound frequencies, and then mixed with other oils and butter following Satliva's closely guarded unique methodology.
Unlike most cosmetic creams that use chemicals and other allopathic drugs to suppress skin afflictions, Satliva products push out toxins, bacteria, excess sebum, etc. caused by pollution and dust, and initially, an "outbreak" of acne or rash may occur, which is natural for cleansing and healing. After cleansing the skin cells, Satliva products provide the necessary nutrients for the skin to moisturise, nourish, rejuvenate, and heal.
How to use this product?
Both the hemp oils offered by Satliva (Hemp with Moringa and Hemp with Jojoba Body Oil) are for topical application purposes only. They are formulated with the skin in mind. And, some of the other essential oils added are not recommended for ingestion. You can use Satliva's oil for at least 21 days continuously. Regular use can discernably improve skin afflictions and realise the benefits and qualities of Satliva's natural products.
Price: Rs 1299 (100ml)
5. India Hemp Organics Hemp Seed Oil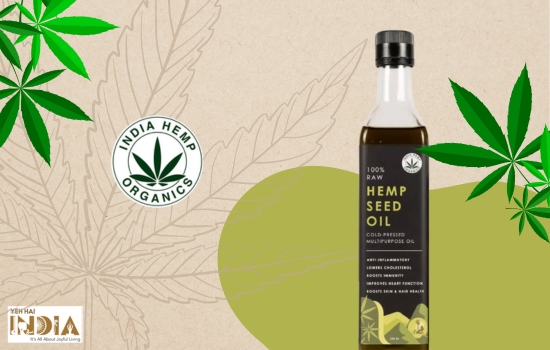 India Hemp Organics is a holistic wellness company that aims to spread awareness about the healing powers of hemp. The company aims to revolutionise the hemp industry while staying true to its roots. India Hemp Organics uses only natural ingredients and promotes natural wellness solutions. Their mission is to provide individuals with the safest, most effective natural solution for better health. By offering a wide range of medical cannabis products, the company hopes to help individuals achieve a transformative level of well-being.
Why did we choose this product?
The company's hemp is locally grown by farmers along the Himalayan slopes in India, in a natural and pristine environment free from harsh chemicals, artificial compounds, or pesticides. They are 100% vegan, sustainably sourced, and manufactured in a GMP-certified facility. They do not add any chemical preservatives and are certified as non-GMO.
How to use this product?
It is best to take 2-3 tablespoons of the hemp seed oil raw or drizzle it over your food for a nutty-earthy flavour and added nutritional value. You can splash a few drops into your salads, sabzis, hummus and dips, or any other food you're enjoying at the moment. It is important to note that hemp seed oil should not be used for frying.
The recommended dosage is 20–25 ml per day, or as directed by a physician. Store hemp seed oil in a cool, dry place away from sunlight and refrigerate after opening to preserve its quality.
When applied topically, hemp seed oil can be used as a nourishing hair and scalp treatment by massaging it onto the hair and leaving it on overnight. It can also be used as a moisturiser and as a body massage oil.
Price: Rs 849 (250ml)
Go on and try these amazing hemp seed oils, and let us know in the comments if you found this article helpful.
Also, Read: Hemp In Haircare: Secret To Strong, Lustrous And Voluminous Hair
Frequently Asked Questions:
1. What is hemp seed oil?
Hemp seed oil is a natural oil extracted from the seeds of the Cannabis sativa plant. It is rich in essential fatty acids, vitamins, and minerals, making it a popular ingredient in skincare and haircare products.
2. What are the benefits of hemp seed oil?
Hemp seed oil is rich in essential fatty acids and nutrients, with numerous health benefits. It can help reduce inflammation, improve heart health, and boost the immune system. Also, hemp seed oil is beneficial for skin and hair health, as it can moisturise the skin, promote healthy hair growth, and improve scalp health. In addition, its high antioxidant content helps protect the body against oxidative stress and cell damage and improves skin elasticity.
3. How can hemp seed oil be used on the skin?
Hemp seed oil is beneficial to the skin in a variety of ways, as it is deeply moisturising and can help to soothe and protect the skin. Apply the oil topically as a moisturiser, serum, cream, or lotion. It is also beneficial for those with acne-prone skin, as it can help to regulate sebum production and reduce inflammation.
4. Is hemp seed oil the same as CBD oil?
No, hemp seed oil and CBD oil are not the same. Hemp seed oil is derived from the seeds of the hemp plant, while CBD oil is extracted from the flowers, leaves, and stalks of the plant. Hemp seed oil does not contain significant amounts of THC, while CBD oil is rich in THC and other psychoactive compounds.
5. Is hemp seed oil safe to use?
Yes, hemp seed oil is generally safe to use and is well tolerated by most people. However, it is always best to patch-test the oil before using it on a larger area of the skin or scalp. Additionally, those with allergies to hemp or marijuana should avoid using this oil.