Skin pigmentation is one of the most common concerns among women in India. Especially after the mid-twenties, this skin issue gets prominent for various reasons.
Irrespective of the skin type, pigmentation can happen depending on your skincare routine, lifestyle and health concerns.
Exposure to UV rays, acne scars, rosacea, tanning, uneven skin flaking and peeling can all lead to skin pigmentation in the long run.
But using the best serum for pigmentation can negate the effects of harmful external radicals. In the long run, it will prevent pigmentations and also fade away old spots.
How to Choose a Pigmentation Serum?
Thankfully, skin pigmentation is a reversible problem, provided you use quality skincare products. A quality pigmentation serum suitable for your skin type and enriched with high-quality ingredients is the key to even-toned skin. Using such a serum daily will eventually fade away the marks. But do you choose the product?
Here we have a few pointers to help you choose the right skin care product and best face serum for pigmentation:
Check the ingredients of the product thoroughly. Look for chemical-free and natural products as they are generally suitable for all skin types and do not cause side effects.
Choose a product according to your skin type. If your skin is excessively dry, look for a pigmentation serum with a thicker consistency.
Look for niacinamide in the ingredient list as it hydrates the skin as well as fades away scars in the long run.
Vitamin C is another important ingredient that works wonders against pigmentation. It is rich in antioxidants which brighten the skin, prevent damage from external radicals and over time, fades away the pigmentation.
5 Best Serums for Pigmentation
Here we have listed some of the best serums for pigmentation and dark spots which are natural, and mostly chemical-free. They are tried and tested for effectiveness against, pigmentation and scar marks:
1. Biocule Spotless Serum (Amazon Rating: 4.5/5)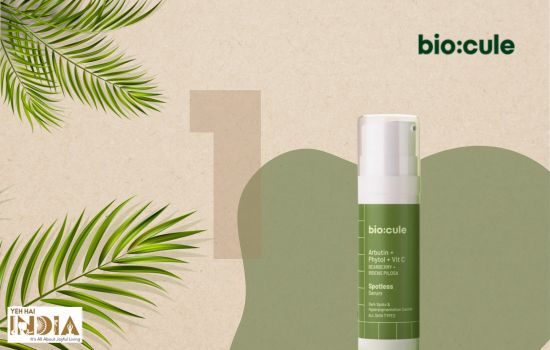 If you are looking for a versatile face serum for pigmentation that suits all skin types and is effective, on a budget- the Biocule Spotless Serum is one of the best choices.
It is enriched with arbutin, phytol and vitamin C- all of which are effective against pigmentation.
Ingredients- The product has a gel-like consistency and is noted for its array of active ingredients like hyaluronic acid, arbutin, vitamin C and Phytol.
The ingredients are natural and vitamin C is extracted from Kakadu Plum while phytol comes from Bidens Pilosa.
Safety- It is silicone-free, sulfate-free, mineral oil-free, paraben-free and alcohol-free.
Benefits- The face serum for pigmentation gently exfoliates the skin and promotes cell turnover helping to fade the marks. It also improves skin elasticity and helps to maintain a radiant complexion.
Best for- It is safe for all skin types.
Pros
All natural ingredients
Fragrance-free
Affordable
Cons
Biocule Spotless Serum Price: Rs. 499 – BUY on Amazon below
2. Kama Kumkumadi Miraculous Beauty Fluid (Amazon Rating: 4/5)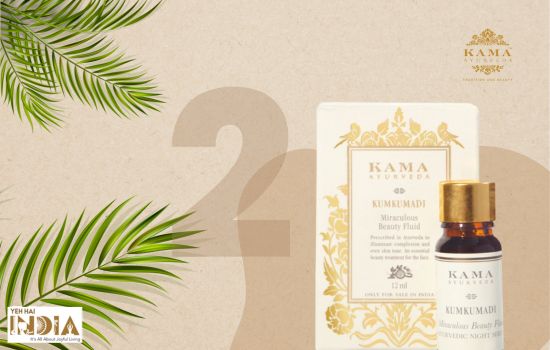 Kama Ayurveda is one of the best-known brands for natural products. Their Kumkumadi Miraculous Beauty Fluid night serum is packed with effective ingredients.
It is an oil-based product but gets easily absorbed and is suitable for all skin types.
Ingredients- This is one of the best face serums for pigmentation with natural ingredients. It is a blend of natural oils and herbs like Kashmiri saffron, kumkuma, vetiver, lotus, sandalwood, liquorice and Indian madder extract.
Safety- It is free of artificial color, petrochemicals, parabens, animal testing and fragrances.
Benefits- The oil shows proven effectiveness against pigmentation in 28 days if used regularly. It also reduces wrinkles and makes the skin brighter. The vetiver and lotus help to calm irritated skin.
Best for- It is suitable for all skin types.
Pros
All natural ingredients.
Ayurvedic formulation
Significantly effective
Cons
Kama Beauty Fluid Price: Rs. 895 – BUY on Amazon below
Recommended Story – 20 Best Face Serums Available In India 2023
3. Mamaearth Skin Illuminate Vitamin C Face Serum (Amazon Rating: 4/5)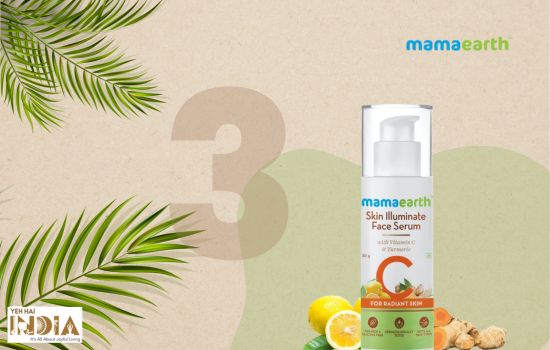 The Mamaearth Skin Illuminating Vitamin C face serum has a very stable formulation that effectively brightens your skin tone and fades away scars and acne spots. The non-greasy creamy texture also hydrates the skin thoroughly.
Ingredients- The pigmentation serum is enriched with Vitamin C which prevents the appearance of fine lines and wrinkles.
It also contains Nymphaea flower extract, turmeric and squalene which together help to fight pigmentation, acne, age lines and more.
Safety- The product is free from sulfates, parabens, SLS, Petroleum, preservatives and color.
Benefits- Acne scars, wrinkles, pigmentation and skin irritation get reduced visibly when you use the serum daily.
The serum also boosts hydration and prevents redness and skin irritation. Your skin gets a natural glow and radiance after using it dedicatedly for a few weeks.
Best for- Combination skin
Pros
Dermatologically tested
Natural ingredients
Non-greasy
Gentle formula
Cons
Takes time to show results
Mamaearth Face Serum Price: Rs. 538 – BUY on Amazon below
4. Neemli Naturals Hyaluronic & Vitamin C Serum (Amazon Rating: 4/5)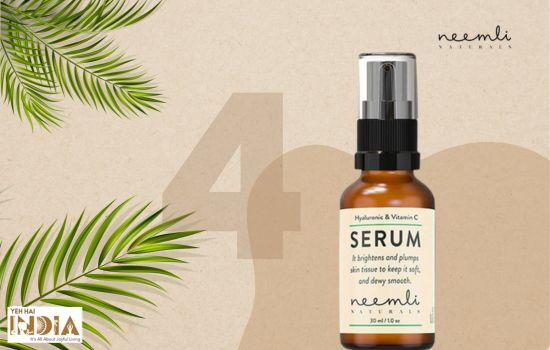 This is a hidden gem and one of the best face serums for pigmentation that is infused with niacinamide.
The product is very lightweight and gets absorbed easily, making it suitable for oily skin. The serum is made of food-grade cold-pressed oils which are extracted from plants.
Ingredients- The pigmentation serum is enriched with 12% vitamin C, hyaluronic acid, niacinamide and aloe vera leaf extract.
All ingredients are effective remedies for acne, inflammation and pigmentation. They are plant-based ingredients making them a safe choice for all skin types.
Safety- It is free from animal derivatives, parabens, sulfates, fillers, mineral oils and perfume.
Benefits- The serum is lightweight and easily get absorbed. The antioxidants from vitamin C protect your skin from external radicals.
Using the serum daily hydrates and moisturizes the skin thoroughly. Over time, you will notice pigmentation getting minimized.
Best for- Oily skin
Pros
Natural plant-based ingredients
Suitable and base before makeup
Boost collagen production
Cons
Neemli Naturals Vitamin C Serum Price: Rs. 1530 – BUY on Amazon below
5. Just Herbs Ayurvedic Gotukola Beauty Elixir Facial Serum (Amazon Rating: 3.5/5)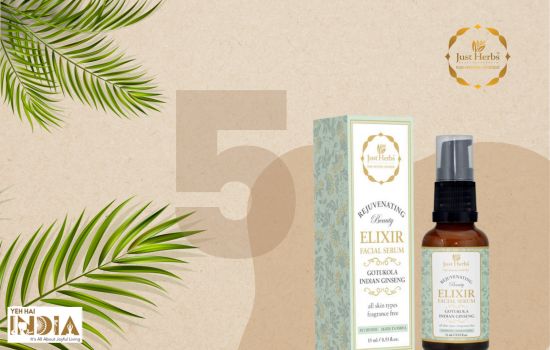 If you are looking for a budget-friendly authentic Ayurvedic product, the Just Herbs Ayurvedic Gotukola Beauty Elixir Facial Serum is the right choice.
It is effective against acne, and pigmentation and eventually brings back the glow in your skin.
Ingredients- The product is boosted with plant polyphenols, carotenoids and natural vitamin C which together boost the overall brightness of your skin. The ingredients are also effective against pigmentation, age lines and dark spots.
Safety- It is free from SLS, parabens, sulfates, SLES, and GMOs.
Benefits- The product effectively reduces hyperpigmentation and makes the skin radiant from within. It also gets rid of acne scars, fine lines and wrinkles.
Best for- all skin types
Pros
Unscented product
Very hydrating
Cruelty-free and vegan
Cons
Just Herbs Facial Serum Price: Rs. 1340 – BUY on Amazon below
Summary
Skin pigmentation is not a severe condition as long as you have a dedicated skincare routine. Besides using a good pigmentation serum, you must also maintain a lifestyle that does not impact your skin adversely.
Using sunscreen dedicatedly, eating healthy, avoiding stress and drinking enough water are key to healthy skin.
The above-mentioned pigmentation serums are some of the best with unique formulations and superior ingredients. You should choose as per your skin type, budget and skin goals.
All products listed here are natural and chemical-free. They are Indian brands which have created an impact with their quality formulas. Get the best use out of their products, by including them in your daily skincare routine.
Frequently Asked Questions
1. Does serum remove pigmentation?
Face serum specifically designed to combat pigmentation can effectively fade away the marks. You will notice a difference after using the product for at least 2-3 weeks dedicatedly.
2. Is vitamin C serum good for pigmentation?
Vitamin C is rich in antioxidants and known for anti-ageing properties. It helps to fade away scar marks effectively. As a result, a vitamin C serum for pigmentation would be an effective choice.
3. What causes pigmentation?
Pigmentation is caused by many factors like UV ray exposure, aging skin, uneven skin flaking, acne scars and skin diseases.
4. How can you prevent pigmentation?
Keep your skin hydrated and thoroughly moisturized. Never compromise your skincare routine. Always use protection like sunglasses and sunscreen while going outdoors. Avoid picking on acne. Maintaining these habits will prevent pigmentation in the skin in the long run.
5. Can sensitive skin use serum for pigmentation every day?
Sensitive skin should patch test the serum before using it every day and specifically choose chemical-free and natural products designed for sensitive skin.