Unveil the radiant potential of Kumkumadi Tailam, an ancient Ayurvedic elixir coveted for its transformative effects on the skin. Infused with the essence of saffron, potent herbs, and nourishing oils, this magical concoction offers a spectrum of benefits.
The core ingredient of Kumkumadi Oil is saffron, which gives the oil its distinct golden hue and contributes to its numerous benefits. Alongside saffron, the oil typically includes a combination of rare and beneficial herbs, such as sandalwood, turmeric, lotus, and various other botanical extracts. These ingredients are often blended with carrier oils to create a luxurious and aromatic potion.
Used traditionally in Ayurvedic practices, Kumkumadi Tailam has gained popularity in modern skincare routines as well. It is typically applied as a facial oil or serum, often at night, allowing the skin to absorb its nourishing properties while you sleep.
It works as a natural skin illuminator, lightens skin tone, improves skin texture, minimizes dark circles, repairs hyperpigmentation, reduces signs of ageing, eliminates skin discolouration, treats blemishes and scars, and brightens dull skin.
From brightening complexion to reducing blemishes, soothing inflammation to promoting a youthful glow, discover how Kumkumadi Tailam can elevate your skincare regimen to new heights of natural radiance.
Here's a list of Kumkumadi products to get your hands on!
~ BEST KUMKUMADI PRODUCTS ~
1. Forest Essentials Kumkumadi Night Cream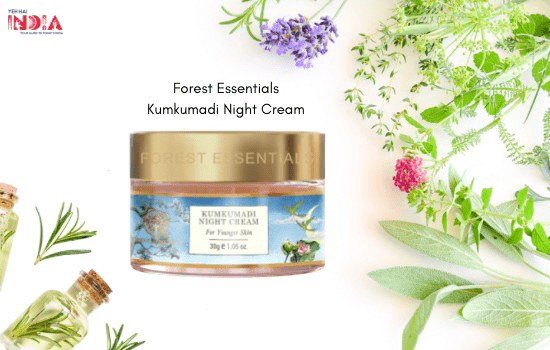 Ingredients
This night cream is an infusion of powerful Ayurvedic ingredients which includes Manikya Bhasma.
Benefits
These herbs are responsible for lightening pigmentation, healing acne scars, and leaving a clear and glowing skin effect.
It also helps revitalize the skin for new cell growth and reduces the appearance of blemishes. Kumkumadi oil hydrates your skin and improves uneven skin tone. It cleanses, nurtures, protects, and tones your skin.
Forest Essentials Kumkumadi Night Cream – BUY ON AMAZON BELOW
Recommended Story – Benefits of Neem not only for Skin but Hair and Health too!
2. Auravedic Kumkumadi Oil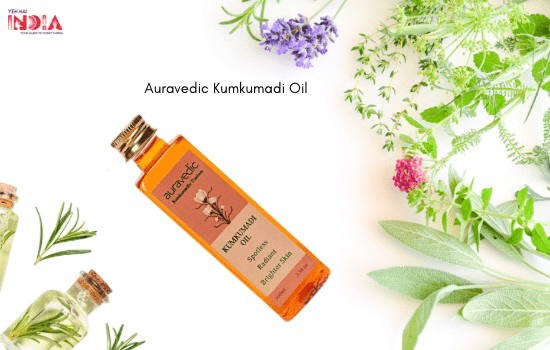 Ingredients
Saffron, Manjistha, Oudh, Padmaka
Benefits
A mixture of unique and extraordinary oils and Ayurvedic herbs along with the presence of saffron provides spotless and flawless glowing skin around the clock.
It refreshes your skin and the fragrance is aromatherapeutic! The best end to a stressful day of work.
Auravedic Kumkumadi Oil – BUY ON AMAZON BELOW
3. Kama Ayurveda Kumkumadi Brightening Ayurvedic Face Scrub
A natural exfoliator that consists of 12 special ingredients, leaves a toned surface of the skin and reinforces the skin's natural elasticity.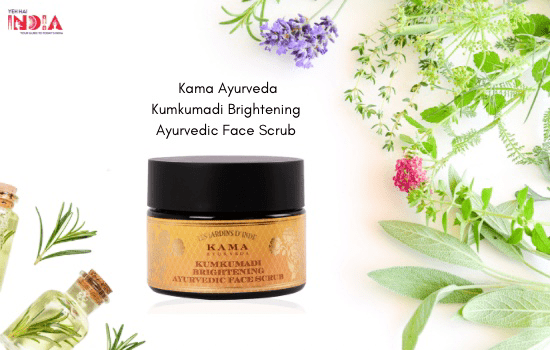 Ingredients
Saffron, walnuts, almond oil, lotus, sunflower seeds
Benefits
The scrub includes the properties of saffron and ground walnut powder and serves as a gentle exfoliant that adds better effects after application removing dead skin cells and excess oil.
Kumkumadi Brightening Ayurvedic Face Scrub – BUY ON AMAZON BELOW
4. Auravedic Kumkumadi Skin Brightening Gel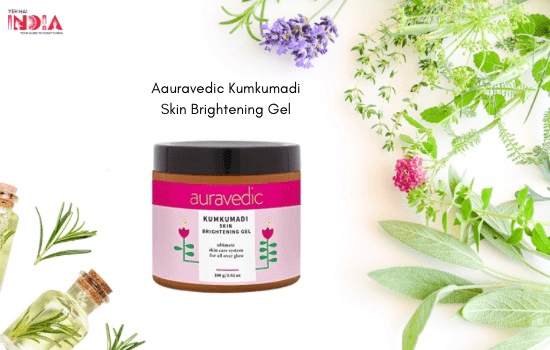 Ingredients
Saffron oil, Red sandalwood, Lacca, Manjistha, Daruhaldi, Ushira, Padmaka, Gokshura, Brihati and others
Benefits
It is a perfect blend of antioxidants that heal and repairs the skin and makes it bright and healthy. The natural ingredients work with the wonders of Kashmir and leave the skin feeling smoother, lighter, softer, and brighter.
The gel is suitable for all skin types and all throughout the year, and has no parabens, sulfates, or harmful chemicals.
Auravedic Kumkumadi Skin Brightening Gel – BUY ON AMAZON BELOW
5. Plum Saffron & Kumkumadi Oil Glow Bright Moisturizer
The Plum Saffron & Kumkumadi Oil Glow Bright Moisturizer is a luxurious blend that harnesses the power of saffron and kumkumadi oil to deliver radiant and hydrated skin. With its natural ingredients, it offers a vibrant glow and deep nourishment in every application.
Ingredients
Saffron, kumkumadi oil, niacinamide, papaya
Benefits
It is enriched with saffron and kumkumadi oil known for their skin-brightening properties. Regular use helps even out the skin tone and promotes a luminous complexion.
Packed with natural oils and antioxidants, this moisturizer provides deep hydration and nourishment to the skin. The blend of ingredients works to replenish moisture and restore the skin's natural barrier, leaving it soft and supple.
Kumkumadi oil is a traditional Ayurvedic ingredient renowned for its anti-ageing properties. Its potent mix of herbs and oils helps minimize the appearance of fine lines, wrinkles, and age spots, promoting a more youthful look.
It is lightweight and non-greasy.
Plum Saffron & Kumkumadi Oil Glow Bright Moisturizer – BUY ON AMAZON BELOW
Recommended Story – Skin Benefits of Tea Tree Oil and Best Products Available
6. Blue Nectar Kumkumadi Tailam
Ingredients
Kumkumadi, Chandana, Lodhra, Patanga, Rakta chandana, Agaru, Usira, Manjistha, Yasti, Tejpatra, Padmaka, Lotus, Kustha, Gorocana, Haridra, Laksa, Daruharidra
Benefits
Blue Nectar Kumkumadi Tailam offers 5 skin repair benefits enriched with unique blends of luxurious oil and an Indian ancient Ayurvedic herb. It protects the skin and cures damaged skin bringing it to its purest and natural form.
The kumkumadi tailam improves the texture and surface of your skin, reduces dark spots, and eradicates blemishes and pigmentation. The antioxidants and nutrients in the formulation help brighten and moisturise the skin.
Blue Nectar Kumkumadi Tailam – BUY ON AMAZON BELOW
7. Auravedic Kumkumadi Face Mask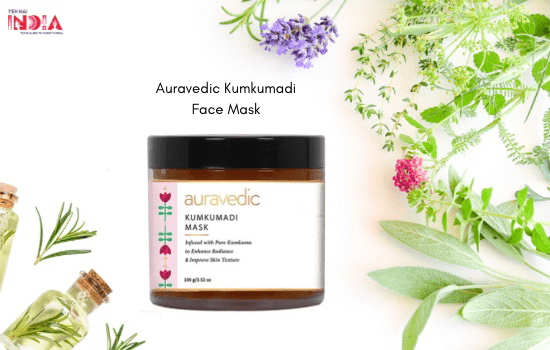 Ingredients
Kesar, Chandhan, Manjistha, Yashtimadhu
Benefits
The anti-oxidants added with the properties of Kumkumadi restores dull dry skin. It's an anti-blemish face mask that softens, and brightens the skin and also helps in tightening skin and minimizing pores.
The face mask absorbs the impurities without removing the natural oils of the skin giving a new and refreshing look that brings out the natural glow and radiance of the skin.
Auravedic Kumkumadi Face Mask – BUY ON AMAZON BELOW
Conclusion
Kumkumadi Tailam stands as a testament to the rich heritage of Ayurveda and continues to be celebrated for its potential to enhance and rejuvenate the skin naturally.
When using Kumkumadi Tailam, a patch test is recommended to check for any allergic reactions or sensitivities, as some individuals might be sensitive to certain herbal ingredients.
Also, Read: Get Glowing And Luminous Skin With These 10 Ayurvedic Face Oils