Ubtan is a traditional Indian skin care product made from aromatic and medicinal herbs, flowers, and other natural ingredients. It is easy to learn how to make ubtan at home. It has cleansing, exfoliating, and nourishing properties. You can use it to cleanse, scrub, and refresh the skin.
Cleansing is an important step in any skincare routine. It removes dirt, oil and makeup from the skin. Cleansers come in many forms, foam, gels, oil-based and water-based. But, most of them are chemical based.
Ubtan is an important part of the bridal facial routine in India. It is made from a mix of natural ingredients such as chickpea flour, turmeric, sandalwood, and rose water that is applied to the face and body to exfoliate and cleanse the skin.
Let us first get to know more about the benefits of ubtan here.
Benefits of Ubtan
Skin Brightening Agent: The ubtan helps brighten the complexion and promote healthy, glowing skin which is essential to every bride on her special day.
Skin Health: It has been a popular natural remedy used for centuries. It is mainly because of the health benefits of ubtan on the skin and its effects on skin tone. It is made with a variety of natural ingredients such as turmeric, sandalwood, neem, and other herbs and spices.
Reduces Signs of Ageing: Another popular one of ubtan benefits is its anti-ageing effects, such as reducing dark spots, acne scars, and blemishes, reducing signs of ageing and improving skin complexion.
Excellent Exfoliant: Of all the benefits of ubtan, the best is its exfoliating property. It removes dead skin cells and makes way for new ones.
Anti-inflammatory: It also helps to reduce inflammation and soothe skin irritations. It can also help to improve skin elasticity, making it look younger and healthier. The skin is left feeling softer, smoother and more radiant.
Recommended Article – Ayurvedic Ubtans: The Best Ones You Can Buy For Glowing Skin
How to make Ubtan at home?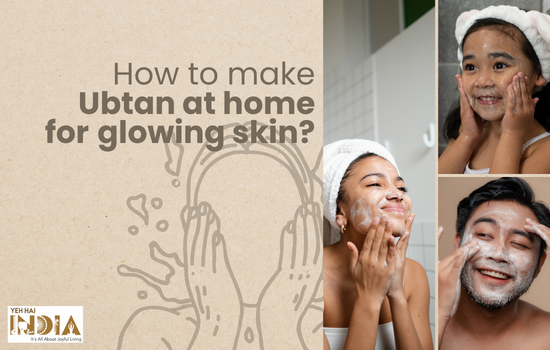 Mix 2 tablespoons of besan (gram flour) with 1 tablespoon of sandalwood powder, 1 tablespoon of turmeric powder, 1 tablespoon of almond powder and 1 tablespoon of rose water in a small bowl. Add 1 teaspoon of honey and 1 teaspoon of curd to the mixture. Mix all the ingredients together to form a runny mixture that stays on the skin.
Carefully apply this blend all over your face and body. Leave it on for 15-20 minutes. Rinse off with lukewarm water. Follow up with a moisturiser.
5 Ways to Use Ubtan for fair skin
Ubtan's benefits are many and varied including cleansing, exfoliation, and hydration and can give your skin a natural glow from within. Learn how to make ubtan from natural ingredients for different purposes and how to use ubtan properly to enhance your skin tone.
1. Face Wash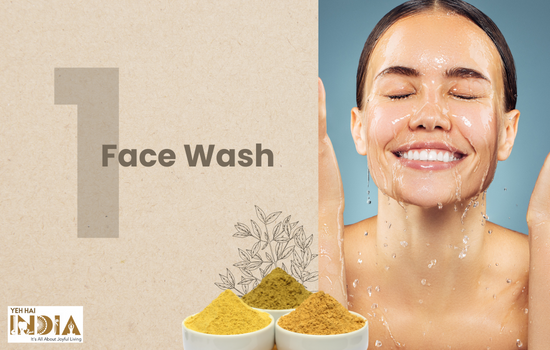 Ingredients:
1 tablespoon Sandalwood powder
2 tablespoon Besan
½ tablespoon Turmeric
2 tablespoon Milk
Procedure:
Mix all the dry ingredients in a bowl and add milk. Make a smooth paste and spread it over your skin. Leave it on for about 15-20 minutes and let it dry. You can wash it off with just water for radiant skin.
WOW Ubtan Face Wash – BUY ON AMAZON BELOW
Benefits:
Sandalwood acts as a soothing agent while besan flour exfoliates the skin. Turmeric acts as an anti-septic and depigmentation agent. Milk nourishes the skin.
2. Face Scrub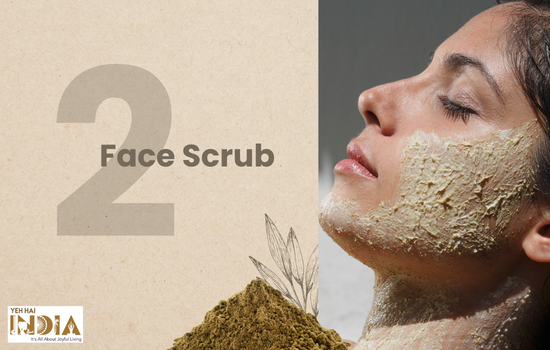 Ingredients:
1 tablespoon Oatmeal
3 tablespoon Besan
2 tablespoon Sandalwood powder
½ tablespoon Turmeric
2 tablespoon Ground Cucumber
Process:
Mix the dry ingredients and add the ground cucumber to it. Take a little in your hand and rub it on your face and neck in a circular motion for at least 5-10 minutes. Wash your face with water to remove all the exfoliated cells.
Mamaearth Ubtan Face Scrub – BUY ON AMAZON BELOW
Benefits:
Oatmeal and besan cleanse and exfoliate your face's dust and dead skin cells. Cucumber hydrates the skin deeply along with sandalwood. Moreover, this is not very abrasive and can be used once every two days to clear dust and grime off your skin.
3. Moisturiser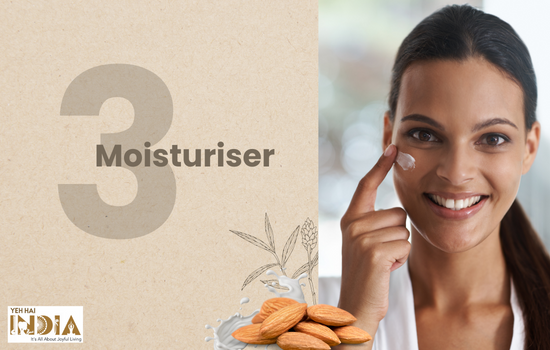 Ingredients:
6-7 Almonds
Fresh Milk or Cream
1 tablespoon Sesame Oil
1 tablespoon Tulsi powder
3 tablespoon Besan
2 tablespoon Sandalwood powder
½ tablespoon Turmeric
Process:
The almonds should be soaked in fresh cream or milk overnight and the skins are peeled off. Add the sesame oil and tulsi powder and grind them in a mixer. The rest of the dry ingredients are added to this and made into a paste. Apply on the face and leave it to dry for 10 minutes. Wash off with normal water.
Mamaearth Ubtan Moisturizer – BUY ON AMAZON BELOW
Benefits:
Almonds are rich in vitamins and act to soothe the skin. Tulsi again has a very cooling effect on acne-prone skin and is full of antioxidants. All these mixed with ubtan and sesame oil work as a wonderful natural moisturiser for the skin, especially oily skin.
4. Face Mask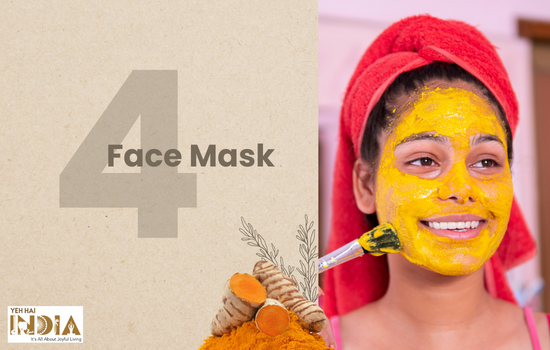 Ingredients:
1 tablespoon Besan
1 tablespoon Wheatflour
1 tablespoon Sandalwood powder
½ tablespoon Turmeric powder
2 tablespoon Rose Water
Process:
Mix all the dry ingredients and add rose water to make a paste. You can also add milk to this mixture for dry skin. Apply it on the face for at least 20 minutes or till it dries. Wash off the dried paste with normal water and moisturise your skin. You cannot make use of ubtan for fair skin any better way.
Oriental Botanics Rivayat Ubtan Face Mask – BUY ON AMAZON BELOW
Benefits:
This mask is best used continuously every day for two weeks. The results are unbelievable on any skin type. Make sure to do a patch test on day 1 to avoid undesirable reactions.
5. Tan Removal
Make the best tan removal recipe you can from ubtan for fair skin. It is completely natural and effective for a DIY face pack.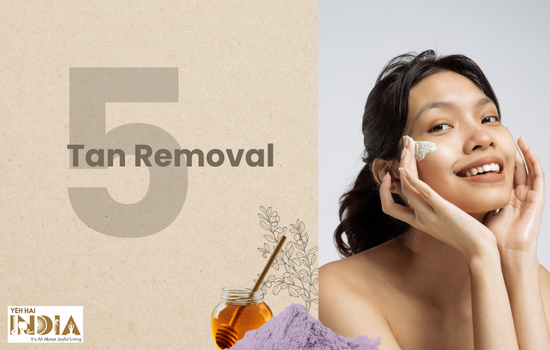 Ingredients:
1 Tablespoon Besan
1 Tablespoon Milk powder
1 Tablespoon Sandalwood powder
½ Tablespoon Turmeric
2 Tablespoon Honey
1 Tablespoon Lemon
Process:
Mix all the dry ingredients separately and then add the lemon, honey and milk to make it into a paste. Leave it on the face and neck for about 15 minutes, then wash it with water.
Bella Vita Organic Ubtan Plus Face Pack – BUY ON AMAZON BELOW
Benefits:
Lemon juice is a natural bleaching agent and along with honey, it is a very effective tan remover. Furthermore, you can use this for reducing hyperpigmentation and general skin tan from sun exposure. It also removes blackheads and whiteheads on regular use.
Summary
Ubtan is traditionally used as a skincare remedy consisting of a mix of ingredients like gram flour, turmeric, sandalwood, rose petals, and other natural herbs. It is a great way to nourish and care for the skin and can be used as a natural cleanser, scrub, mask, and moisturiser.
Ubtan can be used for a variety of purposes such as to reduce pigmentation, decrease acne, and even out the skin tone. More, it helps reduce wrinkles, lighten dark spots, and give the skin a healthy and natural glow. It can also be used as a body scrub to exfoliate dead skin cells and leave the skin feeling soft and smooth.
Made of completely natural ingredients, it is suitable for all skin types. It is easy to make and benefits the skin without any adverse side effects. It is a great way to enhance the skin and give it a healthy look naturally.
Get flawless-looking skin employing all the different uses an ubtan serves for your skin type.
Frequently Asked Questions
Can I use ubtan daily?
Yes, you can use ubtan daily. Indians have been using ubtan as a cleanser long before soaps came into regular use. Mix and apply ubtan to the whole body and then washed off while bathing.
What are the effects of ubtan on the skin?
Ubtan acts as an effective cleanser and exfoliator for dirt and grime settled on the skin. It can also be used as a skin-brightening face mask along with ingredients such as turmeric and sandalwood powder. It also removes tan when mixed with lemon and honey. Along with milk and almonds, it acts as a hydrating moisturiser.
How to use ubtan for brightening skin?
Mix 1 tablespoon besan, 1 tablespoon sandalwood powder and ½ tablespoon turmeric and then add the wet ingredients of honey and lemon to it. Make it into a paste and apply it over the face and neck. Leave it for 15 minutes and wash it off with water. This pack helps with hyperpigmentation, and blackhead removal and improves overall skin tone.
What should I use on my face after an ubtan scrub?
Ubtan scrub exfoliates dead and dry skin. The exfoliation leaves the skin dry after. It is essential to moisturise the skin after using an Ubtan scrub to maintain skin hydration.
Can I mix ubtan with aloe vera?
Ubtan is better when mixed with plain water and in some cases with regular milk or almond milk. Aloe vera is a better mixer for cleansers like multani mitti.
Also Read – Get Glowing And Luminous Skin With These 10 Ayurvedic Face Oils