Ubtans have re-emerged as a cure-all for all sorts of skin woes that tend to disrupt it's appearance.
It's the age where traditional skin care practices have come into play once again to redefine beauty that had somehow been lost to modern skincare procedures.
Ayurvedic Ubtan is one such ritual we inherited from our ancestors to attain youthful, glowing and spotless skin. For ages, ubtan application has remained a ritualistic practice employed for skin beautification and body relaxation.
In India, the practice of applying ubtan is mostly observed as a wedding ritual prior to the final day of wedding, where both the bride and groom are made to apply a blend of turmeric, gram flour, sandalwood, and some select herbs mixed in yoghurt, milk or rose water to cleanse and purify their skin.
This process is carried out in a special ceremony termed as 'Haldi' which identifies perfectly with the stunning golden yellow glow an ubtan imparts on to the bride and groom's skin.
Owing to striking similarities with the do-it-yourself skin care recipes made from everyday kitchen ingredients, an ubtan is often mistaken as a face mask or face pack.
The Ayurvedic texts, however, suggest it to be entirely different in the way it's prepared and the ingredients enlisted in it.
In essence, it is a wholesome recipe formulated according to the type of dosha likely to cause skin issues troubling an individual.
For every individual suffering from a specific dosha, a set recipe is designated using herbs and other ingredients recommended by an Ayurvedic expert.
Benefits of Ayurvedic Ubtan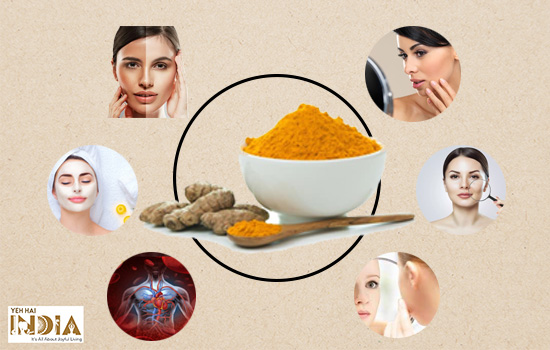 Polishes and brightens skin
Promotes relaxation
Improves blood circulation
Assists in lymphatic drainage
Protects skin from irritants
Tightens skin pores
Promotes collagen release
Detoxifies skin and body
Lightens scars and blemishes
Rids your skin of unwanted hair
Here's a rundown on the best Ayurvedic ubtans formulated to treat a varied set of skin problems that arise in individuals suffering from a specific dosha.
10 Best Ayurvedic Ubtans For Problem Free Skin:
1. Nat Habit Masoor Rub Bath Ubtan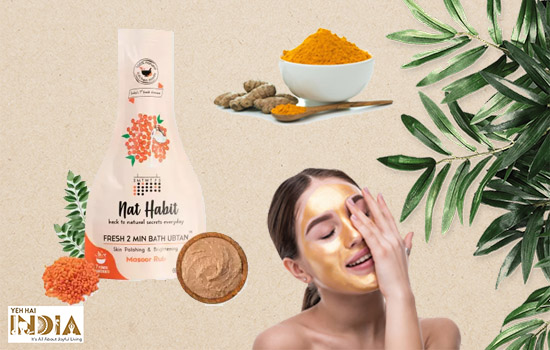 For skin that's in need of urgent repair, hydration and nourishment, this ubtan qualifies as the perfect remedier to end all the hassles your skin has been dealing with due to vata imbalance.
Powered with the wholesome goodness of masoor dal (red lentils); plus a few other ingredients like mung beans (green gram), besan (gramflower) and neem, it immediately rescues your dull, lifeless skin with a burst of nutrients and moisture to heal and revive it on the cellular level.
What you get is perfectly clear skin that looks visibly healthy and plump with no lines or scars to tarnish its beauty.
Price: Rs. 171
Net Weight: 80 g
Recommended Story – Top Organic Beauty (Cosmetic ) Brands in India Offering Best Organic Skin Care Products
2. The Tribe Concepts Ubtan Body Cleanser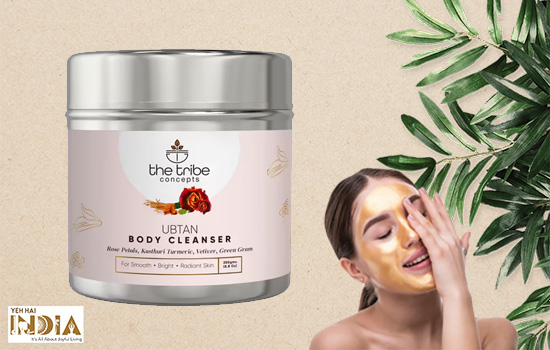 This ubtan easily fits into your daily bathing ritual to alleviate problems like enlarged pores, acne, blackheads, inflammation and pore clogging that affects individuals with pitta and kapha dosha.
It ropes in the medicinal attributes of around 11 Ayurvedic herbs including, Tunga Musta, Kacharalu, bavanchalu, Holy basil, neem, sandalwood, green gram, rose petals and kasturi turmeric; to give your skin a firmer and poreless look without drying it up.
Rubbing this ubtan on your skin is said to lighten its tone and texture and also helps speed up the rate of moisture absorption.
Price: Rs. 356.85
Net Weight: 250 g
3. Mellow Sarson Ubtan with mustard seeds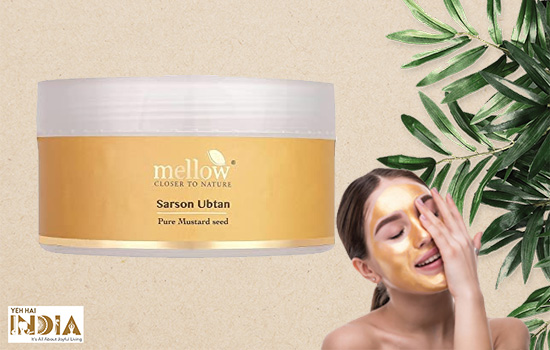 This ubtan acts as a glow booster and is best applied just before a festival, wedding or any occasion that needs you to don the traditional Indian look.
Blended from mustard seeds as it's active constituent that helps manage vata and pitta imbalance, massaging this ubtan on your body right before a bath softens your skin and lifts away dead tissues to reveal a plumped up, brightened and damage-proof skin.
Besides, it also leaves a warm golden hue over your skin that protects it from getting dreary and dull.
Price: Rs. 295.00
Net Weight: 35 g
4. Bella Vita Organic De-Tan Ayurvedic Ubtan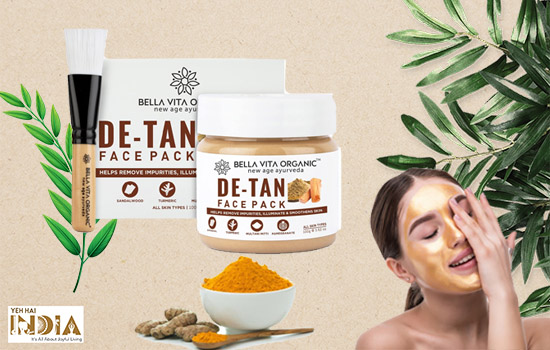 This ubtan is a perfect ally for tanned out, blemished and stubborn skin that fails to regain its original glow with the daily cleansing and toning rituals.
Made from all natural ingredients such as sandalwood powder, turmeric, rose petals, Tulsi leaves and Ayurvedic herbs that help balance pitta and kapha dosha, it promotes skin health and sloughs away skin's peripheral surface to eliminate impurities, dirt, stickiness and pigments.
Massaging this ubtan once a week is enough to get radiant, glowing and fresh looking skin sans any kind of irritation.
Price: Rs. 399.00
Net Weight: 100g
5. Roots and Herbs Mulethi Acne Clarifying Ubtan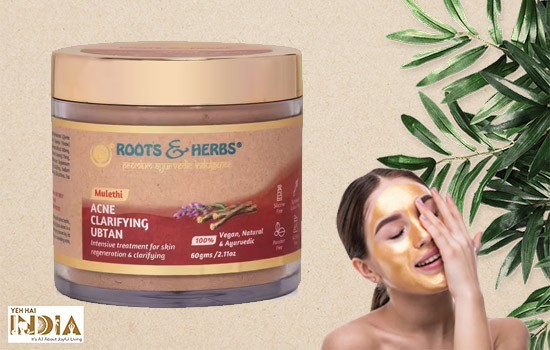 Here's an ubtan that fixes pigmentation, scars and dark spots quicker than any other natural de-pigmentation skin potion.
Loaded with Mulethi, a herb renowned for its vata and pitta pacifying qualities, this ubtan gives instant respite from a glowless complexion and clears up darkened patches on skin.
Repeated use helps thwart issues like premature wrinkling, cellulite and inflammation to give you a flawless looking skin.
Price: Rs 1090.00
Net Weight: 60g
6. Forest Essentials Body Ubtan With Turmeric, Orange Peel and Sweet Basil
This ubtan blesses your skin with a naturally youthful glow with a series of exotic Ayurvedic herbs known to promote skin vitality and vigor.
Crafted from orange peel, sweet basil, nagkesar and turmeric, this ubtan supplies your skin an active dose of vitamins and other micronutrients that work to purify, tone and revitalize it from within.
This unique blend of ingredients is proven to detoxify your skin. Presence of turmeric and orange peel in this ubtan work to pacify kapha and pitta dosha.
Price: Rs. 595.00
Net Weight: 50 g
Recommended Story – Ayurvedic Skincare: Tips To Maintain Healthy And Youthful Skin
7. Kama Ayurveda Ubtan Body Cleanser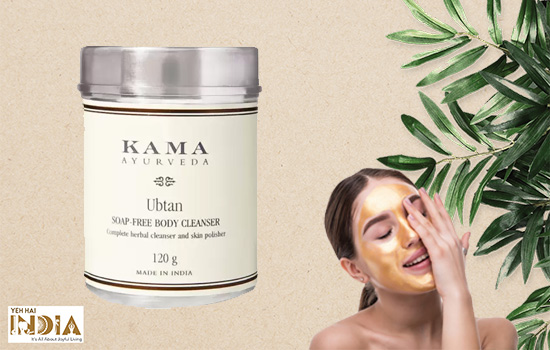 To restore your skin's natural glow, tone and firmness, this ubtan works to give results similar to an expensive body polishing treatment.
With oatmeal, turmeric, fennel seeds, almonds, neem and green gram as its active constituents, it helps heal inflammations, redness and calms down itching to exfoliate your skin sans any sensitivities.
This ubtan works for all three doshas due to its impeccable selection of ingredients that help promote skin youth and radiance.
Price: Rs. 1250.00
Net Weight: 120g
8. Vilvah Ayurvedic Ubtan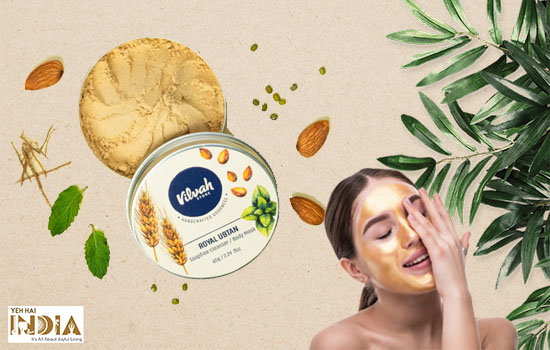 This ubtan blend is perfect for skin that craves intensive repair and wants to get rid of spots, scars and blemishes.
Enriched with red sandalwood, licorice, mint, cucumber seeds, raw rice and almonds, it helps channelize blood flow to the skin's surface to speed up recovery of acne scars and redness on skin.
The effect of this exquisite combination of herbs on skin is incredible. Its ability to lessen the effects of Pitta and Kapha dosha helps lighten skin tone, heal acne and leads to a brighter complexion.
Price: Rs. 495.00
Net Weight: 65g
9. Blue Nectar Shubhr Turmeric Star Anise Ubtan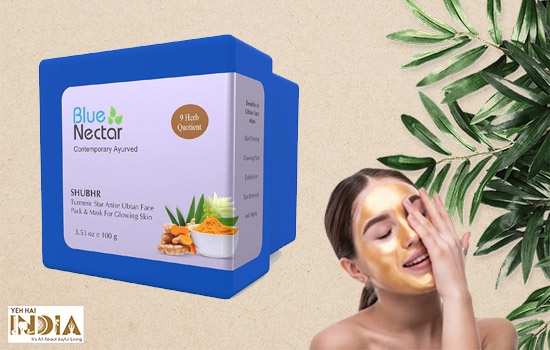 This ubtan is the perfect skin food that helps reduce the Agni element that leads to Pitta and Kapha dosha.
One of the key takeaways of this Ayurvedic blend that incorporates the skin beautifying effects of some select herbs such as turmeric, multani mitti, star anise, vetiver, Rose powder and multani mitti (Fuller's earth), is skin detoxification.
All these ingredients reach the skin pores to draw out impurities and leave your skin toned, cool and fresh.
Price: Rs. 575.00
Net Weight: 100g
10. The Good Route Nourishing Ubtan
When your skin has dealt with the brunt of constant sun exposure, this ubtan works like a miracle skin booster that nullifies the effects of harsh sun rays to clear up sun tan.
It packs in a potent mix of herbs like sandalwood, dried rose and saffron, that individually act on doshas to regain skin's original beauty and glow.
While rose petals and sandalwood work to cool and tone the skin, Saffron gives your skin a warmed up look with its stimulating action that helps channelize nutrients to the skin's surface.
Price:Rs. 600.00
Net Weight: 400g
Step up your skin care regimen with ayurvedic ubtans to get a radiant, glowing and fresh looking skin.
Also Read – Get Glowing And Luminous Skin With These 10 Ayurvedic Face Oils