From acne to dark spots, modern women deal with a myriad of skin problems. Read on to find out how Ayurveda can provide the optimum solution for your skin issues.
Ayurveda, the ancient system of healing and wellness, recognizes human skin as one of the important sensory organs that needs proper care and maintenance for optimum well-being.
According to Ayurveda, the health of the skin is a reflection of the overall health of a person. Based on these Ayurvedic principles, many types of skin care supplements and ointments are available.
However, it also recognizes that every person has a unique skin type and requirements based on their specific doshas.
Doshas are the imbalance of the main five elements of life (air, ether, fire, water, and earth) and affect the skin. There are three main types of doshas in Ayurveda: Vata, Pitta and Kapha. The main Ayurvedic skin types are based on these doshas.
Dry skin is usually associated with vata dosha (ether and air) and has small pores on the surface.
Problems like dark circles, dandruff, discolored or dark spots and pigmentation, flaky patches, and premature aging including the presence of wrinkles and fine lines normally appear in dry skin.
Sensitive skin is usually due to pitta dosha (water and fire) and tends to get irritated on contact with certain ingredients, allergens or microbes.
It can be slightly oily and present different problems like frequent rashes and inflammation, problems around the cheeks and nose, frequent sunburns, hyperpigmentation spots, discoloured patches, and excessive sweating.
Oily skin may be caused due to kapha dosha (earth and water) and this skin type has large pores with yellow undertones.
People with the skin type may have problems around the nose, mouth, and neck area and have excessive oil which also causes lots of blackheads on the nose and cheek.
Itching and hives are also common along with problems like puffiness and fluid retention.
Some people may suffer from cystic acne and discolouration which can be treated to some extent using ayurvedic supplements and following an Ayurvedic skin care ritual.
Here, we bring to you Ayurvedic skin care tips designed for different doshas to help meet your skin's demands based on the skin type.
Skincare Tips For Dry Skin Or Vata Dosha: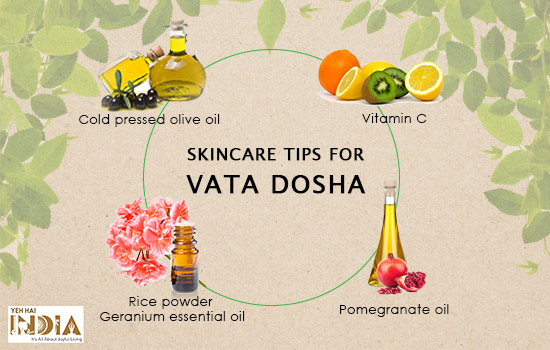 Dry skin needs proper hydration and therefore ingredients that provide nourishment and moisture should be used in regular skin care including organic cold pressed oils and ayurvedic herbs such as aloe vera
Use of natural exfoliants such as rice powder or oats mixed with milk is recommended instead of harsh physical or chemical exfoliants which can worsen dry skin
Look for nourishing ingredients while buying skin care products such as essential oils and face oils for balancing vata dosha
Geranium essential oil and frankincense can help prevent dryness while battling lines and wrinkles
Neroli and orange essential oils can be great as they provide vitamin C which helps with hyperpigmentation and patchiness
Pomegranate oil is great for hydration and collagen production
Skincare is not limited to the skin on your face and body but also includes the skin of the scalp and many people suffer from dry scalp which causes dandruff and affects hair health 
Recommended Story – 10 Best Aloe Vera Products To Use For Your Skin
Skincare For Sensitive Skin Or Pitta Dosha: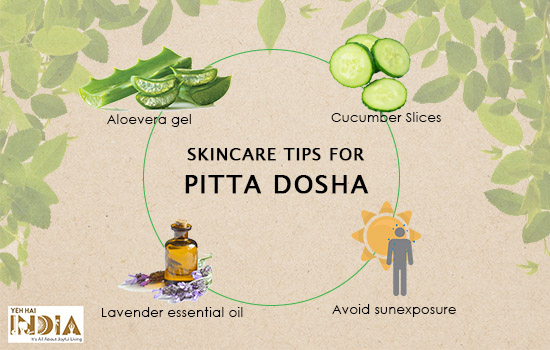 Sensitive skin is prone to sunburns and quick to react to chemicals and temperature changes and therefore, it is essential to avoid direct sunlight, especially during the afternoon, and use cooling ingredients to balance out the pitta dosha
You may use pure aloe vera gel either extracted from the plant or from an organic brand, a few times a week as a face mask to provide a cooling , moisturize sensitive skin and keep inflammation away
Use essential oils of rose, sandalwood or lavender for balancing pitta dosha and making the skin look flawless while reducing inflammation
Rose water is another ingredient that is great for sensitive skin and helps prevent redness and rashes
For regular use, you can apply moringa and jojoba face oil for the nutritive value and lightweight nature which can feel better for people with very oily skin
If you have flare-ups of inflammation and redness, use honey in place of face wash and apply cucumber slices on the affected areas to cool down the fire element
Skincare Tips For Oily Skin Or Kapha Dosha: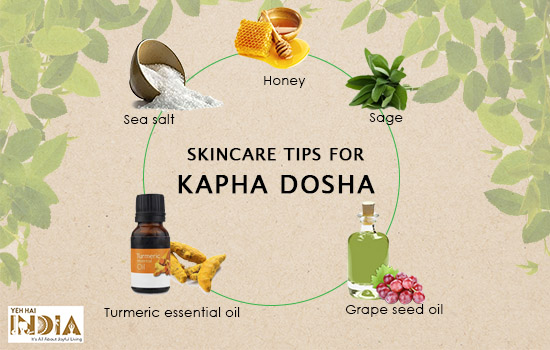 Oily skin has large pores caused by overproduction of oil and thus requires regular scrubbing with gentle
You can use a mixture of salt and honey to scrub your face followed by a herbal steaming treatment with mint leaves three times a week which helps to cleanse pores and remove excess oil which balances kapha dosha
Kapha

skin type often produces excess oil and to balance out this feature, you can use clary sage and turmeric essential oils which prevent the secretion of extra oil and maintain the natural balance of the skin while providing anti-inflammatory benefits
Grape seed face oil also tends to be a great ingredient to maintain oily skin with its high content of antioxidants, omega-6, and linoleic acid Tea Tree essential oil can help prevent breakouts in kapha skin and regulate oilyness

.
Basic Ayurvedic Skincare Routine For Every Skin Type:
For maintaining your skin health, it is important to follow a daily routine that includes 3 essential steps: cleansing, toning, and moisturizing,
1. Cleanse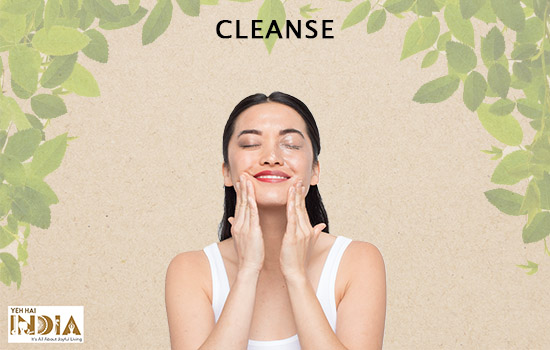 Cleansing your face with products containing ayurvedic herbs not only helps removing grime, dirt and sebum collected in skin pores but also works tto normalize skin functions naturally
2.

Tone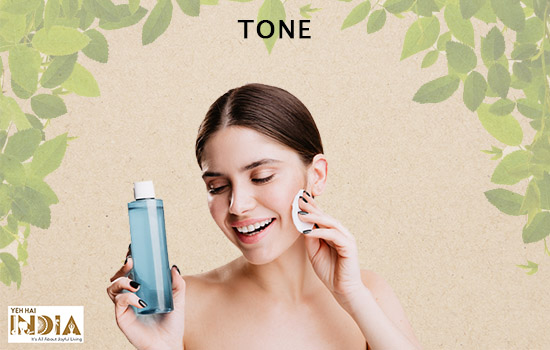 Use an appropriate toner to deliver a natural glow to your skin and prepare the skin to soak up the moisturizer.
A toner also helps prevent build up of grime inside pores by shrinking pore size.
Recommended Story – Best Aloe Vera Gels: The Best Ones To Buy For Problem Free Skin
3. Moisturize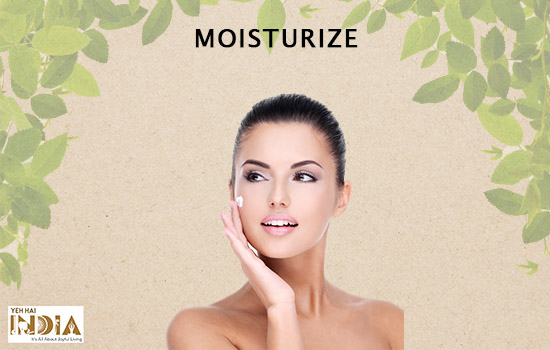 Never forget to moisturize your skin no matter what your skin type is. Many people with oily skin are hesitant to moisturize their skin.
But this step is crucial even for oily skin. Choose a good ayurvedic moisturizer with the herbal ingredients meant for your skin type.
4. Scrub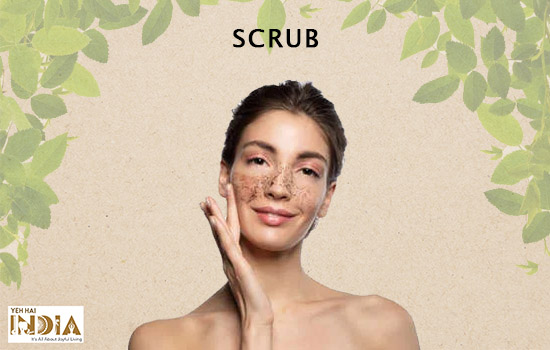 Apart from your regular skincare routine, you will also need to exfoliate your face and body, depending on your skin type.
Use an ayurvedic exfoliator or a natural exfoliator like honey, coffee granules or oats to scrub your face a few times each week to remove all the pollutants and toxins that can accumulate in the pores.
5. Massage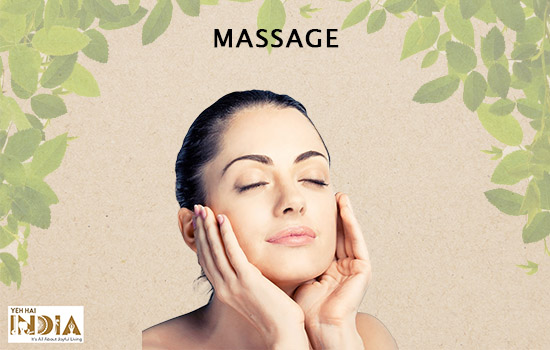 Ayurvedic oil massage should be done weekly to gain optimum balance and maintain skin vitality.
When done right, it improves blood circulation which in turn helps cells receive the optimum amount of nourishment needed to maintain elasticity and moisture.
It also helps in removal of toxins and proper movement of lymphatic fluids. The result is a glowy complexion with a healthy blush.
Summary:
Ayurveda emphasizes on learning about the different skin types so that an appropriate skincare routine can be planned. The three types of skin according to Ayurveda are vata pitta and kapha.
Each of these skin types presents a different set of problems and requires appropriate ingredients in the skincare products.
While dry skin or vata skin is treated with hydrating ingredients, sensitive skin caused by pitta dosha is treated with cooling ingredients that reduce inflammation.
Kapha dosha on the other hand, requires oil-balancing ingredients to prevent breakouts.
No matter what skin type you have it is essential to follow a basic skincare routine that consists of three steps: cleansing, toning, and moisturizing. Exfoliation and oil massages should be done once or twice a week.
Embrace the nature's way to achieve a radiant and gorgeous looking skin.
Also Read – Top Organic Beauty (Cosmetic ) Brands in India Offering Best Organic Skin Care Products