From irritated skin to dry scalp, aloe vera gel can be the answer to all your skin and hair care woes.
Aloe vera gel is one of the most soothing natural products you can have for your skin. Even though it's great to use natural gel directly extracted from a live aloe vera plant, making your own every time could be a lot of hassle, especially for those with busy schedules.
Consistency, being the key for skincare, it is far convenient to use the store bought aloe gel extracted straight from organic aloe leaf than putting in hours to concoct the purest blend.
These gels can be just as good, if not better than fresh aloe vera and will help you save time and be consistent with your skincare routine.
Moreover, many of the gels also contain a few extra ingredients for added benefits and you can opt from a wide variety of products depending on your existing skin condition and it's needs.
Before diving into the list of aloe vera gels, let's take a look at some of the benefits of aloe vera gel.
Skin Benefits Of Aloe Vera Gel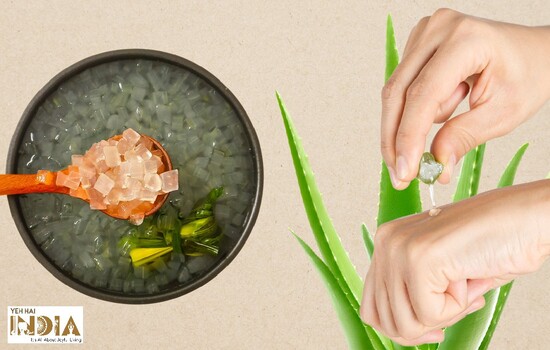 Soothes skin with its anti-inflammatory properties and helps with tan and sunburn
A great moisturizer for skin in summers, aloe vera gel is grease-free and gets absorbed quickly
Aloe vera helps with wound healing and you can use it for minor injuries like small cuts or sunburns
In case of burns, aloe vera gel may be better than water as it penetrates the skin faster
With an abundance of beta carotene, vitamin E and C, aloe vera will help to keep those wrinkles and other signs of aging like blemishes and fine lines away
Aloe vera increases the elasticity of skin by enhancing collagen production
Aloe Vera Gel has numerous hair benefits including helping in hair growth
The proteolytic enzymes in aloe vera gel aids in the recovery of dead skin on the scalp and prevent scalp problems like dandruff and fungal overgrowth
Aloe Vera Gel works a an incredible conditioner for hair
Let's check out the best natural and organic aloe vera gels in the market!
10 Best Chemical Free Aloe Vera Gels To Buy In India
1. Nature Tattva Pure Aloe Vera Gel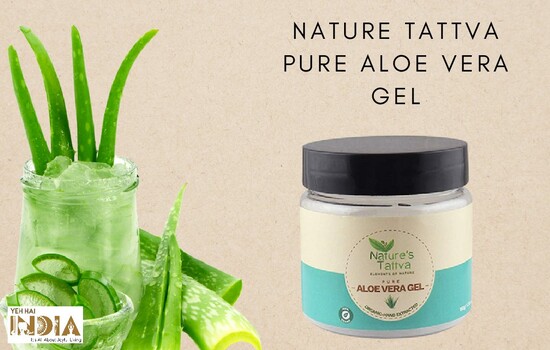 Nature Tattva is incredibly hydrating and soothing with anti-inflammatory properties that can be beneficial for both hair and skin.
This product has the highest concentration of pure Aloe Vera Gel at 99.4%.
The gel is obtained from a special aloe vera plant breed from the Himalayan region and they are grown for at least 5 years before harvest to increase the efficacy of the gel.
Price: Rs. 350
Recommended Story – 10 Best Aloe Vera Products To Use For Your Skin
2. Organic Netra Aloe Vera Gel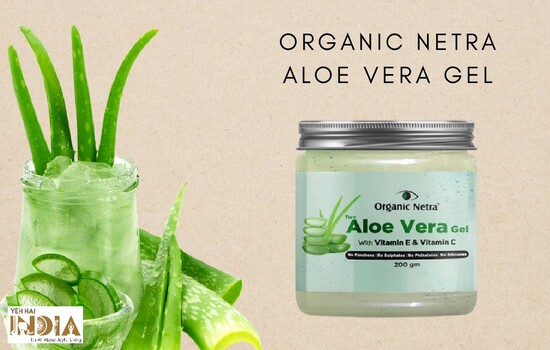 This aloe vera gel is from the USDA certified brand Organic Netra which means it is not only a great product but also free of all artificial and possibly harmful chemicals like paraben, phthalates and sulfates.
The gel feels very light on the skin and gets absorbed without leaving any grease. The added vitamin C and W increase the moisturizing benefits of the gel.
One can use it for multiple purposes from moisturization or hair condition to a treatment for small injuries like sunburn and razor cuts as it helps in wound healing.
Price: Rs. 399
3. Urban Botanics Pure Aloe Vera Gel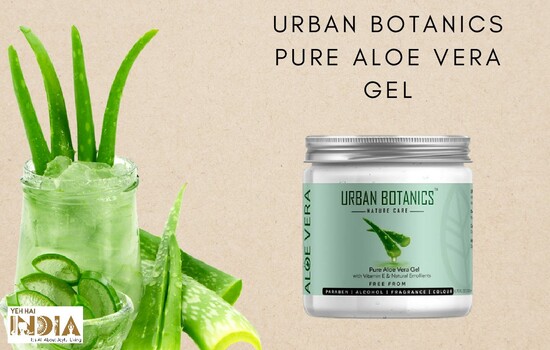 Urban Botanica Aloe Vera Gel is made up of 99% pure aloe vera mixed with natural emollients and vitamin E to enhance the soothing and healing effect of the gel.
It is free from alcohol, parabens, artificial colours and fragrances, which means you can enjoy all the benefits of aloe vera without the nasty stuff.
Sans the harmful chemicals, this gel is perfect for children too!
Price: Rs. 399
4. Plum Hello Aloe Just Gel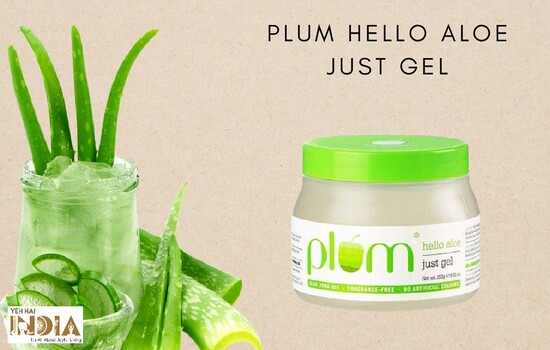 Just from Plum is not only organic but also completely safe and made for use on hair and face.
It is made up of 94% pure aloe vera leaf juice extract mixed with glycerine and rose flower extract which makes it an excellent moisturizing and healing product.
This gel creates a protective layer on the skin to prevent the moisture from escaping. This mechanism is also helpful in stopping the contact of skin with makeup items if applied before makeup.
Price: Rs. 395
5. Sadhev Aloe Vera And Saffron Gel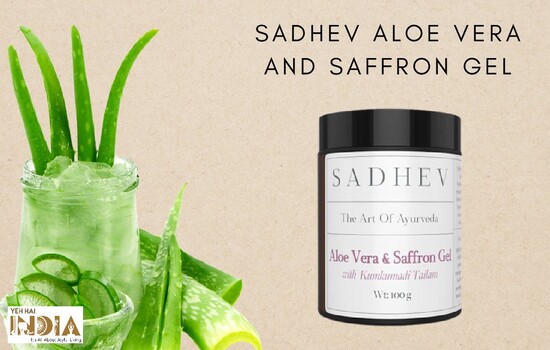 This aloe vera and saffron gel provides a wide range of benefits like prevention of aging, correction of dry skin and moisturization.
Saffron has excellent anti-fungal and anti-inflammatory properties which helps to treat acne marks. Moreover, it also helps to prevent and treat hyperpigmentation.
The gel also contains Kumkumadi Tailam which is based on old Ayurvedic wisdom and known to produce glowing skin.
Price: Rs. 975
6. The Wellness Shop Organic Pure Aloe Vera Face Gel
This Aloe Vera Gel is specifically made to be used on your face. The organic pure aloe vera face gel produces excellent glowing skin with regular massages.
To obtain the best results, apply after your regular cleaning and toning. Massage the gel onto your face using a face roller and keep it on for around 20 minutes.
Finally, wash it off with clean water and pat dry with a fresh towel.
Price: Rs. 1298
Recommended Story – 9 Miraculous Benefits of Aloe Vera Juice
7. Organic Harvest Aloe Vera Gel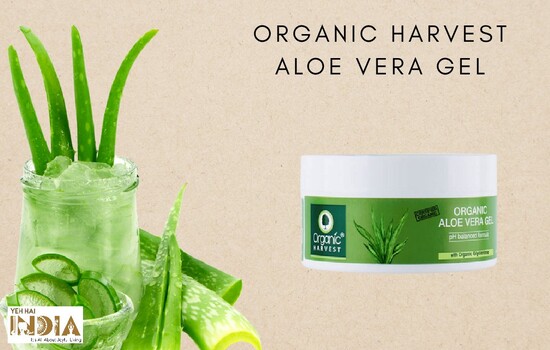 The Organic Harvest Aloe Vera Gel contains organic glycerine, castor oil, coconut oil along with aloe vera leaf extracts which makes it a powerful combination of ingredients that provides massive benefits to your skin.
It not only soothes burns and cuts but also clears acne marks and helps to increase blood flow which helps in rejuvenation of skin. One can use it on the scalp to reduce itching and dandruff.
It is also worth taking a look at the other combinations of aloe vera gel offered by Organic Harvest including aloe vera gel with saffron extract, aloe vera gel with turmeric extract and aloe vera gel with neem.
Price: Rs. 475
8. Indus Valley Bio-organic Aloe Vera Gel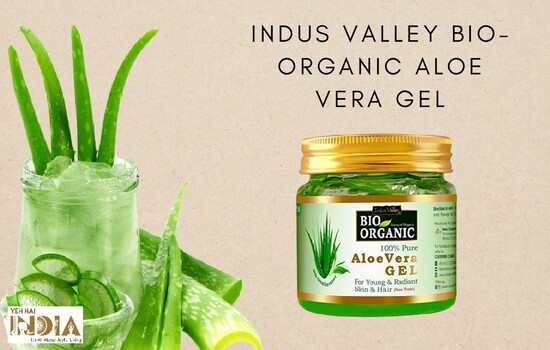 The Bio-Organic Aloe Vera Gel is perfect for the summers with its antioxidant and vitamin rich formula. Made of completely non toxic ingredients and 100% pure, it's great for the children.
The additional ingredients include green tea extract, rose water, honey and lemon peel extract which delivers different kinds of skin benefits including prevention of free radical damage and deep moisturization.
Vitamin C from lemon extract helps to impart that natural glow on your skin.
Price: Rs. 229
9. Bon Organic Aloe Vera Gel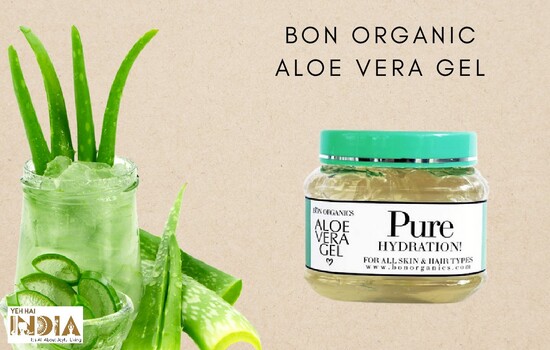 Bon Organic is a USDA certified organic beauty brand with completely vegan and handmade products.
This aloe vera gel consists of natural aloe vera jelly and lemon oil. It has an absolutely non-greasy and lightweight texture helping you to heal blemishes, dark spots and dry skin while providing soothing benefits.
It is also great for sunburns and enables the regeneration of skin cells. It is one of the most affordable natural aloe vera gel in the market.
Price: Rs. 150
10. Mama Earth Aloe Vera Gel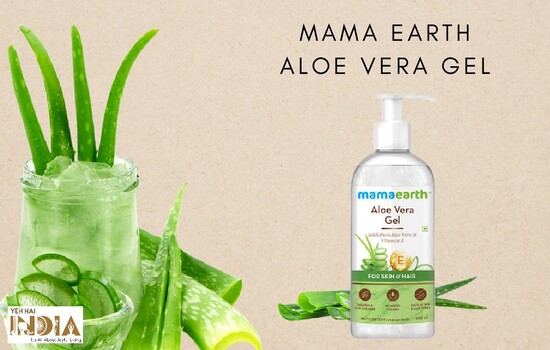 The Mama Earth Aloe Vera Gel is full of vitamin E and anti-bacterial properties which helps to sooth the irritated skin on body and scalp.
It can be used on hair as a hair mask to soften and add lustre to the locks.
It also moisturizes the skin and being free of all harmful chemicals, is perfectly safe for children as well. The added glycerin helps to trap the moisture and keep your skin hydrated all day long.
Price: Rs. 399
Summary: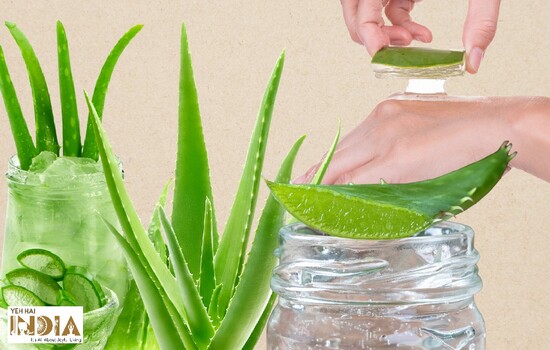 Aloe Vera Gel is one of the most widely used skin care staples with multipurpose use and a wide range of benefits.
One can use it for moisturization and nourishment of the skin, prevention of blemishes, brightening and even for soothing skin after a sunburn or minor injuries like razor bumps.
Each aloe vera gel comes with a unique formulation and purity and you should consider your needs and budget before buying one.
The products listed above are either USDA certified organic, vegan or natural. All of them are free of harmful toxins and safe. You can fit in one of these to your regular skin care routine to achieve optimum results.
Treat your skin with cooling aloe vera gel and let it revive and regenerate with a boost of moisture and nutrients found in aloe leaf.
Also Read – Top Organic Beauty (Cosmetic ) Brands in India Offering Best Organic Skin Care Products