In recent years, facial oils have attracted a lot of attention and are now an indispensable skin care product for all skin types.
Facial oils hold immense power to improve skin health, specifically for dry skin. They help retain moisture and increase skin's ability to protect itself from damage. Even on oily skin, facial oils reduce the production of sebum and give the skin a natural glow.
These oils can prevent redness and reduce scars and blemishes. Facial oils are a great way to complement your daily skin care products and further enhance skin hydration.
Continuous usage of facial oils results in softened skin and makes it smooth and radiant. To get the best benefits from facial oils, it is suggested to apply them on cleansed skin.
Buy Ayurvedic Night Serum "Manajsvini" for Glowing Skin
Here's a curated list presenting the best facial oils available in the market in 2022:
8 Best Facial Oils To Buy In 2022:
1. Good Vibes Jojoba Face Oil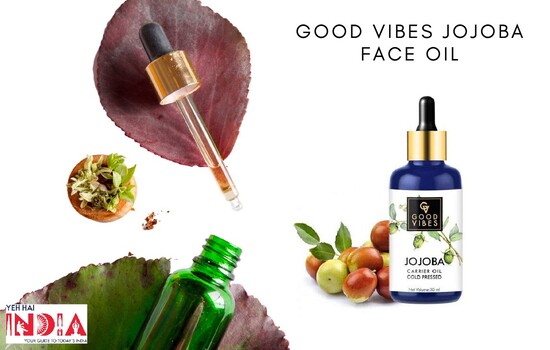 This skin-balancing facial oil is inherently light and non-greasy. A refreshing facial oil that suppresses sebum production and removes excess oil.
Jojoba oil, the only ingredient in this facial oil, nourishes dry skin and leaves a non-greasy after-feel. It improves skin elasticity and presents a beautiful glow on the skin.
It deeply penetrates the layers of the skin and helps treat dry, dull skin. It deals with uneven skin and leads to radiant, supple, and plump skin.
Price: 199 INR for a 10ml bottle
Recommended Story – 7 essential oils for a healthy and glowing skin!
2. The Derma Co. Squalane Face Oil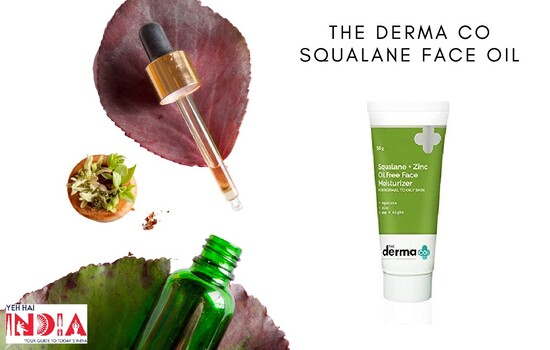 Squalene is a skin nutrient that naturally occurs in the sebum of our skin. Using squalene oil as a moisturizer instantly hydrates skin without any oily residue and helps balance sebum release.
Derived from olives, this skin serum is quick-drying yet highly moisturizing and gives off a healthy glow. Due to these properties, squalene is a gold standard ingredient for skin hydration in skin care products.
Topical application of squalane promotes hydration and makes the skin look plump and healthy. Regular use of this component promotes collagen production, making the skin firmer and smoother.
Made from 100% olive-derived squalane, it mimics the body's natural sebum to moisturize the skin, and raise water levels.
Free of mineral oils, dyes, parabens and sulphates, this moisturizing face serum is formulated with a safe and effective formula that makes a visible difference within 36 weeks.
Price: 599 INR for a 30ml bottle
3. Natural Vibes Gold Face Oil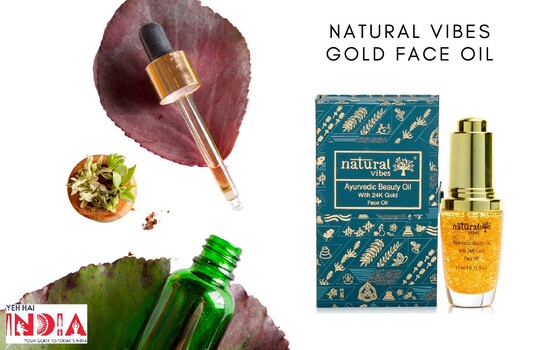 This ayurvedic face oil is mixed with 24k gold flakes to fill up pores and restore skin glow naturally. This light-weight oil seeps through your pores and skin, hydrating and nourishing the skin with vitamins to reduce symptoms of ageing, pigmentation and leaving a healthy glow, shrinking the pores to make your skin appear wholesome and fresh.
Made from quintessential skin beautifying components used in Ayurveda for generations, this fragrant elixir is a fusion of Rosemary, Tea tree, Orange Peel, Patchouli, Pomegranate, Chamomile, Rose, Sandalwood, Rosehip, Olives, Saffron, Lavender, Lemon grass and 24K Gold Flakes. Saffron & Tea Tree.
All these ingredients lighten the dark spots and under eye pigmentation. Sandalwood clarifies & soothes your pores and saves skin from zits and scars; Pomegranate and rose rejuvenate your pores and skin leaving you with a wonderful clear complexion.
Price:1,799 INR for a 15ml bottle.
4. Bare Body Essentials Face Oil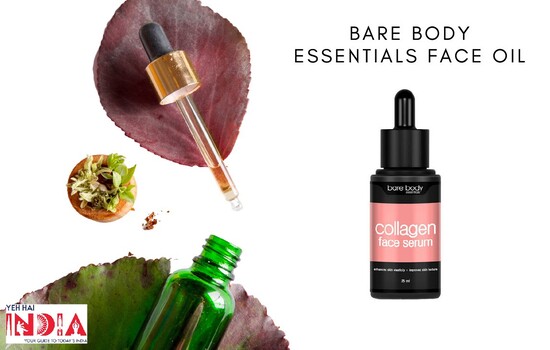 Many people with oily skin or acne try to use products with skin drying properties ignoring the fact that acne is caused by an imbalance in skin's ability to release oils on its surface.
For such people this skin oil is a perfect solution to end the greasiness and retain healthy skin moisture. The active ingredients in this serum such as collagen, niacinamide, and hyaluronic acid, moisturize the skin and improve collagen levels to make it firm and plump.
Niacinamide in this serum reduces the signs of aging by eliminating wrinkles and fine lines. Hyaluronic acid keeps skin moisturized for a long time.
All Bare Body Essentials products meet standard guidelines and are safe to use. This product is 100% vegetarian, not tested on animals and carefully formulated.
Price: 446 INR for a 25ml bottle.
Buy Ayurvedic Night Serum "Manajsvini" for Glowing Skin
5. Minimalist Niacinamide Face Oil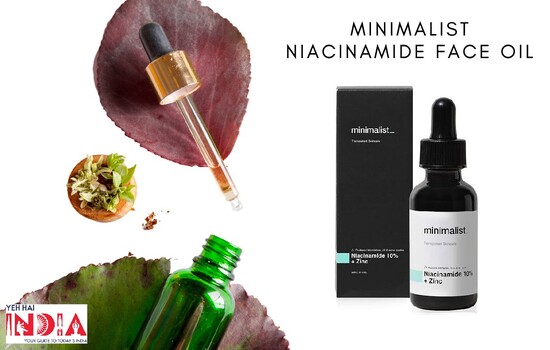 This lightweight, minimalist product improves skin health by balancing oils, controlling sebum activity, and reducing pore clogging. It makes the skin soft and supple, and easily penetrates the skin without making it oily.
It has been shown that using serums enriched with vitamin B3 (niacinamide) reduces acne and age spots and evens out skin color and tone in 2 weeks.
By using it regularly every single day, it will prevent future spots and uneven skin tone. No more scars, just pure and healthy skin.
The duo, niacinamide and zinc prevent pimples and acne due to their strong antibacterial properties. Daily dose of this antioxidant vitamin B3 (niacinamide) serum repairs the skin and strengthens its immunity against external irritants.
Say goodbye to sun damage, environmental damage, or damage from other toxic chemicals and allergens with this brilliant skin serum.
Price: 599 INR for a 30ml bottle
6. Mamaearth Tea Tree Face Oil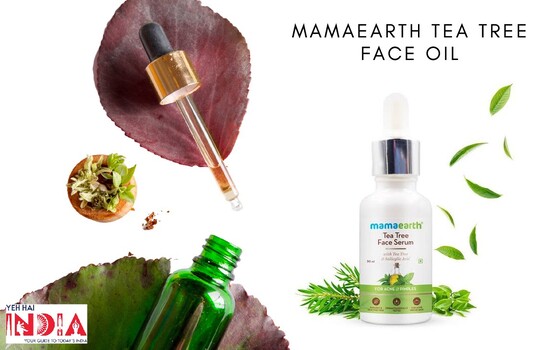 This lightweight, gentle and transparent face serum relieves signs of irritation while clearing pores and bacterial blockages.
It actively prevents pimples, so you can say goodbye to acne and scars forever. Rich in tea tree oil, it is gentle on the skin and helps maintain healthy ph levels for acne-free skin.
The antiseptic properties help control excess oil that can cause acne and clog pores. It also prevents pimples. The combination of tea tree oil and salicylic acid cleanse and exfoliate skin pores to prevent the appearance of acne and acne scars.
With this face oil, blackheads and acne are a thing of the past, as there are no blocked pores or oily residue on the skin. This oil sure is a way forward to a healthy beautiful looking skin compared to other skin serums.
Price: 599 INR for a 30ml bottle
7. Plum Grape Seed & Sea Buckthorn Glow-Restore Face Oil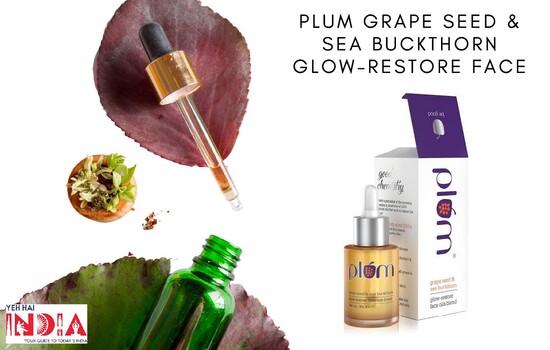 This non-greasy facial oil with grape seed and sea buckthorn provides plenty of moisture for dehydrated skin. With the goodness of its special blend of ingredients, it works instantly to restore your natural glow and replenish skin with a healthy dose of nutrients.
Meet the Ultimate Dry Skin Expert-A unique blend of 100% vegetable oils (10 varieties including argan oil!), fights dry skin and restores natural and healthy glow to your skin. All of this without the greasiness you would expect from an oil.
A blend of grape seed and sea buckthorn facial oils restores skin's natural glow, replenishes skin with added moisture and nutrients to make up for lost nutrients, and makes your skin shine like a diamond.
After cleansing your skin, apply a few drops of this facial oil to face and neck. Gently massage with firm and steady movements, then apply a moisturizer.
Price: 658 INR for a 30ml bottle
8. Kumkumadi Miraculous Beauty Fluid Ayurvedic Night Serum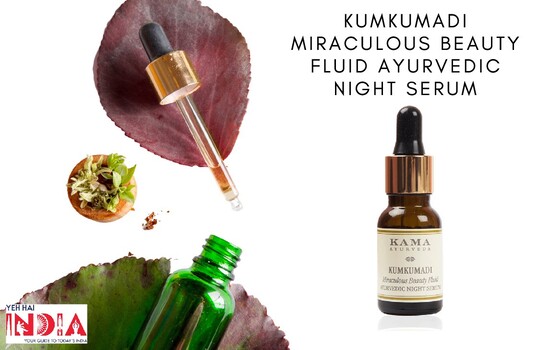 Kumkumadi Thailam is prescribed as an essential facial beauty treatment in the ancient Ayurvedic texts of Ashtanga Hrudaya.
This ingredient is clinically proven to lighten the skin while delaying the signs of aging. A must-have item for shining, glowing and rejuvenated skin without any trace of spots or blemishes.
After cleansing and conditioning the face, apply this serum daily before bedtime as a night ritual. Moisten the skin with pure rose water or natural water-based toner and gently massage Kumkumadi upwards until completely absorbed. Leave overnight for best results. This facial oil is a bit on the expensive side, but it works wonders for your skin.
Price: 2,995 INR for a 12 ml bottle
With their proven benefits in revamping skin health and appearance, these face oils are your best refuge for overcoming skin conditions like skin dryness, acne and wrinkles.
Also Read – Skin Benefits of Tea Tree Oil and Best Products Available