Who doesn't love shiny bouncy hair like the ones in shampoo commercials?
Now, you must think that it is fake, Priyanka Chora can't have such hair, well we don't know about her but you can definitely have it and the secret to it lies in the ancient key which is Amla.
Amla is known for its specific hair growth and repair properties and it always amazes people who end up trying it.
It is an ancient hair repair element and has worked wonders for Indian people which led to the establishment of Amla infused products in the market.
Indians are the major consumers of Amla products, therefore, we have curated a list of Amla products that will help you gain those shiny locks and keep your hair healthy and nourished:
1. Khadi Natural Pure Amla Herbal Hair Oil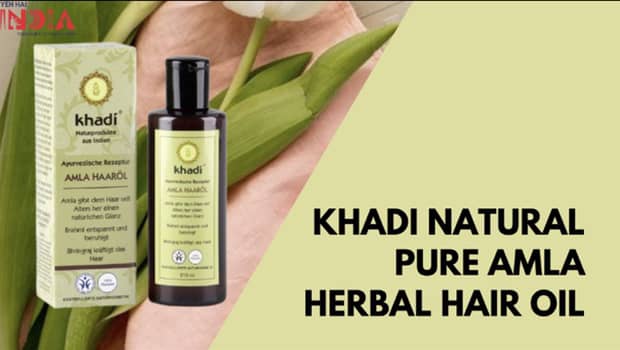 Khadi Naturals is a premium Indian Ayurveda brand trusted by and loved by all.
All its products are natural and have made a mark in the industry.
The Khadi Natural Pure Amla Hair Oil is filled with Amla properties and the richness of organic ingredients.
This allows the oil to soak deep into the roots and follicles and deliver its magic to strengthen and nourish and boost your hair health.
It prevents premature aging, thinning, and damaged hair.
You need to apply and massage it on your scalp and then leave it for an hour or two before rinsing it off with water.
Recommended Story – Health Benefits of Amla (Indian Gooseberry)
2. Wow Skin Science Amla Hair Mask for Weak Hair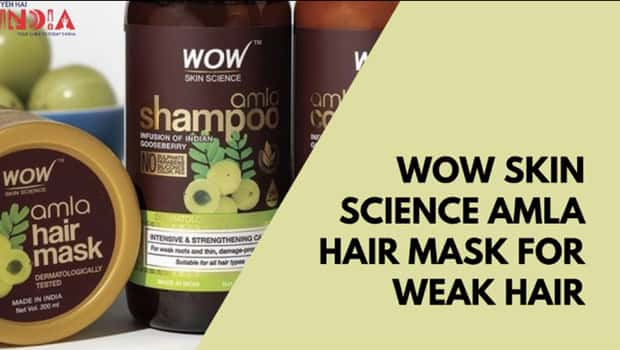 The Wow Skin Science Amla Hair Mask is the perfect solution to your weak and brittle ends and serves shiny locks with softness and nourishment.
It restores and hydrates your damaged hair and is filled with Amla and Vitamin C properties.
It specializes in treating dull hair and possesses all the rich properties of amla for getting the hair you deserve that can be flipped like a diva.
Apply twice a week and don't forget the strands during the application, leave it for an hour and rinse thoroughly.
3. Oxyglow Herbals Amla and Shikakai Hair Tonic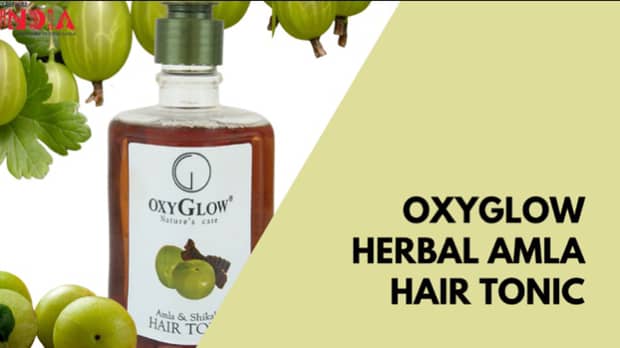 Oxyglow Amla and Shikakai Hair Tonic is enriched with natural extracts of Amla, Reetha, Bhringraj, and Neem to provide the best hair treatment and promote hair growth.
It prevents split ends and revitalizes your scalp along with improving hair texture and it can be applied to all hair types.
The Reetha and Bhringraj properties add to the benefits and leave healthy and nourished hair.
Apply and massage for 2-3 minutes on the scalp and leave it until dry.
The best part is that it does not cause greasiness and can be left for long.
4. TAC – The Ayurveda Co.Hair Shampoo for Hair Fall with Methi, Bhringraj, Amla, and Hydrolyzed Keratin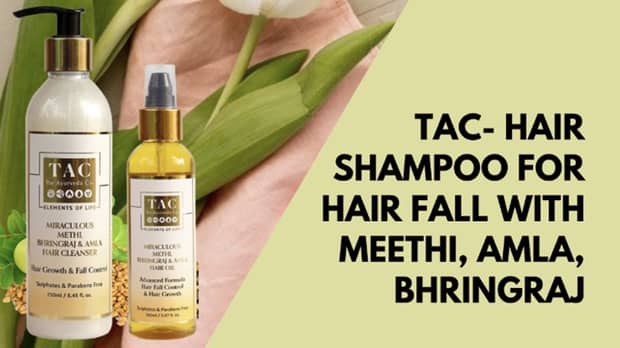 The Ayurveda Co. is an extremely trusted brand among Indians and has delivered products infused with ancient Ayurvedic secrets.
This Shampoo does great justice to the goodwill of the brand and encompasses natural ingredients made especially for dry and damaged hair.
It eliminates all hair damaging toxins and lays out shiny and smooth tresses and is composed of the appropriate pH balance required for your hair.
Apply and massage for 2-3 minutes over your scalp and rinse.
5. Oziva Plant-based Biotin- 10000+ mcg Sesbania Agati, Bamboo Shoot & Amla, for Healthy Hair
Have you had good hair and refreshing skin on the same day?
Well, OZiva Plant-based Biotin 10000 mcg can provide you just that, along with it it also serves with great immunity properties.
It comprises Amla, Biotin that promotes hair growth and repairs damaged hair, and provides radiance to your skin as well.
The solution needs to be mixed with water, about 2-3 scoops, and to be taken every day in the morning.
6. Juicy Chemistry Camellia, Amla & Apricot- Organic Leave-In Conditioning Balm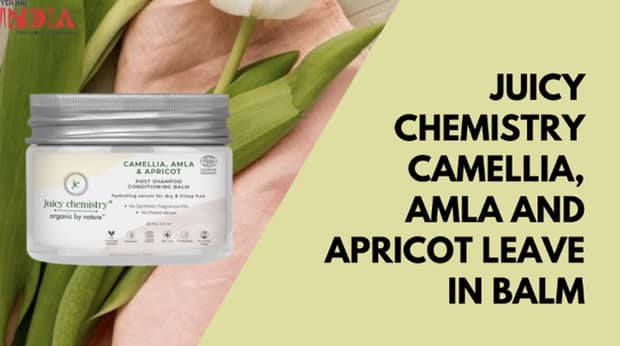 Juicy Chemistry is an Indian brand that brings us the most unique products for our body and this balm is worth trying.
It contains natural extracts of Amla and Apricot and Sweet almond oil.
Packed with antioxidants, it strengthens the hair, repairs frizzy hair, prevents premature greying, and promotes hair growth.
It can be applied as a conditioner after the shampoo and should be left for a few minutes before rinsing off.
7. Wild Organic Amla Powder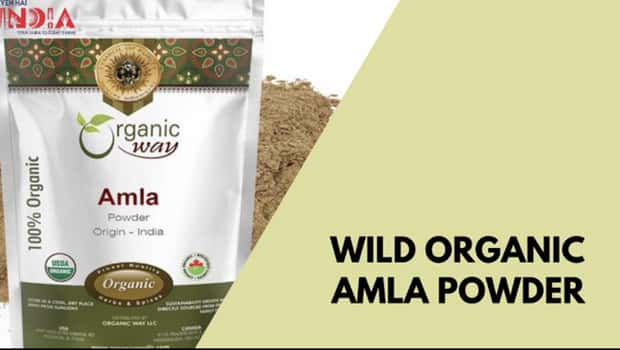 Wild Organic Amla Powder is a natural cleanser and conditioner and supplies the nutrients of Vitamin C present in the Amla.
It is proven to have reduced hair loss and promotes the strengthening of your hair and scalp resulting in shiny and smooth and silky hair.
Though it works better if mixed with Shikakai powder in a 1:1 ratio.
Add lukewarm water to and form a paste, apply over the scalp and strands and let it sit properly before rinsing off.
Recommended Story – Top 10 Ayurvedic Shampoos That Prevent Hair Fall
8. Oriental Botanics Bhringraj and Amla Hair Conditioner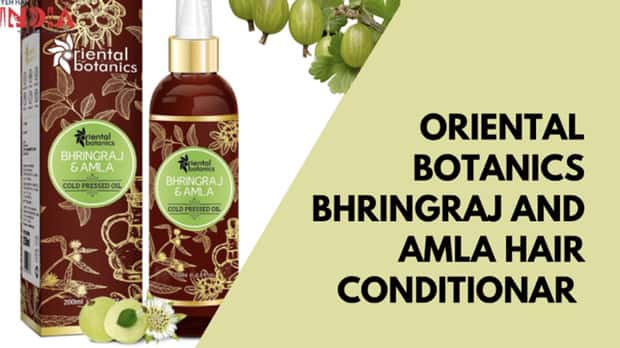 Oriental is also an Indian brand that produces all kinds of hair and skin products and has marked its essence over the cosmetic industry.
The Bhringraj and Amla Hair Conditioner has rich Vitamin C properties with Bhringraj that promotes hair growth and prevents grey hair.
It comprises essential herbs that revives the hair to its natural splendor and shine.
It repairs damaged hair that is a result of excessive hair styling, coloring, and UV damage.
After shampooing you can massage it over your scalp and leave it followed by rinsing.
9. Earth Rhythm Shampoo Bar with Shikakai Reeta Amla & Curry Leaf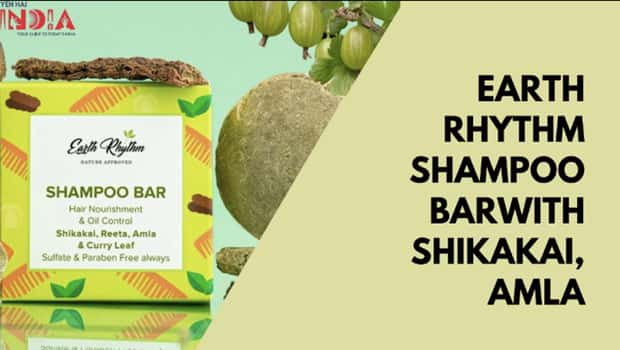 Earth Rhythm Shampoo Bar is a unique product that has gained buzz recently, as it provides shiny hair with fine nourishment.
The Amla helps repair damaged and frizzy hair, Shikakai contributes to better hair growth, and the Reetha and Curry Leaves serve shine and better absorption of nutrients.
This fabulous mix leads to thick, shiny, and nourished hair.
It also soothes any kind of irritation and itchiness on your scalp. The bar is to be applied directly over your scalp and rinsed with lukewarm water.
10. Forest Essentials Hair Cleanser – Amla, Honey & Mulethi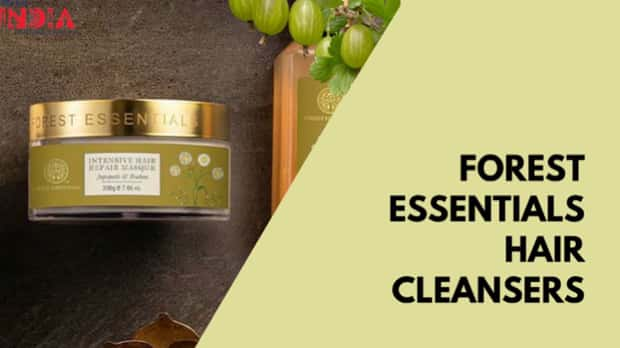 Forest Essentials have compiled a great deal of hair repair products and this Hair cleanser filled with Amla, Honey, and Mulethi has obtained great reviews by the consumers.
It is a gentle and sulfate-free product that helps in maintaining the artificial color of the hair, imparting a natural luster with swing and beautiful fragrance.
It is an alternative to shampoo and should be put over damp hair while bathing.
This is a product that doesn't let you down and shows results in just a few washes.
This is a curated list of Amla products from Indian brands manufactured and sold in our own country. These can be bought online or offline and have proven great for their consumers.
With natural Amla properties, they have gained buzz in the cosmetic industry and you will surely end up recommending them to all your friends.
Happy healthy hair won't be a dream anymore, these products will make it a reality and you will thank us later!
Also Read – Top 10 Anti- Hair Fall Shampoos in India