So you have tried it all- from youtube home remedies to expensive trichologists (hair specialists). And yet nothing has made much difference to your hair.
And with passing time your concerns are getting worse. Now you are so worried about hair fall that the stress itself is contributing to more hair fall. An irony indeed!
This is a never ending cycle. And you are looking to find one solution. Well, you have probably landed on the right place this time but…
Spoiler alert: there is no magical solution for hair fall. It's all about little lifestyle changes implemented over a long period of time. This includes everything, from the right hair care products to proper diet and lifestyle.
Ayurveda has the solution to every problem and the same implies for hair fall as well. And Ayurveda doesn't sell gimmicks. It addresses your problem from the roots.
Your overall health impacts your hair. So always focus on improving your health along with having a good hair routine and including a good quality shampoo.
You shampoo should treat the problem and cleanse your scalp well so that it doesn't attract other pollutants or hair diseases.
Causes Of Hair fall According to Ayurveda
According to ayurveda, hair fall is caused by a buildup of toxins in your body. Excessive toxins in your body can accumulate because of:
Nutritional deficiency
Irregular routines including irregular sleeping time, meals and baths
Climate change and pollution
Lack of sleep and rest
Extreme stress and tension
All these factors can lead to weak bone tissue which results in hair loss.
Best Ayurvedic Herbs That Control Hair Fall and Promote Hair Growth
Before we dive into the topic, let's take a look at the top most effective ayurvedic herbs for hair fall.
Bhringraj, the superstar: When it comes to Ayurvedic herbs for hair, we have got a clear winner. An animal study conducted in 2008 showed that Bhringraj oil was more effective than the popular pharmaceutical drug minoxidil in hair fall prevention.
Clearly, anybody who is serious about treating their hair fall problem should give bhringraj a try. Bringraj also promotes hair growth, prevents grey hair and dandruff. It is full of vitamin D, E, magnesium calcium and iron.
Amla, the runner-up: We have all heard about the benefits of amla for health from our grandparents. And they were not wrong. However, amla is also extremely beneficial for hair because of its Vitamin C content.
A clinical study conducted in 2020 found that a serum containing amla led to significant hair growth after 90 days of application. Amla contains essential fatty acids which provide strength to hair. It is also good for cleansing the hair and removing excess oil and dirt.
Bramhi, the second runner-up: Brahmi has wonderful properties. The Ayurvedic herb helps to promote hair growth and increase hair volume.
It helps to stop hair thinning by stimulating the hair follicles. Healthy hair follicles help in healthy hair growth. The alkaloid in brahmi strengthens the hair shafts.
Shikakai, the gentle cleanser: Shikakai is another fantastic Ayurvedic herb to achieve healthy hair. It cleanses hair deeply and shikakai powder can be used as a natural shampoo.
The herb is full of beneficial antioxidants which reduce the damage of three radicals and keep the scalp clean and cool.
So let's explore some of the best ayurvedic shampoos for hair fall, according to ingredients.
Recommended Story – Top 10 Anti- Hair Fall Shampoos in India
1. Just Herbs Ayurvedic 8 in 1 Root Nourishing Shampoo (Amazon Rating: 4.2/5)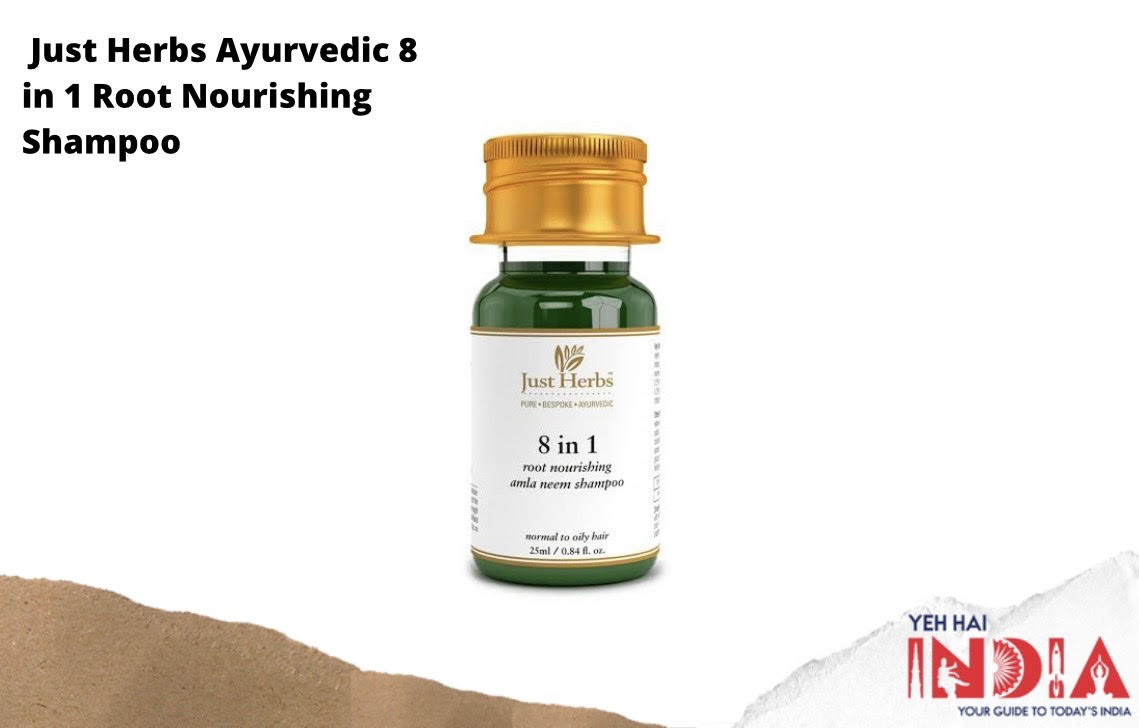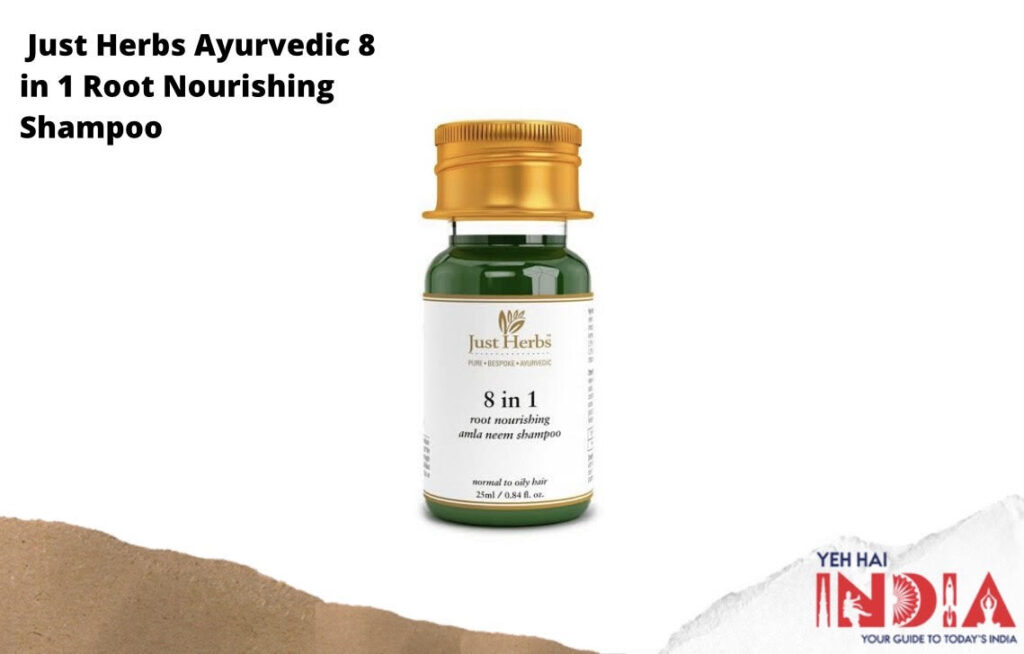 Khadi Natural Hair Cleanser contains Bhringraj, Amla, and Reetha.
Just Herbs Ayurvedic 8 in 1 Root Nourishing Shampoo is rich in amla, neem and henna and helps cleanse the scalp.
It has powerful antibacterial properties that eliminates bacteria and nourishes the hair. Also, henna strengthens the hair and gives it a natural dark colour while soothing the scalp.
This shampoo can stimulate blood circulation in the scalp and promote hair growth.
Active Ingredients and Benefits: This shampoo contains neem, amla, henna, hibiscus, vetiver, methi, soy lecithin, and cold pressed wheat germ. Neem has powerful medicinal properties.
It reduces dandruff and improves the health of hair follicles. Hibiscus is also known to reduce hair loss and provide nourishment to scalp and hair. Amla is known to promote hair growth and control hair fall.
Why do we choose it?
Just Herbs is one of the few Ayurvedic brands who are transparent about ingredients. Therefore, this brand can be trusted blindly. All the preservatives and solvents used in the shampoo are safe.
Apart from being safe, this shampoo is highly effective with multiple powerful actives that help to stop hair fall and improve hair health and texture.
Best For: All hair types
PROS:
SLS and paraben-free
Non-GMO
No synthetic ingredients
Ingredient transparency
Safe preservatives used
Vegan
CONS:
It's on the expensive side
Price: Rs. 625 for 200 ml
2. Khadi Natural Hair Cleanser (Amazon Rating: 4/5)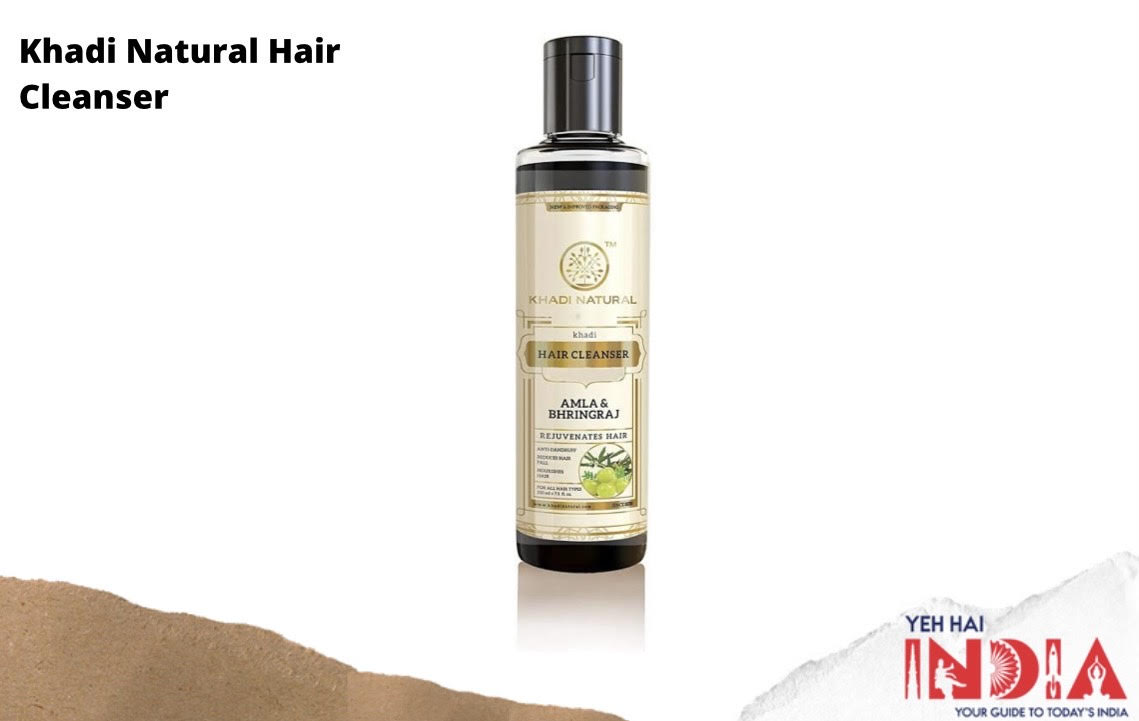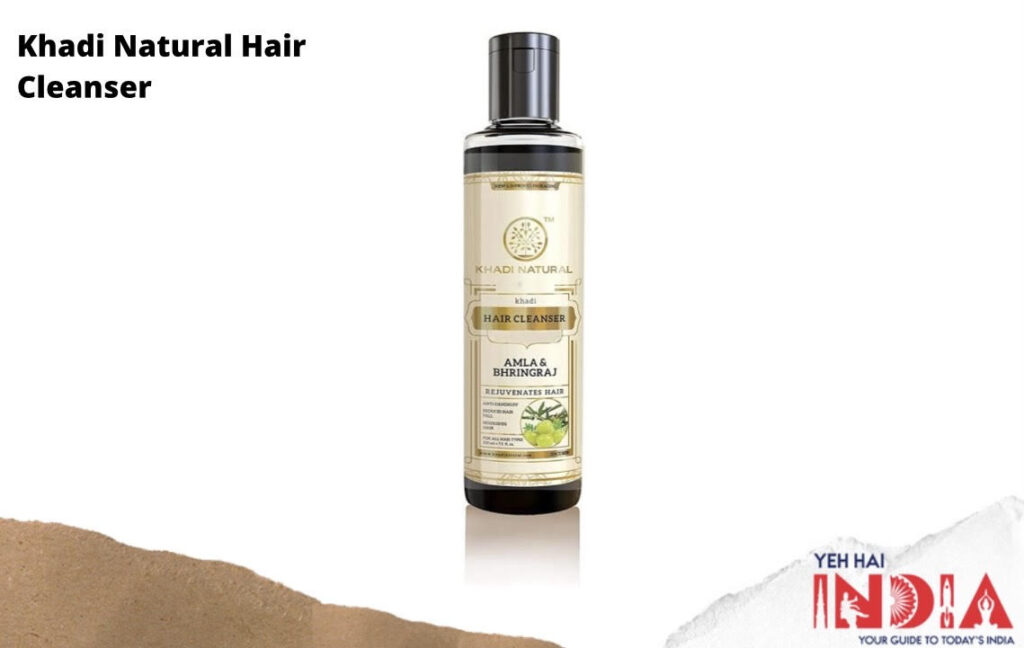 Khadi Natural Hair Cleanser contains bhringraj, amla, and reetha. These ingredients stimulate hair growth and strengthen damaged hair.
This natural shampoo intensively nourishes the hair, moisturizes the scalp, and reduces dandruff. It can also reduce hair loss caused by stress and environmental factors.
Active Ingredients and Benefits: This shampoo contains bhringraj, amla, neem, reetha, haritaki, and henna extract. Bhringraj extract is rich in Vitamin E and increases blood flow to the scalp and activates hair follicles.
Amla prevents premature whitening. Reetha or arishtak keeps hair shiny, adds luster and keeps it healthy.
Why do we choose it?
Full of Ayurvedic superstars for hair, the ingredient list of the shampoo is close to perfection. Bhringraj is a popular hair growth stimulant.
Amla, reetha and henna are good for scalp and known to have a cooling effect. Therefore, they are great for soothing itchy skin due to dandruff. The product delivers what it promises.
Best For: Itchy scalp, dandruff
PROS:
SLS, artificial colour, and paraben-free
Old and trusted brand
ISO, WHO, GMP certified
CONS:
The fragrance is too strong
Price: Rs. 250 for 210ml
3. Lever Ayush Bhringraj Shampoo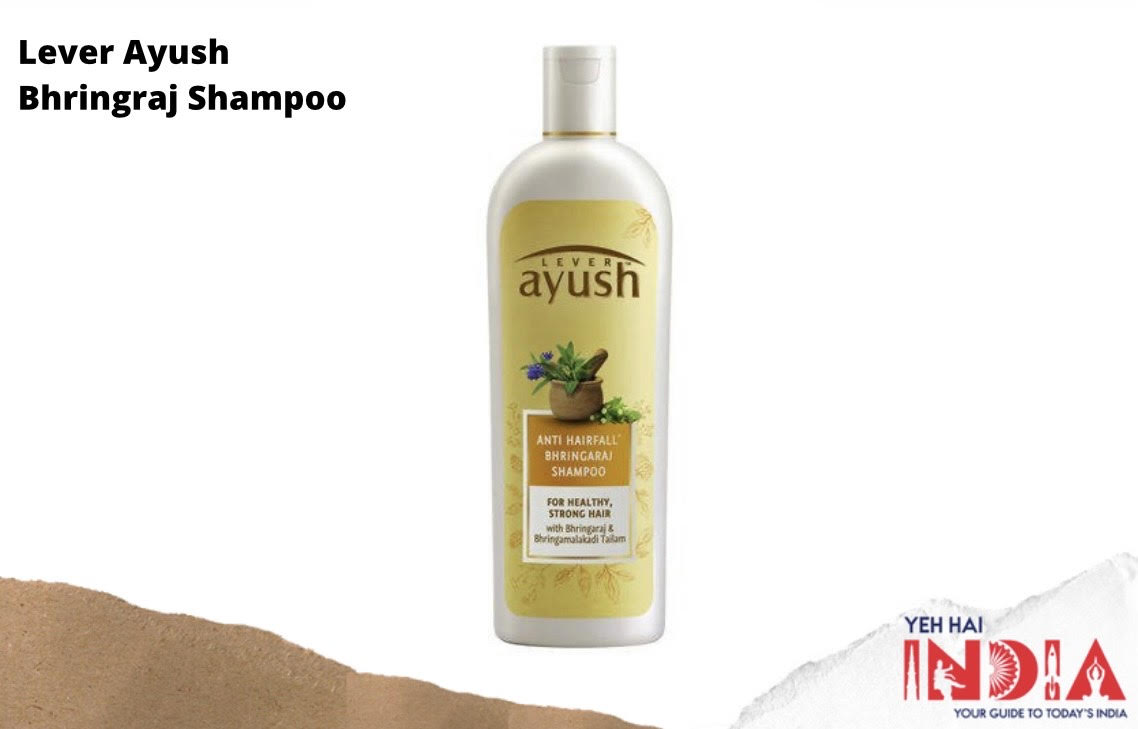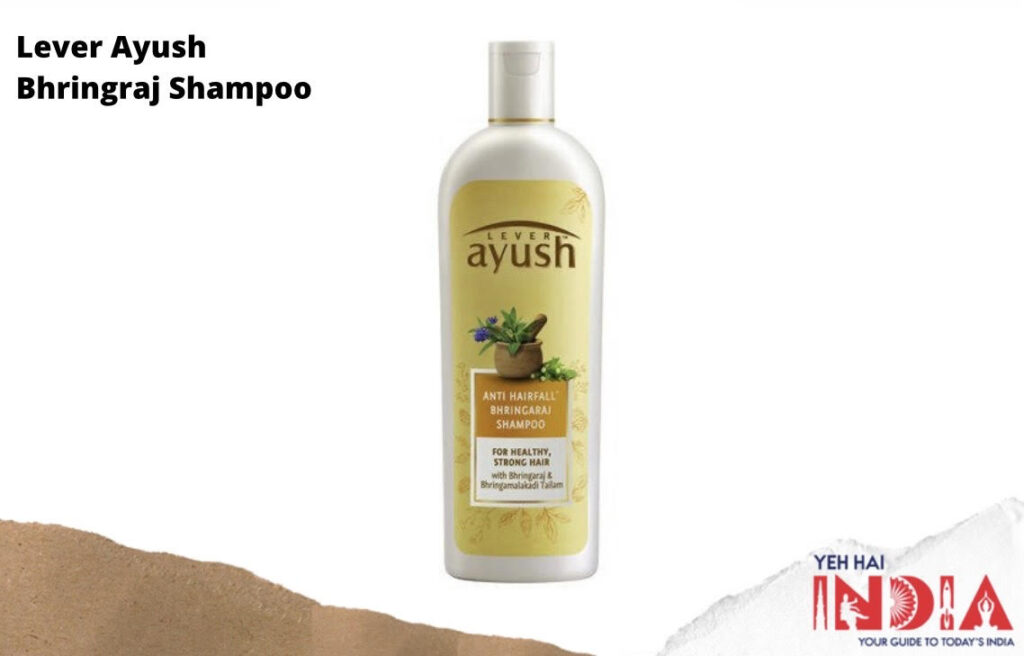 Lever Ayush Bhringraj shampoo contains Bhringamalakadi Tailam and bhringraj, a powerful Ayurvedic herb. It promotes hair growth, improves hair structure and cares for the hair.
This shampoo strengthens the hair and prevents hair breakage. It can improve the health of the scalp and repair damaged hair.
Active Ingredients and Benefits: This shampoo contains bhringraj and amla oil. Bhringraj enhances blood circulation in the scalp and helps to stimulate hair growth. A few studies have shown that bhringraj helps to reduce hair fall and increase hair growth rate.
Amla is another ingredient which promotes hair growth.The supporting ingredients are shikakai, eclipta alba extract, acacia extract, and rosemary. These are all natural and safe ingredients which promote hair health.
Why do we choose it?
This Ayurvedic shampoo contains bhringraj which is a powerful medicinal plant in Ayurveda. Amla also nourishes hair. When combined together to make Bhringamalakadi Tailam, they offer immense benefit in reducing hair fall.
Best For: All hair types
PROS:
Great smell
Effective in stopping hair fall
CONS:
May dry out your hair
Contains the artificial preservatives like DMDM Hydantoin which is a formaldehyde releasing ingredient
Price: Rs. 299 for 640 ml
4. Kesh King Anti-Hair Fall Shampoo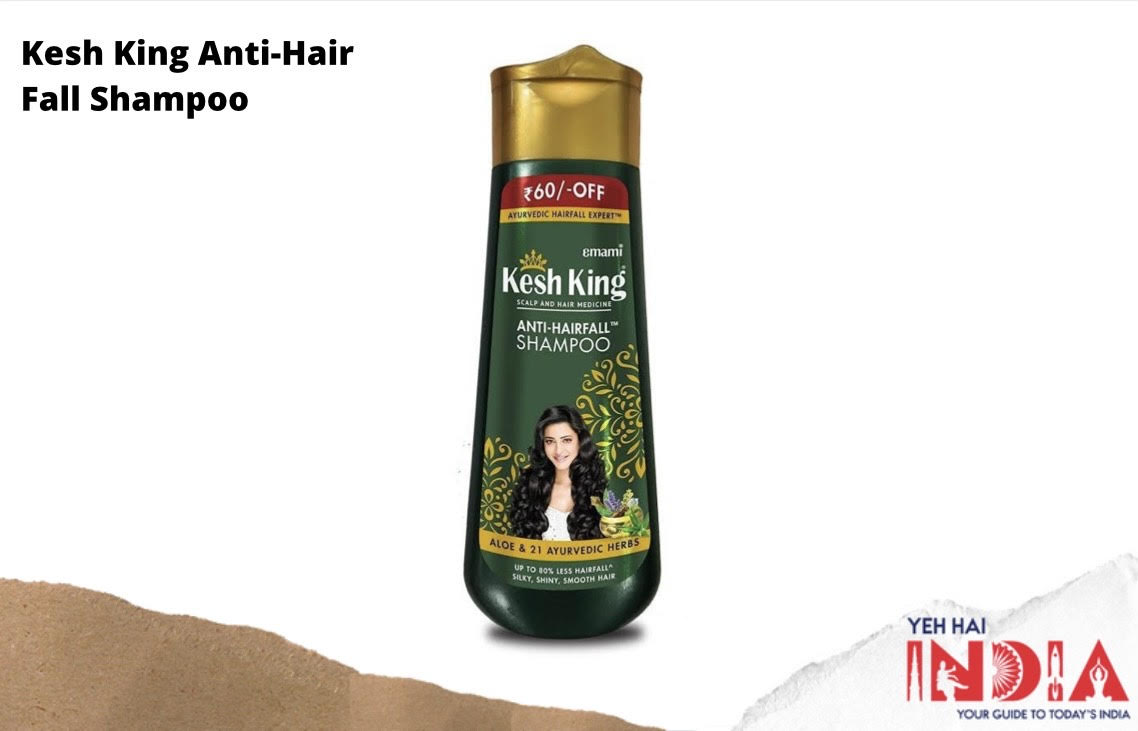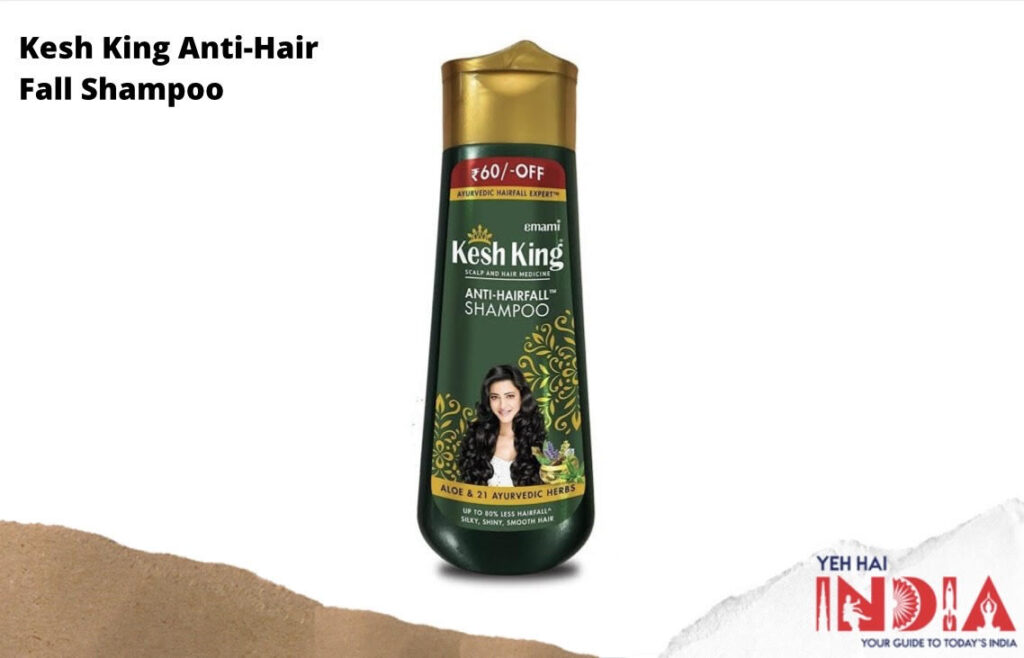 Ayurvedic shampoos tend to dry out the hair. However, Kesh King's Anti-Hair Fall shampoo can reduce hair loss without drying the hair, leaving it silky, shiny, and smooth.
Also, this anti-hair loss shampoo is formulated with 21 blockbuster herbs, including bhringraj and aloe vera to help reduce hair loss. It is undoubtedly one of the best ayurvedic shampoo.
It has been certified by the International Hair Institute, proving its effectiveness in the treatment of hair loss.
The shampoo makes your hair look beautiful and smooth and makes it bigger. It is light and has a strong but pleasant smell.
Active Ingredients and Benefits: This shampoo contains 21 active herbs including bhringraj, amla, methi, jatamansi, manjishtha, lodhra, chapa, bramhi, shikakai, haritaki, nimba, mehandi, karanja, tulasi, kola, nagkesara, rosemary, and aloe vera.
Bhringaraj improves blood circulation and enhances hair growth. It also helps to reduce grey hair. Amla provides strength to hair follicles, reduces dandruff, and promotes hair growth. It helps to provide strength to the hair shaft and stops hair fall.
Methi has cooling properties, and provides astringent, and antibacterial benefits. It is also full of nutrients that helps to enhance hair health. Aloe vera has anti-inflammatory and cooling properties and cools the scalp.
Why do we choose it?
The Kesh Kranti Shampoo has shown to reduce hair fall by 80% with continuous use. The 21 herbs form a powerful combination to control hair fall.
This shampoo provides an all round solution to hair fall by addressing the underlying causes like dry scalp, dandruff, and inflammation. It makes your hair voluminous and dense.
Best For: Thin and damaged hair
PROS:
Pocket friendly
Powerful combination of ingredients
Great for sensitive scalp
Ammonia free
CONS:
Price: Rs.177 for 340 ml
5. Indulekha Bringha Hair Cleanser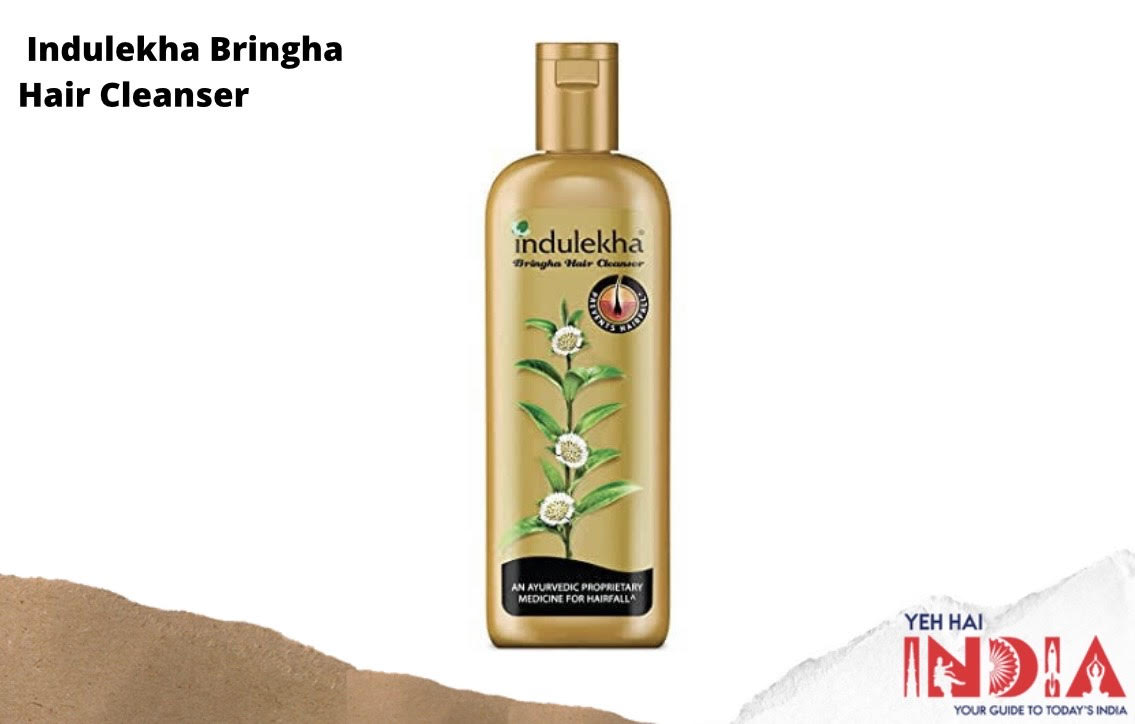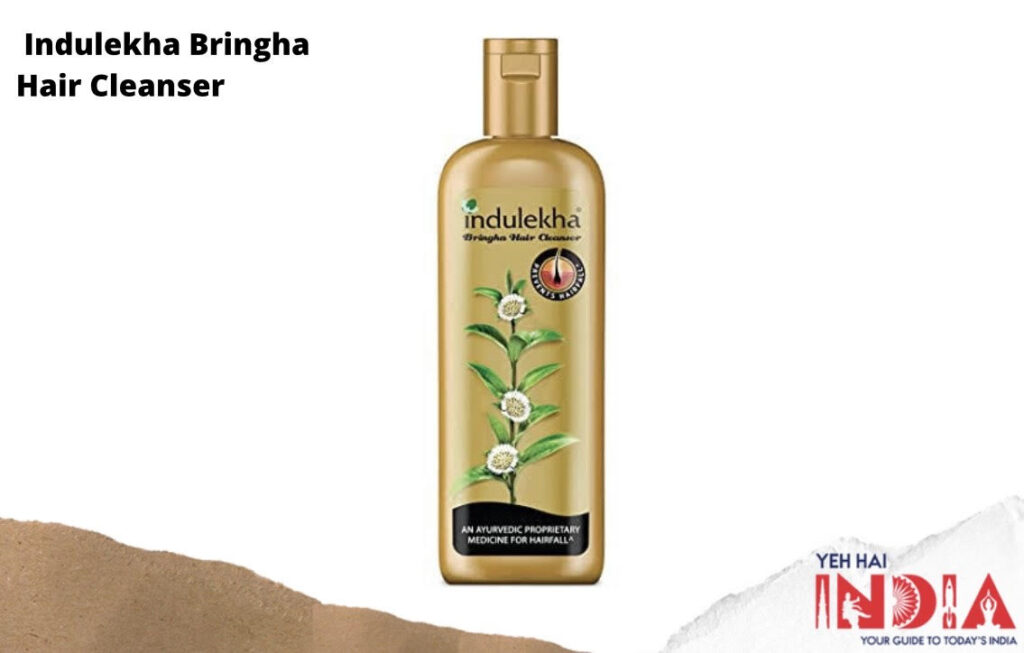 Indulekha Bringha Shampoo is rich in nine bhringraj, antioxidants, and essential minerals.
It can reduce hair loss and promote hair growth. The rich formula contains shikakai, amla, tulsi, and neem.
Moreover, this herbal shampoo can deeply cleanse the scalp, improve blood circulation, and scalp health. It also helps prevent dandruff and itching.
This hair cleanser also contains rosemary oil and micronutrients to help remove excess oil and dirt.
Active Ingredients: This shampoo contains shikakai, bhringraj, amla, and rosemary oil. Bhringraj is rich in minerals and antioxidants and is considered to be the most powerful herb for hair in Ayurveda. It helps to grow new hair while reducing hair fall.
Amla provides vitamin C and increases blood circulation. It helps to strengthen hair follicles. Shikakai is another powerful herb full of vitamins. It cleanses the hair and provides protection from fungal infections.
Fungal infections cause extreme dandruff and hair fall. It adds shine to the hair. Rosemary provides anti-inflammatory properties which cools the scalp and reduces itching.
Why do we choose it?
The powerful ingredients in this shampoo work together to promote scalp health and reduce hair fall. Regular use of the shampoo may also help hair re-growth and increase hair volume.
Best For: Thin and weak hair
PROS:
Paraben and synthetic dye free
Natural fragrance and colour
Powerful mixture of 9 bhringraj plant extracts, 6 herbs and essential oils
Recommended by Ayurvedic experts
CONS:
May not work well for dry hair
Contains synthetic preservatives like DMDM Hydantoin and methylchloroisothiazolinone
Price: Rs. 405 for 340 ml
Recommended Story – Top Ayurvedic Beauty Brands in India
6. Dabur Vatika Naturals Ayurvedic Shampoo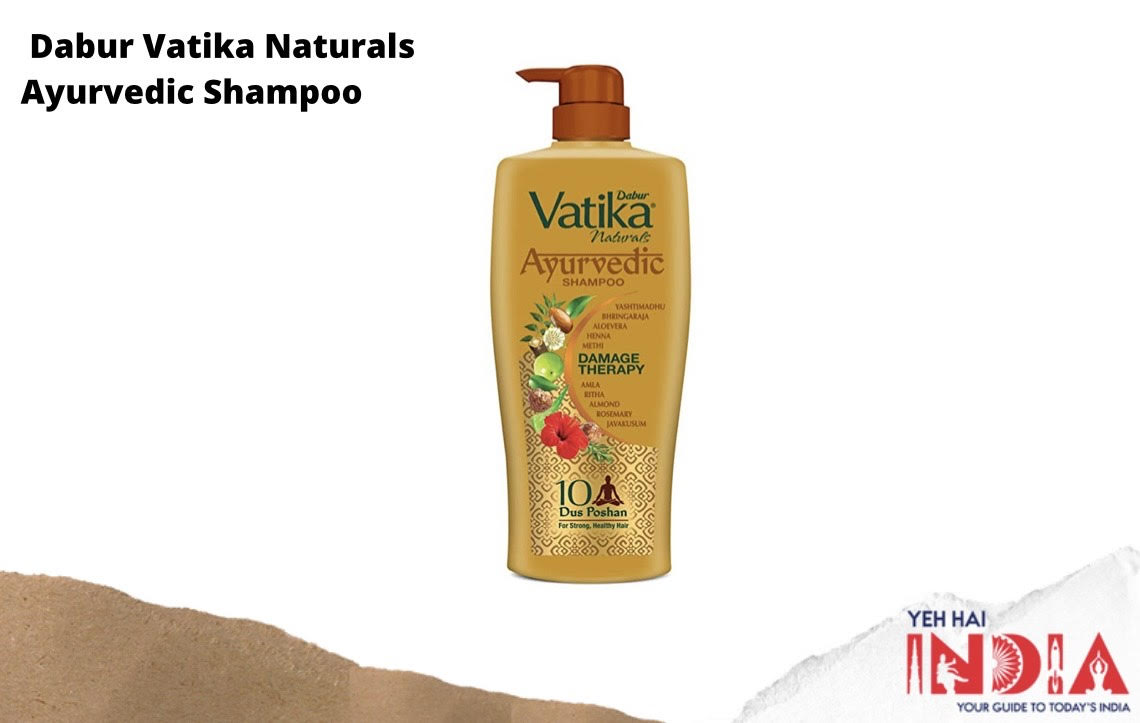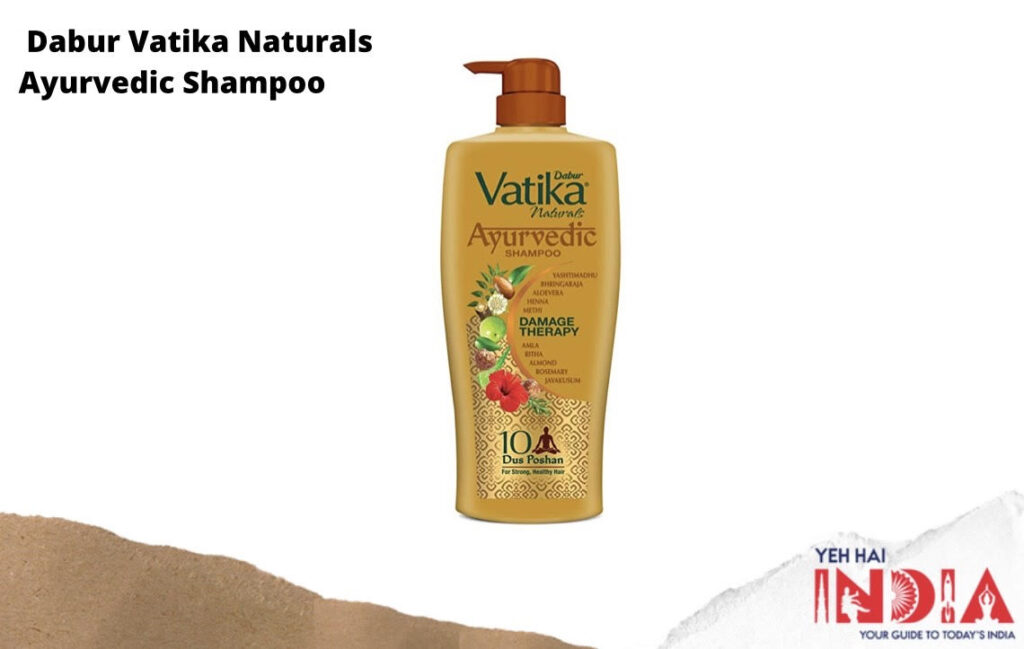 This shampoo protects the hair from damage and makes it shiny. Damage therapy treatment makes the hair stronger.
Almonds moisturize the scalp, while amla softens and strengthens the hair. This natural shampoo prevents hair from turning grey and stimulates hair growth.
Bhringraj controls hair loss and aloe vera makes hair smooth.

Active Ingredients and Benefits: Dabur Vatika Ayurvedic Shampoo contains bhringraj, aloe vera, yashtimadhu, henna, reetha, amla, methi, rosemary, almond, and javakusum.
All these ingredients provide nourishment to the scalp and hair. Aloe vera provides vitamin C and E which reduces inflammation and free radical damage.
Bhringraj induces hair regrowth. Henna provides moisturization and nourishment. The rest of the ingredients also provide strength to hair follicles and induce hair growth.
Why do we choose it?
The combination of ingredients of the shampoo is great. All these ingredients are known to reduce hair fall and provide maximum hair regrowth. The composition is also comparatively safe as it is free of paraben and sulphate. It is an amazing ayurvedic anti-hairfall shampoo.
Best For: Dry and frizzy hair
PROS:
Reduces the problem of dandruff
Cleanses the scalp
Sulphate free
Paraben free
CONS:
None
Price: Rs. 525 for 640 ml
7. Sesa Ayurvedic Medicinal Shampoo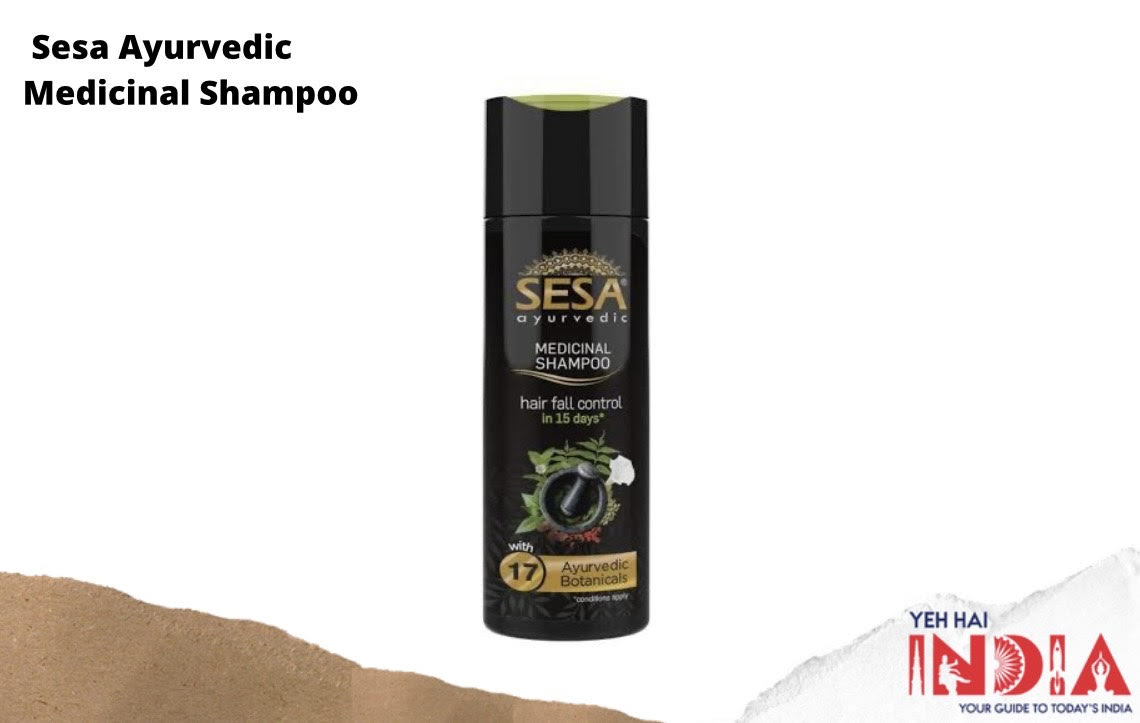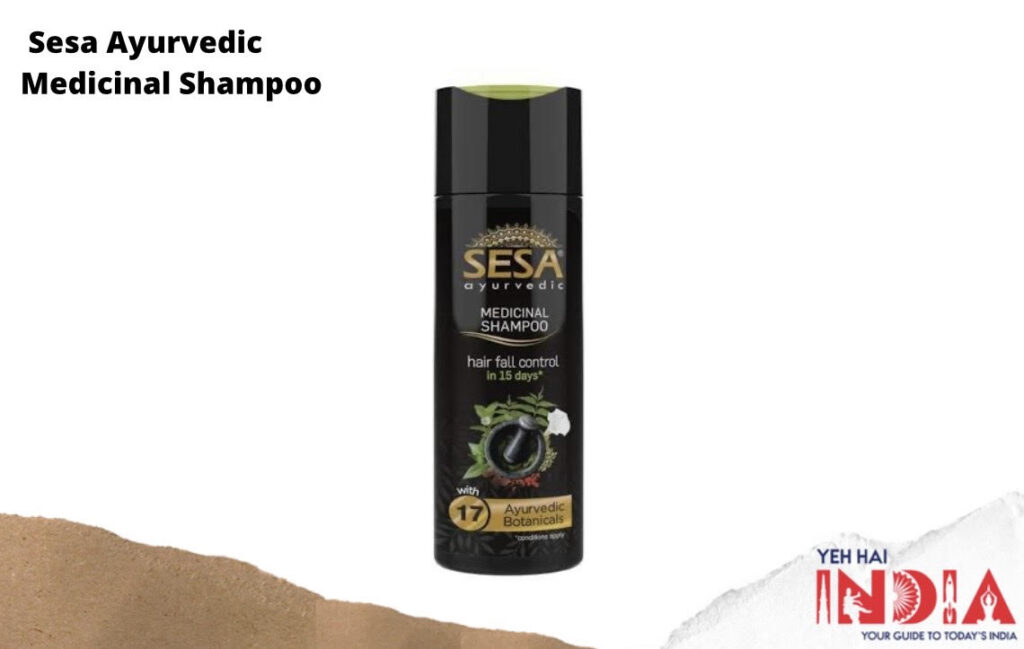 Sesa Ayurvedic medicinal shampoo contains plant extracts, bhringraj and 16 Ayurvedic herbs to strengthen the hair from root to tip.
It is an all-in-one solution for dandruff, scalp infection, hair loss, and irritation.
The shampoo helps to straighten and soften the hair. It also relieves headaches and improves blood flow to the scalp.
This product helps protect hair from environmental pollutants.
Active Ingredients and Benefits: This shampoo contains 17 powerful ayurvedic herbs which prevents hair fall. They are bhringraj, triphala, neem, mehendi, mandukaparni, jati, gunja sudha, dhatura, elaichi, nili, indravaruni, tagar, karanj, rasot, akarkara, vacha, and yashtimadhu.
These ingredients have shown to reduce hair fall in 15 days when used thrice a week with hair oil and proper diet. Bhringraj, gunja sudha, and mandukaparni reduces hair fall.
Neem, rasot, karanja, and vacha helps to improve hair health by repairing hair damage. Jati, triphala, dhatura and elaichi reduce itchiness and inflammation. Nili, indravaruni, mehendi, and yashtimadhu act as natural conditioners.
Why do we choose it?
This shampoo provides multiple benefits to the hair and scalp. It addresses hair fall from multiple angles.
The combination of ingredients provides a comprehensive solution for hair loss. This makes it a very effective anti-hair fall shampoo for itchy scalp and dandruff.
Best For: Itchy and dry scalp
PROS:
Makes your hair silky and smooth
Gives results instantaneously
Gentle formula
Paraben free
AYUSH-certified
Safe preservatives
CONS:
Price: Rs. 303 for 500 ml
8. Biotique Ocean Kelp Anti Hair Fall Shampoo
Biotique Ocean Kelp Shampoo is a popular anti hair fall shampoo in India. It is rich in nutrients, minerals, and vitamins and provides natural protein to the hair for hair regrowth.
It helps to extend the hair growth cycle and imparts natural luster. The shampoo is suitable for both men and women. It is available in a thin blue gel form.
Active Ingredients and Benefits: The active ingredients of the shampoo are neem, tesu, daruhaldi, bhringraj, ritha, sajjikhar, and Himalayan water.
All the ingredients in the shampoo are very powerful and provide nourishment to hair. It cleans the hair deeply and leaves you feeling refreshed and rejuvenated. The ingredients have a cooling effect on the scalp making it great for summer.
Why do we choose it?
Biotique is a popular AYUSH-certified brand in India and their products are very affordable and effective. This shampoo has a great combination of ingredients and is one of the best herbal shampoo. It is safe to be quite effective in reducing hair loss.
Best for: Oily scalp and hair
PROS:
Powerful ingredients
Highly effective
Synthetic preservative-free
CONS:
Price: Rs. 200 for 340 ml
9. Forest Essential Hair Cleanser with Amla, Honey & Mulethi
This shampoo is great for people with dry scalp as it provides extreme nourishment. It moisturizes the scalp, removes dirt and excess oil without washing off the natural oils. It can repair damaged hair and bring shine to rough and dry hair.
Regular use of this shampoo reduces gray hair and hair loss, making your hair healthy and shiny. It also controls dandruff by soothing the scalp and reducing inflammation.
Active Ingredients and Benefits: This shampoo contains amla, raw organic honey, reetha, nilini, haritaki, soya protein, pure coconut oil, and herbal infusions.
This combination of ingredients works to produce bouncy, strong, and shiny hair. Vitamin C rich amla strengthens the roots and helps to stop hair loss. Honey and coconut oil provide nutrition to the scalp and reduce itching and inflammation.
Why did we choose it?
This shampoo from the trusted brand Forest Essentials contains a powerful combination of ingredients. It offers several benefits for the hair including controlling hair fall and dandruff and stimulating hair growth. Natural ingredients and sulfate-free formulation are a perfect alternative to harsh soap-based shampoos that leaves the hair dry.
Best For: Weak hair with dry scalp
PROS:
Reduces dryness of hair
makes your hair shiny
Formulation is very gentle
Eco-friendly packaging
Free from parabens, sulfates and petrochemicals.
CONS:
None
Price: Rs. 1575 for 200ml
10. Kama Ayurveda Himalayan Deodar Hair Cleanser
Kama Ayurveda Himalayan Deodar Hair Cleanser shampoo helps keep hair strong and healthy.
The gentle formula is enriched with the essence of potent ingredients like deodar and aloe vera. Aloe vera is rich in natural vitamin C and E, which can nourish and strengthen hair.
This cleanser can soothe dry scalp and help nourish your hair. It also helps restore the natural moisture balance of the scalp.
Active Ingredients and Benefits: This shampoo contains deodar, amla, soybean, and hibiscus. Deodar or "wood of the god" is the primary ingredient in the shampoo. It is antiseptic in nature and bitter. This wood has been used to treat several skin disorders.
Amla promotes hair growth and provides strength to hair follicles. It prevents split ends and premature greying. Soyabean is a source of high quality protein which adds luster and shine to the hair. Hibiscus is rich in antioxidants and protects hair from UV rays.
Why did we choose it?
This shampoo has a gentle formulation with a unique combination of ingredients that makes it a must try for people struggling to stop hair fall. The shampoo provides immense benefits to the hair and scalp.
Best For: Oily and inflamed scalp
PROS:
Works on all hair types
SLES-free
Gentle formulation
CONS:
None
Price: 1495 for 200ml
Also Read – Remedies for Hairloss in monsoon by Dr. Arati Soman, Ayurvedic Expert, Nisarga Herbs