Ayurveda has the solution to every problem and the same implies for hair fall as well.
Hair Fall is a very common problem and people stress a lot about it.
If you're someone who has been finding a cure to this problem, then do try one of the Ayurvedic products mentioned below.
If by any chance, these don't seem to work on you, try consulting a dermatologist.
Always try to find the root cause behind your hair fall and then choose the right shampoo for your hair.
You shampoo should treat the problem and cleanse your scalp well so that it doesn't attract other pollutants or hair diseases.
Go through the list of Ayurvedic Shampoos mentioned below and choose the one that suits your hair type:
Recommended Story – Top 10 Anti- Hair Fall Shampoos in India
1. Khadi Natural Hair Cleanser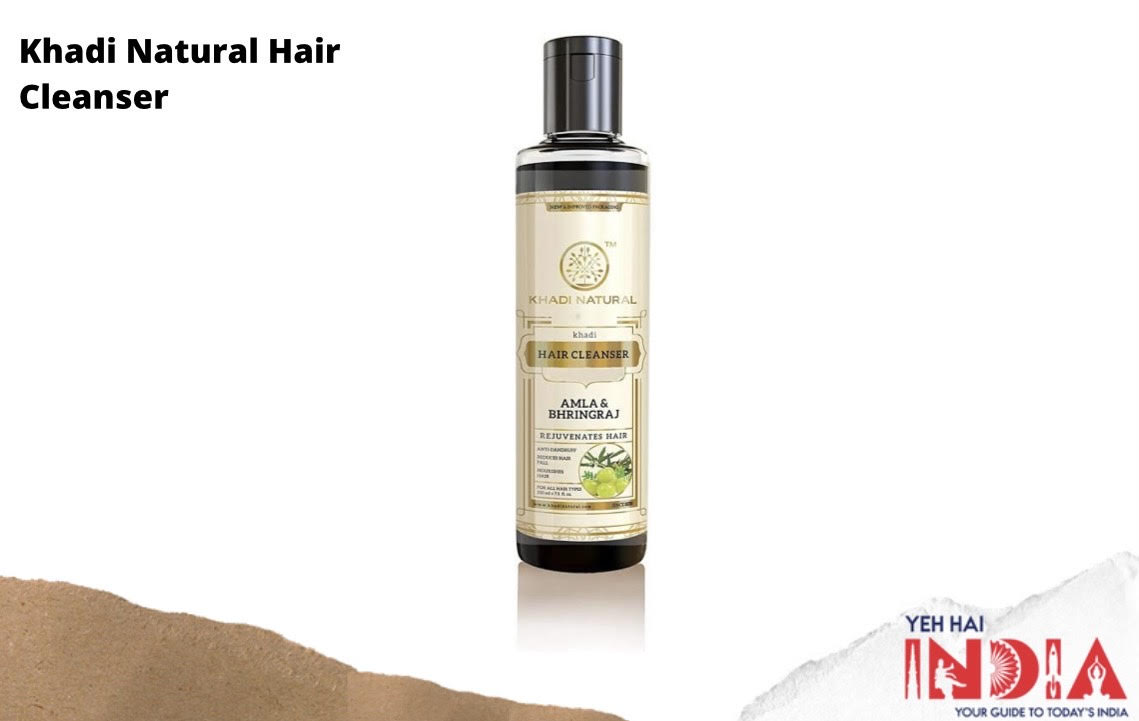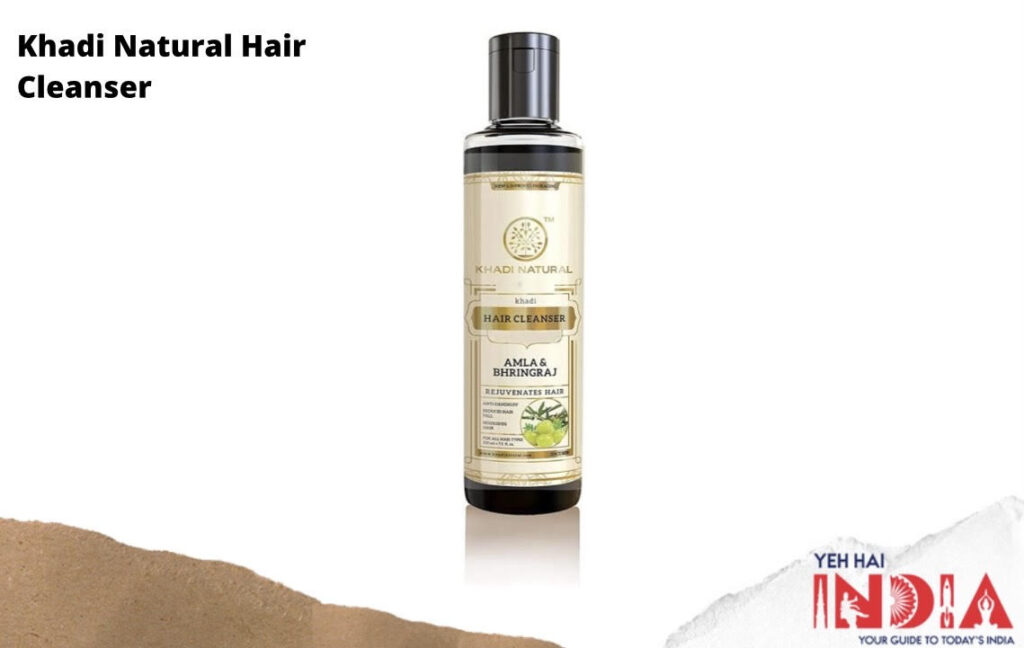 Khadi Natural Hair Cleanser contains Bhringraj, Amla, and Reetha.
These ingredients stimulate hair growth and strengthen damaged hair.
Bhringraj extract increases blood flow to the scalp and activates hair follicles. Also, Amla prevents premature whitening and Reetha keeps hair shiny.
This natural shampoo intensively nourishes the hair, moisturizes the scalp, and reduces dandruff.
It can also reduce hair loss caused by stress and environmental factors.
Main Ingredients: Bhringraj, Amla, Neem, Reetha, Haritaki, and Henna extract.
PROS:
CONS:
The fragrance is a bit on the stronger side
2. Bella Vita Organic Growth Protein Shampoo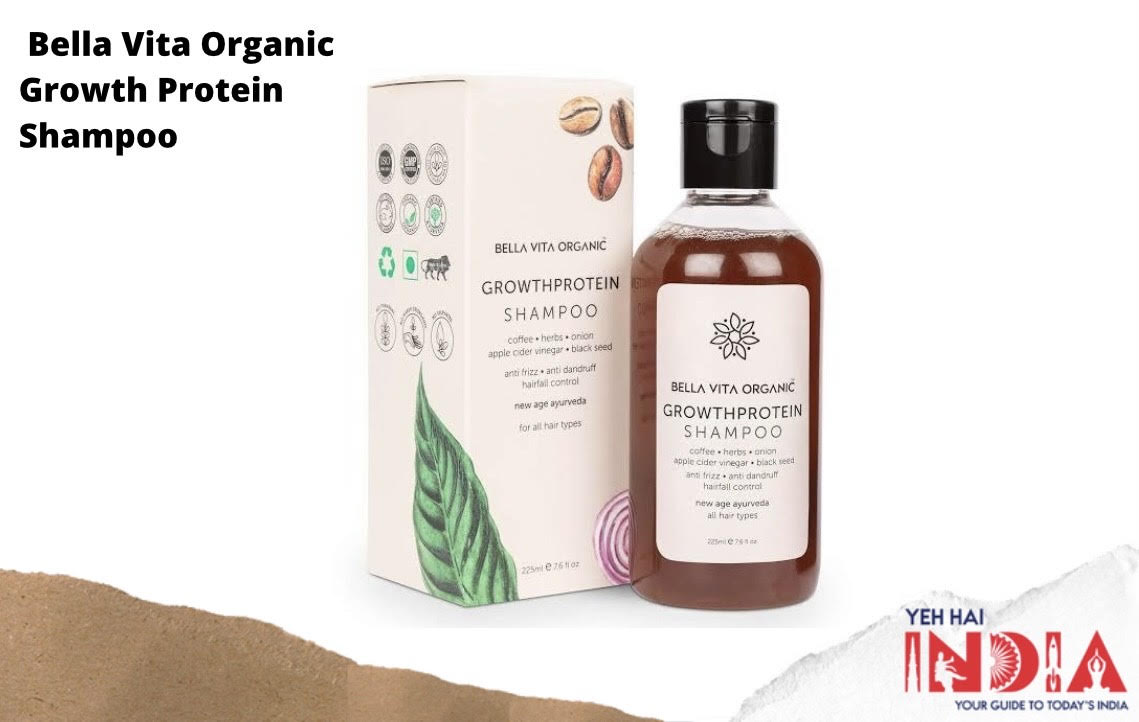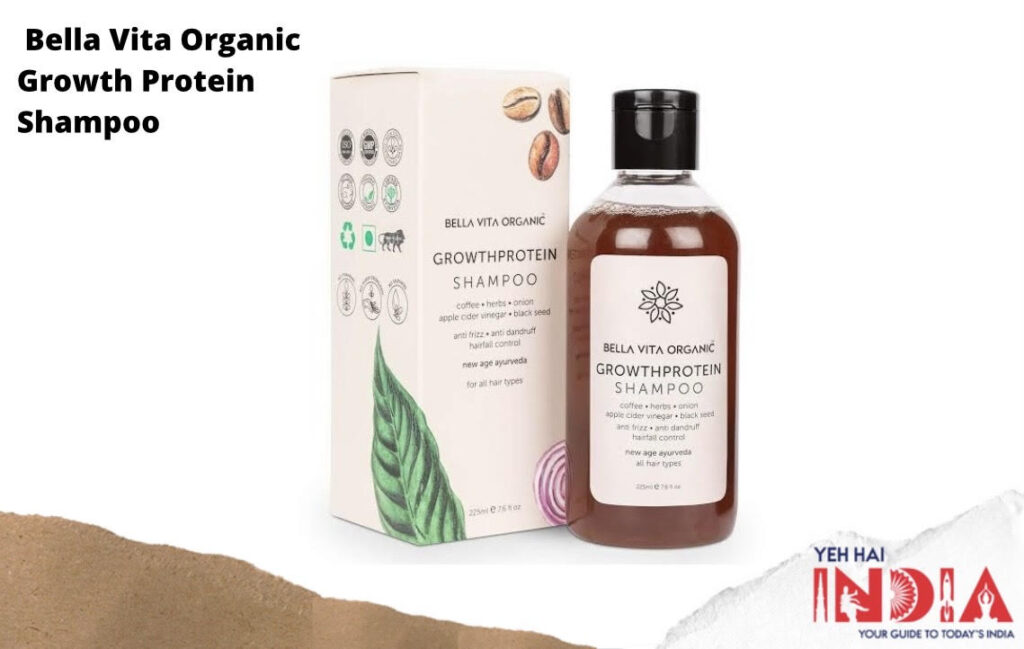 Bella Vita Organic Growth Protein Shampoo is rich in herbal ingredients such as black cumin, bhringraj, onion, argan seeds and various other herbs.
It can strengthen the hair roots and keep them healthy.
The shampoo is like a moisturizing conditioner that improves hair quality and maintains pH balance.
It is rich in essential proteins, which helps reduce hair loss and breakage.
This product helps to nourish your hair, making it soft and shiny.
Main Ingredients: Coffee, Apple cider vinegar, Onion oil, and Black seed
PROS:
Prevents frizz in your hair
Cruelty-free
Paraben free
Silicon free
CONS:
Nothing prominent as of now
Buy Bella Vita Organic Growth Protein Shampoo HERE
3. Lever Ayush Bhringraj Shampoo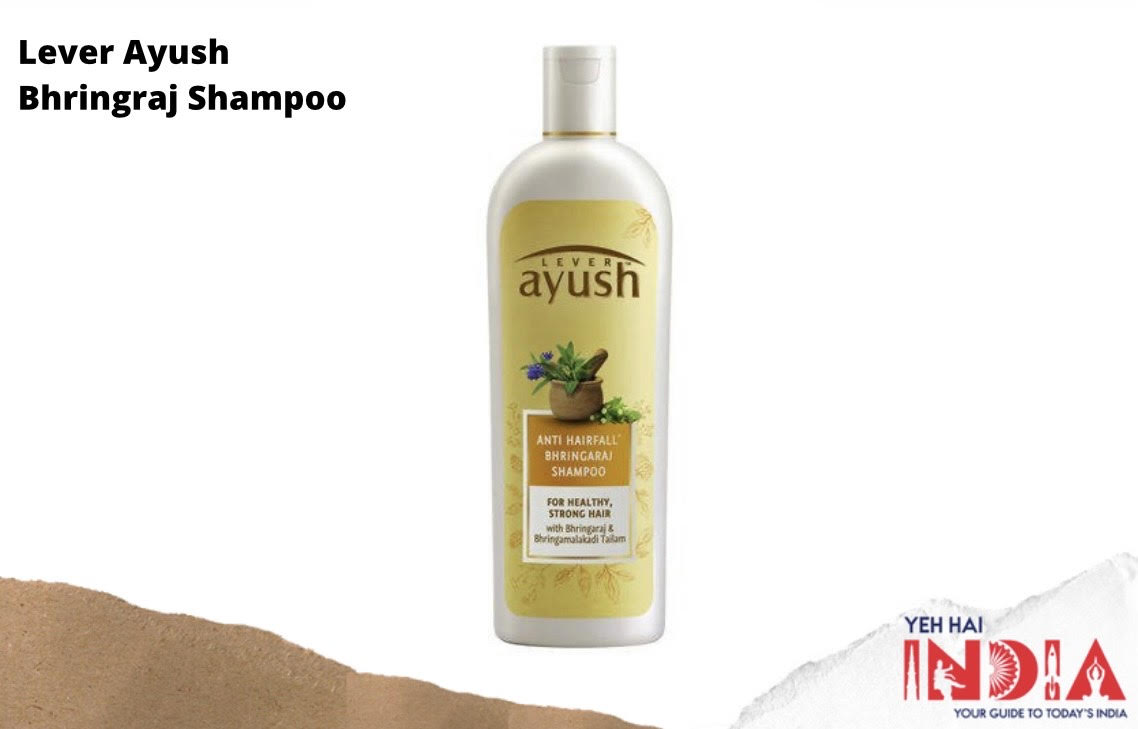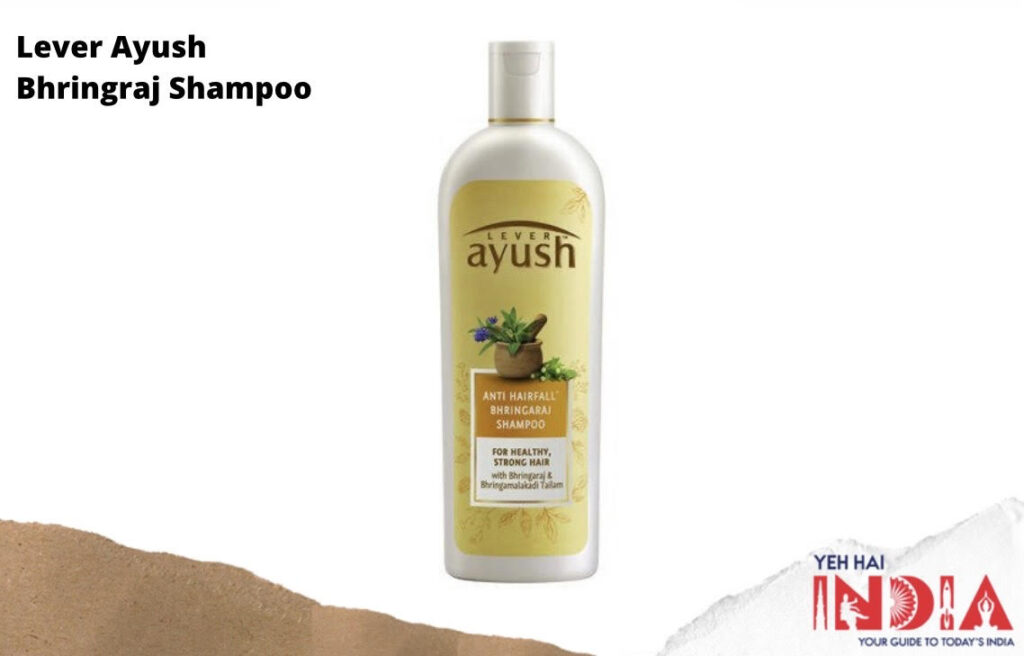 Lever Ayush Bhringraj shampoo contains Bhringamalakadi Tailam and Bhringraj, a powerful Ayurvedic oil.
It promotes hair growth, improves hair structure and cares for the hair.
This shampoo strengthens the hair and prevents hair breakage. It can improve the health of the scalp and repair damaged hair.
Main Ingredients: Amla and Bhringraj
PROS:
Great smell
Worth the price
CONS:
4. The Patanjali Kesh Kanti Milk Protein Hair Cleanser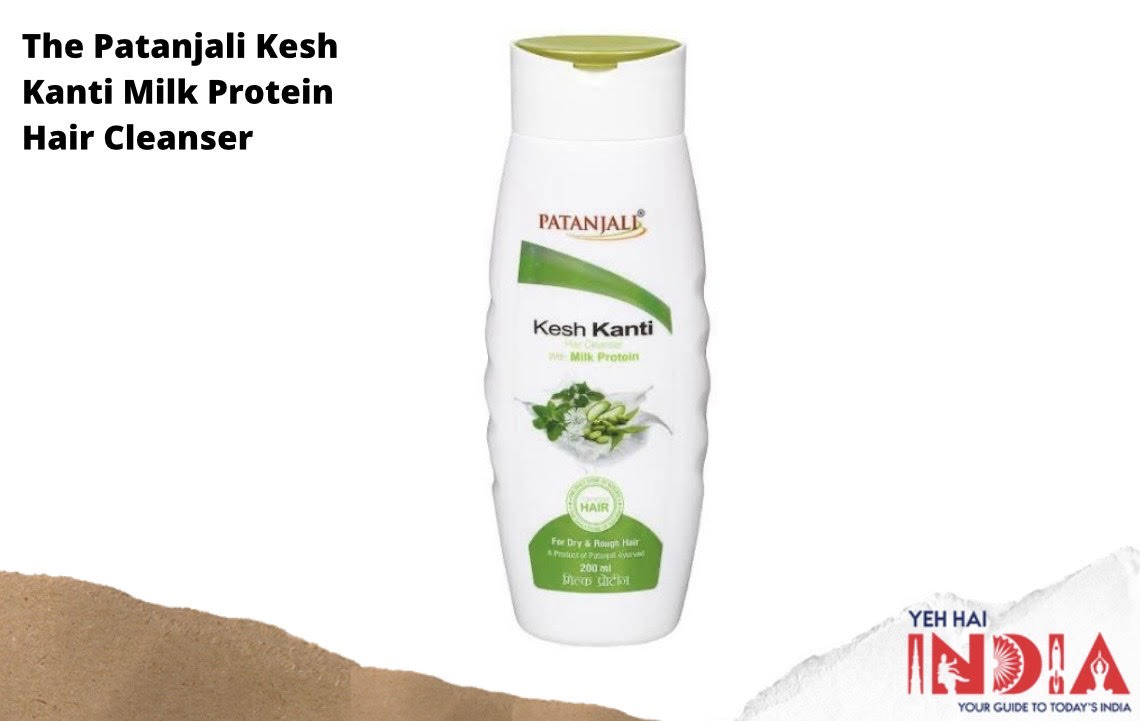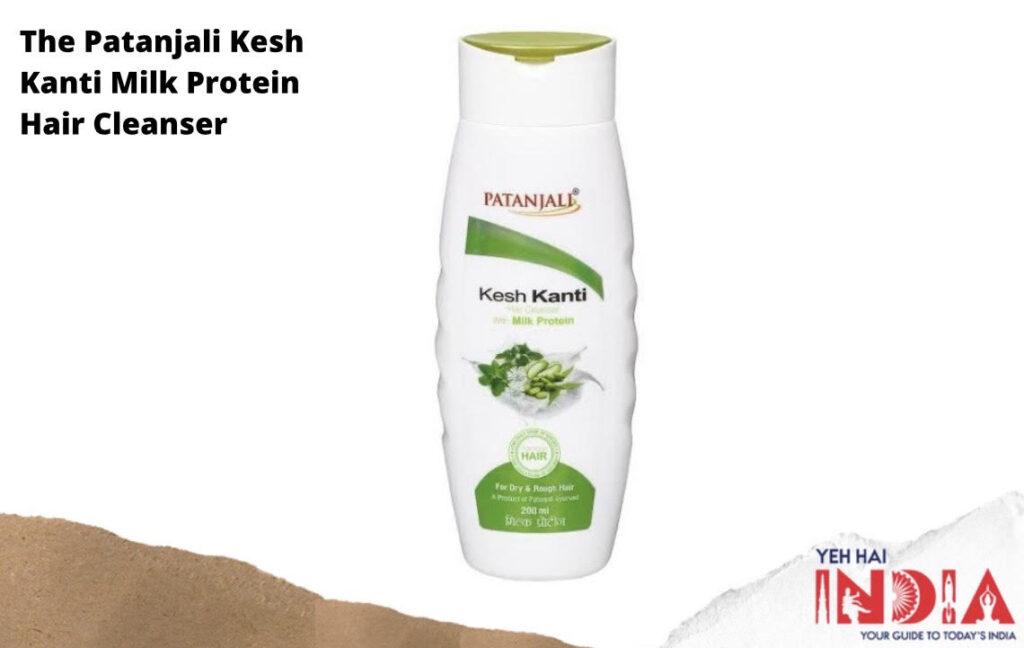 Patanjali Kesh Kanti Milk Protein Hair Cleanser helps treat dandruff and dry scalp.
It contains mehendi, bhringraj, amla, and shikakai that strengthen hair. Neem, Ritha, Bakuchi, Tagar, and Turmeric help fight all infections.
Moreover, Aloe vera can minimize grey hair and hair loss, making your hair healthy and shiny.
This cleanser moisturizes the scalp, removes dirt and excess oil. It can repair damaged hair and bring shine to rough and dry hair.
Main Ingredients: Bhringraj, Shikakai, Mehndi, Amla, Neem, Ritha, Tagar, Turmeric, and Bakuchi.
PROS:
Reduces dryness in the hair
Makes your hair shiny
Formulation is very gentle
CONS:
May make your hair dry and frizzy
5. Kesh King Anti-Hair Fall Shampoo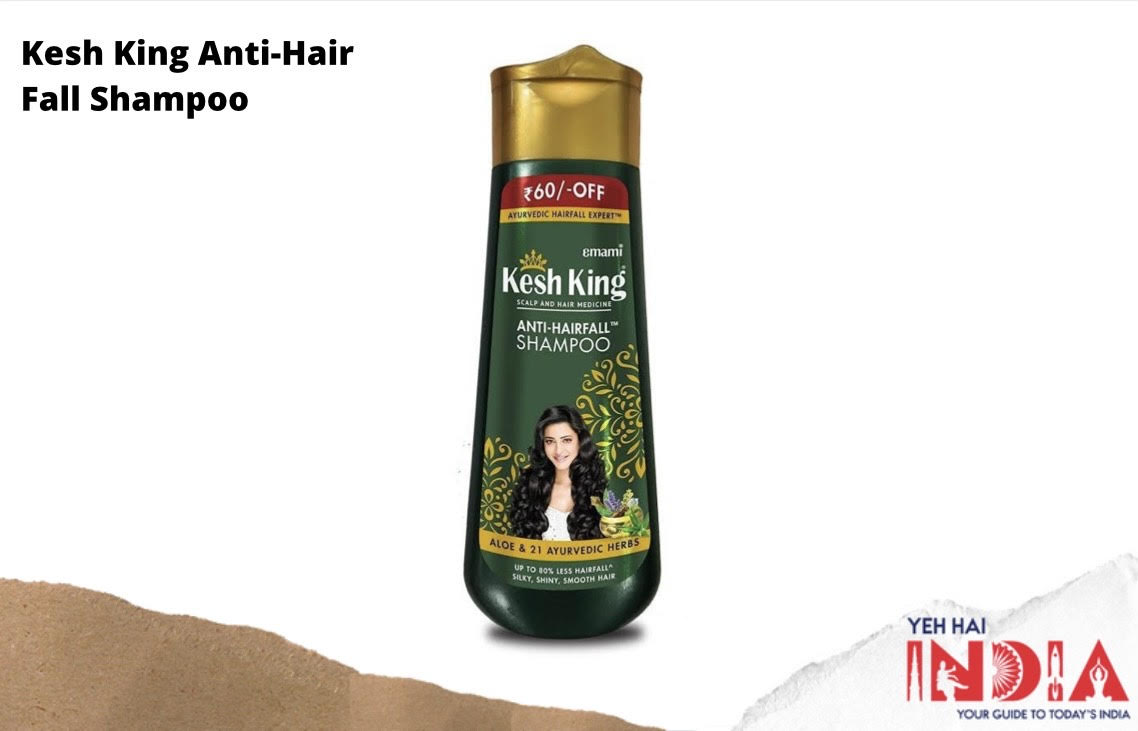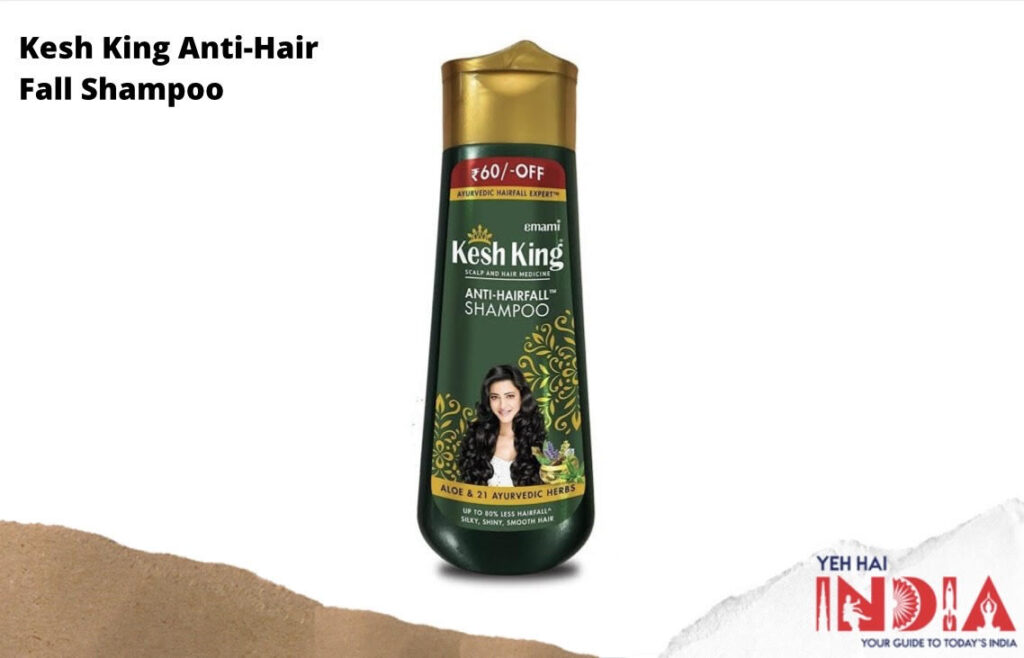 Ayurvedic shampoos tend to dry out the hair.
However, Kesh King's Anti-Hair Fall shampoo can reduce hair loss without drying the hair, leaving it silky, shiny, and smooth.
Also, this anti-hair loss shampoo is formulated with 21 organic herbs, including Bhringraj, methamphetamine and aloe vera to help reduce hair loss.
It has been certified by the International Hair Institute, proving its effectiveness in the treatment of hair loss.
The shampoo makes your hair look beautiful and smooth and makes it bigger. It is light and has a strong but pleasant smell.
Main Ingredients: Manjistha, Nagkeser, Brahmi, Yasti, and Bringraj.
PROS:
Pocket friendly
Pleasant smell
Made of natural ingredients
Great for sensitive scalp
CONS:
No prominent con as of now
6. Indulekha Bringha Hair Cleanser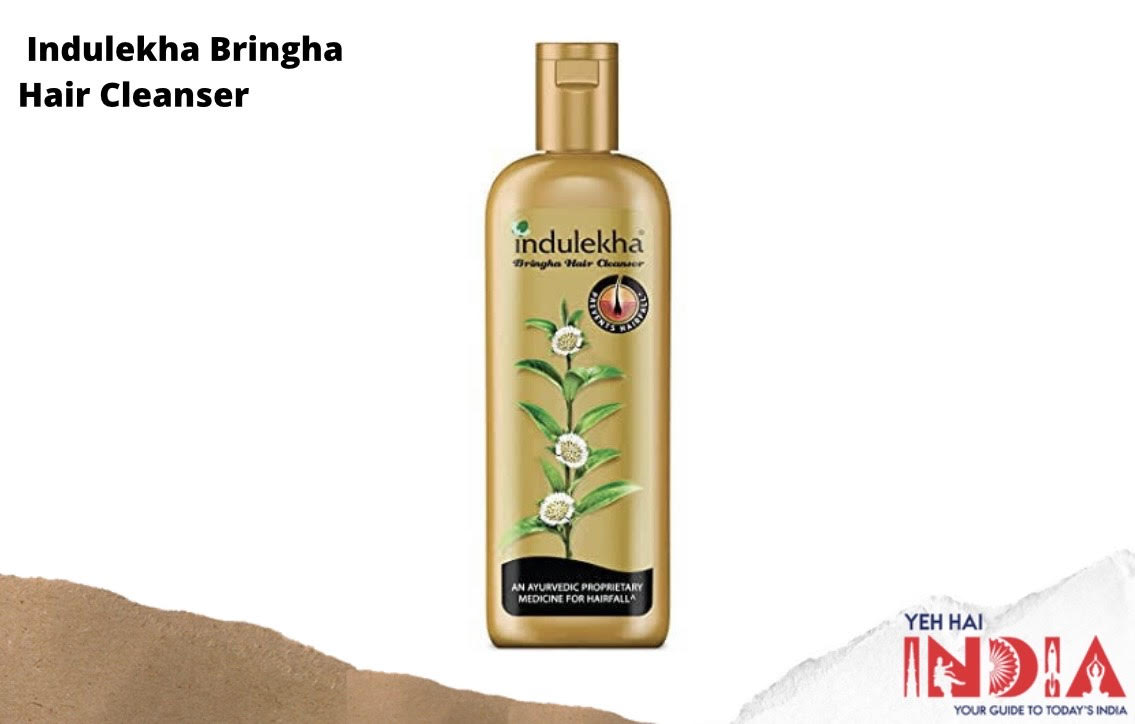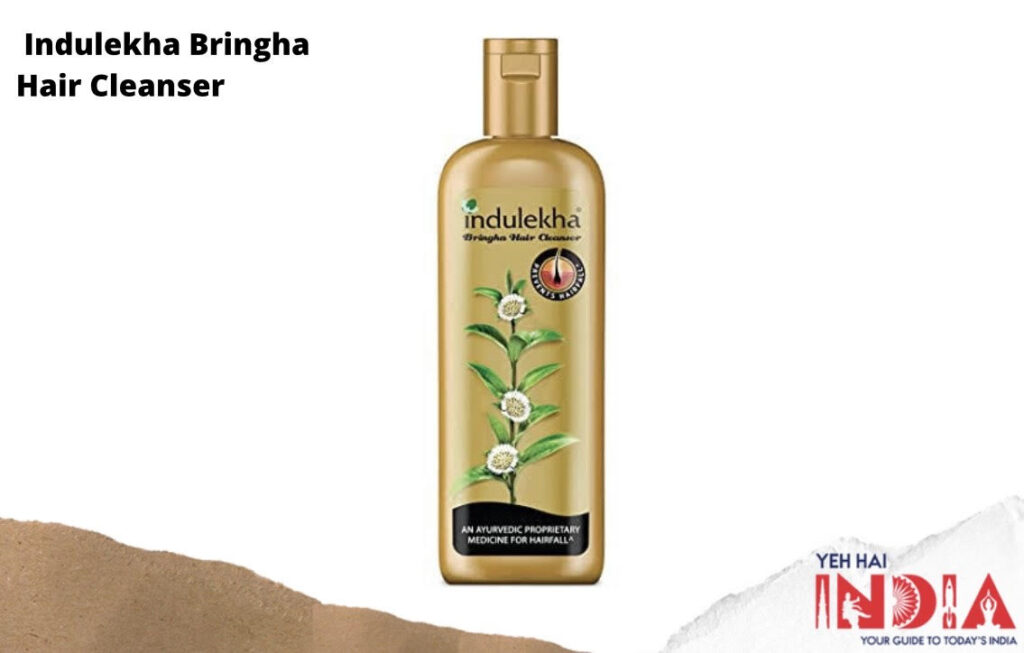 Indulekha Bringha Shampoo is rich in nine Bhringraj plants, antioxidants, and essential minerals.
It can reduce hair loss and promote hair growth.
The rich formula contains Shikakai, Amla, Tulsi, and Neem.
Moreover, this herbal shampoo can deeply cleanse the scalp, improve blood circulation, and scalp health. It also helps prevent dandruff and itching.
This hair cleanser also contains rosemary oil and micronutrients to help remove excess oil and dirt.
Main Ingredients: Shikakai, Bringharaj, Amla, and Rosemary oil.
PROS:
Paraben free
Dye free
No fragrance
Recommended by Ayurvedic experts
CONS:
May not work well for dry hair
Recommended Story – Top Ayurvedic Beauty Brands in India
7. Dabur Vatika Naturals Ayurvedic Shampoo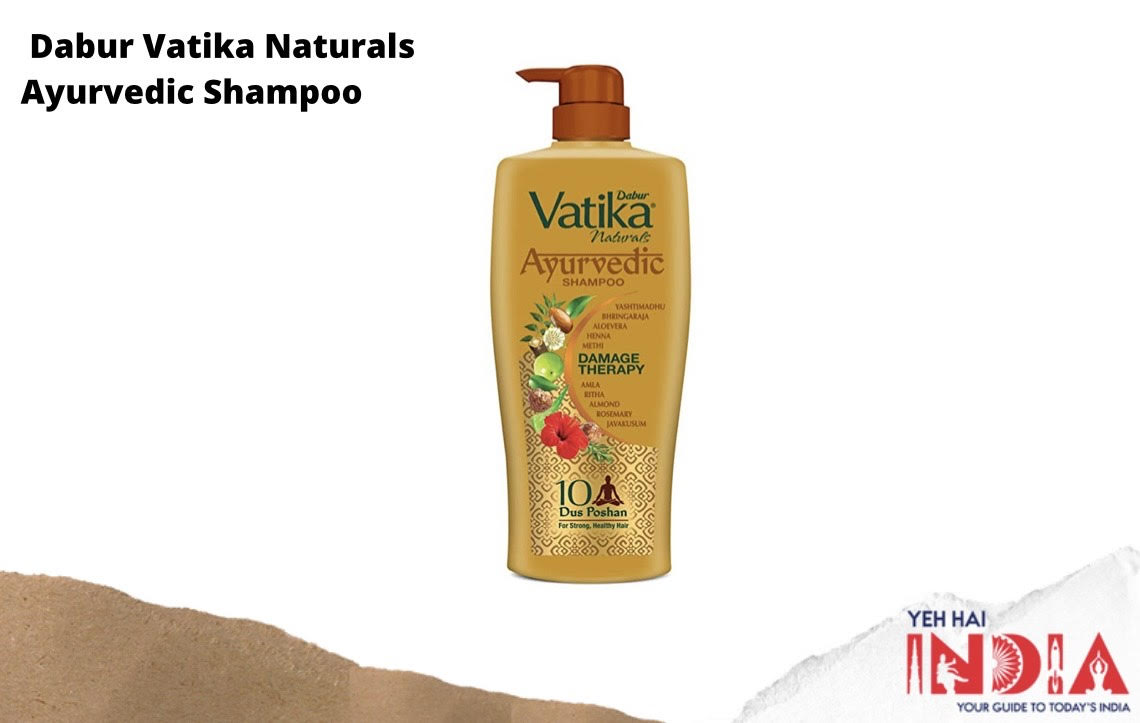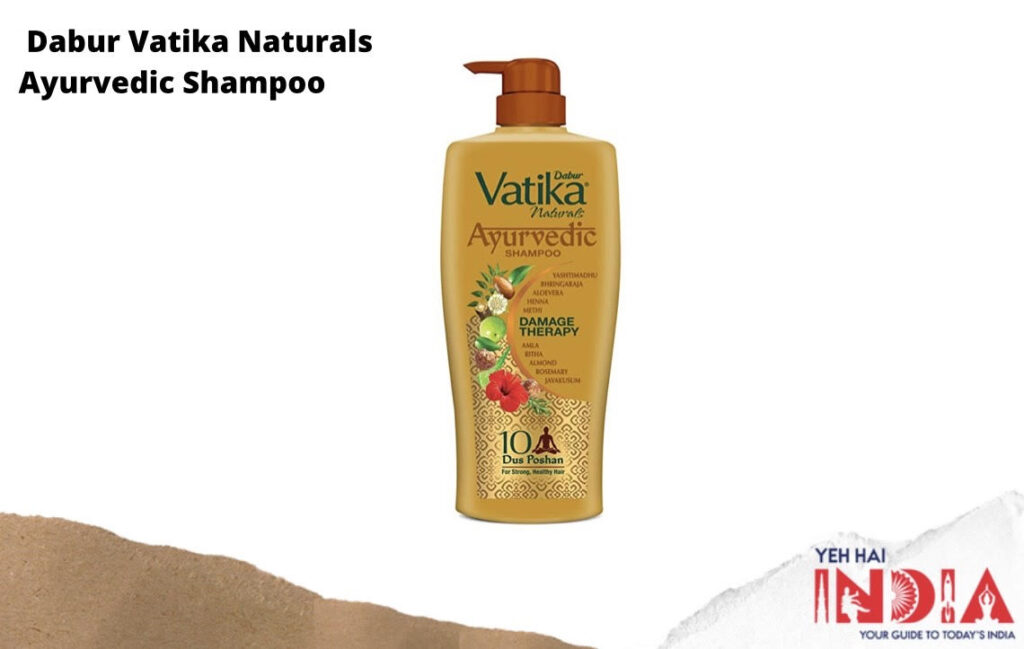 Dabur Vatika Ayurvedic Shampoo contains Yashtimadhu, Bhringraj, Henna, Methi, Amla, Reetha, Almond, Rosemary and Javakusum. Damage therapy treatment makes the hair stronger.
This shampoo protects the hair from damage and makes it shiny.
Almonds moisturize the scalp, while amla softens and strengthens the hair.
This natural shampoo prevents hair from turning grey and stimulates hair growth.
Bhringraj controls hair loss and aloe vera makes hair smooth.
Main Ingredients: Bhringraj, Aloe vera, Yashtimadhu, Henna, Reetha, Amla, Methi, Rosemary, Almond, and Javakusum.
PROS:
Reduces the problem of dandruff
Cleanses the scalp
Sulphate free
Paraben free
CONS:
Nothing prominent as of now
8. Sesa Ayurvedic Medicinal Shampoo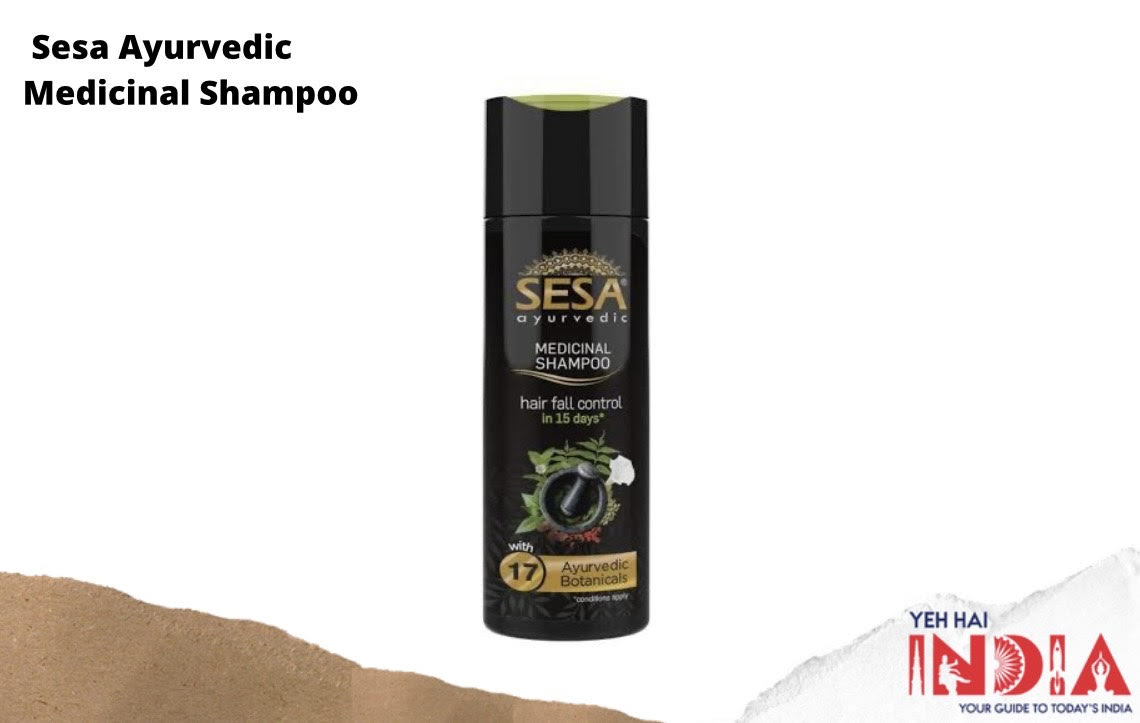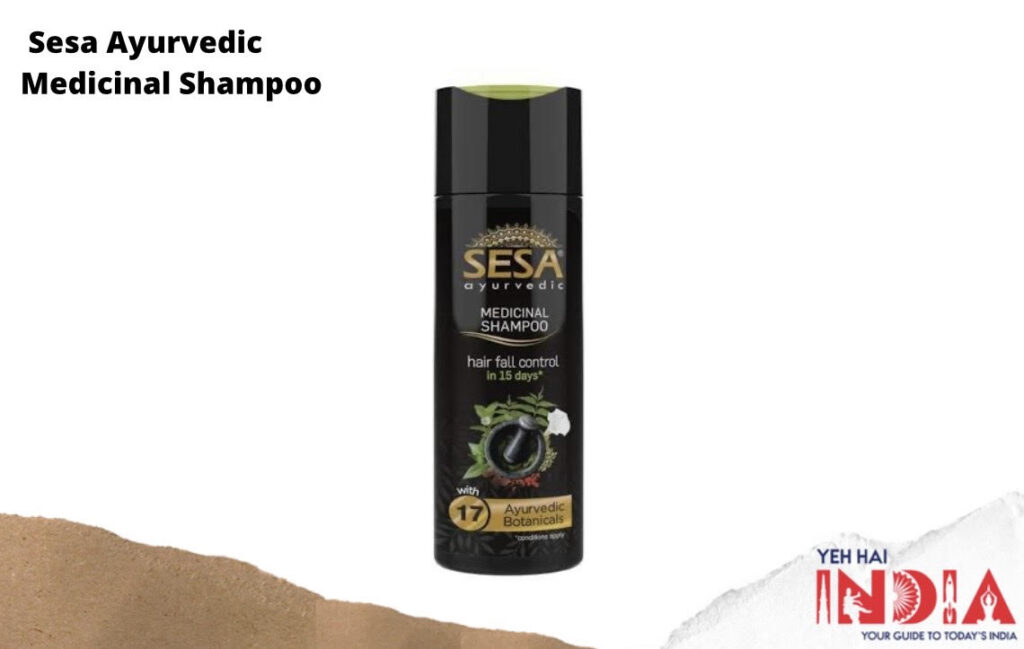 Sesa Ayurvedic medicinal shampoo contains plant extracts, Bhringraj and 16 Ayurvedic herbs to strengthen the hair from root to tip.
It is an all-in-one solution for dandruff, scalp infection, hair loss, and irritation.
The shampoo helps to straighten and soften the hair. It also relieves headaches and improves blood flow to the scalp.
This product helps protect hair from environmental pollutants.
Main Ingredients: Triphala, Bhringraj, and Yashtimadhu
PROS:
Makes your hair silky and smooth
Gives results instantaneously
Gentle formula
Paraben free
CONS:
No prominent con as of now
9. Just Herbs Ayurvedic 8 in 1 Root Nourishing Shampoo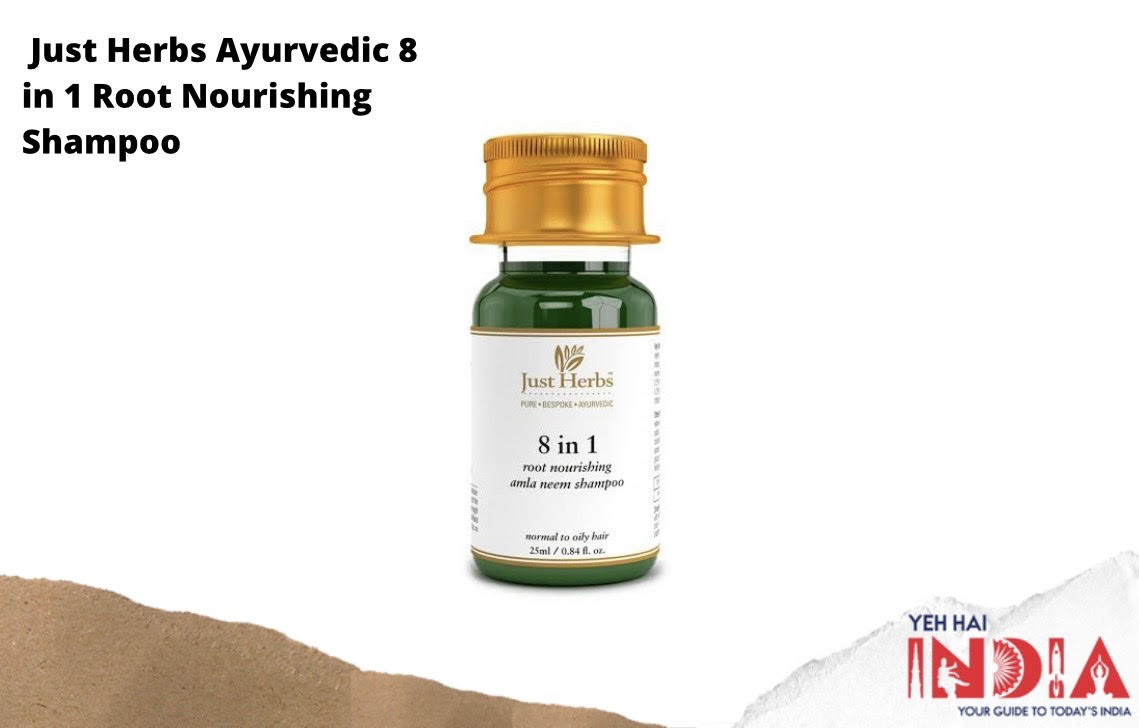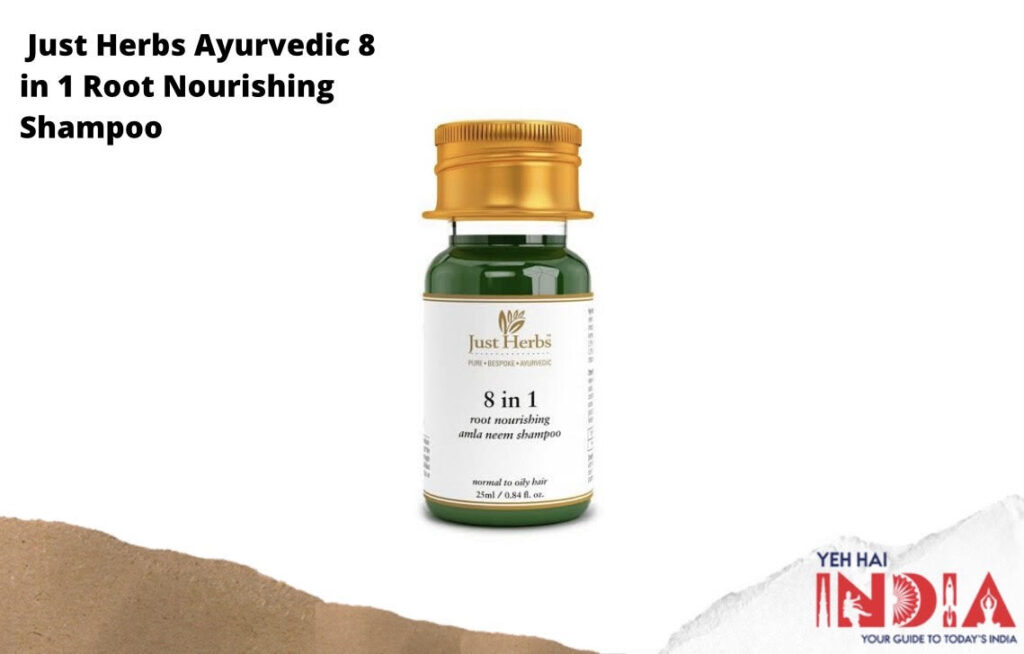 Just Herbs Ayurvedic 8in1 Root Nourishing Shampoo is rich in Amla, Neem and Henna to help cleanse the scalp.
It has powerful antibacterial properties that eliminate bacteria and nourish the hair.
Also, Henna strengthens the hair and gives it a natural dark colour while soothing the scalp.
This shampoo can stimulate blood circulation in the scalp and promote hair growth.
Main Ingredients: Neem, Amla, and Heena.
PROS:
SLS free
Non-GMO
Vegan
Paraben free
No Synthetic Ingredients
CONS:
It's a bit on the expensive side
10. Trichup Natural Shampoo
Trichup natural shampoo helps keep hair strong and healthy.
The gentle formula is enriched with the essence of henna and aloe vera. Aloe vera is rich in natural protein, which can strengthen hair.
This cleanser can soothe dry scalp and help nourish and nourish your hair. It also helps restore the natural moisture balance of the scalp.
Main Ingredients: Aloe Vera, Heena, and Neem.
PROS:
Works on all hair types
SLES free
CONS:
Nothing prominent as of now
Also Read – Remedies for Hairloss in monsoon by Dr. Arati Soman, Ayurvedic Expert, Nisarga Herbs