If chemical-based soap bars are not your choice, you need not worry because there is a better substitute for soothing baths. Organic soap bars are primarily a conscious healthy choice and a sustainable one at that.
There is no denying how good a bath can make us feel after a long and tiresome day at work. Under the shower, about a quarter of our worries are washed away as we let the water drip down our tensed foreheads. And to accentuate this fulfilling experience, we use the ever-so-aromatic and vibrant soap bars which do nothing but harm our sensitive skin.
Most of the soap bars you find on the shelves are filled up with a wide range of chemicals that have varying effects on the skin. They don't always suit all skin types. Some of these chemicals may lead to rashes, inflammation, and even, eczema.
Time to Replace Chemical-based soap bars with the best Organic soap bars!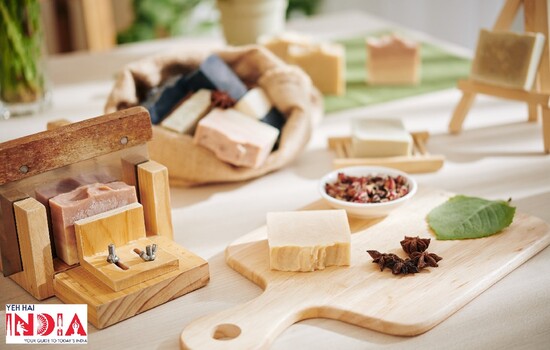 Recommended Story – Skin-Saver: Switch To The Best Herbal Face Washes In India
Chemical-based soap bars have several chemicals, some of which can be completely harmless to others that have been reported to cause cancer.
Common Harmful Chemicals Found in Soaps
Among a wide range of harmful chemicals that go into making your favourite soaps, here are a handful of them and their reactions on your skin:
1. Triclosan:
Triclosan is added as an antibacterial ingredient. But it has some adverse effects on the body as it can disrupt our hormonal system. USA Food and Drug Administration has banned the addition of Triclosan in toothpaste and soaps. In India, there are still a few brands that include Triclosan in their ingredient list.
2. Parabens:
Parabens are used as a preservative to increase the shelf life of makeup products, soaps, etc. Prolonged exposure to parabens causes sensitivities and allergies in the skin.
3. Benzoyl Peroxide:
Benzoyl peroxide is used in soaps and skin care products as an acne-reducing agent. It destroys acne-causing bacteria. But it is also a carcinogenic substance (which can cause cancer). It can lead to irritation, dryness, peeling, and burning of the skin.
4. Sodium Laureath Sulphate:
SLS is a foaming agent that is commonly used in soaps to cause frothing with water. It irritates the eyes, skin, and lungs.
5. Formaldehyde:
Formaldehyde is another carcinogen. It is usually added to prevent bacterial growth in water-based skin care products like soaps and shampoos. Formaldehyde is known to cause nasal or nasopharyngeal cancer.
Why use Organic soap bars over Chemical-based soap bars?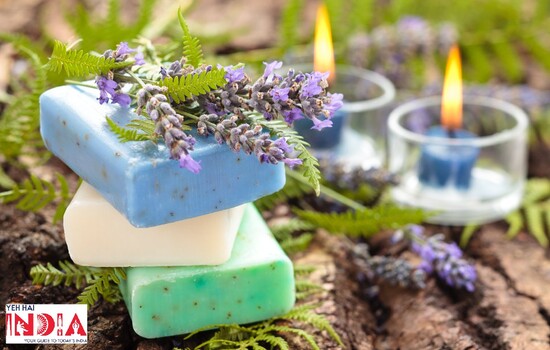 100% organic body soap bars must be the latest addition to your bathrooms. These soap bars are devoid of harmful chemicals that go into making super-aromatic and flamboyant soaps and are very much safer to apply on any skin type.
The goodness of nature in these bars provides deep nourishment and moisturisation to our skin cells, among many other such benefits such as:
Smoother Skin
Cruelty-free
Better Healing Properties
Antioxidant and Antiseptic Properties
Healthy pH level
Navigate through this list of the top 10 natural soaps in India as a substitute for your bar of chemicals!
Best Natural & Organic Soap Bars To Buy In India
1. Forest Essentials Luxury Sugar Soap Neem, Basil & Honey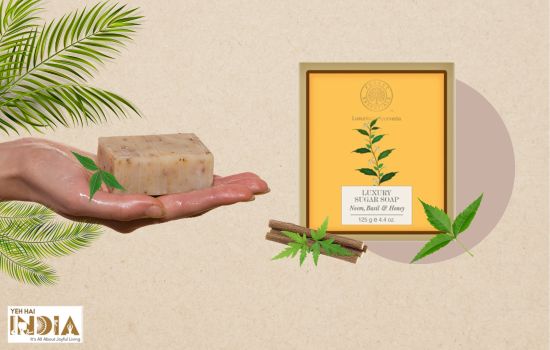 Forest Essentials is a luxury Ayurvedic brand that offers uniquely formulated products. Their Luxury Sugar Soap with Neem, Basil and Honey is one such indulgence you should pamper yourself with. Forest Essentials products are cruelty-free, GMP and AYUSH-certified.
Ingredients:
Neem Oil
Almond Oil
Anantmool Root Extract
Satavari Root Extract
Basil Oil
Honey
Reetha Fruit Extract
Base: Aqua, Saponified Coconut Oil, Saponified Palm Oil, Glycerin, Raw Cane Sugar, Vitamin E
What's new?
We don't usually see raw cane sugar as an ingredient in soaps. The unusual benefit of this ingredient is how it acts as a humectant and retains moisture in the skin.
Honey's inherent antioxidant and anti-microbial nature, guard the skin against sun damage. It also hydrates the skin, keeping it soft and supple.
Neem is one of the popular ingredients used in soaps, face wash and body wash for its amazing antibacterial properties. It is beneficial for oily and acne-prone skin. It is healing, cooling, purifying, and antibacterial.
Satavari Root Extract is a wondrous Ayurvedic ingredient that helps reduce free radical damage to the skin and all signs of ageing like wrinkles and lines.
What's not great?
Forest Essentials Luxury Sugar Soap with Neem, Basil and Honey is one of the best natural soaps in the market. However, as a luxury soap bar, the price is not exactly budget-friendly.
Forest Essentials Sugar Soap Price: Rs. 450 – BUY on Amazon below
2. Vilvah Classic Goatmilk Soap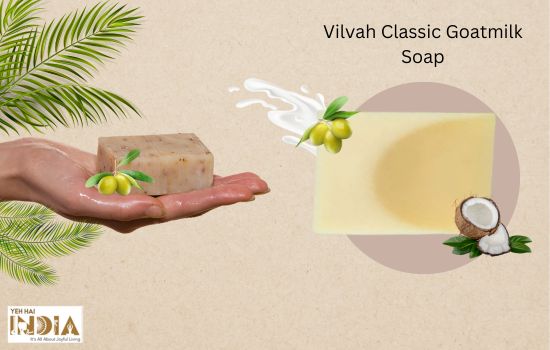 Vilvah is a fast-growing brand from Coimbatore, the Manchester of South India. Recently the brand has grown to expand its location in Chennai. Their goat milk soap is one of the best natural soaps in India.
Even though Vilvah is a very young brand, they are taking the wellness industry by storm. They have ECOCERT certifications for their products and are emerging as a leader through their innovative products.
Ingredient List
Farm Fresh Goat milk
Extra virgin olive oil
Coconut oil
Castor Oil
Lavender Essential Oil
What's new?
The soap is made from goat's milk, not regular cow's milk.
Goat milk contains an abundance of critical fatty acids and triglycerides.
Because the essential fatty acids in goat milk have a pH similar to that of humans, it is less irritating and more easily absorbed by our skin, promoting a natural glow and being extremely moisturising.
Goatmilk contains valuable skin minerals such as selenium and is rich in vitamins, particularly vitamin A, the most essential vitamin for the skin.
Goat's milk, like other milk, includes lactic acid, an alpha hydroxy acid. (AHA). It hydrates and brightens the skin while gently sloughing off dead skin cells.
What's not great?
The soap is costly. It costs Rs. 450 per bar.
It is not available in stores as the brand is regional and pretty exclusive. But you do get them online from their website.
Vilvah Soap Price: Rs. 450 – BUY on Amazon below
3. Juicy Chemistry Potato, Tomato & Lemongrass Soap
Juicy Chemistry's organic soap bar has antioxidant properties and boosts skin's radiance. The soap can be used by all skin types ranging from normal to oily.
Ingredient List
Tomato
Shea Butter
Potato
Saponified oils of Olive, Coconut and Castor
Peppermint Oil
Lemon Oil
Ginger Oil
Grapefruit Oil
Lemongrass Oil
Bergamot Oil
Basil Oil
What's new?
The soap has excellent deep-cleansing properties.
It evens the skin tone.
It increases the absorbing capacity of the skin.
It helps nourish and retain moisture on the skin.
Certified by ECOCERT Greenlife according to COSMOS standards.
The brand claims that almost 80% of the ingredients are farmed organically.
There is absolutely no lye in the end product.
All ingredients are completely natural.
What's not great?
It's pretty expensive compared to other soaps available in the market.
If you are changing from a regular soap to an organic one, your skin may initially react to the soap. If you are acne prone, it may increase a little in the beginning during the detox.
Juicy Chemistry Soap Price: Rs. 550 – BUY on Amazon below
4. Just Herbs Kerala Coconut Bathing Bar
Enriched with the goodness of coconut that is notorious for its cooling effect, this product from Just Herbs has a reputation as an antifungal and antibacterial bathing bar.
Just Herbs products are not tested on animals and are ECOCERT approved.
Ingredient List
Aloe vera leaf juice
Sacred lotus (nymphaea nucifera) infusion
Oatmeal
Indian Sarsaparilla extract
Calendula extract
Shea butter
Cold-pressed extra virgin coconut oil
Soy lecithin
Saponified coconut oil
What's new?
Aloe vera helps keep skin ailments like eczema, psoriasis, and dermatitis at bay, forming a barrier to lock skin moisture.
Ingredients like shea butter and cold-pressed coconut oil deeply hydrate the skin and retain moisture.
Oatmeal acts as an efficient exfoliator.
Free of Parabens, Sulphates, Artificial Fragrances and Triclosan.
The soap is fit for all skin types since it has several beneficial ingredients.
What's not great?
The soap could be better on dry skin. Even though it is supposed to hydrate and moisturize the skin, the soap seems to dry the skin in some people. Also, the soap is pretty expensive as it costs Rs. 375 per bar.
Just Herbs Bathing Bar Price: Rs. 375 – BUY on Amazon below
5. Kama Ayurveda Turmeric and Myrrh Skin Brightening Soap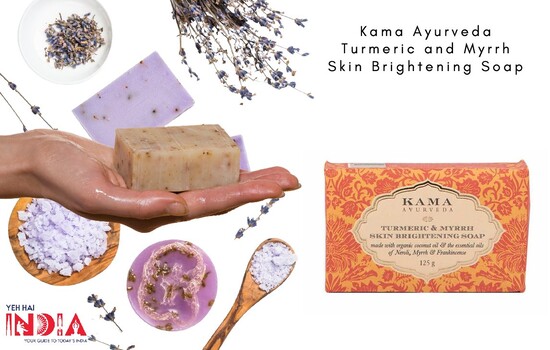 The merits of applying turmeric to the skin are known to our civilization and this organic body soap bar brings the goodness of this ingredient in a rather easy way.

Kama Ayurveda products are cruelty-free, ECOCERT and USDA Organic-certified. They also have Lacon Quality certification.
Ingredient List
Bael Fruit
Turmeric
Coconut Oil
Vetiver
Beeswax
Common Fig
Castor Oil Plant
Myrrh
What's new?
Turmeric has antioxidant, anti-inflammatory, and antibacterial properties that even skin tone and heal blemishes.
From brightening complexion to reducing skin pigmentation, this soap bar also supplies a range of skin-friendly properties you need.
Bael fruit has outstanding antifungal, antibacterial and anti-inflammatory properties. It is also rich in antioxidants that keep the skin young and refreshed.
Myrrh oil is another antifungal agent that also has anti-inflammatory effects on the skin. This works wonders on skin prone to acne.
What's not great?
The soap is very expensive at Rs 750 per bar. The extreme luxury soap bar is perfect for your skin but not for your wallet.
The fragrance of the soap is lost within a week or two of use.
This is mainly a skin-brightening soap bar. For the cost, you might not be satisfied with the luxury it offers.
Kama Ayurveda Soap Bar Price: Rs. 750 – BUY on Amazon below
Also Read – Kama Ayurveda: Finest Traditional Ingredients from India's Lush Gardens
6. Bare Necessities Small Spa Bar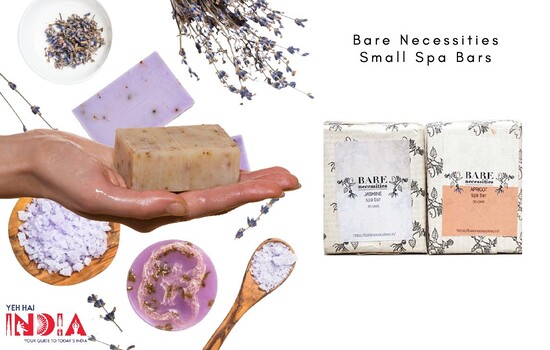 These bars come in a pack of 4, all of which bear different formulations – Apricot, Sandalwood, Jasmine, and Annatto.
What's new?
Aromatic Apricot Spa Bar has the softest ingredients, full of antioxidants. Our Aromatic Apricot Spa bar is a healer bar, high in vitamins. It is a moisturizer for everyone who wants healthy, bright skin from within.
Mysore Raj Sandalwood Spa Bar – This one is a physical and mental relaxant, aids in stress relief while also cleansing our bodies.
Wild Jasmine Spa Bar – Wild Jasmine Spa Bar is a great pick-me-up after a long day and relaxes your body in a variety of ways. This antidepressant and antiseptic bar will make you feel at ease with all your feelings.
Anecdote Annatto Spa Bar – Much like the hidden treasures buried away, this soap contains Annatto oil, derived from the seeds of the Achiote tree and abundant in magical qualities. This natural potion will aid in the appearance of healthy skin by decreasing wrinkles and blemishes.
The brand is highly environmentally conscious and utilizes packaging out of degradable elements and products out of 100% naturally sourced ingredients. They are completely against using plastics in any of their products. Their influence diverted more than 3,00,000 kg (to date) of plastic dumped into landfills.
What's not great?
The soaps are 30g per bar and are too small.
Bare Necessities Pack of 4 Soap Bars Price: Rs. 560 – BUY on Amazon below
7. Deyga Shea Saffron Bath Bar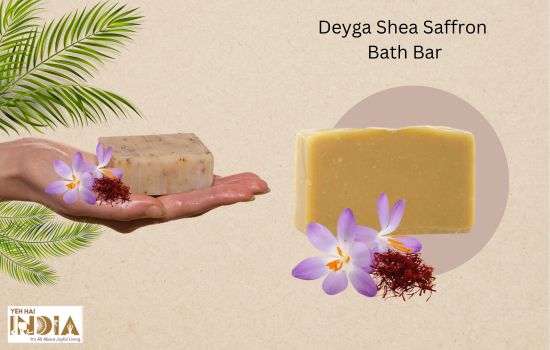 Deyga handcrafts all its products from 100% pure ingredients. The Shea Saffron Bath Bar is a moisturising and brightening soap bar made from naturally sourced organic ingredients. Deyga has ISO certification for its products.
Ingredient List
Raw Shea Butter
Sunflower Seed Oil
Saffron
Olive Oil
Coconut Oil
Castor Oil
What's new?
It deeply cleanses the surface of the skin without depleting natural oils.
The luxurious saffron illuminates and enhances skin texture while shielding it from UV rays.
It removes spots and softens the skin.
With its potent anti-ageing qualities, you can achieve younger-looking skin.
The oils present in the soap maintain hydration and nourishes the skin.
What's not great?
The soaps are handmade and hence don't look very appealing on first look. It also takes some time for the effects to be visibly tangible on the skin. It may take from 2 weeks to 2 months for it to reduce acne, brighten the skin and fades the spots away.
Price: Rs 250
These Organic soap bars are sure to revive your skin with their magnificent healing properties.
Forget about chemical soaps and invite these organic bathing bars to bring nature into your lives!
Frequently Asked Questions
Which is the best organic soap in India?
Top 7 Organic soap bars in India:
Forest Essentials Luxury Sugar Soap Neem, Basil & Honey
Vilvah Classic Goatmilk Soap
Juicy Chemistry Lime Ginger and Rice Soap
Just Herbs Kerala Coconut Bathing Bar
Kama Ayurveda Turmeric and Myrrh Skin Brightening Soap
Deyga Shea Saffron Bath Bar
Bare Necessities Small Spa Bars
Which soap is not harmful to the skin?
Organic soap bars that do not contain any kind of toxins and harmful chemicals are the best. They are sourced from products that are grown organically without pesticides. These organic products contain essential oils and minerals that are essential for the health of the skin.
What are handmade soaps?
Handmade soaps are made from natural ingredients and do not involve industrial manufacturing processes. They are usually made and sold by small businesses. They are highly exclusive, environmental-friendly and great for your skin.
What is the most affordable soap made from natural ingredients?
There are a lot of organic and ayurvedic brands in India that offer soaps made from natural ingredients. As most of them are manufactured exclusively from rare ingredients, they are pretty expensive to most of us. However, brands like Biotique offer the best natural soaps for a very affordable price of Rs 88 per bar.
Can I use organic soap bars if I have very dry skin?
Yes, you can use organic soap bars for all skin types. These soaps offer intensive hydration with ingredients like Shea butter, Aloe Vera, etc.