Having clear, smooth and effulgent skin is, undoubtedly, the most revered fantasy of every person.
Most beauty products, that pledge to fulfil this fantasy in their ever so burnished adverts, are not as good as they claim.
Harmful chemical compounds blended in lotions, soaps, shampoos, etc., can cause several skin anomalies on prolonged use. The incessant use of paraben and SLS (sulfates) by beauty bigwigs has led to allergic dermatitis and aggravated acne in many.

Not only this, but researchers have also mentioned the role of methylparaben in causing dreaded cancerous skin damage. This is where the paradigm shift from chemical-based products to plant-based or herbal products gained momentum. The use of herbal products alleviates the risk of harmful side effects associated with most chemical based beauty products flooding the markets.
To those who argue that herbal beauty products are not as lucrative due to the absence of big-shot celebrities endorsing them and unappealing packaging, we would like to reiterate, "Appearances are deceptive." Also, we would leave no stone unturned in bringing the best herbal face washes!
Recommended Story – Best Organic Beauty Brands in India
Best Herbal Face Washes In India:
1. Himalaya Herbals Purifying Neem Face Wash
This product by Himalaya Herbals is ideal to not only cure but also avert acne in the future. Containing neem and turmeric, Himalaya Herbals Neem Face Wash rids excess oil from the skin and unclogs pores.
It is a soap-free formula that performs the dual function of cleansing and providing antiseptic properties.
BUY HIMALAYAN HERBAL FACE WASH ON AMAZON BELOW
Price: 120 INR
Benefits:
Acne prevention
Cleansing
Paraben-free
Suitable for all skin types
Little to no allergens
2. WOW Apple Cider Vinegar Foaming Face Wash
Weaved with a combination of nourishing elements like apple cider vinegar, vitamin B5, E, and aloe vera extract, this herbal face wash is one of the most preferred beauty products across the nation.
It has been able to successfully prove its role in extricating dead skin cells and rejuvenating skin texture.
BUY WOW FACE WASH ON AMAZON BELOW
Price: 389 INR
Benefits:
Hydrating
Cleansing
Kills bacteria
Removes excess oil and makeup
Repairs damaged skin
Heals scars
Paraben-free
Sulphate-free
Suits all skin types
Removes dead skin cells
3. Imroz Facewash with Kumkumadi & Hempseed Oil
Imroz is a beauty line from the brand Ananta Hemp Works. Hemp seed oil and Kumkumadi are the two main components of this Ayurveda-inspired face wash.
It has a great formulation with an ideal vitamin E concentration and omega ratio of 3:6. Hemp seed oil which is a superfood for your skin is another main ingredient of this face wash. Kumkumadi is a saffron oil preparation that, when used frequently, encourages a radiant complexion, evens out skin tone, and supports in cell regeneration, resulting in youthful skin.
BUY IMROZ FACE WASH ON AMAZON BELOW
Price: 290 INR – BUY NOW
Benefits:
Enhances one's complexion
Helps alleviate hyperpigmentation
Promotes cell regeneration
Evens out skin tone
4. Bella Vita Organic Vitamin C-Glow Natural Face Wash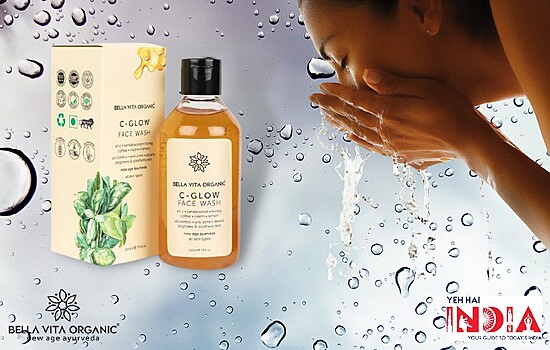 Acquiring a natural glow on your face is now made easier with this Vitamin C face wash that promises to cleanse skin pores, restore moisture and control sebum.
A wonderful combination of Ayurvedic and natural ingredients – Neem oil, sandalwood, Aloe vera, coffee extract, liquorice extract and lemon oil visibly improve tone and texture of skin.
Vitamins C, B3 and B5 induce skin repair, brighten complexion and restore optimum collagen levels for a youthful looking face.
BUY HIMALAYAN HERBAL FACE WASH ON AMAZON BELOW
Price: 249 INR
Benefits:
Lightens and brightens
Cleanses pores
Reduces pigmentation
Prevents acne
Paraben free
Tightens skin
Buy Bella Vita Organic Face Wash HERE
5. Aroma Magic Neem and Tea Tree Face Wash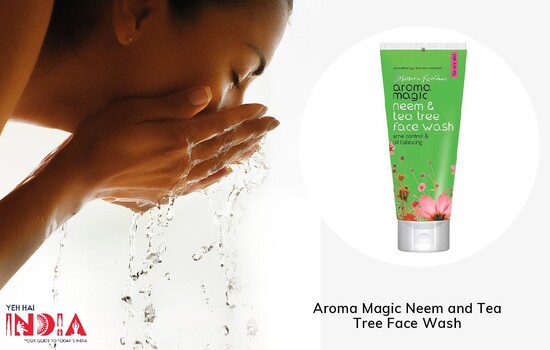 Neem, lavender, and tea tree essential oils impart a plethora of benefits to Aroma Magic Face Wash users.
From acting as a disinfectant to maintaining the skin's oil balance, this herbal product is perfect for those irked with blackheads and skin irritation. 
BUY HIMALAYAN HERBAL FACE WASH ON AMAZON BELOW
Price: 160 INR
Benefits:
Lightening
Paraben-free
Alcohol-free
Artificial color-free
Artificial fragrance-free
Cures acne
Prevents blackheads
Caution:
Aroma Magic Neem and Tea Tree Face Wash is only suitable for oily skin.
6. Soultree Indian Neem Wash with Turmeric and Honey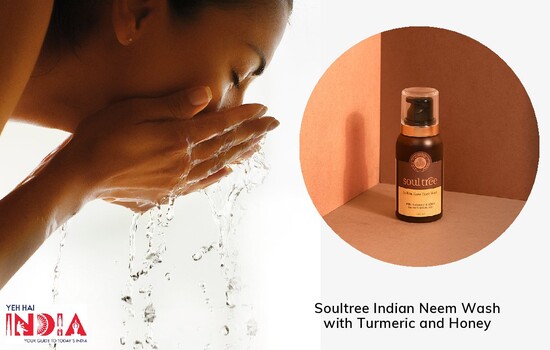 This 100% organic product has been prepared with fresh potent extracts of Indian Rose and Turmeric which induce a nourishing effect on one's skin.
Forest Honey acts as an antioxidant that protects the skin while Aloe Vera acts as a cleansing agent.
Price: 895 INR
Benefits:
Ayurvedic formulation
Cleanses without drying
Keeps the skin nourished
Rich in antioxidants
Heals and prevents blemishes
Suitable for dry to normal skin
100% vegetarian
Certified natural by BDIH Germany
Not tested on animals
Does not contain parabens, silicones, Lead, DEA/TEA, phthalates, SLS/SLES, Mineral Oil, petroleum, fragrance
7. Lotus Herbals Whiteglow 3-In-1 Deep Cleansing Skin Whitening Facial Foam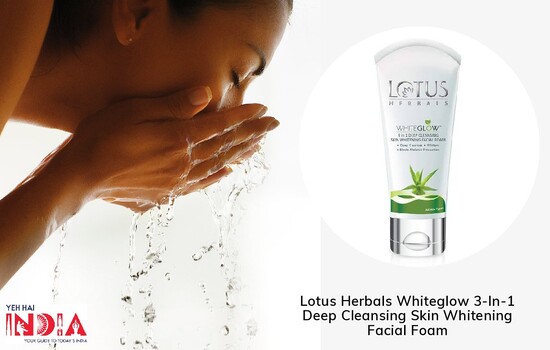 This beauty face wash by Lotus Herbals is curated as a deep cleansing agent and a shield against UV rays. The skin brightening formula works by inhibiting melanin production in the skin, thereby, improving one's complexion.
Aloe vera extracts in Lotus Herbals Whiteglow 3-In-1 Deep Cleansing Skin Whitening Facial Foam remove the dirt and grime, keeping the excessive oils from depositing in skin pores.
Price: 240 INR
Benefits:
Whitening
Cleansing
Ideal for both men and women
Inhibits melanin production
8. Morpheme Remedies Ubtan Natural Face Wash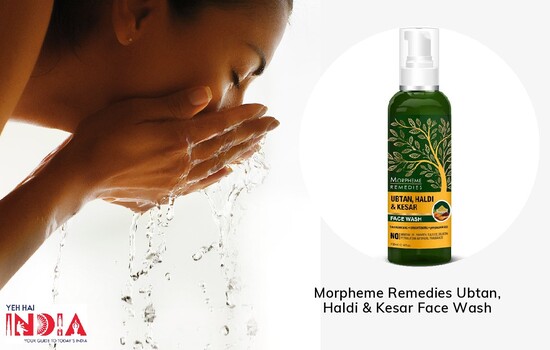 Morpheme Remedies Ubtan Natural Face Wash is the quintessential herbal product to undo the effects of sun exposure and pollution such as tan and skin damage.
Turmeric has antioxidant properties which protect the skin from free radical damage. Besides, turmeric also helps in overturning the effects of harmful UV rays. For spot removal, carrot seed oil and saffron work magic in giving you a clear complexion.
Price: 249 INR
Benefits:
Cruelty-free
Plastic positive
Removes tan
Repairs sun damage
Brightens skin
Other Face Washes to Try:
Biotique Bio Honey Gel Refreshing Foaming Face Wash
Patanjali Ayurveda Saundarya Face Wash
Morpheme Remedies Ubtan, Haldi & Kesar Face Wash
Plum Skin Revival Face Wash, Chamomile and White Tea
ST. D'VENCE Moroccan Argan Oil and Raw Honey Face Wash
Things to Keep in Mind While Choosing the Right Face Wash
1. Brand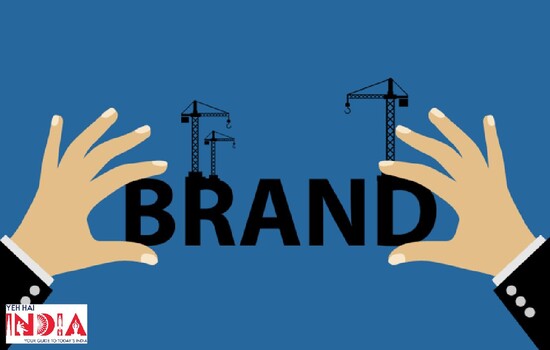 Not taking the brand into account while buying a face wash can prompt various skin ailments.
Therefore, before trusting the products in the market with your skin, make sure you get your hands on a credible brand.
2. Skin Type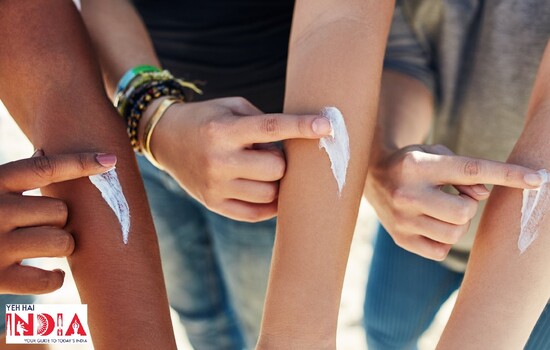 Check the product details thoroughly before coming down in favour of a herbal face wash. Make sure the product suits your skin type and is hypoallergenic.

To our skin-conscious readers, it's about time to switch to the herbal way and bid au revoir to chemical-induced skin damage and allergies.
Just remember to make the right investments for your skin as the benefits are going to be with you for a very long time.

Also Read – Skin Benefits of Tea Tree Oil and Best Products Available