Try these facial oils blended from Ayurvedic oils and herbal extracts to check issues like skin sagging, blemishes and pore clogging.
Many people hold the mistaken belief that using facial oils results in acne and pimples. But the reality is quite different. Ayurvedic facial oils magically work to seal in all the good stuff your face needs in your skincare regimen.
They hydrate, moisturise, and soften the skin of your face. Some specific formulations recommended by experts also work to heal acne and pigmentation on skin, thereby giving you a clearer complexion.
Face Oils: What are they?
Facial oils are special formulations prepared to treat specific skin issues with a combination of cold pressed oils, essential oils and exotic herbal and natural extracts.
They help smoothen and nourish your skin to give it a healthy glow. Massaging your face with these oils also helps ease the lymph nodes by releasing all the fluids under the skin.
They also help unclog pores but if they are left on skin for hours, they might clog your pores because they are comedogenic in nature.
While Ayurveda does recommend massaging your face with appropriate face oils, it does not advocate leaving the oil on after the massage.
Applying a herbal ubtan and then washing it afterwards will get rid of the oil. Depending on your skin problems, you can also infuse the oil you're using with other ayurvedic herbs.
If you're finding an accurate face oil that works for your skin type, check this list of Facial oils to know which one would work best in achieving your ideal type of skin.
10 Best Ayurvedic Facial Oils For Glowing Skin:
1. Tattvalogy Organic Moringa Cold Pressed Oil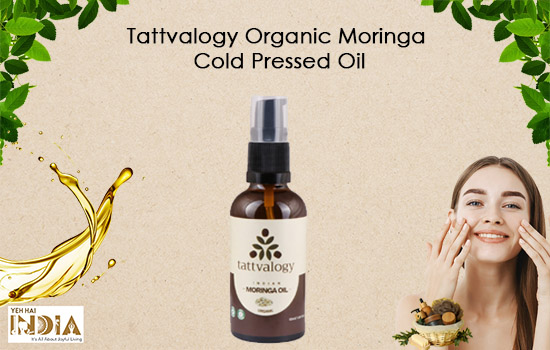 A great anti-ageing oil, Tattvalogy Certified Organic Moringa Seed Oil is used widely in cosmetics and therapeutic preparations around the world. Besides being effective against acne, it is also a great moisturizer for Indian skin.
In addition to being extremely nutrient rich, moringa oil is extremely light on the skin and is extracted from the drumstick tree (moringa oleifera). Although moringa oil is a dry oil, it has medicinal properties that make it a moisture magnet.
There are many health benefits associated with this product, including acne treatment moisturizing dry scalps, and promoting hair growth.
It is anti-inflammatory and soothing, as well as anti-aging. With just a few drops of this oil, you can rejuvenate dull, and tired looking skin, giving it a radiant appearance.
Price: ₹360 for 50ml
Recommended Story – Natural Bathing Scrubs: A Secret To Glowing And Youthful Skin
2. Just Herbs Extra Virgin Coconut Oil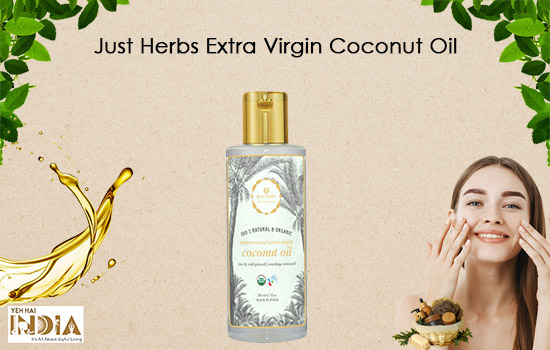 The key element that distinguishes coconut oil from other oils and gives it its antibacterial, antiviral, antifungal, and anti-inflammatory properties is lauric acid.
This oil is water-white in colour, cold-pressed, and contains natural vitamin E in its purest form. The Just Herbs Unprocessed Extra Virgin Coconut Oil is a refined at low temperatures which means all the skin nourishing components remain intact even during the refining procedure.
It works great on people with Pitta Dosha and helps quick healing of skin issues that arise due to this dosha such as rosacea, acne and eczema.
Price: ₹382 for 200 ml
3. Kama Ayurveda Organic Cold Pressed Sesame Oil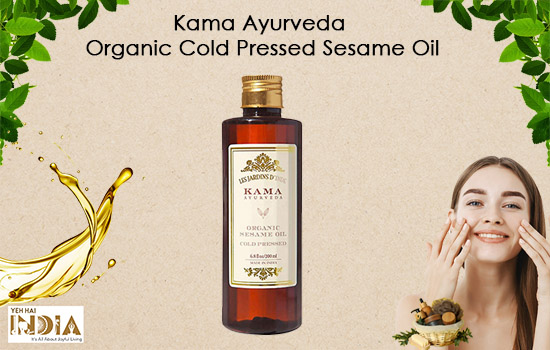 This oil contains organic sesame oil as its main component. This all-natural oil is great for massage and acts as a skin purifier and helps meet all the nourishment needs of your skin. as well as repairing skin damage.
Since ancient times, sesame oil has been a fantastic natural beauty element. It is abundant in fatty acids, minerals, vitamins A, B1, B2, B3, and E, all of which help to hydrate your skin.
The face oil also maintains moisture levels and exhibits some notable detoxification qualities. Applying a few drops of sesame oil with a night cream is the simplest way to give your face an extra boost of moisture; in the morning, your face will look young and healthy.
The oil is also packed with anti-ageing chemicals that improve your skin's cell renewal process and postpone the ageing process of your skin.
Price: ₹975 for 200ml
4. Khadi Essentials Cold Pressed Pure Sweet Almond Oil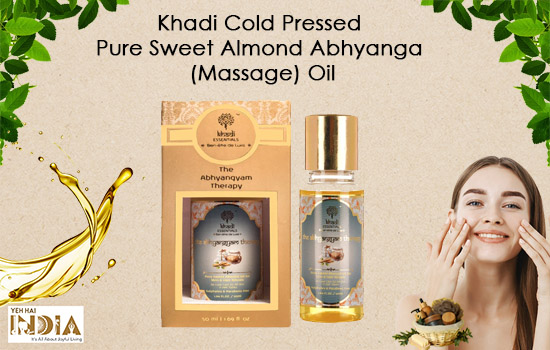 Your daily beauty and wellness routine will not be complete without pure sweet almond oil for skin rituals. This oil penetrates your skin and scalp tissues deeply, infusing them with nutrients and moisture, leaving you radiant with health.
With a mild sweet almond scent, this organic sweet almond oil is perfect to nourish and restore the natural glow on your skin and is abundant in vitamins A and E.
Almond oil is also known to balance out skin tone and lessen skin irritability. Additionally, it helps show a new version of your skin and is useful in enhancing your complexion over time.
Applying this face oil is a fantastic approach to maintain your skin healthy all the time and seal in moisture. The fact that this face oil absorbs quickly and is non-sticky is its best quality.
Price: ₹439 for 50ml
5. Ozone Signature Kanaka Taila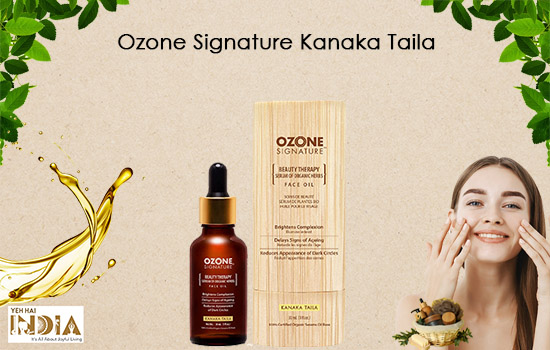 The Ozone Signature Kanaka Taila leaves your skin with a dazzling afterglow, much like its moniker Kanak, which translates to "gold."
This recipe for luscious facial oil, which was directly translated from ancient sources, is the ideal fusion that addresses three of the most pressing skin concerns such as uneven skin tone, early indications of age, and dark circles in one potent preparation.
While cosmetics only serve as temporary covers, Kanaka Facial Oil is a potent combination of sesame oil, white sandalwood, licorice, and specially chosen Ayurvedic herbs that penetrate the skin's deepest layers to nourish and treat the skin from the inside out.
It lessens the appearance of dark circles, evens out skin tone, enhances skin texture, and smoothes the appearance of wrinkles. This face oil is fully vegan because it only contains elements from plants.
Price: ₹499 for 5ml, ₹1903 for 30ml
6. Kairali Kaircin Ayurvedic Facial Oil
This face oil is made of herbal and plant extracts. It is for anyone searching for a completely natural way to achieve revitalised skin.
The chemicals in this bottle aid in bringing back the skin's natural glow and speed up the healing process, leaving the skin feeling hydrated, healthy, and with a noticeable brightness.
Since Kaircin contains plant extracts that have no negative side effects when administered, it can also be used on the entire body. The skin is soothed, repaired, and rejuvenated by the miracle oil's healing and anti-aging effects, making it look younger and perfect.
Make sure to include this concoction as a mainstay in your quest to learn about Ayurveda's advantages.
Price: ₹980 for 25ml
Recommended Story – Top Organic Beauty (Cosmetic ) Brands in India Offering Best Organic Skin Care Products
7. Vedix Anagh Face Oil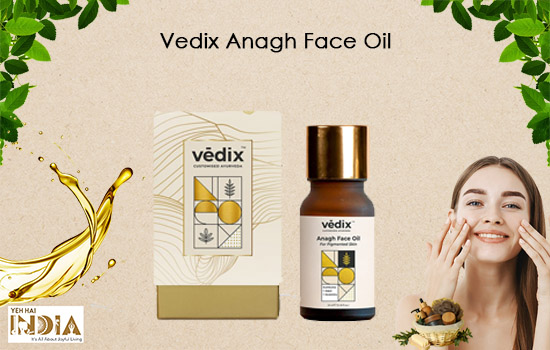 Vedix Anagh Face Oil for Pigmented Skin is a naturally hydrating and antibacterial oil that helps fade acne scars, dark spots, and pigmentation.
With the richness of three ingredients Kumkumadi, Arjun and Manjishtha, it reduces marks and blemishes due to their natural antibacterial and depigmenting effects.
Chronic skin disorders are significantly impacted by the oil. Moreover, Manjishtha aids in minimising acne-related redness. It has a cooling impact on the skin and has been shown to hasten the recovery from acne breakouts.
The special combination of herbs in this oil helps in the healing of skin problems brought on by germs. As a matter of fact, the Vedix Anagh Face Oil is backed by Ayurvedic experts and is also silicone and sulphate free.
Price: ₹319 for 10ml
8. SoulTree Hemp Ayurvedic Treatment Face Oil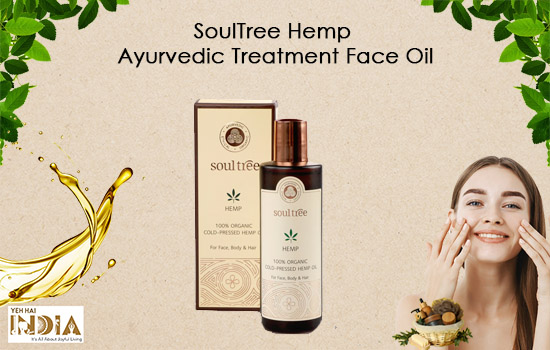 Four cold-pressed oils are combined in SoulTree Hemp Ayurvedic Treatment Facial Oil for Youthful Radiance. This 100% organic Ayurvedic formulation is non-sticky, quickly absorbed, and calms the skin while evening out your skin tone.
This facial oil is enhanced with pure organic hemp seed oil to nourish and hydrate dry skin. Your skin is deeply nourished and soothed, and hemp's healing qualities aid in fading dullness and repairing uneven texture.
Hemp's deep nourishment releases a skin-rejuvenating effect, while Almond, olive, and sunflower seed oils, improve skin suppleness and help prevent early symptoms of aging.
Price: ₹1895 for 30ml
9. Bella Vita Organic Kumkumadi Face Oil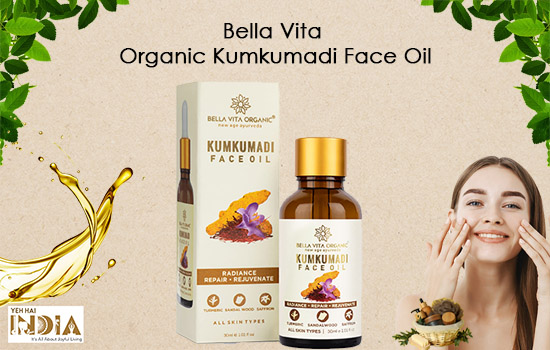 The Kumkumadi Face Oil promotes healthy, young looking skin with its active skin ingredients known to treat skin dullness and ageing. This oil works well for your skin and provides the necessary nourishment, leaving you with a radiant glow.
It is a naturally safe and effective ayurvedic formula. Your skin will be renewed, repaired, and hydrated thanks to the nourishing combination of ayurvedic herbs, leaving you with nothing but pure radiance!
Bella Vita Organic Kumkumadi Face Oil is an all-natural Ayurvedic formula that works well on your skin and provides the necessary nourishment to give you the most radiant skin possible.
It is safe, and effective at what it does. Saffron inhibits free radicals, revitalises lacklustre skin, and lightens pigmentation for a more even complexion. Sandalwood helps to maintain skin moisture while calming inflamed skin.
Turmeric has potent therapeutic properties, lightens dark spots, and imparts a healthy glow to the skin.
Price: ₹395 for 30ml
10. Earth Rhythm Pomegranate Seed Facial Oil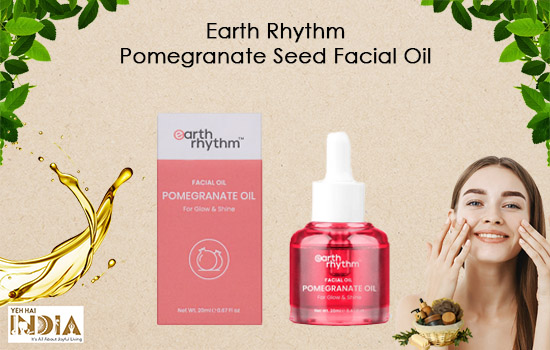 This facial oil, obtained from Pomegranate Seeds and is proven to lessen acne, hyperpigmentation, and indications of age while shielding your skin from UVB radiation.
Additionally, the vitamin C in it contributes to beautiful complexion of your skin without leaving behind any greasy residue or pore clogging.
This oil also increases the development of collagen, lessens the visibility of scarring, and leaves behind long-lasting moisture.
Price: ₹299 for 20ml
Conclusion:
Never forget that your skin requires both oils and moisture to stay healthy and moisturised. While the skin needs 70% water and 30% oil, the secret is to maintain a healthy balance between the two.
The ideal facial oil aids in maintaining the moisture it receives while supplying that extra nourishment to generate a healthy glow.
Replace your moisturiser with these humble Ayurvedic face oils to restore your skin's natural glow without any artificial or synthetic agents.
Also Read – Ayurvedic Skincare: Tips To Maintain Healthy And Youthful Skin