Kumkumadi oil is a traditional skincare oil with a blend of several mystical herbs to bring out the best healthy and radiant skin without spending on too many products available in the market. Enriched with the goodness of several ingredients like saffron, sandalwood, manjistha, and many more, this miracle oil promises to treat various stubborn skin concerns.
This comprehensive guide on kumkumadi oil will help you to know more about kumkumadi oil, its preparation, ingredients used, benefits, precautions, and a simple how-to-use guide as a bonus.
Kumkumadi Oil Ingredients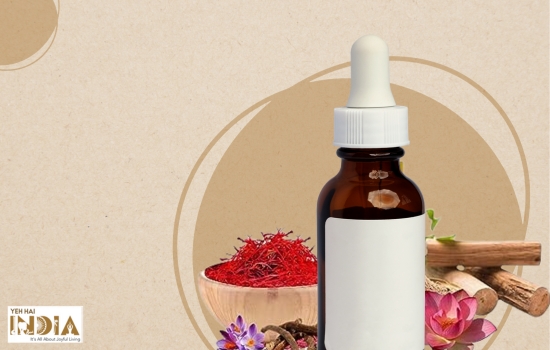 This golden oil is infused with several ayurvedic herbs and natural ingredients and the exact ingredients of this oil vary with different brands. Here are some of the common ingredients of the kumkumadi oil:
Saffron
Sandalwood
Manjistha
Licorice
Lakhsa or Lac
Vat Vriksha or Indian Banyan
Bael
Dasamoola
Indian Barberry or Tree Turmeric
Vetiver
Padmaka or Indian coral tree
Mahua
Pattanga or Coral
Sesame oil
Cow milk
Rose water
Kumkumadi Oil Preparation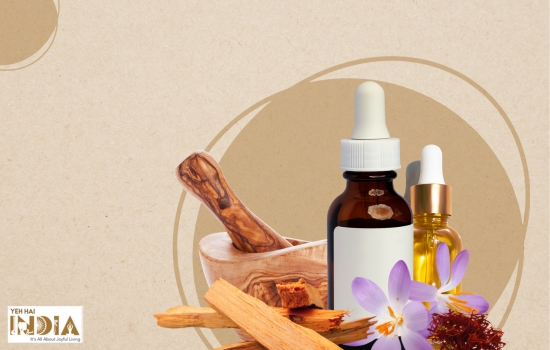 The preparation of this oil involves several herbs and a carrier oil. Here is the step-by-step instruction on how to prepare kumkumadi oil.
Take saffron strands of about 1 to 2 grams and crush them into a fine powder.
Mix all the herbal powders mentioned above in a clean bowl and keep it aside.
Now, take a pan, add sesame oil as a carrier oil, and heat it in low to medium flame. Make sure that the oil is not overheated.
Add the herbal powder mixture to the sesame oil and stir it well on a medium flame for about 10 to 15 minutes.
Once the colour and aroma of the herbs are infused into the oil, turn off the heat and let it cool to room temperature.
Now add the saffron strands into this oil mixture to give a rich reddish hue to the oil.
After the oil has cooled, strain the mixture with the help of muslin cloth or a fine mesh strainer to remove solid particles.
Now, the Kumkumadi oil is ready. Store it in a clean, air-tight container and use it whenever needed.
Always make sure to store this kumkumadi oil in a cool and dark place.
Recommended Article: How to Get Rid of Acne Scars?
Benefits of Kumkumadi Oil
Infused with several herbs, this ayurvedic face oil provides many benefits to your skin by keeping it healthy. Here are some of the top benefits of Kumkumadi oil.
1. Better Complexion
It has saffron to improve the overall complexion of your skin. Along with saffron, other herbs in this oil also play a major role in improving the skin complexion. It is also rich in antioxidant and antibacterial properties and is better known for improving blood circulation. When used regularly, it reduces tan and brightens your complexion.
2. Heals Skin Inflammation and Damage
One of the best things about this oil is its antioxidant, antiseptic, and disinfectant properties. With regular application, you can witness the healing of wounds, scars, and other skin infections. It can help you with rashes if you have one.
3. No More Acne
As it is enriched with antioxidant, anti-inflammatory, and anti-bacterial properties, kumkumadi oil helps you to prevent and treat acne. With its mild cleansing nature, it helps to remove any dirt or excess sebum trapped in the pores and prevents further inflammation and redness in the skin.
4. Diminishes Dark Spots and Pigmentation
Various herbs in the oil have the special properties to diminish dark spots, pigmentation, and blemishes on your skin. So, if you have severe stubborn dark spots and pigmentations on your skin, you can use this oil and achieve spotless skin.
5. Better Hydration
Herbs like Manjistha and Lotus infused in the kumkumadi oil provide better hydration to your skin and help you maintain moisturized and plumpy skin.
6. Acts as a Sunscreen
Saffron pollens in the oil act as a sun protectant and help to prevent tanning of skin, sunburns, and other skin problems caused by the harmful UV rays from the sun.
7. Enhances Skin Elasticity
Skin elasticity is one of the important factors in healthy, youthful skin. When you use kumkumadi oil regularly, you can improve skin elasticity over time and reduce the risk of developing wrinkles.
8. Reduces Scars
When stubborn acne finally leaves, it leaves behind a scar that is hard to remove. But with the help of kumkumadi oil, you can reduce the scars left by pimples and have clear and radiant skin.
Apart from these benefits, it also provides a cooling sensation to your skin after application and also helps to regenerate healthy cells to maintain better skin conditions.
How to Use Kumkumadi Oil?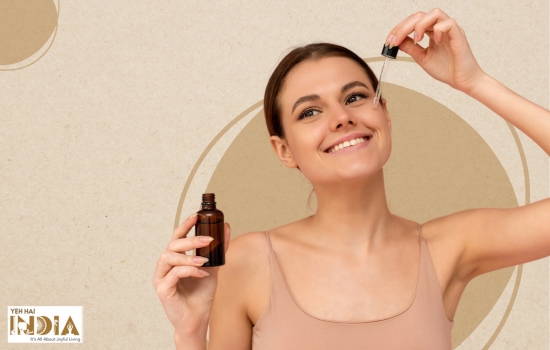 Kumkumadi oil provides you with the best results when applied topically. Before using it, you should patch test this by applying a small amount of oil on your wrist or even behind your ears. Y
You can continue using this oil when there are no adverse reactions like redness, irritation, and itching after 24 hours.
Here is the step-by-step short guide on how to use kumkumadi oil:
Clean your face with a mild cleanser to remove excess sebum, dirt, and makeup.
After drying the skin with a towel, add a few drops of the oil to your fingertips.
Gently massage the oil into your face in a circular motion and prevent massaging around eye areas.
Once done, leave it overnight on your skin for best results.
Kumkumadi oil is ideal for all skin types, but it is advised to use a minimal amount of oil for oily skin to prevent clogging pores. You can use this oil a few times a week and results may vary from individual to individual.
Precautions While Using Kumkumadi Oil
Even though kumkumadi oil has a lot of benefits for your skin to radiate like a charm, it is best to follow some precautions to unlock the full benefits of this oil with no adverse effects.
Before applying the oil directly on your face, it is wise to do a patch test on your wrist or behind your ears. You can continue using this oil once you find no allergies or irritation after 24 hours of application.
While using it, always be sure to avoid contact with your eyes. If you accidentally put this oil around the eye area, rinse them thoroughly with cold water and pat your skin dry.
It is better to use it in the night routine and always go through the ingredient list of this oil to avoid any herbs that cause you allergies and skin irritation.
When you are using Kumkumadi oil for the first time, start with a small amount and increase the quantity over time.
Using it excessively can lead to clogging of pores, which further invites acne into your skin.
Even though it provides you with a sun protectant, it is always best to use sunscreen to get better skin protection against harmful UV rays.
Last but not least, always discontinue using the oil if you experience adverse reactions on your skin.
Recommended Articles: DIY Acne Remedies: 5 Natural Face Packs To Fight Acne
Final Thoughts
In conclusion, Kumkumadi oil is a traditional skincare oil infused with several herbs and ingredients to make your skin healthy and radiant. No matter if you want clear skin, a better complexion, healing skin damage, and diminishing dark spots, kumkumadi oil can be your holy grail.
However, it is best to follow some precautions to prevent some adverse reactions and gain the benefits of the kumkumadi oil.
Frequently Asked Questions
Q. Who Should Not Use Kumkumadi Oil?
Kumkumadi oil may not be best suited for people with sensitive skin. These people might experience adverse reactions such as skin irritation, redness, and allergies. So, In this case, it is always best to consult a dermatologist before using this oil.
Q. Can I Apply Kumkumadi Oil Overnight?
Certainly! You can apply kumkumadi oil overnight and wash it off the next morning for best results. When leaving it on the skin overnight, the kumkumadi oil provides hydration and repairs your skin.
Q. Can We Apply Kumkumadi Oil on the Lips?
Yes, you can apply it to your lips to treat discolouration. Even a study suggests that applying kumkumadi oil on lips provided significant improvement in lip colours. So, you can use it on your lips to treat any discolouration of your lips.