Are persistent acne breakouts causing you distress and affecting your confidence? Fret not, as the solution might be as close as your kitchen! In our quest for clear, flawless skin, homemade face packs have emerged as powerful allies. We are going to discuss DIY skincare, unveiling a curated collection of homemade face packs specifically designed to combat acne in this article.
In the event of frequent acne bouts that run a tendency to turn into cystic acne, seeking holistic treatments helps limit their progression to a great extent.
Before trying conventional homemade recipes to alleviate acne, it's crucial to examine your skin type to understand its suitability to natural ingredients enlisted for the treatment of acne.
Weighing the pros and cons of natural ingredients for your skin type before using them on your skin is the best course to minimize any chances of future breakouts that might result from certain ingredients known to be acidic.
To ease this struggle in choosing ingredients for homemade anti-acne remedies, we bring to you some face packs formulated from ingredients proven to treat acne without leading to any unlikely effects.
1. Raw Turmeric + Yoghurt Face Pack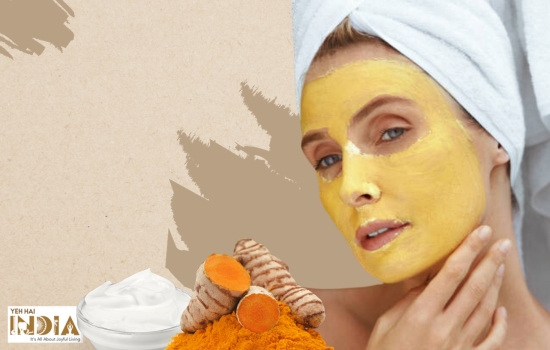 A renowned ancient remedy that makes a routine appearance in Indian homes, Turmeric does offer respite from inflammation, and bumps on acne-affected skin. It detoxifies the skin, wards off bacterial build-up and stimulates skin repair to make it look fresh, revitalized and glowy.
Yoghurt helps regulate sebum production to strengthen the skin's ability to fight off inflammation, and bacterial build-up with its probiotic action that restores healthy bacteria on its surface.
You will need:
1 tablespoon Turmeric powder
3 teaspoons fresh Yogurt
Preparation:
Blend the two ingredients. Leave aside for 5 minutes to soak.
Usage Instructions:
Smear this blend onto your face or on skin that has bumps, acne or inflammation
Let sit for 20 minutes
Wash off with cold water
Apply a skin-rejuvenating face serum
Repeat twice every week
2. Honey + Colloidal Oatmeal Face Pack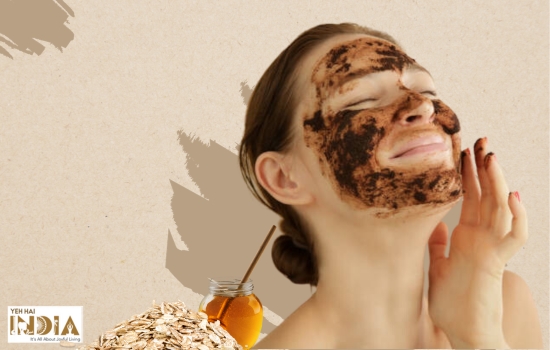 Honey not only boasts of its anti-ageing prowess but also excels in providing relief from acne due to its antibacterial nature that helps bring respite from cysts and lesions that begin to appear in clogged pores.
Colloidal Oatmeal is known to be a great remedy for all kinds of skin problems including acne. It hydrates and calms itchy, sensitive skin and keeps pores cleansed and toned.
You will need:
1 tablespoon honey
1 teaspoon Colloidal Oatmeal
1 teaspoon raw milk
Preparation:
Blend in honey and ground oatmeal in a small bowl. Leave it for half an hour to let the oatmeal powder disperse evenly in honey. To obtain a thinner consistency, add a teaspoon of milk or water.
Usage Instructions:
Apply this mixture as a face pack on your entire face or use it as a spot treatment to gain respite from redness, pain and swelling on your face
Wait for 30 minutes and rinse
Dab on gel serum to prevent a dry feeling on the face
Use twice or thrice every week
3. Activated Charcoal + Brewed Green Tea Face Pack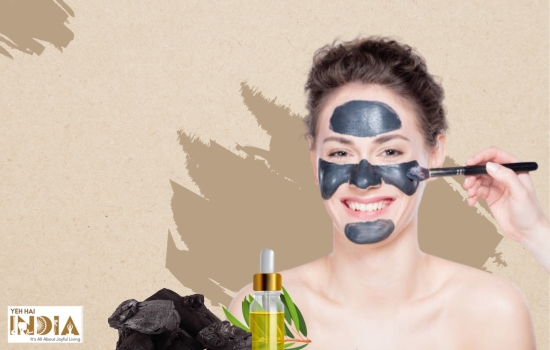 A lesser-known cure that deserves the spotlight as an anti-acne ingredient owing to its miraculous skin-purifying features, Activated charcoal works to plug out impurities, grime and dead skin cells settled in skin pores contributing to clear, healthy and acne-free skin.
Green tea controls the release of excess sebum and calms inflammation with its skin-renewing action that speeds up the healing of acne lesions.
You will need:
1 teaspoon Activated Charcoal Powder
1 – 2 teaspoons Brewed Green Tea Liquid
Preparation:
In a skillet, pour half a cup of water and ½ teaspoon green tea. Let it brew over medium flame for a minute. Strain the tea liquid and set it aside in a freezer to cool down.
When cooled, add a teaspoon of this tea in a separate bowl and mix it with Activated charcoal. Add in more tea to obtain the right consistency. Wait for five minutes to let the charcoal soak in the tea fluid. If needed, add more tea to help the charcoal grains soften and disperse easily
Usage Instructions:
Dip a Q-tip ( earbud) in charcoal mixture and apply it on acne-prone areas and pimples in dots just before going to sleep
Wash your face the next morning
Hydrate your skin with a soothing face serum
Repeat thrice every week
4. Kaolin Clay + Pomegranate Juice Face Pack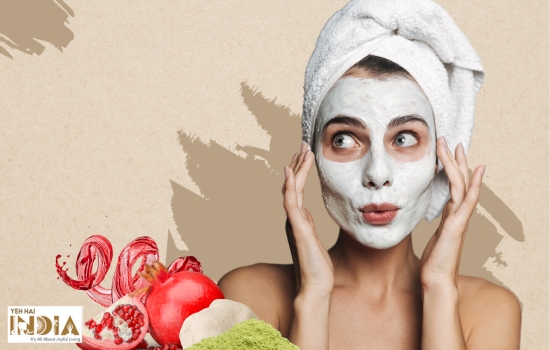 One of the most popular types of Clays employed in face masks, Kaolin clay is a type of Chinese clay that is white and has a mild texture which makes it perfect for sensitive skin or skin prone to rashes. It clarifies skin, reduces excess sebum production and helps calm down inflammation.
Pomegranate Juice helps stimulate skin cell renewal to speed up the healing of lesions and swelling on acne. It also promotes collagen production so your skin heals without losing its youthfulness and vigour.
You will need:
1 Tablespoon Kaolin Clay
2 tablespoons pomegranate Juice
Water as needed
Preparation:
Mix Kaolin Clay and Pomegranate Juice in a small bowl. Stir this mixture until you get a smooth paste. Add a little water if needed and stir again.
Usage Instructions:
Apply this paste on your face as a mask or on acne-affected regions as a spot treatment
Leave it overnight
Rinse
Hydrate with a skin-clarifying face serum
Repeat twice every week
5. Cucumber Juice + Cornstarch Face Pack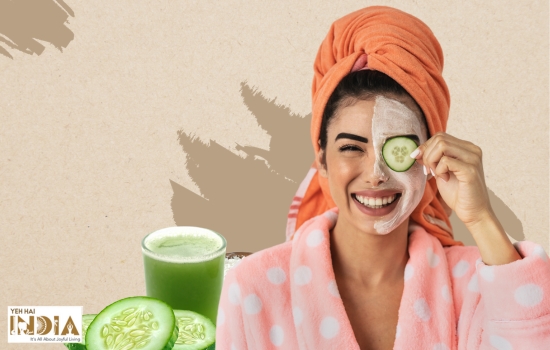 An invigorating remedy that instantly cleanses skin and promotes cell rejuvenation, cucumber juice works to restore normal pH levels which helps calm down rashes, burning and itchiness on acne-inflicted skin.
Cornstarch helps absorb excess oils and plugs out debris collected in pores. It also helps stimulate cell repair to boost recovery from acne.
You will need:
1 tablespoon Cucumber juice
2 teaspoon Cornstarch
Water as needed
Preparation:
Blend fresh cucumber juice and cornstarch until it turns into a smooth, runny paste. Leave this blend for 15 minutes to evenly incorporate the contents. Add water if needed to this in the mixture.
Usage Instructions:
Apply this blend onto a cleansed face where there are visible signs of inflammation, cysts, blackheads or pimples
Let sit for 30 minutes and wash off
Moisturize your face with a skin serum enriched with hyaluronic acid or squalane
Repeat every other day
Recommended Article: Skin Care Ingredients Decoded: Hyaluronic Acid, Niacinamide, Glycolic Acid and More
Frequently Asked Questions
Q. Do natural remedies work in providing relief from acne?
Yes, if you consistently follow the recommended procedure and duration, natural remedies work better than medicines and dermal creams suggested by dermatologists in curing acne. In addition, they help enhance skin health, helping it appear glowing, wrinkle-free and clear.
Q. Can homemade face packs clear acne? Are they safe for the skin?
If you use the right ingredients, ones that do not exhibit any allergic reaction on the skin, homemade face packs can be the best DIY cure for acne.
You can safely use them along with skin care potions such as skin serums, creams, moisturizers and ointments. However, to safeguard your skin against future outbreaks, it's best to use skin care essentials formulated for acne-prone skin.
Q. What is the right way to use homemade face packs for acne?
Thoroughly cleanse with a clarifying, pore-refining face wash or face cleanser. It is best to practice moderation when attempting to treat acne at home. Using large quantities of ingredients too frequently can disrupt the skin's natural healing process and prevent it from providing nourishment to acne-prone regions.
After using a face pack or mask, make sure that you wash your face thoroughly ensuring that no traces of the pack are left on your face. Never forget to hydrate your skin with a non-greasy face serum after you apply a homemade anti-acne face mask.
Q. Are natural ingredients completely safe for use on acne-prone skin? Do you need to do a patch test?
Not all ingredients are meant for all skin types, hence you should use them with caution. Certain substances known to cure acne might react on your skin. To prevent such an occurrence it's best to concoct the pack to wish to apply on your skin a day before and conduct a patch test under your elbow or behind the ear.