Acne scars, often the lasting reminders of past breakouts, can affect our skin's appearance and self-confidence. These blemishes, ranging from mild to severe, can be challenging to address. However, there's a natural solution on the rise that's changing the game: a good acne scar gel made from pure, natural ingredients.
In this article, we'll delve into the world of acne scars and explore how these specialized gels, crafted from nature's bounty, are becoming a go-to remedy for scar reduction and removal. Discover how the healing power of nature can help you bid farewell to acne scars and restore your skin's natural beauty.
Discover the best acne scar gel products with a gentle and holistic approach to reducing the appearance of acne scars, promoting skin regeneration, and restoring a smooth complexion.
Free from synthetic ingredients, these top-rated gels harness the potency of natural extracts, botanicals, and essential oils to nourish your skin without any potential harm or irritation.
~ 5 Best Natural Acne Scar Gels in India ~
Introducing you to the exclusive, safe, chemical-free, organic acne scar gels.
1. Re'equil Pitstop Gel
A revolutionary gel to diminish acne scars and pits, promoting smoother skin. The organic formula combines key ingredients like niacinamide, allantoin, and liquorice extract for effective scar reduction, skin renewal, and hyperpigmentation fading.
Key Ingredients
Allium Cepa Bulb Extract, Olea Europaea Leaf Extract, Bellis Perennis (Daisy) Flower Extract
An overview of all the ingredients
Aqua, Allium Cepa Bulb Extract, Ethoxydiglycol, Panthenol, Allantoin, Bulbine Frutescens Leaf Juice, Bellis Perennis (Daisy) Flower Extract, Olea Europaea Leaf Extract (Olive), Phenoxyethanol, Acrylates/C10-30 Alkyl Acrylate Cross polymer, Ethylhexylglycerin, Triethanolamine.
Benefits
Re'equil Pitstop Gel is here to help you reclaim your skin's natural beauty. Niacinamide, a key ingredient in the Pitstop Gel, is known for its skin-repairing properties.
The gel helps to strengthen the skin barrier, improve elasticity, and enhance overall skin health. It can also help reduce redness and even out skin tone, contributing to a more even complexion.
The blend of ingredients in the Pitstop Gel, including niacinamide and liquorice extract, can help brighten the skin and fade hyperpigmentation caused by acne. This can lead to a more even skin tone and a brighter, more radiant complexion.
Best for
Suitable for All Skin Types
Pros
Anti-inflammatory
Paraben free
Balances collagen
Smooth gel
Cons
Re'equil Pitstop Gel – BUY ON AMAZON BELOW
Recommended Article: Best Chemical-Free Moisturisers For Acne-Prone Skin in 2023
2. Bella Vita Organic Anti Acne Face Gel
This gel specifically addresses acne, pimples, and their aftermath, including marks and dark spots. Enriched with the goodness of Neem, Tea Tree, and Aloe Vera, this oil-free hydrating cream offers a holistic approach to achieving clear and flawless skin.
Ingredients
Tulsi, Neem, Tea tree, Willow bark
Benefits
The combination of Neem and Tea Tree oil in this acne scar gel helps combat acne-causing bacteria, reduce inflammation, and prevent future breakouts. The acne scar gel is formulated to fade dark spots and marks left behind by acne or pimples.
The natural ingredients, including Neem and Aloe Vera, work together to promote skin cell renewal, reduce hyperpigmentation, and even out skin tone.
The gel-based, oil-free formula of the acne scar gel provides hydration without leaving a greasy residue. It is suitable for oily and combination skin types, as it helps maintain a balanced and moisturized complexion without clogging pores.
Best for
Suitable for Oily and Acne-prone Skin
Pros
Lightens dark spots
Fights acne and pimples
Regulates sebum production
Rejuvenates skin
Cons
The entire ingredient list is not disclosed.
Bella Vita Organic Anti Acne Face Gel – BUY ON AMAZON BELOW
3. Mamaearth Tea Tree Spot Gel
Harnessing the natural power of Tea Tree and Salicylic Acid, this spot treatment gel bids farewell to active acne, unveiling clearer skin.
It gently clears clogged pores, taming inflammation and redness while antioxidants work to fade acne marks, promoting a uniform complexion.
Ingredients
Tea tree, Salicylic Acid, Licorice Extract
Benefits
Crafted with Tea Tree and Salicylic Acid, it effectively combats active acne by controlling oil and eliminating acne-causing bacteria, ensuring clear and blemish-free skin.
Acne marks get reduced by Salicylic Acid which gives you a smoother complexion. The blend of Tea Tree, Salicylic Acid and Liquorice Extract works in unison to diminish inflammation, redness, and irritation, leaving your skin rejuvenated and radiant. 
Best for
Suitable for All Skin Types
Pros
No Harmful Chemicals
Controls Excess Oil
Antibacterial properties
Treats Active Acne
Cons
Quantity is not enough for the price.
Mamaearth Tea Tree Spot Gel – BUY ON AMAZON BELOW
4. DERMATOUCH Bye Bye Acne Scars & Marks Cream
Designed to address acne scars and marks, this advanced formula offers effective lightening while promoting an overall improvement in skin texture.
Experience the benefits of gentle exfoliation as the cream delicately removes dead skin cells, stimulating accelerated skin regeneration and renewal.
Ingredients
Aqua, Dimethicone, Butyrospermum Parkii Butter, Cetostearyl alcohol, Glycerin, Alcohol Denat., Microcitrus Australasica Fruit Extract, Olea Europaea (olive) fruit extract, Hydroxytyrosol, Sodium acrylates Copolymer, Lecithin, Glyceryl Stearate, Stearic acid, Butylene Glycol, Sorbitol, Maslinic Acid, Xanthan Gum, Caprylyl Glycol, Glyceryl Caprylate, Phenylpropanol, Dextran, Caprooyl Tetrapeptide-3, Niacinamide, Phenoxyethanol, Disodium Ethylenediaminetetraacetate, Fragrance (IFRA certified allergen-free fragrance)
Benefits
This remarkable formula is tailored to heal acne scars and effectively fade them, while also providing gentle exfoliation to remove dead skin cells. By stimulating skin cell renewal, it promotes a rejuvenated and healthier complexion.
Moreover, the gel's potent antioxidants actively combat free radicals, ensuring your skin remains protected and radiant.
Best for
All skin types
Pros
Help with damaged skin cell renewal
Elevate skin texture
Boost collagen synthesis
Gentle exfoliation
Even tone
Improve skin density
Cons
Contains fragrance
Contains EDTA
DERMATOUCH Bye Bye Acne Scars & Marks Cream – BUY ON AMAZON BELOW
Recommended Article: Best Serums for Acne-Prone Skin in India
5. Earth Rhythm Phyto Gel with Centella Asiatica & Horsetail Extract
This extraordinary gel combines the potency of natural ingredients, including Centella Asiatica and Horsetail Extract, to nourish and revitalize your skin, leaving it looking refreshed and radiant.
The lightweight and fast-absorbing gel texture of Earth Rhythm Phyto Gel ensures effortless application and easy integration into your skincare routine. It can be used as a standalone moisturizer or as a soothing treatment after cleansing and toning.
Ingredients
Water that has been distilled, Glycerin, Hops Extract, Rosmarinus Officinalis Leaf Extract, Witch Hazel Leaf Extract, Salvia Officinalis Leaf Extract, Equisetum Arvense Extract, Citrus Limon (Lemon) Peel Extract, Centella Asiatica Extract, Pinus Sylvestris Bud Extract, Chlorella Vulgaris Powder Tocopherol (Vitamin E), Benzyl Alcohol, Glycerin (and) Sorbic Acid are some of the ingredients in Sodium Hyaluronate Cross polymer.
Benefits
The Phyto Gel contains Centella Asiatica, a powerful ingredient known for its soothing and calming properties.
It helps reduce redness, inflammation, and skin irritation, making it beneficial for sensitive or reactive skin. It can also aid in the healing process of damaged skin.
Centella Asiatica is known for its ability to stimulate collagen production, which helps promote skin repair and regeneration. It can assist in fading scars, improving skin texture, and enhancing overall skin health.
The gel texture of the Phyto Gel is lightweight and fast-absorbing, making it suitable for daily use. It leaves no greasy residue, allowing for easy application and seamless integration into your skincare routine.
Best for
Suitable for Acne and Sensitive Skin
Pros
Fades scars
Reduces redness
Fights breakouts
Cruelty-free
Cons
Quantity is not enough for the price.
Earth Rhythm Phyto Gel – BUY ON AMAZON BELOW
Natural Gels for Scar Reduction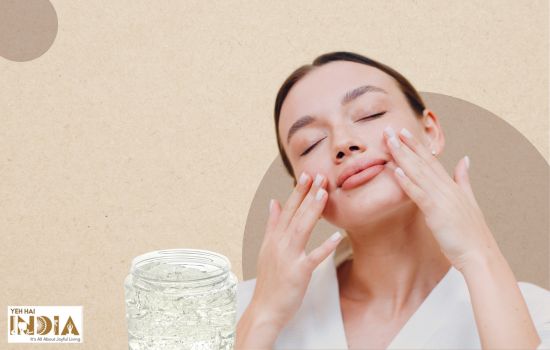 There are several natural gels that can help treat acne. Here are a few examples:
1. Tea Tree Oil Gel
Fights acne bacteria with its antimicrobial power. Use a gel containing around 5% tea tree oil on affected areas.
2. Aloe Vera Gel
Soothes and reduces redness in irritated skin. Opt for pure aloe vera or a gel with high aloe vera content (no added fragrances or colourants).
3. Witch Hazel Gel
Controls oil and inflammation as a natural astringent. Find it in gel form or combined with other calming ingredients.
4. Green Tea Gel
Combats acne and calms skin with antioxidants. Look for gel containing green tea extract or brewed green tea.
5. Calendula Gel
Soothes, heals, and reduces inflammation. Seek out calendula extract or oil in the gel.
6. Neem Gel
Fights acne with antibacterial and anti-inflammatory properties. Use neem gel to calm and treat acne-prone skin.
7. Manuka Honey Gel
Reduces inflammation and fights microbes. Look for genuine Manuka honey in the gel for the best results.
Before using any gel or skincare product for acne treatment, make sure to do a patch test on a small skin area. This helps identify potential allergies or sensitivities. Also, consulting a dermatologist is wise for personalized advice based on your skin's needs.
Benefits of Natural Acne Scar Gels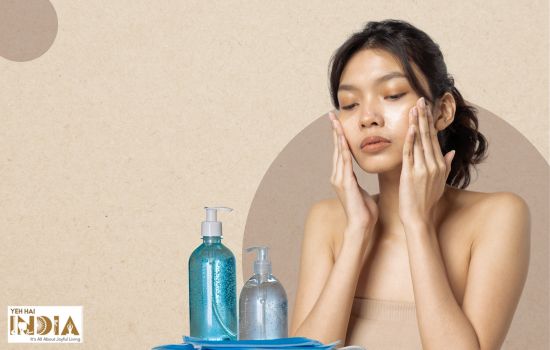 Using natural gels for acne scars provides numerous benefits. Here are some key advantages:
1. Gentle and Non-Irritating
Natural gels use plant-based, non-irritating ingredients, making them ideal for sensitive skin.
2. Nourishing and Healing Properties
Ingredients in these gels promote skin healing, regeneration, and scar reduction. Antioxidants, vitamins, and minerals nourish skin.
3. Reduced Risk of Side Effects
Unlike chemical products, natural gels have fewer risks like dryness or redness. Proper use reduces potential side effects.
4. Environmentally Friendly
With sustainable ingredients, natural gels minimize environmental harm from production to disposal.
5. Holistic Approach:
Natural gels focus on overall skin well-being, treating scars while improving skin health and balance.
6. Versatile and Multi-Beneficial
Besides scars, they soothe inflammation, balance oil, and enhance overall skin appearance and health.
7. Long-Term Results
Natural gels may take longer for visible results, but they offer lasting benefits without chemical risks or dependency.
It is important to note that individual results may vary, and the effectiveness of natural gels for acne scars depends on various factors such as the severity of the scars, skin type, consistency of use, and the specific formulation of the gel.
It is always recommended to patch test and consult with a dermatologist or skin care professional to determine the best course of treatment for your unique situation.
In conclusion, natural acne scar gel products offer a range of benefits for addressing acne and its aftermath. These products utilize ingredients like Neem, Tea Tree, Centella Asiatica, and Aloe Vera to provide gentle yet practical solutions. Antibacterial properties of Neem and Tea Tree oil combat acne-causing bacteria, while soothing agents like Aloe Vera and Centella Asiatica reduce inflammation and redness. These gels promote skin healing and fade acne scars, with ingredients like Centella Asiatica stimulating collagen production for healthy skin cell regeneration.
Also, Read: Best Sunscreens for Acne-Prone Skin To Glow Without Breakouts