The skincare sensation, Hyaluronic Acid (HA) is more popular in the world of skincare. This naturally occurring acid is known to add a dose of hydration, improve skin elasticity, and erase wrinkles with no potential side effects. You can find this ingredient in many Serums, Moisturizers, Eye creams, Sheet masks, and Fillers in the market.
But recently, HA became the talk of the town, and you can see many of your favourite Celebrities and Influencers actively use and talk about this ingredient. Is it worth the hype?
Read this article further and know everything about Hyaluronic acid.
Understanding Hyaluronic Acid
Chemically, HA is a complex carbohydrate molecule called glycosaminoglycan which can be found occurring naturally in the human body. It is most abundant in your skin and accounts for 50% of the total Hyaluronic acid in the body.
It is present in the layers of the eye, skin and all the tissues and fluids of the body. This acid is known for moisturizing the skin and helps to retain hydration in aged skin.
Besides moisturizing the skin, it also plays a major role in anti-ageing and helps to reduce the depth of wrinkles and increase skin firmness and elasticity. It also smooths skin texture, reduces dermatitis, and heals wounds.
Different Formulations
Hyaluronic acid is also known as Hyaluronan and Hyaluronate. It is available in 3 different types, Hydrolyzed hyaluronic acid, Sodium hyaluronate, and Sodium acetylated hyaluronate.
When HA is broken down into small elements, it easily penetrates the different layers of skin. This type is known as Hydrolyzed hyaluronic acid and is best suited for oily and combination skin.
If you have normal skin, Sodium hyaluronate is best for you. It can go deeper into your skin and offers the required hydration without overdoing it. This type of HA is available in serums.
The final type, Sodium acetylated hyaluronate is more like the second type but with long-lasting effects. So, If you have dry skin or live in dry climates, this type of HA works best for you. So, based on your skin type, it is better to choose the type that suits you.
Recommended Article: Skin Benefits of Tea Tree Oil and Best Products Available
The Hype Surrounding Hyaluronic Acid
Being one of the popular ingredients in the Skincare world, Hyaluronic Acid is highly endorsed by Celebrities and Influencers on Instagram, TikTok, and YouTube.
It is popularly known as the 'Fountain of Youth' as it provides deep moisturization to the skin. As HA is known to improve hydration and is effective for all skin types, it is worth the hype.
How does Hyaluronic Acid work?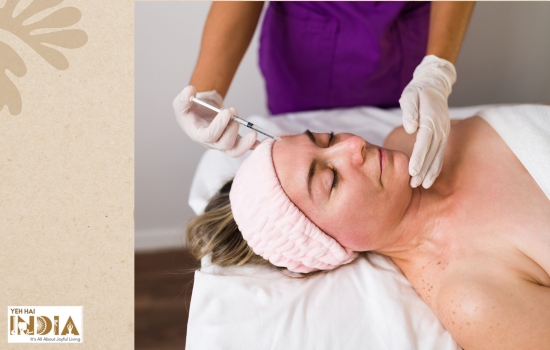 Hyaluronic acid is a long-chain carbohydrate and can attract other chemical compounds. Being a humectant, this acid attracts water molecules up to 1000 times their weight.
So, it can provide you with better hydration for your skin and help you escape from fine lines and wrinkles. This hydrating ingredient is used in several fillers and works better than topical applications.
The natural content of Hyaluronic acid in your body decreases with ageing. So, using products enriched with Hyaluronic acid helps you to get rid of skin problems like wrinkles, fine lines, eczema, and many more. Also, this acid is safe for regular use when applied correctly.
Debunking the HA Myths
When an ingredient is the talk of the town, several misconceptions spread along with its goodness. If you use HA to exfoliate dead skin, then stop using it. It is an acid with low pH, so it doesn't provide you with the exfoliating properties like other exfoliants.
And never think it only works for dry skin. It is ideal for every skin type and helps to maintain skin pH and boosts hydration.
The amount of HA will not be the same throughout your life. As you age, the HA in your body decreases. So, it is wise to use products with this ingredient to prevent the signs of ageing.
It is also believed that both HA and Sodium hyaluronate are the same. But you should know that Sodium hyaluronate is better than HA in providing long-lasting effects.
Side Effects of Hyaluronic Acid
When an ingredient offers an immense amount of benefits, it is common to think about the potential side effects of it. The word 'Acid' always triggers some kind of fear in our mind. But, when it comes to this holy ingredient, you need not worry about it. It doesn't have any history of causing trouble to the skin.
When you experience some negative experiences like rashes, it is probably because of the preservatives and other ingredients of the product. Apart from this, overuse of HA may sometimes trouble your skin.
Another crucial thing to take care of is the concentration of this acid. Your product should never contain more than 2% of the recommended amount. And always remember the traditional rule of patch testing before use.
What to look for in a product?
HA is available in several Serums, Sheet masks, Eye creams, Moisturizers, Cleansers, and Lip treatments. So, choosing the right product with this ingredient is often a daunting process.
When choosing a product, always look for Hydrolyzed hyaluronic acid, Sodium acetylated hyaluronate, and Sodium hyaluronate in the ingredients list.
Apart from this, check for ingredients that are allergic to you and also avoid if it has fragrances.
It is also better to look for the molecular weight of the acid. Products with lower molecular weight can penetrate the skin much more easily. So, prefer this kind of product when available.
You can also look for complementary ingredients such as Vitamin C, Vitamin B5, Ceramides, Retinol, AHAs & BHAs.
Final Thoughts
In the world of several skincare ingredients, Hyaluronic acid has captured unique attention with its marvellous benefits. With its power to attract molecules, it boosts hydration, reduces age signs, smooths skin texture, and improves skin elasticity.
While buying any products with HA, always look out for any allergens, molecular weight, and other complementary ingredients like Vitamin C, Vitamin B5, Ceramides, etc. The above-mentioned products have no more than 2% of Hyaluronic acid and are safe for your skin. And yes, Hyaluronic acid comes with a lot of goodness, and it is worth the hype.
Frequently Asked Questions
Q: Is Hyaluronic Acid worth the hype?
Yes. Hyaluronic acid is indeed worth the hype as it offers top benefits like hydrating skin, preventing signs of ageing, smooth skin texture, etc.
Q: Do dermatologists recommend hyaluronic acid?
Yes, dermatologists often recommend Hyaluronic acid to combat dry skin, ageing signs, and other skin conditions.
Q: Can a 22-year-old use hyaluronic acid?
Of course! A 22-year-old can add hyaluronic acid to their skincare regimen.
Q: Which skin type suits hyaluronic acid?
As Hyaluronic acid is noted for its hydrating properties, this acid is best suited for dry and dehydrated skin.
Recommended Article: Kumkumadi Tailam – 7 Magical Products for Your Skin!