Renowned for its myriad benefits of castor oil for hair and skin, this natural wonder has been a beauty staple for generations. From rejuvenating your skin to nourishing your hair, castor oil holds the key to a more radiant you. Join us on a journey to explore the transformative power of this ancient remedy and learn how it can enhance your beauty regimen.
From skincare to haircare, oils play a significant role. Among the various oils, castor oil is one of the most versatile options that can work miracles for you.
Irrespective of your skin or hair type, oils are nutritive choices to rejuvenate and provide the necessary nutrients. Every oil has certain benefits. Among them, one of the classic choices is castor oil. Castor oil benefits are no secret to us as it is intrinsically used in DIY beauty and skincare in India. To use it correctly, one must understand the different types and the benefits associated with the oil.
Read on to find out all about the benefits of castor oil for hair and skin and how they can be the one thing in your regime that replaces everything else while giving you the glory and radiance you look for.
Types of Castor Oil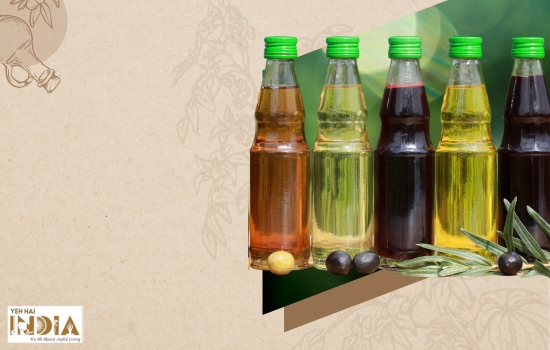 The first and foremost thing is understanding the different types of castor oil. There are two types of castor oil- Yellow and Black. The variation happens from the processing methods and each of these types comes with varied benefits.
Yellow Castor Oil- This is made by cold pressing the fresh castor beans. Yellow castor oil is comparatively less sticky and lighter.
Black Castor Oil- The black castor oil is extracted by roasting the castor beans first and heating them. The method was first used in Jamaica. This oil has a heavy and sticky consistency.
Benefits of Yellow Castor Oil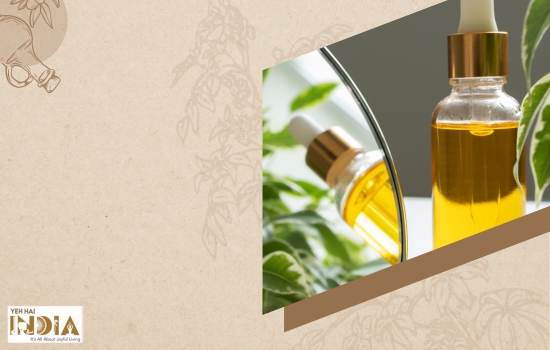 Yellow castor oil is significantly lighter than black castor oil, making it a versatile choice for all skin and hair types. Generally, you can use the oil without diluting it or blending it. It is equally beneficial in skincare and hair care. Here are a few of the benefits you can get from Yellow castor oil:
Yellow Castor Oil Benefits for Skin
Yellow castor oil is very moisturizing and gets absorbed easily, making it suitable for skin care and working as a body oil.
It is hydrating and keeps the extreme dryness of your skin at bay. As a result, it is a good choice for anyone suffering from dry and itchy skin.
The castor oil also calms irritation and inflammation on the skin. It contains ricinoleic acid which helps to minimize inflammation.
Yellow Castor Oil Benefits for Hair
Castor oil restores the shine of your hair. It makes the hair look smoother and brighter.
It hydrates the rough cuticles and nourishes the hair from the root, making it healthier and stronger.
A very little amount of the oil is enough to tame frizzies and make the hair more manageable. Yellow castor oil gets absorbed better but it is still sticky. Hence, it is best to apply the oil before hair washing to extreme smoothness sans stickiness.
Hair damage caused by harsh shampoo, chemical treatments, and environmental elements can be reversed by using castor oil regularly in your hair care routine.
Castor oil can make the eyebrows and eyelashes stronger. It minimizes eyelash fallout and helps them grow longer and thicker.
As it hydrates and moisturizes the scalp and also soothes irritation, castor oil can reduce dandruff in the long run.
Benefits of Black Castor Oil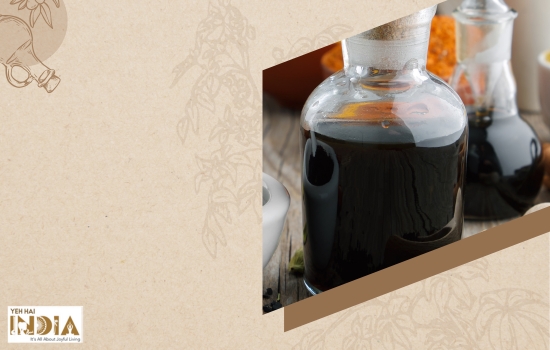 Black castor oil is considered more beneficial and effective than yellow castor oil. However, it is very sticky and has a stronger scent. This oil is more suited for hair care than skincare. Moreover, it should be diluted with other lighter oils to ensure it does not have any adverse effects.
General health benefits
Black castor oil can help with chronic respiratory problems like bronchitis. An oil massage on the chest or an oil soak can help relieve such issues.
Massaging the oil helps to relieve muscle and joint pains and even chronic conditions.
Black Castor Oil Benefits for Skin
The oil maximizes healing and hence helps to prevent infections, skin problems and scarring.
It helps to treat acne and delay the initial signs of ageing when used regularly.
Black Castor Oil Benefits for Hair
It is most beneficial for your hair health. It provides maximum moisture and hydration and helps to strengthen the hair in the long run.
This Castor oil is an effective remedy for premature ageing, greying hair and dry scalp.
The oil can prevent hair breakage and split ends caused by dryness.
It reduces hair fall as it strengthens the roots and makes sure your hair does not get brittle.
Though the oil is very sticky, it can reduce excess sebum production when used in the right amount.
The oil can make your eyebrows and eyelashes grow thicker and minimize fallouts.
Recommended Article: Get Glowing And Luminous Skin With These 10 Ayurvedic Face Oils
How to Use Castor Oil for Skincare?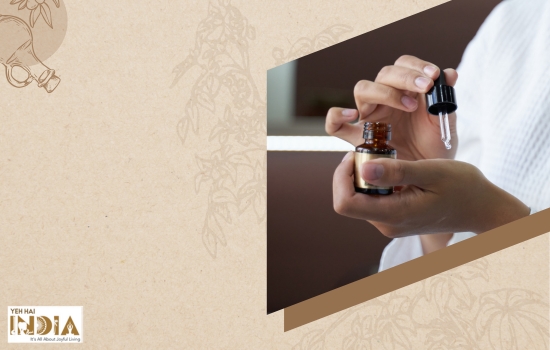 Castor oil can be used for facial skin and in general for the body. Here are a few ways in which it can be included in your daily skincare:
Chapped lips
Apply a few drops of black castor oil on the lips at night and let it get absorbed. Doing this daily would eventually heal the lips and make them smoother.
You can also mix a few drops of the oil with coconut oil and sugar to create a homemade scrub that gets rid of all the dead skin.
Acne
Simply warm up a little bit of the oil apply it all over the face and specifically concentrate on problem areas. let it get absorbed for half an hour.
Next, soak a soft cloth in steaming water. Wring it and use it to pat and remove the excess oil. Do this a few times and it will get rid of all dirt and grime. Eventually, acne will be at bay when your skin feels cleaner than ever.
Anti-ageing
You can dilute the oil with other options like rosehip oil or olive oil to get its anti-ageing benefits.
Use a few drops of the blended oil every day as facial oil, massaging around the eyes, and lips where the wrinkles form the deepest. It will delay the process.
This is best suited for dry skin that gets dehydrated easily.
Body oil
Castor oil can be used all over the body to improve moisturisation and hydration. Simply blend it with a lighter body oil like olive oil and use it like your regular body oil.
You get the best results if you apply the oil right after shower and then pat dry the body. This prevents the stickiness caused by castor oil generally.
How to Use Castor Oil for Hair Care?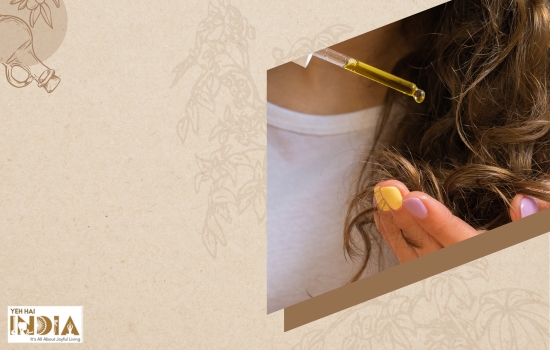 Castor oil is best known for haircare. From strengthening the hair to making it shinier, there are many benefits. You can experience them when you use the oil correctly.
As hair oil
Simply massage the scalp with the castor oil at least 3-4 times a week to witness the best results. You can use the oil directly or dilute it with other carrier oils like coconut, olive, avocado, or jojoba.
Especially if you are using black castor oil, it is best to dilute it as it is very sticky and leaves a residue even after washing.
You can also heat the oil slightly to help it penetrate better when you massage. It is wiser not to leave castor oil overnight on the scalp because it is sticky and clogs the pores triggering hair fall instead. Apply it 2-3 hours before rinsing to get the best results.
For eyebrows and lashes
Use a dropper to apply 1-2 drops of the oil to the brows and massage it thoroughly. Leave it overnight and let it get absorbed well.
For eyelashes, rub 2-3 drops of the oil on your fingertips and massage it at the roots of the lashes. It will strengthen the roots and reduce the falling out of the lashes.
YOUR Earth Rhythm DISCOUNT COUPON!
Coupon Code: ERDEAL10
Valid till Dec 2023
CLICK HERE TO BUY!!!
(10% off sitewide code on 999 MOV)
As hair pack
You can make your homemade hair pack using castor oil. This will make the hair shinier, and stronger and reduce dandruff in the long run.
Mix a liberal amount of castor oil, and coconut oil with amla and shikakai powder. Add a few drops of lemon juice to it. Apply the paste to the scalp and leave it for half an hour to one hour.
Then make sure to wash it off entirely with a mild shampoo and conditioner. You can skip the conditioner if you have oily scalp and hair.
Side Effects of Castor Oil
Though castor oil is a very versatile skincare and haircare product, there are a few side effects that you must be careful about. Here are a few things which can be problematic with the oil:
The oil is very thick and hence can cause clogged pores. It is best to wash off thoroughly once the oil gets absorbed.
It is wise to patch the oil before you use it regularly. It may not suit everyone, especially for skincare and cause rashes.
It is also not suitable for children and lactating mothers.
Tips to Correctly Use Castor Oil
Here are a few things which you can do to use castor oil correctly for daily skincare and haircare:
If you have extremely dry skin, you can use a liberal amount of the oil but make sure you pat off the excess with a wet washcloth.
Always dilute black castor oil with a non-sticky carrier oil especially if you have combination skin or oily skin.
A little goes a long way for castor oil. Hence do not overdo it.
Do not leave castor oil on your hair for days or simply wash it. Make sure you shampoo every time to get rid of excess oil that can trap dirt and pollutants from the environment.
Conclusion
Castor oil is a miraculous and versatile product when used correctly for skin care and hair care. From getting rid of acne to strengthening the hair, it has many uses.
The key is to use the oil dedicatedly every day to ensure your skin and hair are radiant forever. Keeping in mind the tips shared above will help you reap the maximum benefits of castor oil for hair and skin.
Frequently Asked Questions
1. Can you use black castor oil for an oily scalp?
Black castor oil can be used for oily scalp after diluting it with a carrier oil like avocado or jojoba which are non-sticky.
2. Is it safe to apply castor oil as serum?
Castor oil is too sticky to work as a serum. But you can apply a couple of drops after hair wash and give it a final rinse. This will keep your hair smooth all day.
3. Does castor oil work for all hair types?
Castor oil can be safely used for all hair types as long as you use the right amount. Make sure you rinse the hair thoroughly and get rid of the excess oil to avoid problems like hair fall and dandruff caused by oily roots.
Recommended Article: Shikakai Products for Vibrant Hair: Nature's Hair Growth Miracle