Ayurveda, the ancient healing science, has some of the best tried and tested beauty solutions that have been practiced since the ancient age.
The market is overflowing with an enormous range of Indian beauty brands which use different labels and ingredients which has made it difficult for people to choose one that works for them.
The main cause of concern is the chemicals at high levels that can cause health complications or damage the skin in the long run.
The Ayurvedic Indian beauty brands have products that are free from such chemicals and are really effective.

The ancient knowledge can be applied to deal with the modern problems related to beauty like damage due to pollution, premature aging of hair and skin, etc.
Many people are now becoming more experimental towards skin care and giving a chance to local brands with innovative concepts.
New Indian beauty brands based on Ayurveda have been able to deliver excellent results to their customers.
Ayurvedic home remedies are also an excellent practice to inculcate into your daily skincare routine but can often be cumbersome to formulate and apply on a regular basis.
Recommended Story – Best Organic Beauty Brands in India
Ayurvedic brands have ready-made compositions that make it easier for you to apply on a daily basis.
Let's take a look at the best skincare brands in India!
Kama Ayurveda
Delhi-based brand 'Kama Ayurveda' is among the best skincare brands in India today that formulates its products based on Ayurvedic principles.
It was founded in 2002 and has different products for the face, body, and hair.
Kama Ayurveda has teamed up with the 100 years old Arya Vaidya Pharmacy and they work with local indigenous forest communities and small-scale farmers to get their natural and 100% organic ingredients.
This way they also support organic farming methods and empower the small communities.
Their products have gained the trust of customers and are EU certified.
This means that the products are completely free of all sorts of harmful chemicals like Paraben, petrochemicals, artificial fragrances, and colours.
Website: https://www.kamaayurveda.com/shop.html
Biotique
It is one of the most popular Indian beauty brands that took over the market in a very short time due to its impressive products.
The brand markets itself as 'Advanced Ayurveda' which means that they have combined modern
Swiss biotechnology with Vedic knowledge of Ayurveda and created the best combo of science and tradition that can work wonders for your skin and hair.
It has multiple ranges of products for your hair, skin, and makeup.
They have a wide range of skin treatments that are very effective to reduce pigmentation, acne, etc.
The hair care range also is very diverse and includes specific products for specific needs.
Moreover, the products are very affordable as compared to the other organic Ayurvedic brands.
Website: https://www.biotique.com/
Forest Essentials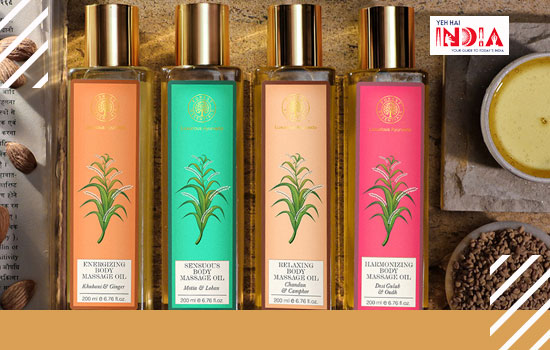 Forest Essentials is a luxury Ayurvedic beauty brand founded by Mira Kulkarni in New Delhi in the year 2000.
One of the best skincare brands in India, Forest essentials adheres to a simple philosophy, 'If you can't eat it, you cannot put it on your face.'
This strategy ensures that only edible ingredients go into the products of Forest Essentials that making them unique.
Forest essentials unlike many Indian beauty brands also swear by its cruelty-free policy.
The ingredients are extracted from the Himalayas making them pure.
You can buy their products directly from their websites where they have different types of combos and the products are categorized into body care, hair care, makeup, men's kit, etc.
Website: https://www.forestessentialsindia.com/
Ohria Ayurveda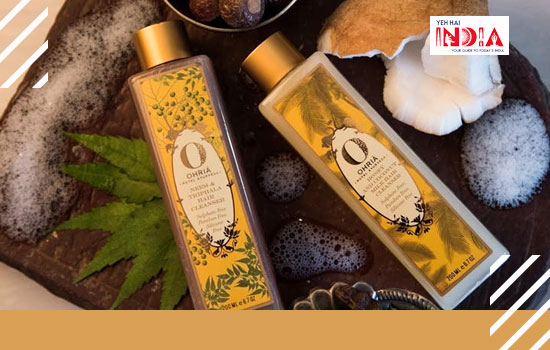 The founder of the brand was a student of Ayurveda in Rishikesh.
He learned the traditional secrets of Ayurveda from his teacher whose ancestors wear eminent people of ancient India and served the royalty.
He learned the application of herbs and the preparations of several Ayurvedic formulations like oils, butter, and salves.
He decided to apply his knowledge and create products that are organic and absolutely gentle on the skin.
Products are available for each part of your body, from head to toe.
One of the best skincare brands in India is the 'Kansa massage wand', made of pure copper and tin that can be used to massage facial and body oil for maximum penetration into the skin and achieve a state of deep relaxation.
It ensures the great effectiveness of the product, as a balanced state of mind and body is important for Ayurveda to work.
Website: https://ohriaayurveda.com/
Soultree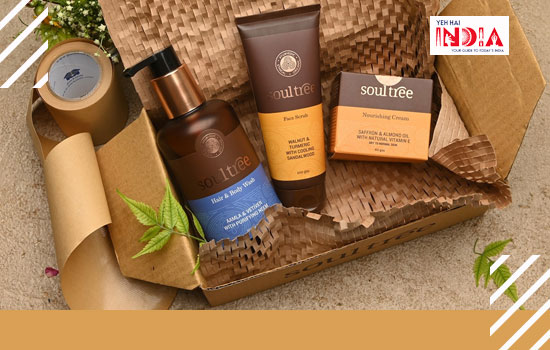 Soultree was founded by Vishal Bhandari who just left his merchant Navy career to find a new beginning through Ayurveda.
Today, counted among the best Indian beauty brands soultree operates from Haryana and has built a good reputation among the customers by receiving certification from BDIH Germany.
They get the certification renewed annually, which gives them good credibility for their products.
All the products are made of 100% organic ingredients which are sourced from free and ethical sources.
The products have no contamination from any sort of chemicals and they sell a wide range of products.
Their simple everyday makeup products like lip balms, Kajal, and Mascara are a must-try! The kajal has a creamy texture and is infused with almond oil.
One can use the products daily without worrying about any side effects.
Unlike products from other Indian beauty brands, they don't make your skin dry and instead work as a soothing agent.
Website: https://www.soultree.in/
Recommended Story – Best Beauty Youtubers in India
Sheesha Naturals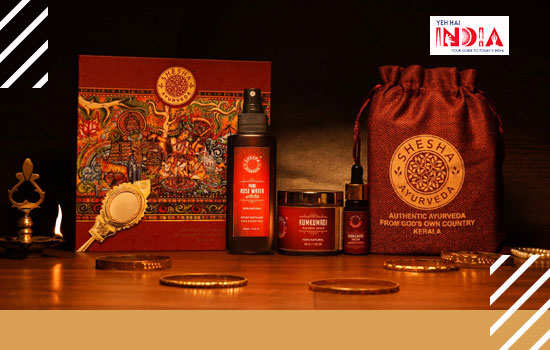 This Kerala-based brand has the most authentic Ayurvedic formulations.
The brand had a humble beginning with only a few products among which 'Virgin Coconut Oil' became popular due to its composition and people found it effective.
Today one of the most popular beauty products from the brand is the 'Kasturi Manjal Face Pack'.
It is made with a unique composition of Organic Curcuma Aromatic, Pure Lemon, Orange; Tulsi leaves and has a sensational aroma.
The main ingredient in this face pack is turmeric which has multiple benefits.
The other products are also enhanced with organic ingredients in very specific proportions to achieve the maximum effect without any side effects.
The products are manufactured in GMP-certified labs in Kerala and this ensures the purity of the products.
All the raw materials are sourced organically and processed according to the Ayurvedic scriptures.
Website: https://sheshaayurveda.com/
Ananda Himalayas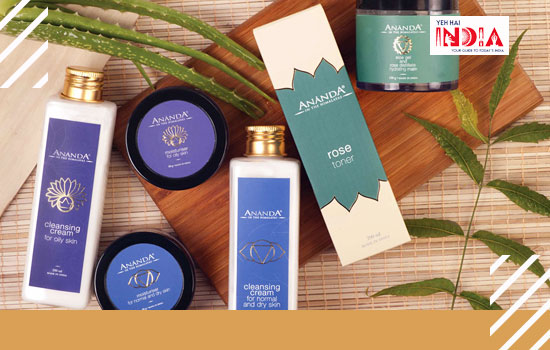 The Ananda is located in the exquisite Himalayan foothill which is a place of tranquility, a few kilometers away from Haridwar and Rishikesh.
Many people are well aware of this beautiful wellness center which is often visited by people seeking spiritual upliftment.
Apart from the Yoga, Vedanta, and Ayurvedic practices, one of the most enjoyable moments in the wellness centre is the spa in which special products formulated by the expert aroma therapists of this wellness centre are used.
These products have become a favorite among those who visit the wellness center recognized among the best skincare brands in India they are going strong for more than 16 years now.
Website: https://store.anandaspa.com/index.php?_route_=facial-care
Mantra Herbal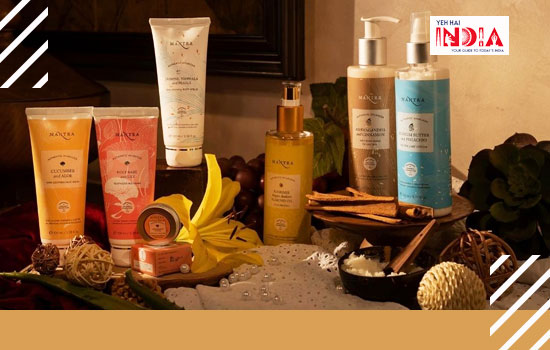 This brand is founded on the principles of the Baidyanath Research Foundation which has a rich legacy in generating wellness and health products.
The products are prepared with the help of expert Ayurvedic doctors who make this product in order to balance the three primary forces of the body: Vata, Pitta, and Kapha.
This creates a supreme balance between mind, body, and soul. Attaining good health is all about maintaining this balance.
The products of this Indian beauty brand are free from all chemicals SLES, and Paraben, and also are not tested on animals. The brand is certified by the FDA and GMP.
One of their special products is the 'Anantam Series' which uses stem cells and gold in order to activate the natural regeneration potential of skin.
They also sell a wide variety of products for skin, hair, and body.
Website: https://www.mantraherbal.in/
Khadi Natural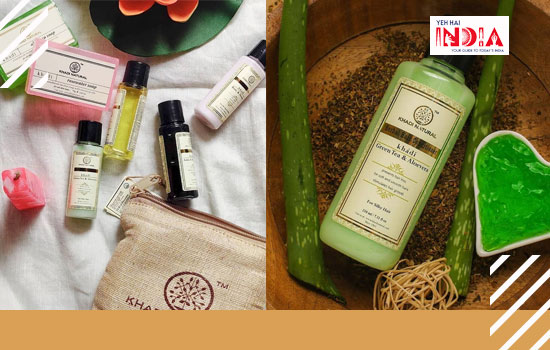 Khadi Natural is one of the most famous Ayurvedic Indian beauty brands covering 18 Indian states.
The brand used to sell Ayurvedic shampoos, soaps, and cleansers but now they have expanded into a wider range of products including quality moisturizers and conditioners.
The products are manufactured under the supervision of highly qualified Ayurvedic doctors who make sure all the procedures are followed properly.
Only pure and organic ingredients are used in the preparation of all the products.
The brand has gained the trust of its customers and its products are certified by WHO, GMP, and ISO.
All the products are handmade with gentle and loving care. The products are not tested on any animals.
WEBSITE: https://www.khadinatural.com/
Blue Nectar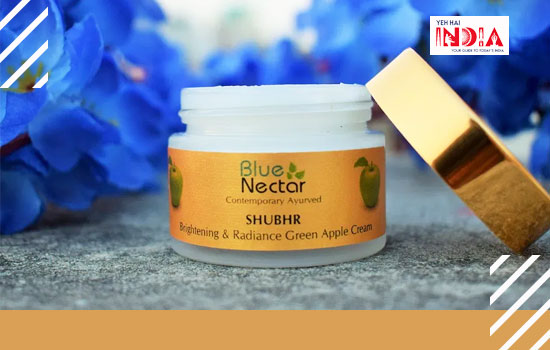 Blue nectar is a Gurgaon-based Ayurvedic cosmetic brand that produces effective products for skin with the help of more than 150 different potent Ayurvedic herbs.
Many of these herbs are found in our kitchen like saffron, turmeric, cinnamon, and honey but their potent nature is only known by those who are knowledgeable about Ayurveda.
These herbs are mixed in appropriate concentrations to create really effective Ayurvedic solutions for your skin.

A wide variety of products from this famous Indian beauty brand are available including face serum, toner, creams, face wash, oil, and body wash.
All these are made with high-quality herbs and are free from Paraben and Sulphate.
All the ingredients used in the making of the products are listed on the pack leaving no room for any hidden ingredients.
The brand is also Eco-friendly and cruelty-free.
Website: https://www.bluenectar.co.in/
Also Read – 6 Organic Beauty Startups In India- Choose yours!