The Ayurveda Experience, simply known as TAE, is the world's largest global online Ayurveda platform working to popularise this ancient Indian science.
From skin disorders, and poor blood circulation to joint problems, Ayurvedic recipes do a wonderful job of bringing relief from all these conditions.
Their Varaasa line has been specifically prepared for Indians to suit their lifestyle needs. Each product is made with rare herbs that are carefully prepared according to traditional Ayurvedic methods.
If you find yourself curious about their products, the history behind them or the ingredients, worry not, as every product comes with a beautifully illustrated pamphlet that showcases all of the above.
And what's more, they work in countries all over the world including the US, Australia, Canada, Germany, New Zealand, the UK, Italy, Spain and France.
THE AYURVEDA EXPERIENCE BODY & FACE CARE
In this review, we are sharing our experience with five of their products Nirujam Joint Care, The Varaasa Wand, Rufolia Periorbital Eyemulsion, Safranyam Saffron Light Facial Halo and Manjasvini Overnight Glow Elixir.
The Ayurveda Experience is a luxury brand that is well deserving of the hype it receives. All of their products have stunning effects on skin and general health and this shows in their packaging which reveals the care that goes into ensuring that you are fully aware of what you are consuming.
The packaging for all their products is particularly attractive and beautifully illustrated and informative. The moment you get your hands on the product you realise that it is luxury Ayurveda.
The pamphlets also include detailed instructions on how to use the product. They have a diverse range of products that can fulfil every single one of your needs ranging from face care and body care to nutrition and haircare.
Also, Read: MBDH -Ayurvedic Wellness Brand: Sibling Founders Turning Legacy to Success
1. Nirujam Joint Care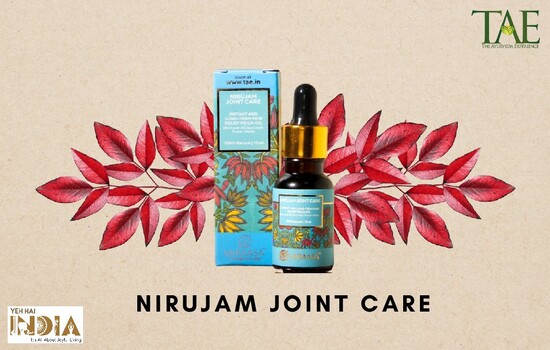 The Ayurveda Experience Nirujam Joint Care is a massage oil meant to soothe muscle, back and neck pain and soothe the stiffness of the muscles.
It works for any skin type and provides deep rejuvenation starting from a single application.
Key Ingredients:
Sesame Oil
Shatavari
Bala
Product Claims:
Joint pain relief
Soothing neck, back, body pain and stiffness
Promoting youthfulness
Fragrance and Aroma:
The oil smells naturally herby and medicinal. It has a slightly thick consistency and warms the skin it has been applied to immediately which makes it incredibly soothing to apply. Besides, it immediately starts its work of pain relief.
Our study of the ingredients and their impact:
Sesame oil is frequently used to ease joint and muscle pain. Shatavari is also an excellent anti-inflammatory and stiffness-relieving agent. Bala oil helps manage joint pain and swelling due to its excellent anti-inflammatory and antioxidant properties.
Packaging:
The oil comes in a pump bottle that is ideal for dispensing the requisite amount of oil per use. The bottle itself comes sealed in a little capsule that is ideal for travel as it keeps the bottle from making a mess and can also be easily transported in any bag or pocket.
Price:
The Nirujam Joint Care costs Rs. 699 for 100 ml. We feel as though this is a reasonable price as the oil is not only incredibly effective but also made keeping sustainability in mind. It is also fast acting and may have a noticeable effect on your pain levels in just a week.
Where to buy?
Pros:
Fast acting
No harmful side effects
No synthetic ingredients
Cons:
Herbal fragrances may not suit everyone
How to Use?
Massage the oil into the skin for a few minutes then wipe off the excess. Leave the oil on the skin overnight and wash off in the morning with lukewarm water. Use daily for at least 3 months. It can be used for spot massage or full body massages.
Final Verdict:
The Nirujam Joint Care is a pain relief mechanism that works effectively and quickly and is well worth the price that it charges. Moreover, it is an incredibly effective pain management tool that works without any side effects.
2. The Varaasa Wand – Foot Massager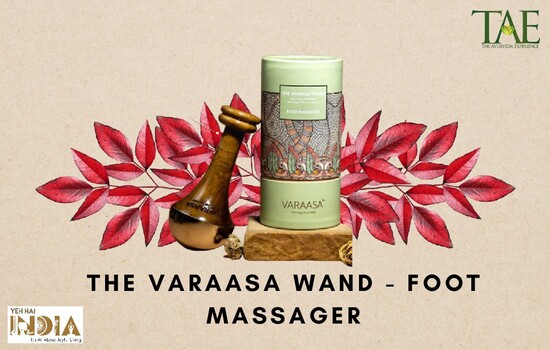 This particular product from The Ayurveda Experience is a special tool meant to ease pain, stiffness and stress from an all-important body part, i.e., your feet.
It is a perfect massager that requires no electricity or batteries or maintenance. Once you've purchased a wand you're good to go for the rest of your life.
Key Components:
Product Claims:
Calming and cooling effect
Balancing all three doshas
Easing muscle tension
How does it feel:
It is perfectly moulded to the curves of the foot and glides smoothly across it, leaving a cooling effect in its wake. It softens the skin and further releases any pain or stiffness that comes from being on your feet or other physical activity.
Packaging:
It is manufactured to be comfortable in the hand and on the foot so that you may use it for as long as necessary without getting tired. It is easy to clean as you can just rinse it off.
The foot massager comes in a sleek cylindrical container that can easily be stored in a bag when travelling.
Price:
The foot massager costs Rs. 899. We feel as though this is a reasonable price as it is a one-time purchase that will keep your feet happy for the rest of your life. It is made with an alloy of copper and tin that helps improves circulation and supports lymphatic drainage.
Where to Buy?
Pros:
Completely natural and handmade
No chemical solutions or complex maintenance
Durable and easy to carry around.
Cons:
It may be considered slightly expensive although it is worth it in the long run
How to Use:
Apply a small quantity of any oil of your preference to the wand to help it move smoothly over the foot. Rub gentle circles around the joints of the foot and long strokes over the bones for maximum effect. Also, you can draw figure eights on your foot but you have to ensure you cover all the areas.
Final Verdict: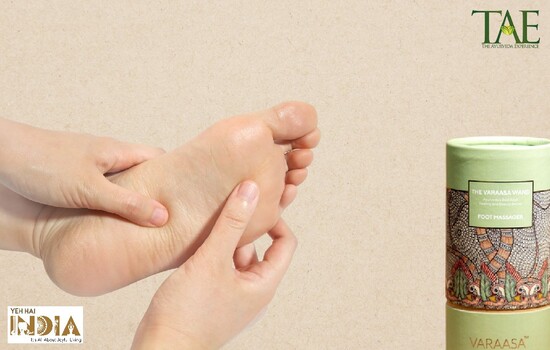 This is a boon for anyone who is on their feet the entire day as it immediately relaxes the muscles and nerves in your foot. It radically reduces pain, stress and tiredness. Therefore, it is a great tool to induce deep relaxation quickly.
3. Rufolia Periorbital Eyemulsion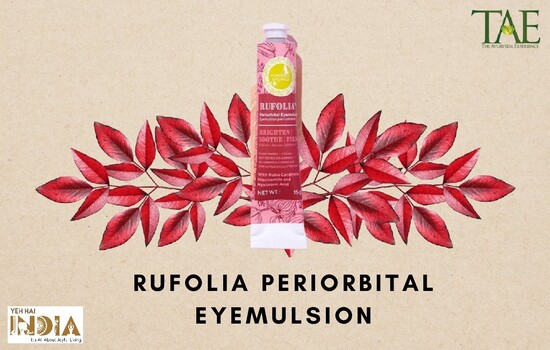 The Rufolia Periorbital Eyemulsion is an under-eye cream that brightens, soothes and firms the under-eye skin.
It is the perfect mixture of Ayurvedic science and Western science blended to make the perfect under-eye cream so that your eyes can look radiant.
Key Ingredients:
Aloe Vera Oil
Sesame Seed Oil
Cetearyl Olivate
Product Claims:
Brightens and hydrates skin
Tones and firms under-eye skin
No sulphates or chemicals
Feel and Aroma:
The cream sits lightly on the skin and is absorbed quickly without a white cast. It has a creamy texture and feels cool on the skin as it works to reduce puffiness and swelling. Furthermore, it has a pleasant floral aroma.
Our study of the ingredients and their impact
Aloe vera is a classic ingredient in skincare that moisturizes and nourishes the skin whereas sesame oil makes your skin smooth and radiant. Although Cetearyl Olivate may sound intimidating, it serves a simple purpose in skin care, it softens all skin types and speeds up the rate of absorption of the product.
Packaging:
The cream comes in a pretty tube that contains 15 g and can be stored in any pocket. Also, it has a twist-off cap that prevents any mess.
Price:
The eye cream costs Rs. 549 for 15 g which is a reasonable price for a product that uses so little and works so well. The ingredients are sourced sustainably and are completely natural which ensures no harm to you or the environment.
Where to Buy?
Pros:
Moisturizing formula
Works for all skin types
Keeps the skin cool
Cons:
Peach-coloured which may not be ideal for darker skin
How to Use:
Dab three dots of the cream under your eye at night. Massage the area gently until the cream is absorbed and then let it rest overnight. This is the best way to reduce any puffiness or dark circles.
Final Verdict: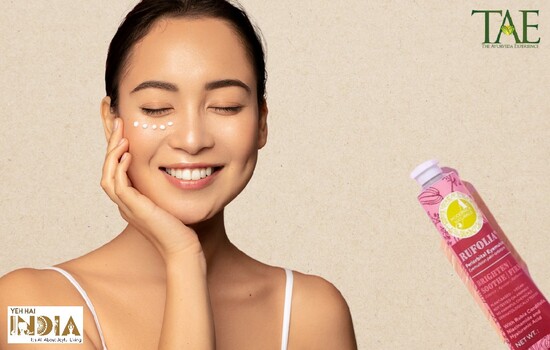 Daily use of the under-eye cream can rejuvenate your skin and will completely refresh your face. It is also perfectly healthy, both for you and the environment! Let The Ayurveda Experience Rufolia Periorbital Eyemulsion soothe your under-eye skin and showcase the beauty of your eyes.
Recommended Story – Product Review: Advait Living's Ayurvedic A2 Cow Ghee
4. Safranyam Saffron Light Facial Halo Face Oil Moisturiser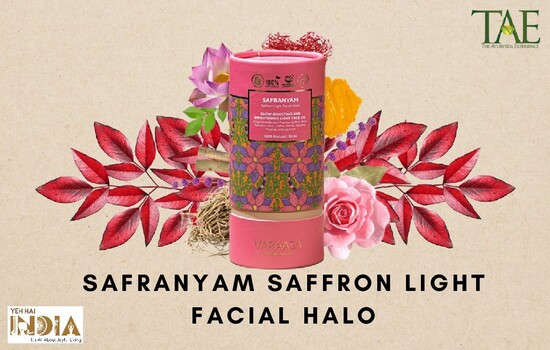 This face-brightening oil from The Ayurveda Experience helps you obtain clear and healthy skin.
It improves the texture of your skin and helps you keep your skin glowing and fresh without clogging any of your pores. It is a must-have in your daily routine!
Key Ingredients:
Product Claims:
Reduces large pores
Lightens dark spots
Prevents breakouts
Feel and Aroma:
The face oil is lightly textured and absorbed easily into your skin. Even people with acne-prone skin can use it safely as it does not clog pores. You will barely feel it on your skin even as it works its magic to make your skin much healthier. Also, it has the lovely aroma of rose and saffron.
Our study of the ingredients and their impact:
Saffron's anti-oxidant qualities help brighten the skin as its active compounds prevent inflammation, hyperpigmentation and UV radiation. Rose is infused with minerals and oil that help keep the skin moisturized. Turmeric also provides a lustre to the skin.
Packaging:
The oil comes in a bottle with a dropper that helps you dispense the exact amount of oil needed. The bottle also comes packaged in a highly convenient cylindrical container that you stow away in any part of your travel bag!
Price:
The oil costs Rs. 649 per 30 ml bottle. As it is a product meant to be used sparsely, we believe that this is a reasonable price as a little goes a long way. It is also fast acting with the difference starting to show in less than a week.
Where to Buy?
Pros:
Completely natural
Suits all skin types
Only three drops are needed daily
Cons:
It could make the face look slightly oily.
How to Use?
Dispense three drops of the oil and massage it into your freshly washed face with outwards and upwards strokes. Use circular motions on the forehead until the oil is fully absorbed into the skin. Wipe off any excess.
Final Verdict: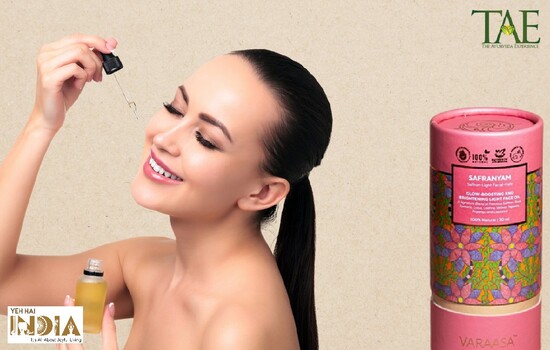 This oil is an effortless way to keep your skin healthy and glowing. With five minutes of effort every night, you could have glowing skin.
It is also completely natural and has zero harmful side effects.
5. Manjasvini Glow-Giving Night-Time Face Elixir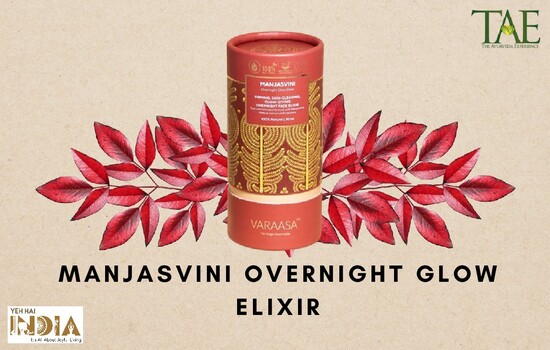 Another great skincare product from The Ayurveda Experience, Manjasvini Overnight Glow Elixir can give you a radiant complexion and clear skin.
It is an easy-to-apply skin care product and you can layer your other must-haves on top of it without any issues!
Key Ingredients:
Product Claims:
Gold-like glow
Fights acne
Soft, moisturised skin
Feel and Touch:
It is a light-textured oil that you will barely feel on top of your skin. You only need to use four drops per use for a smooth non-oily finish. However, if you have dry or combination skin, you're welcome to use more. It has no fragrance.
Our study of the ingredients and their impact:
Manjishtha is a Himalayan herb used to treat various skin concerns as it brightens the skin, inhibits the growth of acne-causing bacteria and reduces inflammation and skin rashes. Mahua is known to soothe inflamed skin and lemons are often used for spot treatment.
Packaging:
The oil comes in a bottle with a dropper so that you can dispense the requisite amount. Like with the other products, it comes in a cylindrical container that you can store the bottle in for use on the go!
Price:
The oil costs Rs. 699 for 30 ml. As it provides a golden glow to the skin, it is not an unreasonable price. Like the other products, it also comes cocooned in a cute cylinder that is perfect for use on the go.
Where to Buy?
Pros:
Brightens skin
Prevents breakouts
Moisturizes skin
Cons:
No aroma and your face may look a bit oily when you get up in the morning
How to use:
Massage up to four drops of the oil into your face every evening after washing your face so that it rests on your skin overnight. You can layer moisturizer, makeup or other products on top of it as per your requirement.
Final Verdict: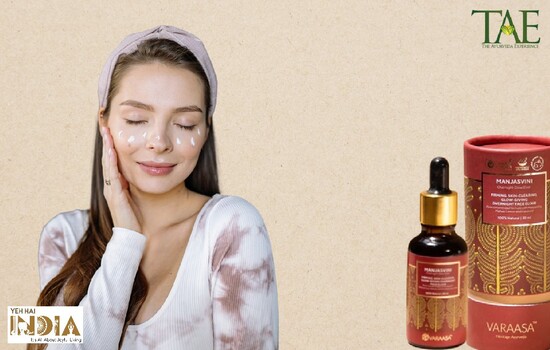 Lastly on our list is the Overnight Elixir from The Ayurveda Experience, a wonderful product that works its magic over a week and makes your skin look much healthier and radiant. We cannot recommend it enough. Since it is completely free of sulphates, parabens and other harmful ingredients, this product has almost no drawbacks!
Try these products from The Ayurveda Experience to see how they work for your particular skin and health condition.
Also, Read – Ananta Hemp Works: An Ayurvedic Health & Beauty Brand