A2 cow ghee is considered the healthiest variety of ghee due to its immense benefits for health and digestion, compared to regular ghee.
Ghee is a familiar and well-loved part of an Indian kitchen. It is a kind of clarified butter and is used in everything from cuisine to medicine and religious rituals.
Keeping this in mind, it is of utmost importance that the ghee you use be of high quality and well-made.
This is where Advait Living's excellent A2 Cow Ghee comes in. A2 Cow Ghee is an excellent Ghee made only from the milk that is obtained from cows with the A2 protein.
This criterion is established so that you may derive the maximum benefit from your consumption of this ayurvedic ghee.
In fact, all of the A2 Cow Ghee is manufactured keeping your welfare in mind. It helps lubricate joints, strengthens immune function and memory, is beneficial for skin and heart health and increases fertility.
A 500 ml bottle comes with so much goodness in it, that you'll find it impossible to turn away from it.
Product Claims: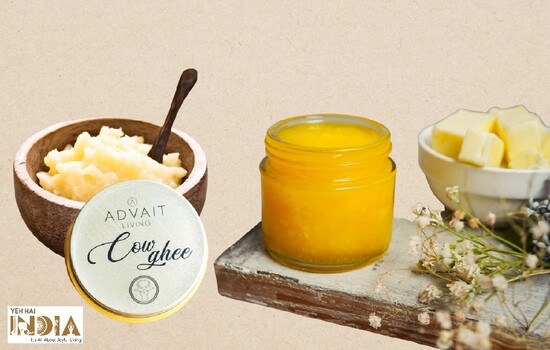 Improves digestion
Improves absorption of nutrients from food
Lubricates large intestine and prevents constipation
Key Ingredients:
A2 Cow Ghee obtained from curd
Price:
₹890 /- for 500 ml.
Our Review of Advait Living's A2 Cow Ghee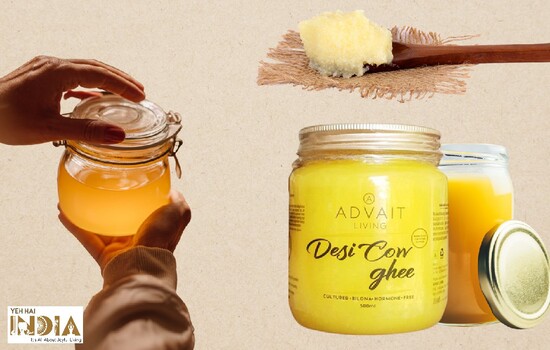 Taste:
The moment A2 Cow Ghee hits your tongue, you will find yourself completely unable to deny its quality. The taste of the ghee is rich and buttery no matter what it is paired with.
Whether you eat it with rice, roti or khichdi or bake it into halwa, laddoos or cookies, the taste is distinct and exquisite.
Recommended Story – Applying Ghee on Navel: 5 Benefits To Derive From This Health Ritual
Our study of the product contents and its impact: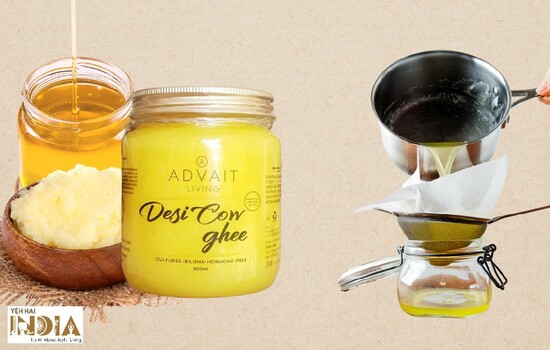 The most notable part of this product is the A2 title that it claims. A2 is a variety of milk that replaces the more common protein A1 with A2.
Although the difference between the compositions of the two proteins is only in one amino acid, the difference in their impact is huge.
A2 milk is generally easier to consume for those with an intolerance to lactic acid as it does not cause digestion issues like the A1 alternative.
It is also made with curd rather than cream which is much easier on the gut and digestive health. It makes ghee easier to consume for those with lactose intolerance.
Manufacturing the ghee utilising the Ayurvedic procedure from curd instead of milk also converts all the milk into gut-friendly bacteria, decreases bad cholesterol and regulates metabolism.
Dahi or curd also uses all components of milk rather than just the cream which makes it richer in minerals, vitamins, carbohydrates and fats.
Who should consume A2 Cow Ghee?
A2 Cow Ghee is safe to consume and, in fact, recommended for people of all ages including pregnant women and infants over the age of 6 months.
As it eases the process of digestion and is packed with nutrients, it is highly beneficial for anyone and everyone.
Packaging: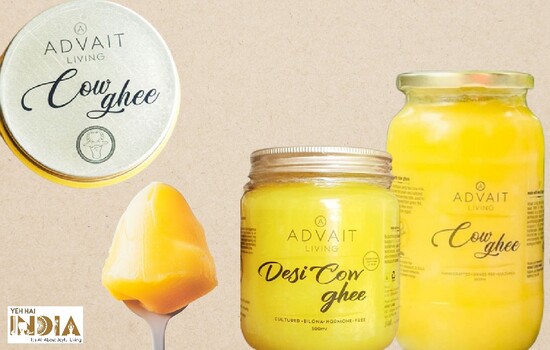 A2 Cow Ghee arrives in a high-quality glass bottle. Glass bottles are a very safe way of storing food products as there is little to no risk of it interacting with the food or leeching into it in any way.
The glass bottles are also much more sustainable than any other alternatives and upon ordering only the ghee online, Advait Living promises zero-waste packaging.
However, if you order something else as well, you may receive some bubble wrap utilised for safe transport. You can simply recycle.
If you take the glass bottle to an Advait Living store, you'll also be eligible for a refill at a discount.
Price: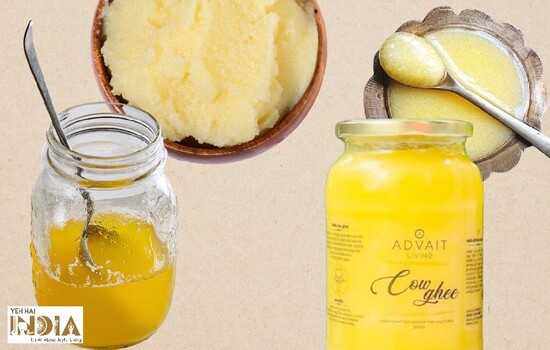 The price for 500 millilitres of A2 Cow Ghee is ₹890. We feel that is a very reasonable price for this product. The ghee is prepared only from A2 milk derived from indigenous cows such as Gir, Raathi, Karkraj and Thaparkar found mainly in the remote areas of Rajasthan.
These cows are pasture-fed and raised without any hormone inducing chemicals or agents.
Thereafter, the ghee is prepared using the traditional bilona method of churning curd bidirectionally to separate the curd from the butter before getting the ghee itself.
All of these efforts are made to ensure that you derive the most nutrients from your ghee. Keeping this in mind, ₹890 is not too much to pay for this lovely ghee.
Where to Buy?
Advait Living's A2 Cow Ghee can be purchased Here
Pros:
Easily digestible
Nutrient packed
Made from milk of pasture-raised cows
Naturally rich in iodine
Lactose-free
Gut friendly
Helps lose weight
Handmade and fresh
Granular texture
Zero preservatives
Cons:
Lingering aftertaste
Strong aroma
How to use: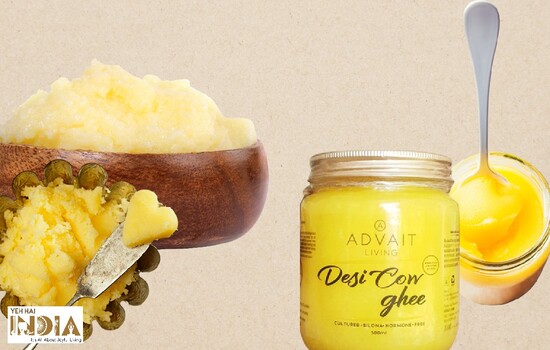 The A2 Cow Ghee can be used in any recipe of your choice which requires ghee. Parathas, barfis, dal, biriyani and halwas are popular choices.
You can also use A2 Cow Ghee as a replacement for butter in your baked goods. The ghee also has high heat stability so you do not have to worry about that aspect.
While it is recommended to use A2 Cow Ghee before 6 months from the manufacturing date, it is safe to use until it discolours or goes rancid.
Final Verdict:
Advait Living's A2 Cow Ghee is a wonderful product that shows off the quality and care that goes into its manufacturing in several different ways.
From the soft, granular texture to the process of manufacture utilized which involves curd and not cream, the ghee is formulated in order to meet your every needs.
In Ayurveda, ghee is termed as a health elixir as it is an important source of essential nutrients that healing and strengthen your immune system.
Buying A2 Cow Ghee means you're supporting the humane treatment of milk-giving cows, sustainable packaging and a truly desi company that always strives to give you the best possible products while also benefiting hugely from the ghee.
It is also packed with plant-based iodine and handmade with care. It is a delicious and aromatic product that also genuinely has a positive impact on your health.
Advait Living's A2 Cow Ghee is a product that is well worth the cost and is a storehouse of antioxidants and other essential nutrients.
Start a healthy eating routine with Advait Living's A2 cow ghee from today and reap the benefits for years to come.
Also Read – Ghee vs Oil? 7+ reasons why you should switch!