Ghee is one of the most famous foods with incredible health benefits and healing properties. In India, Ghee is one kitchen staple that we never get enough of.
Ghee, or clarified butter made from cow or buffalo's milk, is rich in omega-3 properties, Vitamin-A and healthy cholesterols. Beyond our regular kitchens, ghee also finds a coveted space in beauty and hair care rituals too.
Here is everything you need to know about ghee and the benefits you can derive from it!
1. Manage weight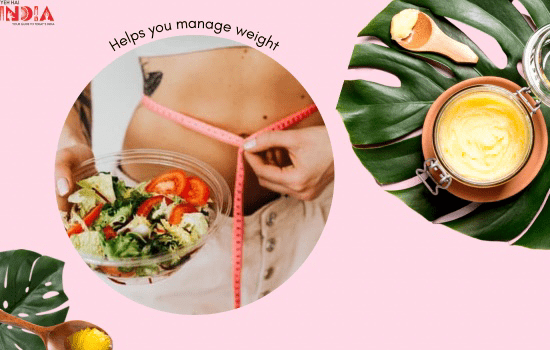 A consistent and normal intake of ghee helps you manage weight in the long term. Other than healthy calories and fats, ghee contains a bundle of fat soluble vitamins like Vitamin-A, Vitamin-E and Vitamin-K.
These fat soluble vitamins aid with weight loss and also play a key role in balancing body hormones. It also helps maintaining healthy cholesterol.
Recommended Story – Cold pressed oils: Are they healthy and would they replace cooking oils?
2. Reduces inflammation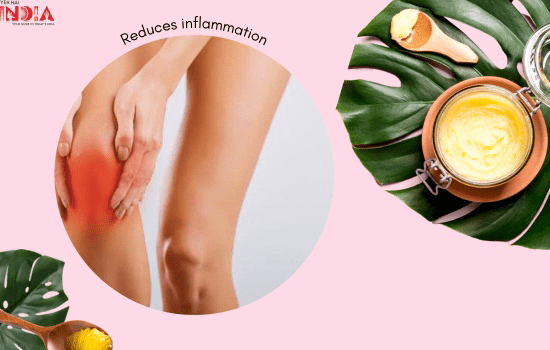 Studies point out that a regular consumption of ghee helps in anti-inflammation. Ghee has butyric acid and Vitamin-E, both of which are rich in antioxidants and have high anti-inflammatory properties.
These help in managing and preventing various diseases including gut inflammation and certain kinds of cancer. Ghee also can increase the amount of good cholesterol levels that can aid the functions of heart.
3. Helps Digestive Functions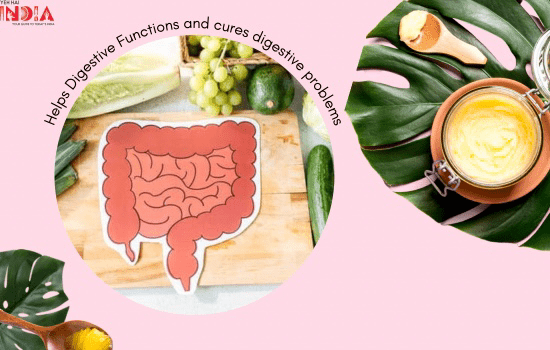 Ghee is a good source of short chain fatty acid – butyrate, which maintains digestive health and also fights against inflammation. Some medical evidence also suggests that ghee can be helpful for those suffering from Irritable Bowel Syndrome (IBS).
Ghee consumption is strongly related to healthy gut. In olden times, ancestors used to have a spoonful of pure ghee before every meal. This ghee lines with the gut and reduces the chances of ulcers and cancers.
A spoonful of ghee at night can also aid your digestion, heal your tract and relieve constipation.
4. Good for your heart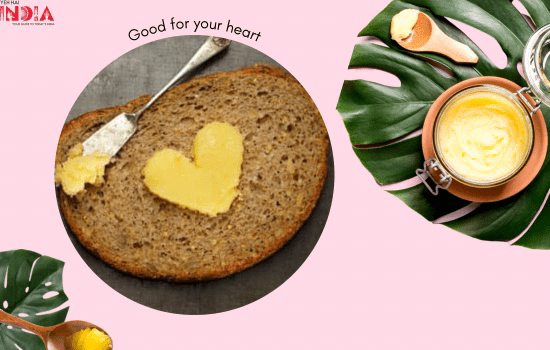 Contrary to popular belief, ghee does not possess excessive cholesterol levels. In fact, it is a safer bet to invest in for your heart health when compared to any refined oil.
The fats present in ghee are not associated with heart diseases in the way that log-chain fatty acids are. They are used directly as energy by the body and not stored as fats.
Hence, if consumed on a daily basis, this can lower bad cholesterol and increase the amount of good cholesterols in the body. The amount of good cholesterol has a direct impact on your cardiac health.
5. Boosts your immunity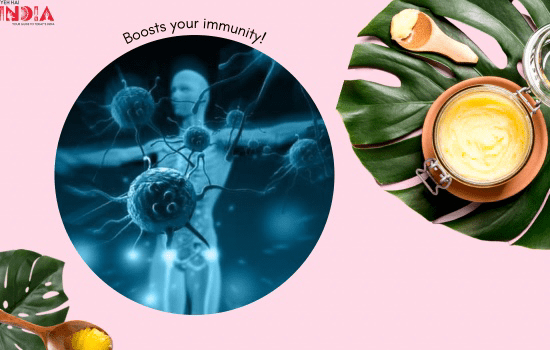 Immunity building has been one of the key challenges to human health in the wake of COVID-19. A spoonful intake of ghee can resolve this problem for you.
Ghee is loaded with antioxidants which boosts the immune system by increasing the body's ability to absorb essential nutrients. When your body effectively absorbs nutrients, your chance of falling ill naturally reduces.
Ghee also contains lauric acid, which is a potent antimicrobial and antifungal substance. In north India, nursing mothers are often given traditional sweets like ladoos, that are loaded with ghee, since they are high in energy boosting properties.
6. Manages your Glycemic Index/ Blood Sugar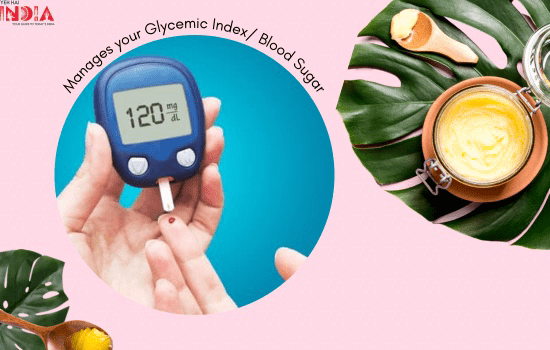 Indians have a standard practice of spreading ghee on roti and paratha. It is said that such intake can bring down the glycemic index of the food we intake by certain levels.
Teaming your food with ghee hence increases the digestibility of the food you eat. The glycemic index, in simple terms is the measure of how quickly any food we consume causes our blood sugar to rise.
In this context, ghee can help bring down the glycemic levels of your food consumption and help you manage sugar levels.
Recommended Story – 15 Best Foods for Healthy, Clear, and Glowing Skin
7. Builds bone health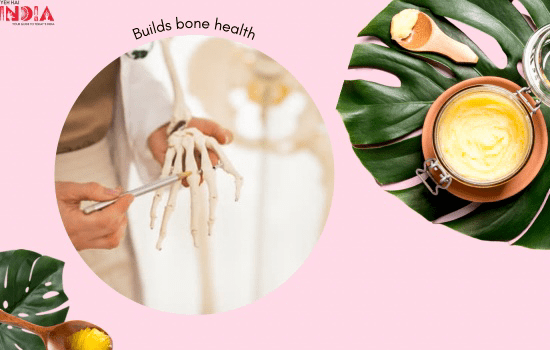 The three main vitamins in ghee, Vitamin-A, E and K2, are responsible for healthy bones. Vitamin-K helps in calcium absorption of the body.
This also helps you fight problems like tooth decay and prevents atherosclerosis.
And that's not all! There are more benefits to consuming Ghee; such as-
Relieves constipation
Reduces gut inflammation
Inhibits cancer cell growth
Supports hormone production
Is Lactose free
So what are you waiting for? Head out to buy your bottle of Ghee!