The foray of hemp in health and beauty domain has triggered a new kind of revolution that focuses solely on exploiting the medicinal powers of Ayurvedic herbs.
In a world obsessed with natural and organic products, the entry of 'Hemp' has given way to an entirely new branch of healthcare that intends to extend the far reaching benefits of exotic Ayurvedic herbs to more and more people.
This new trend has led to launch of health startups that aim to bring their own line of health products infused with the goodness of Ayurvedic herbs.
Acknowledging the therapeutic potential of Vijaya Leaf , Ananta Hemp Works', a hemp-focused health and wellness start-up, brings to you it's painstakingly curated nutrition and wellness range to let people benefit from the healing powers of this Ayurvedic herb.
Ananta Hemp Work's Founders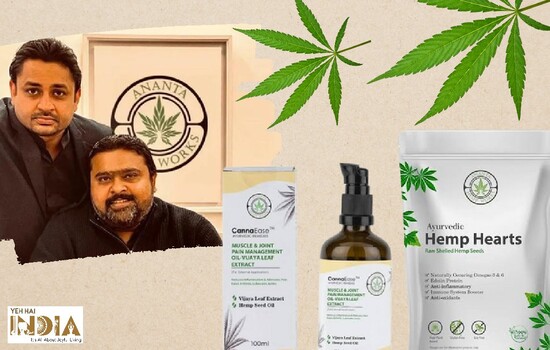 With over a decade long experience in the health industry, the founders Mr. Abhinav Bhaskar and Mr. Vikrambir Singh are committed to ensure the highest levels of standards are adopted in manufacturing of Ananta Hemp Works' products.
Mr. Abhinav Bhaskar has successfully set up and headed a few medicine startups under the brand name Zed Meds together with Vikram Bir Singh, Founder of India's first Donut Franchise, Donut Master.
Their innovative approach towards healthcare is evident in Ananta Hemp Works, products that are designed keeping in mind the needs of the patients and brand's own perspective about healthcare in general.
Under the guidance of Mr. Rajesh Gupta, one of the illustrious personalities of the Indian Business world, the company gets continual support and encouragement from government enterprises and channels specializing in production of certified raw materials required in manufacturing of Ananta Hemp Works' products. The brand name itself represents the ideology and vision of the founders. In Sanskrit language, the word Ananta means 'unending' or 'limitless'. Moreover, all the products created under this brand name uphold this belief to its full extent.
The Ananta Hemp Journey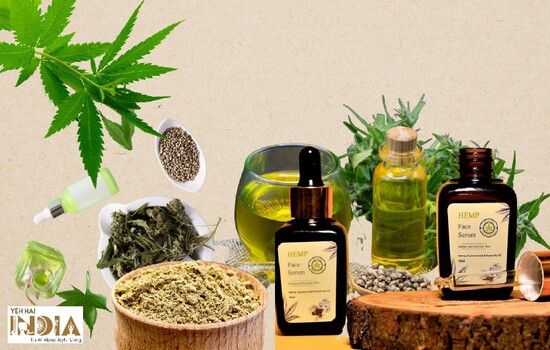 Ever since the inception of Ananta Hemp Works' in 2020, the company has evolved into a highly reputed brand that utilizes the best quality hemp seed oil, also referred as Vijaya Leaf in Ayurvedic texts.
The idea of setting up this venture took root when Mr. Abhinav Bhaskar for the first time, tried hemp infused medicines for treating his autoimmune disorder. The conventional medicine though helped him but he was having many side effects
To his surprise, he started noticing positive results with this new special herb called Vijaya Leaf. The difference in his experience was radical as there were no visible side effects.
The pain relief obtained resulted in making his routine life more manageable, which had earlier left in a state of chaos. This magical improvement in his condition finally allowed him to lead a normal life free from pain and discomfort.
This incredible change initiated deep curiosity about this special herb. In order to investigate the effect of Vijaya Leaf, he alongwith co-founder Vikram Bir Singh began researching about the origin, qualities and other applications of this herb.
On discovering the immense scope of Vijaya or hemp in treating insomnia and pain management, the founders felt inspired to introduce their own line of hemp infused products to address different types of health and beauty concerns.
By March 2021, the founders were finally able to develop three product lines focusing on Nutrition, Wellness and Personal care.
Recommended Story – Mystiq Living: Showing The Nature's Way To Health And Beauty
Ananta Hemp Product Line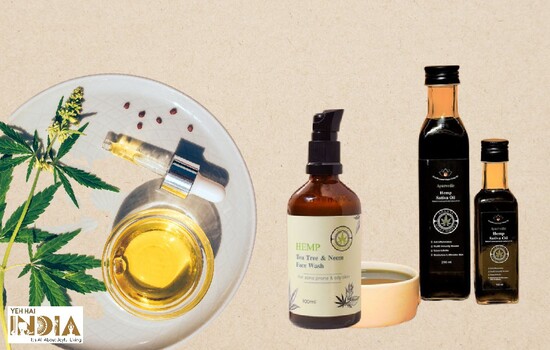 Ananta Hemp Works' offers world class products in three different categories: Nutrition, Wellness and Personal care for all-round care of your body and mind.
Ananta Hemp works Nutrition range includes three products Hemp Hearts (Seeds), Hemp Seed Powder and Cold Pressed Hemp Seed Oil to meet the daily nutrient requirements.
These three products are abundant in heart healthy anti-oxidants and Omega-3 and Omega- 6 fats and also help ease discomfort in cancer patients. They also allow you to consume large amounts of fats, proteins, carbohydrates, fibre, and many minerals in a single bite to curb nutrient deficiencies.
The Wellness range is meticulously designed to offer relief from a range of health concerns like body aches, skin problems, sleep issues and menstrual discomfort.
The CannaEase Hemp Balm and CannaEase Cramp reliever are designed to help ease body pain and menstrual cramps, while CannaEase Muscle And Joint Pain Oil is formulated to address severe pain and inflammation that affects people suffering from rheumatoid arthritis and arthritis.
The Wellness range also consists of special herbal medicines intended to be taken orally on the prescription of an Ayurvedic Doctor.
These formulations are made from special herbal extracts to target problems like anxiety, insomnia, stress and pain.
A large segment of these medicines are topical and oral. Developed keeping in mind people with chronic pain, illness and lifestyle disorders, these products are extremely effective and kind to your body.
The Personal Care range addresses skin and hair issues through use of products infused with the power of Hemp.
Hemp face serum, Hemp body butter and Hemp soap bars are great for skin while products like Hemp Shampoo bar and Hemp seed oil keep away hair issues and promote hair health.
A totally cruelty free health care line, Ananta Hemp Works goes a step forward in extending the benefits of hemp to pets as well. The Petwell range is crafted keeping in mind the varied needs of your beloved pets, that too, in a sustainable and eco friendly manner.
The products are designed specifically for pets which allows you to share the goodness of hemp with your furry four-legged friends.
What Makes Ananta Hemp Works Products Stand Out?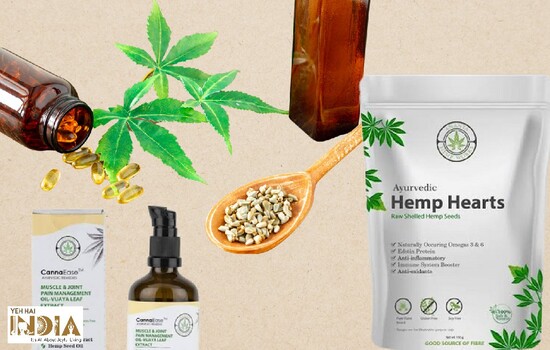 While Ananta Hemp Works' excellent quality products would be enough to catch anyone's eye, another thing that sets them apart is the type of hemp oil they use in its formulations.
Only 100 percent pure and organic hemp seed oil sourced from manufacturers certified by Ayush And GMP is used in all of the products listed in Ananta Hemp Works health and wellness range.
As part of Ananta Sambhasha, an effort initiated by the founders and Ayurvedic Doctors, stress is laid on creating awareness about the benefits of Hemp and advocating medicinal cannabis by Ayurvedic experts to let people benefit from the health nurturing qualities of hemp seed oil.
All of the products, particularly the herbal medicines, are meant to work in tandem with a medical professional's help and in no case are these products meant to replace a doctor's advice.
Hence, consultations from Ayurvedic experts are recommended for anyone and everyone wishing to get the best of the medicinal products. Ananta Hemp Works wishes to create a community, not a competition.
Their aim is to create the largest community of Ayurvedic enthusiasts and Ayurvedic doctors in the world so that they can create a space in which Ayurveda and ayurvedic medicines and other products can be formulated and tested.
For this, they've tied up with several other organizations that value and promote Ayurveda. They have the biggest range of hemp products in the market by far.
From skincare to nutrition and pain management to pet care, Ananta Hemp Works is doing its utmost best to bring back ayurvedic practices, especially those involving hemp, so that it can gain prominence and once again become a part of daily life.
Future Plans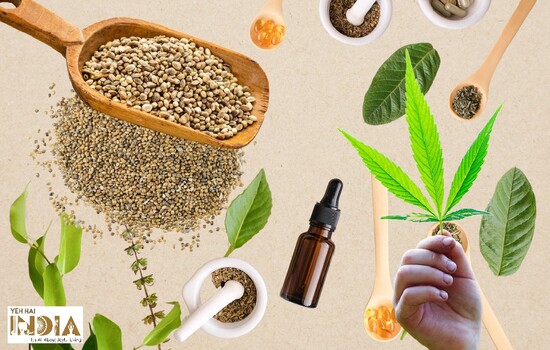 Ananta wants to create a community of Ayurvedic doctors is to dispel the notion about hemp as an intoxicating agent and bring to light it's miracle powers in treating health problems, minus any side effects.
This will help create a feedback loop of developing products that are tested and approved by doctors and recommended by them in their practices, a measure that will further promote Ayurveda in the general consciousness as well.
They also want to bring hemp medicines into mainstream Ayurveda so that a maximum number of people can enjoy the benefits of hemp that enables them to lead healthier lives.
To make hemp healthcare accessible to people from low income groups, the founders plan to launch IMROZ, a personal care sub brand by Ananta.
This landmark initiative is a step towards making the best use of Vijaya Leaf to to ensure healthier and sustainable future for a wider population.
Alongside it's wondrous medicinal effects, it's the sustainable nature of hemp that makes it a favoured material for herbal medicines and health care products.
According to some studies, hemp cultivation requires only half of water and land, compared to other varieties of medicinal plants.
Moreover, Hemp-based medicines are generally more effective in pain management, stress relief and inducing sleep as compared to conventional medicines, that too without any severe side effects.
Ananta Hemp Works is one of the premier hemp-based companies in the market today. They have a wide range of high-quality products that are always expanding, exploring new avenues and getting better.
Embrace the power of Ayurveda to get relief from all sorts of health and beauty afflictions through Ananta Hemp Works' products.
Also Read – Top Ayurvedic Indian Beauty Brands in India