We don't come across face washes with innovative formulations everyday. Most face washes in the market are based on a few common ingredients like neem, aloe vera, and vitamins. Ananta has put a unique spin on face wash formulation by introducing a new "skin superfood" called hemp seed.
And while it is impressive to see new ingredients, there is a simple question to be answered: do we even need a new face wash when there are tons of them already available in the market?
Yes, lots of face washes are already available. However, there are some disadvantages to some of the most popular face washes. Take their harsh soap-based formulations for example, that dries out your skin. Synthetic chemicals are no good either. From causing mind irritation to cancer, these chemicals can be responsible for a myriad of suffering. Therefore, we are on the lookout for new promising products.
The hempseed oil-based face wash from Ananta Hemp Works promises to solve these problems. With an innovative and unique combination of gentle yet potent ingredients, the face wash is claimed to be gentle on the skin even out skin tone, and provide a youthful glow.
Ingredients And Their Benefits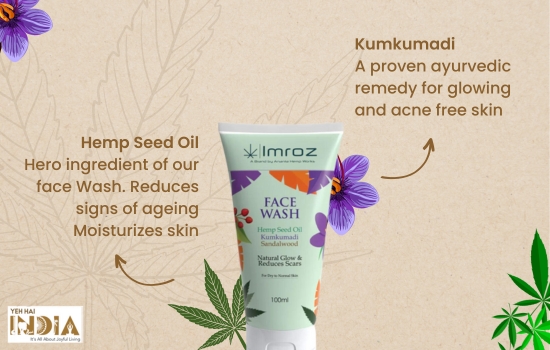 So let's talk about the ingredient profile of Imroz Face Wash.
Key Ingredients: Hemp seed oil and kumkumadi are the key ingredients of this face wash. These ingredients have been mentioned in Ayurvedic texts. They have been used by ancient Indians to achieve beautiful skin.
Being full of vitamin E and omega fatty acids, hemp seed oil does wonders for the skin. It also has a golden omega 3 to omega 6 fatty acid ratio which provides immense soothing benefits to the skin.
Kumkumadi is a popular Ayurvedic concoction made of several Ayurvedic herbs like yashtimadhu, manjishtha, nisa, sweta chandana, kumkum, etc. It is known to hydrate the skin, reduce inflammation, and even out skin tone.
Other Natural Ingredients: The natural active ingredients are glycerin, saffron extract, sandalwood extract, coco amido propyl betaine, aloe vera gel, gudhal extract, neem extract, tulsi extract, turmeric extract. These natural ingredients are full of benefits.
Other Ingredients: Now let's talk about the chemical ingredients. It has the following chemical ingredients: sodium lauroyl sarcosinate, lauryl glucoside, sodium gluconate, sodium benzoate, and potassium sorbate.
Sodium lauroyl sarcosinate is an FDA-approved lathering agent. It is non-toxic and gentle on the skin. Lauryl glucoside is another safe and effective cleansing agent.
Sodium gluconate, sodium benzoate, and potassium sorbate are absolutely safe ingredients added to increase the shelf life of the product and stop molds from growing.
Essential oils are nature-derived ingredients and are usually safe. However, they may still cause irritation for some so a patch test is always recommended.
Packaging
This face wash comes in a beautiful cool mint green tube with a white flip-top lid. It's easy to squeeze the product out of the tube. The packaging is quite convenient.
Best For
This product is best for people with dry to normal skin types. It is full of nourishing ingredients that keep the skin hydrated. It is absolutely gentle on the skin and does not dry it out making it good for dry skin types. The hemp seed oil in the face wash provides extra nourishment to dry skin.
Benefits
Regular use of face wash helps to reduce the appearance of scars from acne.
It improves the natural glow of the skin.
It is full of anti-aging properties which help to reduce wrinkles. It also provides anti-pigmentation benefits and reduces dark spots. It also moisturizes the skin and prevents it from drying out.
The kumkumadi in the face wash helps to renew skin and reduce dullness.
How to Use?
Squeeze out a little amount of the gel and evenly apply it on your face to form a lather.
Rub all over your face gently with your fingers massaging it in a circular motion.
Wash off with cold or lukewarm water and pat dry.
Use this face wash as a part of your daily cleanse, tone, and moisturize routine.
My Experience
The face wash comes in a light green tube. It has a gel base that is almost translucent in colour with a slight hint of yellow with little to no odor. There is a slight hint of a pleasant natural sandalwood fragrance.
The smell comes from the natural sandalwood added to the face wash as no artificial fragrance has been added. I applied it with my fingers evenly and it generated a decent amount of lather. There was no sensitivity or irritation.
There was no greasiness and my skin was refreshed. It also did not dry out my skin as it became supple. I followed up with my regular toner and moisturizer after using this face wash. So far there has been no irritation or reaction. It suits my combination skin very well.
How to Buy?
You can buy Ananta Hemp Works Imroz Face Wash directly from their website. It is also available on Amazon.
Pros:
Natural ingredients
Non-drying formulation
Gentle cleansing ingredients
Perfect for dry skin
Multiple benefits
Sulphate, paraben, and cruelty-free
Cons
Contains essential oils which can cause sensitivity in some people
Summary
Imroz Face Wash is a great product for dry skin with a combination of powerful  Ayurvedic ingredients. It is free of harmful chemicals, and harsh soap and is made in India. It is good for dry skin and offers multiple benefits to the skin including anti-aging, moisturization, and nourishment. Regular use of this face wash can help to reduce acne, inflammation and impart a natural glow to your skin. 
Also Read – Imroz Vitamin C Face Serum from Ananta Hemp Works – Product Review