The skin is our largest organ, serving as a barrier between our internal organs and the outside environment. Our skin works really hard for us. Every day, its functions as a guardian expose it to environmental toxins, sunshine, dirt, and other variables. A natural skincare program that includes high-performance products will nourish and repair your hardworking skin.
Creating your own daily natural skincare routine using products that incorporate natural and organic ingredients is easier than you may think. And Organic Kitchen came into the skincare business above the base of natural and chemical-free ingredients. 
We offer a wide range of organic skincare products to ensure that people have everything needed to follow a natural skincare regimen effortlessly & effectively. Organic Kitchen is using chemical-free and organic ingredients in skin care product manufacturing. Our ingredients are Vegan-friendly & free from Sulphates, Parabens, SLES, alcohol, and other additives.
Organic Kitchen – A Science-backed Skincare Formula
If any of you is looking for a skincare brand that is all-natural and chemical-free, then Organic Kitchen is the best option for you. We manufacture all our products using science-backed natural ingredients, which are tested and approved by experts. All our products are dermatologically tested and cruelty-free.
Organic Kitchen – From Where We Started
A duo of mother-in-law and daughter-in-law, Niti Gupta and Nitika Aggarwal, aimed to deliver skin care benefits based on organic fruits and vegetable formulations. They have a strong belief that everything which is healthy to eat is also healthy for your skin.
They started Organic Kitchen by blending age-old skincare remedies and backing them with new-age technology to preserve and present fruit extracts that make them effective in treating skin concerns without damaging the skin. We are farm to face like nothing you have experienced before.
Organic Kitchen – Our USP
Sensorial textures/too-good a texture. It's like eating the fruit
Always anti-oxidant infused, so always radiant skin
Nature has the ingredients and we have the technology to feed your skin nutrient-dense fruit formulations.
Milder alternatives to mainstream AHAs
For all age groups
Fruits sourced from exotic locations
Co-founders' Vision – Branding Strategy Insider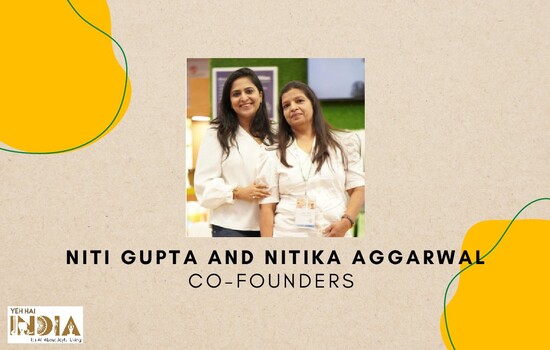 Our Co-founders, Niti Gupta & Nitika Aggarwal, constantly brainstorm new ideas and products for our customers. According to them, delivering quality products helps brands convert their buyers into loyal customers. Their main vision is to establish Organic Kitchen as a pure natural skincare brand in the beauty industry. They are also committed to focusing on marketing, creativity, packaging, shipping, and other important aspects of natural skincare products.
Our Product Categories
Organic Kitchen's main focus is on providing quality products to our customers. That's why we have launched our products in fewer numbers but of the best quality. Our product range is based on the below-mentioned categories:
Creams & Moisturizers
Masks
Sunscreens
Serums
Cleansers & Scrubs
Eye Care
Lip Care
Organic Kitchen – Bringing the Care Back to Skincare
Our nature-forward formulation strategy guarantees that our ingredients are in their most natural, skin-friendly form. We take every measure to eliminate anything that has even the slightest risk of harming your body or our environment. Every one of our products is tested clinically to ensure 100% dermatological safety.
Don't use ingredients, which you can't eat them
That is the Organic Kitchen's standard for pure, fresh, and natural skincare products. We think that beauty products derived from living components, such as plants or plant extracts, are balanced by nature and contain the vibratory energy that makes life possible. All these ingredients have the capabilities of cleansing, balancing, and nutrition required for skin nourishment and ensuring permanent beauty. They all are perfect nutrients for the skin.
Clean, Cruelty-Free Beauty
The natural and organic standards for beauty were always pure, fresh, seasonal, and natural. Across all our products, we control the conception, formulation, manufacturing, and sale of our all-natural products, thereby ensuring quality & purity across all pillars. This mindset guides the development of our treatment line, as demonstrated by our certifications.
Conclusion
At Organic Kitchen, we want to change how we look after ourselves by drawing attention to the areas and the problems that we often overlook, or consider unimportant – but do in fact, affect how we feel and consequently how we appear. By addressing the root of the issues, we bring to you the key to a longer-lasting, deeper, and more meaningful version of beauty. Organic Kitchen is always working for a better and more beautiful tomorrow. We believe in the long-term skin benefits rather than the benefits which last for a few days and affect your skin badly in the future.
Also Read – CIEL Skincare Review : Is It Worth Trying?