Finding the right skincare range takes a great deal of effort, especially if you are looking for an all organic chemical free solution for your skin problems.
Natural and affordable skin care has become a common concern among women in modern times. This accompanied with the stress of dealing with tight schedules has made the pursuit for glowing skin all the more difficult.
Therefore, it is necessary to take care of our skin by using the right products. You may be wondering what we mean by "the right products"? The right product simply means those products that are suitable for your skin, are effective and do not cause harmful side effects.
CIEL products may fit the bill as the brand claims that their products are made of sustainable and natural ingredients whose effectiveness is supported by scientific studies.
However, we can only come to a conclusion after trying out their products. This article intends to share the experiences with three of CIEL skin care range – CIEL Body Yoghurt, CIEL Anti-ageing Cream and CIEL Face Wash.
1. CIEL Very Berry Body Yogurt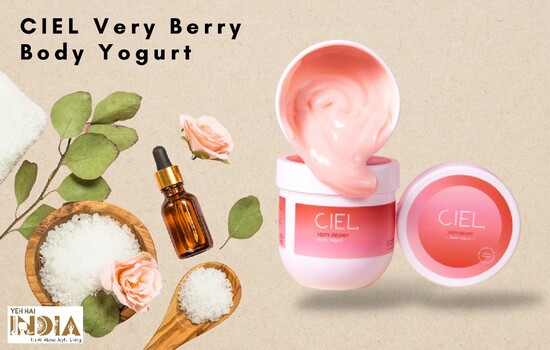 Body yogurts are great for normal to dry skin as they get easily absorbed into the skin right after application and give your skin a supple and moisturized glow.
This body yoghurt is enriched with extracts of Citrus fruits making it a potent source of the most popular skin superfood Vitamin C.
Key Ingredients: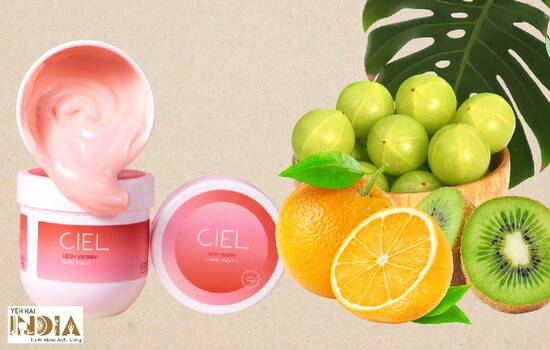 Hyaluronic acid
Kiwifruit extract
Blueberry extract
Amla (Gooseberry)extract
Mulberry extract
Olive leaf extract
Orange fruit extract
Liqorice extract
Price:
₹ 700
Net Qty.:
200 gms
Recommended Story – Skin-Saver: Switch To The Best Herbal Face Washes In India
Claims: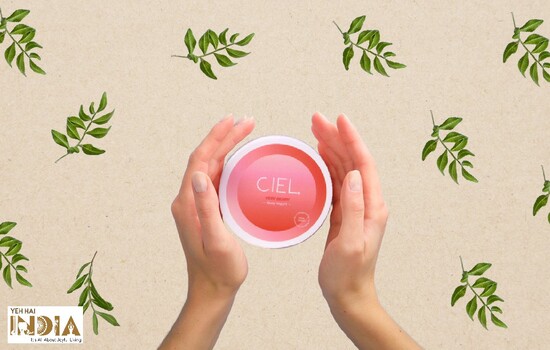 Quick absorbing body yoghurt that nourishes and protects dry skin
Keeps skin hydrated for longer time periods
Works to check skin-ageing and delays the development of wrinkles
Refreshing aroma
Lightens skin tone
Improves rate of collagen production
Our Review:
Touch & Feel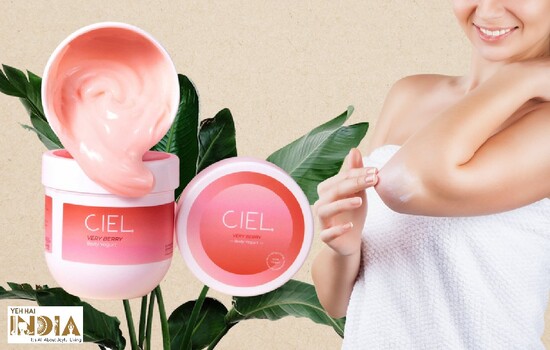 The first thing to notice after opening the pretty white and pink jar is the beautiful fruity aroma. The smell gives a strong "summer in a temperate country" vibe, if that's a thing.
Now coming to the texture, the body yogurt is very lightweight, much lighter than most other moisturizers, making it great for using in summers.
Moreover, the cream gets absorbed almost instantly and works the best on damp skin. Therefore, it is great for dry skin and even during light to moderate winters, when the weather is so dry that your skin is in need of a quick fix every now and then.
Packaging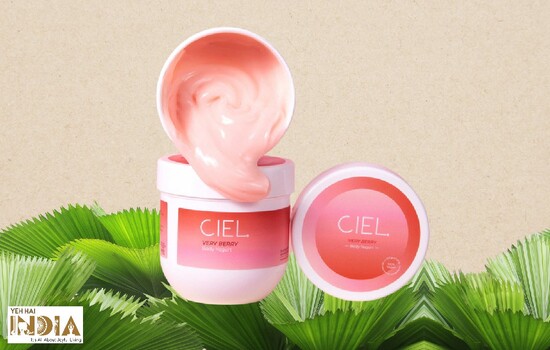 The CIEL Very Berry Body Yogurt arrived in a cute packaging – an easy to hold white coloured jar with pink lid. It's easy to unscrew and lets you grab as much product as you need for intensive moisturization.
How To Use
Take a small amount of this body yoghurt on your palm and start applying on your body. Massage the yogurt into the skin till it's absorbed completely.
Areas prone to drying like knees, elbows and feet might require a bit more to keep the moisture intact. Follow up every 5-6 hours with light application in winters.
Who should use it
Anybody with dry, dehydrated and dull looking skin can use this body yoghurt.
Pros & Cons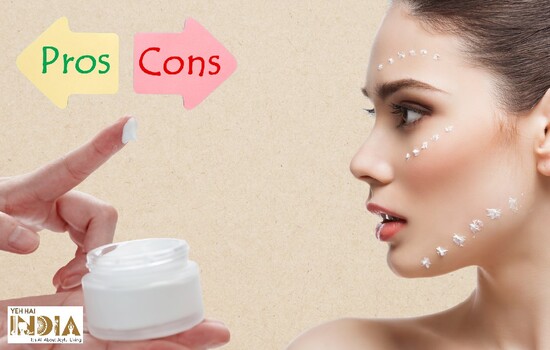 Pros:
Natural and effective ingredients
Quick moisturization
Fruity aroma
Paraben and mineral oil free
Vegan
Cons:
Not enough for harsh winters
Fails to hydrate and heal cracked skin
Final Verdict: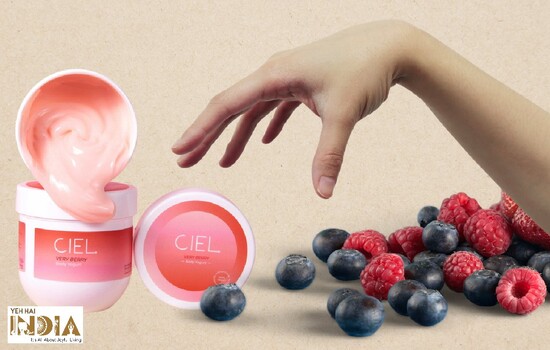 This body yogurt is a perfect mix of natural berry extracts with cosmetic properties.
Hyaluronic acid improves skin elasticity and reduces signs of aging like wrinkles and fine lines;
Blueberry extract which is a great antioxidant known to regenerate skin; Almond oil which is another good rejuvenator of skin supplies nutrients and locks in moisture;
Cranberry extract is a good exfoliator helps accelerate production of new skin cells and Strawberry extract which has a lot of vitamin C prevents collagen damage. All these natural ingredients combined with a light texture and pleasant aroma makes it a great moisturizer for summers and easily addresses light moisturization needs in winters also.
2. CIEL Anti Aging Day Cream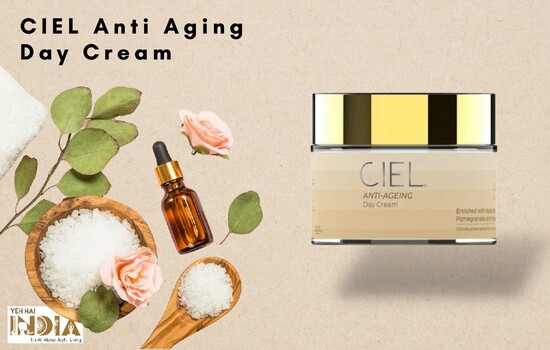 The CIEL Anti-aging Day cream is a unique product containing a rare combination of highly effective anti-ageing ingredients like Apple stem cells, Pomegranate extract, vitamin C and Pullulan, an anti-oxidant derived from Red algae.
Key Ingredients:
Apple stem cells
Hyaluronic acid
Pomegranate extract
Pullulan
Vitamin C
Green Tea extract
Aloe leaf extract
Liqorice extract
Price:
₹1,499
Net Qty. :
50 gms
Claims:
Fades fine lines and wrinkles
Lightens blemishes and dark spot,Replenishes dehydrated wrinkly skin with a boost of moisture and nutrients
Regenerates damaged tissues and collagen
Makes skin plump and smooth
Protects from UV damage and salt stress
Keeps skin moisturized throughout the day
Our Review:
Touch & Feel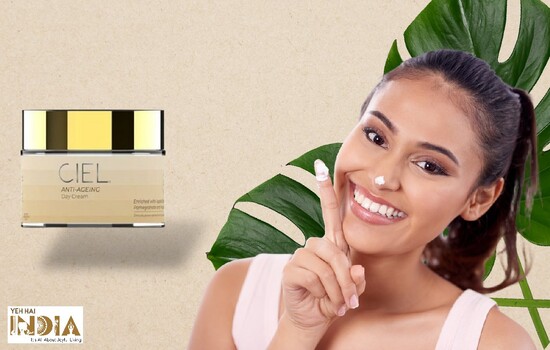 When you open this jar of anti-ageing cream, you find a rich and creamy formula that looks great to fight dry and ageing skin. It has a lovely and pleasing flowery and tea scent which feels refreshing when applied to your face especially during the day.
The colour of the cream is very yellow, almost like the colour of turmeric. The texture is quite thick and rich which makes it good for people with dry skin.
After using it regularly for a few weeks, you will observe tightness and glow on your skin. Apart from its moisturizing benefits, the cream is full of unique anti-aging ingredients including apple stem cells and pullulan, along with other effective ingredients like hyaluronic acid, pomegranate extract and vitamin C.
Packaging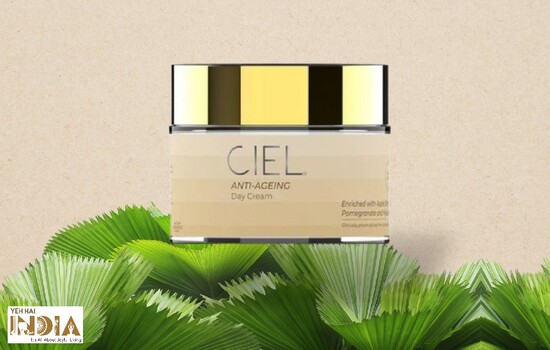 CIEl anti-ageing cream arrived in a beautiful off-white jar with a golden lid. The packaging perfectly reflects the effort and research put into this formula to make it appealing for the consumers.
The quantity might feel too less but the richness it possesses is worth the price you pay.
How To Use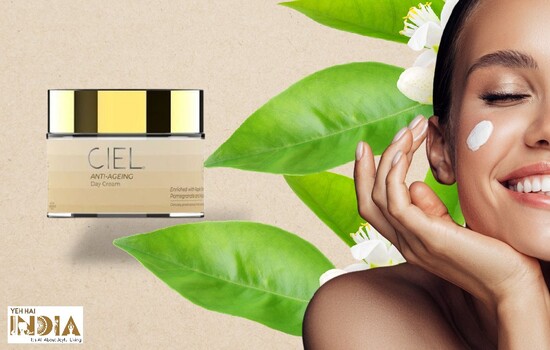 Apply this cream in dots around your eyes, forehead, cheek, nose, upper lips, chin and neck and massage it gently to let your skin absorb the product.
Who should use it
Can be used for all skin types. Safe for sensitive skin and works best on dry, dehydrated and wrinkle prone skin.
Pros & Cons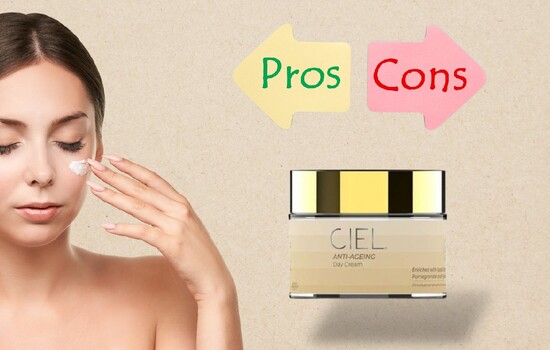 Pros:
Potent natural anti-aging ingredients
Soothing fragrance
Vegan friendly
Free of mineral oils, parabens, sulphates
Cons:
Too greasy for oily skin
Might worsen acne
Final Verdict: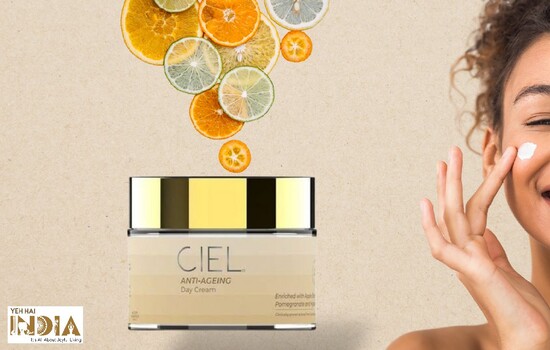 CIEL Anti-ageing Day Cream is among the best anti- ageing products available in the market that promise to restore youth and elasticity to wrinkle prone skin. It 's special combination of exotic anti-ageing ingredients provide all the moisture and nutrients toget glowing and young looking skin.
Apple stem cells are known to rejuvenate skin and restore youthful looking skin by reducing wrinkles up to 15%. Pullulan, another active ingredient in this cream, which is extracted from red algae has tremendous antioxidant properties. It prevents the loss of hydration and protects against UV radiation.
Vitamin C is another popular antioxidant known to reduce hyperpigmentation and stimulate collagen production.
Pomegranate extract checks premature aging of skin. Hyaluronic acid works to revive dull skin and infuses elasticity by improving collagen levels.
With all these anti-aging ingredients, it can definitely be a great addition to your skin maintenance routine if you are in your 20s and 30s.
If you are in your 40s or 50s with existing wrinkles or fine lines, you need to use it consistently to observe noticeable improvements in skin texture and radiance.
Recommended Story – 10 Best Chemical-Free Body Lotions To Treat Dry Skin
3. CIEL Oil Control Face Wash: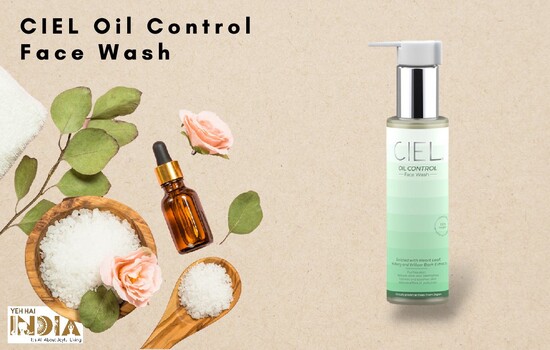 Finding a good face wash that suits oily skin is difficult. Some of the face washes leave the skin feeling greasy and dirty while others dry the skin too much which causes breakouts and acne problems later.
The CIEL Oil Control Face Wash is a saviour for those struggling with oily skin.
Key Ingredients: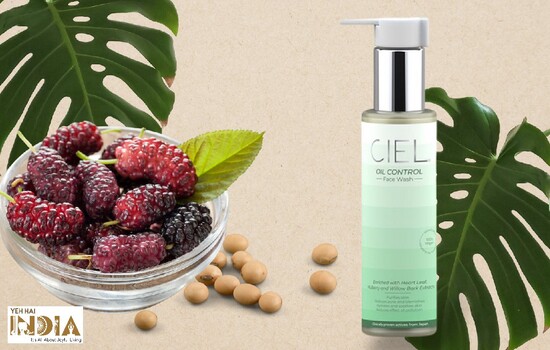 Soybean seed
Mulberry extract
Lactobacillus
Heartleaf extract
Willow bark
Glycolic acid
Price:
₹449
Net Qty.:
100ml
Claims:
Treats acne
Clears blemishes
Prevents ageing
Protects skin from infections
Fights bacteria
Fades acne marks and spots
Our Review:
Touch & Feel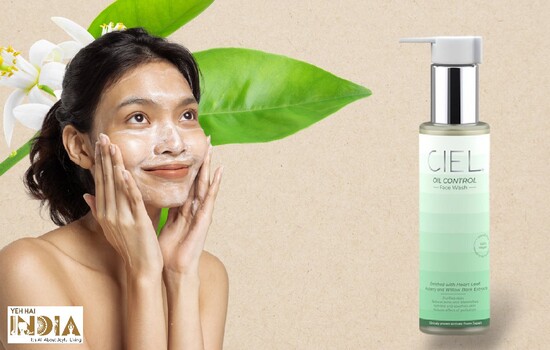 When you take some of the product in your palm to wash your face the first time you open this bottle, what you see is a lightweight non-foaming formula which appears like a gel and looks quite effective in cleansing excess oil and dirt from skin surface.
It cleans all the debris on the skin well and doesn't dry the skin much unlike many other face washes.
The best thing was it's refreshing lemony fragrance. It removed all the grime gently and left a refreshing glow. After one wash, one can say that it can release of sebum for at least 8 to 12 hours.
The face wash is specifically formulated for oily and sensitive skin but can also be used on normal skin.
Packaging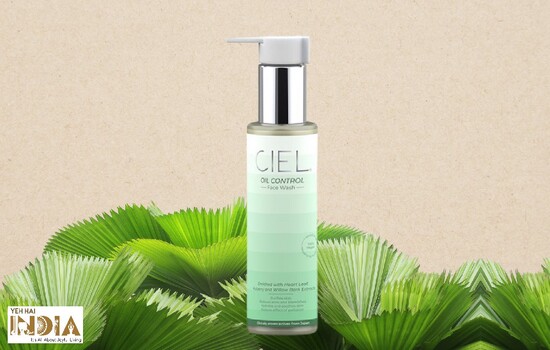 This face wash comes in a pretty white and mint green bottle with pump dispenser which is convenient for daily use and lets you use the product in the right amounts for use on face.
Weighing just 100 ml, the packaging is compact enough to be packed in your luggage without taking too much space.
How to Use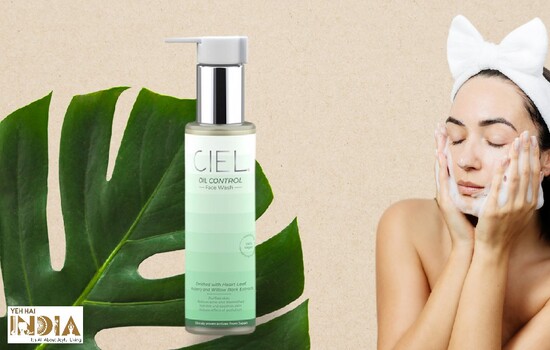 Take a coin sized amount of this face wash on your palm and massage it on wet skin to dissolve all the dirt and grime on your face. Give special attention to areas like corners of mouth, nose, eyes, temples, chin, nose, upper lips and brow area to remove oil build up.
Rinse the cleanser and pat your face dry with a towel. Apply a soothing cream or gel to keep your skin moisturized and protected.
Who Should Use It
Meant for normal to oily skin prone to acne. Safe for sensitive skin.
Pros & Cons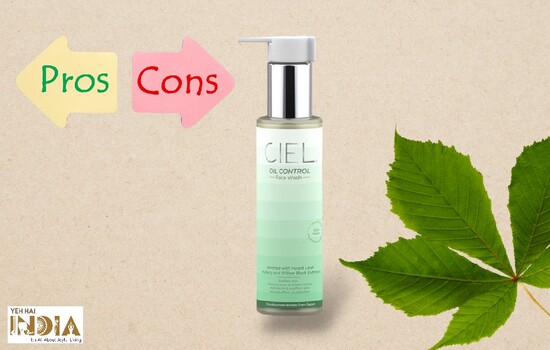 Pros:
Non greasy
Soap-free formula
Makes skin fresh and supple
Prevents acne
Vegan
Free of mineral oils and parabens
Cons:
Not good for dry skin
Non-foamy texture
Final Verdict: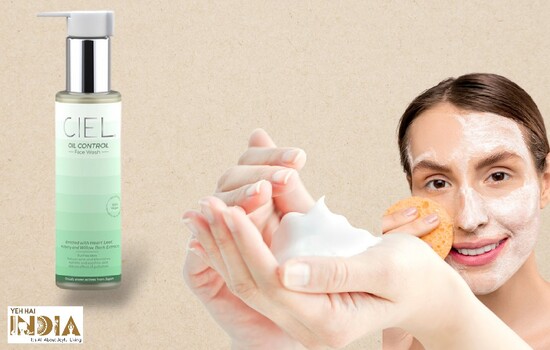 CIEL Oil Control face wash is an amazing face cleanser for those who remain worried about the drying effects of oil control face washes. This face wash is packed with skin lightening and tightening ingredients like glycolic acid, mulberry and heart leaf extract.
Mulberry extract is a great antioxidant which prevents free radical damage that causes blemishes. Heartleaf extract has anti inflammatory properties which helps to reduce irritation in the skin.
It also contains willow bark which is loaded with natural salicylic acid. Salicylic acid has many benefits for the skin and is especially known for its gentle exfoliating and anti-acne properties.
Another great ingredient in this face wash is probiotic bacteria lactobacillus which is naturally found in curd. Lactobacillus forms a barrier on skin surface without causing any damage which prevents the acne-causing bacteria from growing on your skin.
It also contains soy bean seeds which has antioxidant properties and soothes the skin while promoting skin regeneration.
Conclusion:
After trying these three products for over a month, we can finally say that CIEL is indeed a trusted skincare brand that gets the attention due to its careful selection of skin beautifying ingredients.
Through use of rare naturally occurring components proven to improve skin health, CIEL ensures all its products are vegan and nature friendly.
The three products: CIEL Very Berry Body Yoghurt, CIEL Anti-ageing Day Cream and CIEL Oil Control Face wash are wonderful products that promise to fight your individual skin issues without causing damage to skin.
So, if you are looking for a solution for dry skin in summers, grab a jar of CIEL Verry Berry Body Yoghurt. For skin prone to sagging and wrinkles, CIEL Anti-ageing day cream is the best product to fade fine lines and wrinkles.
CIEL Oil control face wash is great to keep your acne -prone skin clean and free from extra build up of sebum in summer season.
Don't wait and choose the best CIEL skin care product that is best for your skin problems.
Also Read – Kumkumadi- 7 Magical Products for your Skin!