Dry, peeling, and cracking skin in winter is almost as inevitable as the cold weather. No matter how many products you switch or how many brands you swap, keeping your skin moisturised and hydrated can be one hell of a task. To alleviate your distress over dry skin and chemical-based beauty products, we have come up with a listing of the best chemical-free body lotions for dry skin in India.
Harmful chemicals in almost all beauty products flooding the market have been quite harsh not only on your skin but also on your pockets. Regular chemical-based beauty products aggravate dryness rather than conciliate its effects. They may hydrate the skin briefly, but the organic, natural lotions lock the moisture in like no other. These products can induce several skin ailments, especially in people with eczema and rosacea.
Yes, chemical as well as cruelty-free! Let's look at the best organic body lotions in India for dry skin.
Best Chemical-free Body Lotions in India
1. Soultree Apricot Moisturiser with Kokum Butter and Honey
This elite luxury product by Soultree has been blended with cold-pressed Apricot Kernel Oil from the Himalayas, Organic Herbs and Wild Honey from the Sirumalai Forests of Tamil Nadu and Kokum Butter. These natural ingredients work collaboratively in providing nourishment to otherwise dry skin.
Apricot Kernel oil along with kokum butter work to uplift dry skin and infuse a healthy dose of skin nutrients to replenish dry and damaged skin.
Recommended Story – Kumkumadi- 7 Magical Products for Your Skin!
Ingredients:
Soultree Apricot Moisturiser contains kokum butter, vitamin E, apricot oil, xanthum gum, glycerin, coco-caprylate/​caprate, glyceryl stearate SE, cetearyl alcohol, sodium benzoate & potassium sorbate, sodium stearoyl glutamate, lactic acid, from certified organic farms, aloe vera, sunflower oil, manjistha, honey, from essential oils, parfum, limonene, linalool, and geraniol.
Pros:
100% vegetarian and certified natural products
Ayurvedic formulation
Loaded with antioxidants
Hydrates and nourishes dry skin
Certified 'Natural' by BDIH, Germany
ISO Certified
Not tested on animals
No presence of parabens, phthalates, lead, DEA, TEA, silicones, petroleum, mineral oil, SLS/SLES, or synthetic fragrances
Cons:
It is not suitable for very oily skin types.
People with normal to dry skin need to moisturise twice and in slightly more quantity than others for complete hydration.
It is pretty expensive than most other chemical-free body moisturisers available.
Price: 1,495 INR (200 ml)
Why did we choose this product?
Soul Tree is one of the trusted organic brands we can always depend on. This moisturiser is a luxurious indulgence your skin needs. We think it is worth the price for the lack of harmful chemicals and to know that the ingredients are 100% natural and organic.
2. Just Herbs' Cascade Moisturising Day Care Lotion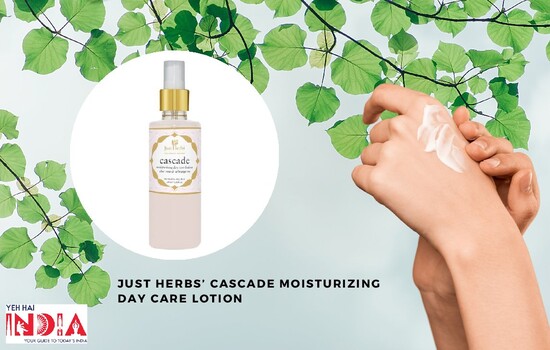 Imparting a lightweight, non-sticky, and nourishing finish, this is one of the best organic body lotions in India and is an ideal choice for dry and cracking skin.
Ingredients:
Just Herbs' Cascade Moisturising Lotion contains wheatgerm oil, jojoba oil, shea butter, coconut oil, glyceryl stearate citrate, cetearyl alcohol, soy lecithin, potassium sorbate, caprylyl glycol, gluconolactone, sodium gluconate, certified organic ingredients, aloe vera, vegetable glycerine, ECOCERT-certified ingredients, glyceryl caprylate, dicaprylyl carbonate, certified organic cold-pressed ingredients, apricot kernel oil, and sunflower seed oil.
Pros:
Ayurvedic formulation
Hydrating & Moisturising
Lightweight
Antioxidant properties
ECOCERT-approved product
Blended with wheatgerm oil, vetiver, and jojoba oil, it works to regenerate damaged skin cells with its moisturising and nourishing abilities.
These ingredients also check skin inflammation and blemishes to give you a clear complexion. Vitamins E and B present in Jojoba oil penetrate the skin to offer deep moisturisation and also help to unclog skin pores.
Cons:
Expensive.
You can order it online but it is difficult to find this product in physical stores.
There is a small percentage where skin breakouts have happened in people with acne and acne-prone skin.
Does not work well on dry skin. Multiple applications are required for dry skin.
Price: 645 INR (100 ml)
Why did we choose this product?
If you need a good moisturiser that is natural and organic for everyday use, we recommend Just Herbs Cascade Moisturising Day Lotion. It contains certified organic ingredients from renewable resources and a natural preservative blend of herbs and essential oils to hydrate the skin.
3. Biotique Winter Cherry Rejuvenating Body Lotion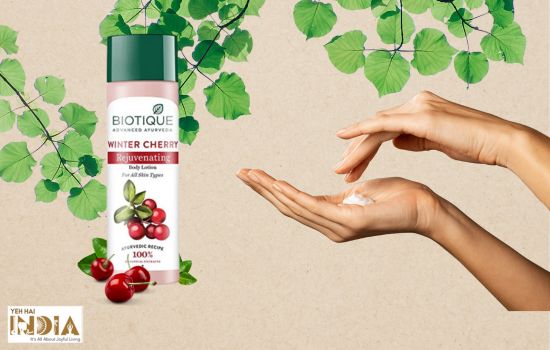 Biotique's creamy winter cherry lotion is deeply nourishing with the goodness of Ashwagandha and Almond Oil.
Ingredients:
Surajmukhi Tail (Sunflower Oil)
Kusumbhi Tail (Safflower Oil)
Rai Tail (Mustard Oil)
Jatamansi Kwath (Spikenard Extract)
Badam Tail (Almond Oil)
Ashwagandha Kwath (Indian Winter Cherry Extract)
Pros:
The consistency is thick and creamy, but it spreads readily and absorbs quickly.
It does not leave a slippery or oily film on the skin. Skin is deeply nourished by this lotion enriched with natural components such as almonds and ashwagandha.
It also claims to get rid of blemishes.
Ideal for normal to dry skin.
100% chemical-free, natural ingredients
Not tested on animals
EEC and FDA approved
Cons:
Packaging is not travel-friendly.
The fragrance is not very pleasant.
Dispensers could be designed differently for the bottles. A pump or a flip-top opening will work better.
Price: 140 INR (120 ml)
Why did we choose this product?
Biotique's products are always trustworthy. This body lotion in particular works well for daily use on all skin types. without any chemicals or harmful ingredients, this is one of the best body lotions available at this price in the market.
4. Vilvah Body Yoghurt – Mango And Hemp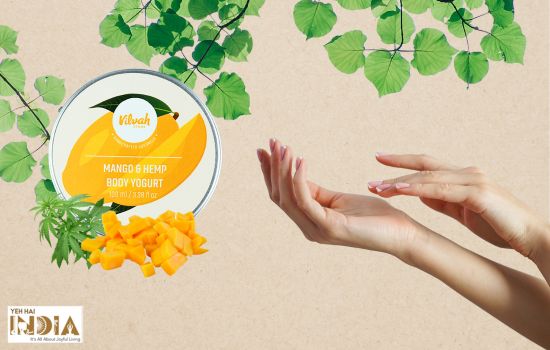 This soft and creamy body yoghurt is a joy to use as it includes Cocoa Butter, Mango Butter, and Hemp Oil. The powerful healing properties of shea butter, along with the sweet fragrance of mango, deliver a rich moisturising experience. Regular use results in glowing, smooth and supple skin for up to 48 hours after use.

Ingredients:
Vilvah Body Yoghurt contains certified organic, shea butter, mango butter, cocoa seed butter, mango extract, blueberry extract, hemp oil, sunflower oil, plant-derived, cetearyl alcohol, cetearyl glucoside, peg 100 stearate, glyceryl stearate, xylityl glucoside, anhydroxylitol, xylitol, ECOCERT-approved preservative, potassium sorbate, and sodium benzoate

Pros:
100% Natural
No Parabens
Deep skin hydration
Completely chemical-free
Free of Parabens
Cruelty-free
ECOCERT certified
Enhances overall skin health and has a soothing impact on the skin.
Quickly absorbs, providing deep hydration for smooth, supple skin.
Non-comedogenic and helps to nourish skin from within.
Boosts overall skin health and has a soothing impact on the skin.
Enhances the skin's inherent radiance.
Cons:
Packaging is not preferable for everyone. It is not a lotion and hence comes in tubs instead of bottles.
This moisturiser is very thick and creamy, unlike liquid lotions.
Not readily available in physical stores as the brand is relatively young.
The fragrance is fruity because of the ingredients.
It can cause breakouts if used on the face and neck.
Price: 340 INR (100 ml)
Why did we choose this product?
Vilvah is one of the most promising organic brands steadily growing in the past few years. Their Mango and Hemp Body Yogurt is new and unlike any other body moisturiser available in the market. We recommend this product for its deeply nourishing ingredients, reasonable price and delicious fragrance.
5. The Moms Co. Natural Soothing Relief Lotion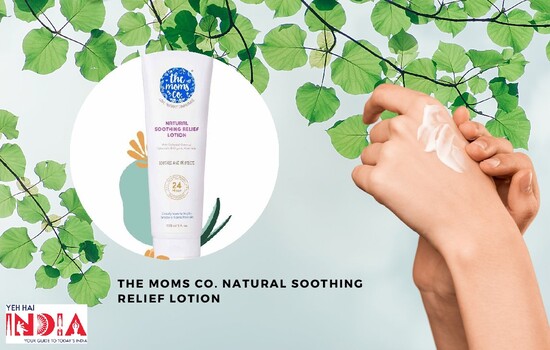 If you have dry, rash-prone and sensitive skin, then this product by The Moms Co. is an ideal choice for you. Made with Shea butter and organic oils of chamomile, jojoba, rosehip and wheat germ, this is a very nourishing lotion for normal to dry skin types.
Ingredients: The Moms Co. Relief contains Lotion organic chamomile oil, organic jojoba oil, rosehip oil, shea butter, wheat germ oil, coconut oil, tocopherol, arginine, xanthan gum, glycerin, water, c14-22 alcohols, c12-20 alkyl glucoside, caprylhydroxamic acid, caprylic capric triglyceride, caprylyl glycol, cetostearyl alcohol, glyceryl monostearate, potassium sorbate, propanediol, sodium gluconate, stearic acid and, xylitylglucoside.
Pros:
100% safe and natural product
Sulfate and paraben-free
No Petroleum-derived ingredients
Free of all harmful chemicals
Australia-certified toxin-free, Australia Allergy Certified and dermatologically tested
PETA certified cruelty-free
Rosehip oil is great for dry skin patches
Shea butter provides the required hydration
Chamomile soothes the skin, nerves and mind
Organic Jojoba oil has additional healing properties that help with any inflammation in the skin
Cons:
None
Why did we choose this product?
This product is created with pregnant women, postpartum and lactating mothers in mind. hence, it is almost perfect for everyone else to use as well. The lotion is hydrating and easily absorbable. The price is affordable as well.
Price: 275 INR (200 ml)
6. Aroma Magic Shea Butter and Honey Body Lotion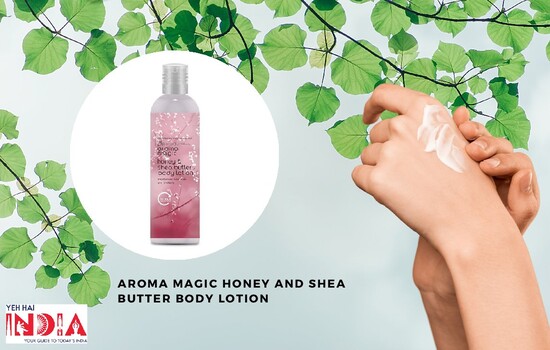 The triple-action formulation blended with honey and shea butter in this product aims to moisturise and nourish dry skin. Soya extracts, ylang ylang and patchouli essential oils supply vitamins to smoothen and condition your skin. This product by Aroma also aids in protecting your skin from sunburn with an SPF of 25.
Ingredients:
Aroma Magic Body Lotion contains aqua, glycerine, decyl cocoate oil (coconut derived), shea butter, fruit-derived beta-carotene, olive oil, sunflower oil, honey, mango seed butter, ylang-ylang oil, patchouli oil, sucrose stearate, citric acid, and soybean extract.
Pros:
No harmful chemicals
No artificial fragrance
100% vegetarian, cruelty-free, Halal-certified and GVCS-approved.
SPF 25 provides decent protection from the sun even without sunscreen.
It does not leave a greasy layer on the skin.
It moisturises the skin deeply and provides nourishment.
It has a pleasant, natural, flowery fragrance that does not overpower.
Cons:
It does not come in travel-friendly packages.
If you have very dry skin, you will require multiple applications to keep your skin moisturised throughout the day.
Why did we choose this product?
Aroma's body lotion is chemical-free, safe to use and nourishing to the skin. It has essential oils from natural ingredients that soothe and hydrate your skin. It is good for everyday use and a bottle will last for at least 2-3 months easily.
Price: 255 INR (220 ml)
Recommended Story – Skin Benefits of Tea Tree Oil and Best Products Available
7. Arata Natural Moisturising Body Lotion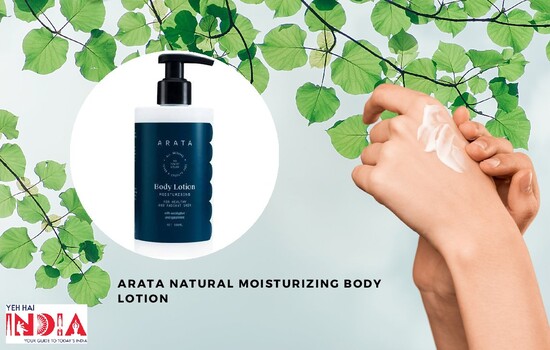 Looking to soothe your dry skin, and enjoy a soft, healthy afterglow? We've got another great product here. Arata Natural Moisturising Body Lotion infuses your skin with deep nourishment of cocoa, shea, mango and kokum butter.
Not only this, but it also helps keep your skin hydrated, moisturised, and supple. This body lotion is also enriched with aromas of eucalyptus and spearmint.
Ingredients:
Arata Natural Body Lotion contains purified aqua, propanediol, sorbitan stearate, sucrose cocoate (vegetable oil, sugar beets and coconut oil derivatives), glyceryl stearate citrate, cetearyl alcohol, glyceryl caprylate (vegetable oil derivative, natural thickener, coconut oil derivative), shea butter, cocoa butter, kokum butter, mango butter, olive oil derivative, avocado oil, caprylhydroxamic acid, glyceryl caprylate, glycerin, sorbitan sesquioleate, essential oils, safe fragrances, xanthan gum, sodium gluconate, and soybean oil.

Pros:
100% Natural and Vegan
Intense nourishment with mango butter, shea butter and cocoa butter
Soothes dry skin with kokum butter, coconut oil and olive oil
Rejuvenates and gives radiant skin with eucalyptus and spearmint oils
No toxic chemicals
Paraben-free
PETA certified
GMP Certified
Australia certified Toxin-free
Cons:
Packaging includes a big cylindrical bottle with a pump dispenser. It is not travel-friendly as it is a 300ml container.
Price: 675 INR (300 ml)
Why did we choose this product?
Arata's body lotion is organic and contains natural ingredients for skin nourishment. It hydrates effectively and rejuvenates your skin leaving you feeling fresh throughout your day.
8. Khadi Natural Peach Avocado Moisturiser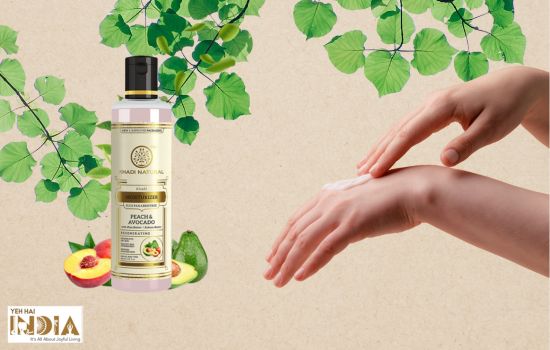 Khadi's Moisturiser line is impressive with a wide range of ingredients and their combinations. The one we have selected here is the Peach and Avocado Moisturiser with nourishing and rejuvenating properties along with hydration.
Ingredients:
Khadi Natural moisturiser contains peach extract, aloe vera, avocado oil, glycerin, wheat germ oil, sunflower oil, mustard oil, safflower oil, baheda (terminalia bellirica), fenugreek, liquorice, and shea butter.
Pros:
100% natural and vegan
Its Ayurvedic formula makes it safe for the skin.
Pleasant fragrance.
Affordable price.
BDIH-certified product.
Great for normal to dry skin.
Peach, Avocado and Shea butter have antioxidants to keep the skin young and glowing.
It provides intense nourishment and moisture to the skin.
Cons:
It is not suitable for oily skin. It makes them more oily, especially in the summer.
Packaging is similar to all other Khadi natural products as usual. A pump dispenser will be ideal for lotions.
It is not available in many physical stores.
Price: 220 INR (210 ml)
Why did we choose this product?
Khadi's Peach Avocado moisturiser is ideal for people with normal to dry skin. It is affordable and provides intense hydration that stays on for a very long time. The product is 100% vegan, natural and made from ingredients with BDIH certification.
9. Forest Essentials Mashobra Honey and Vanilla Ultra-Rich Body Lotion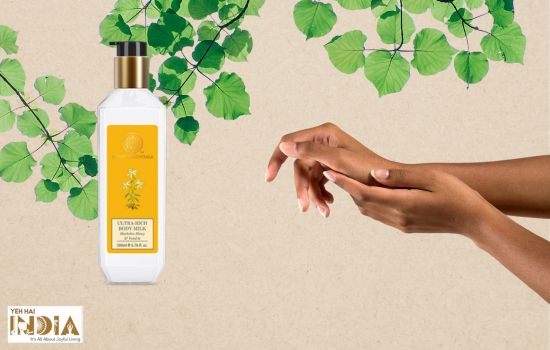 The Forest Essentials Ultra-Rich Body Milk Mashobra Honey & Vanilla has been infused with honey and vanilla for a soothing fragrance. This body milk contains burnt cane sugar, beeswax, milk cream and apricot oil for locking in moisture and giving the skin a smooth and supple look.
Ingredients:
This Forest Essentials Body Lotion contains burnt cane sugar, olive oil derivatives, kokum butter, cold-pressed organic almond oil, cold-pressed organic apricot oil, organic beeswax, gokharu, vitamin E, glycerin, organic honey, vanilla extract, and paraben-free urea.

Pros:
It includes real caramelised sugar crystals used in traditional Asian skin care recipes.
Sugar is a natural humectant that draws moisture to the skin, making it smooth, supple, and dewy.
Almond oil is nourishing, gives radiance, and thoroughly moisturises. Apricot oil revitalizes, softens, and tightens skin.
Kokum Butter contains nourishing compounds that aid in the regeneration and nourishment of skin cells.
Gokharu rejuvenates dry skin and fixes uneven tones of the skin.
PETA-certified cruelty-free.
This is a GMP and ISO-certified product.
AYUSH-approved ingredients.
Chemical-free and paraben-free ingredients.
Cons:
Exorbitant price. It is priced at 495 INR for a travel-sized package. Most other body lotions cost less than that for a full 200 – 300 ml bottle.
Price: 1850 INR (200 ml)
Why did we choose this product?
If you are looking for luxury and a lotion to provide lustre to your skin, you can choose this. Even though it might not be affordable to most, it is worth the price when you take the purely organic ingredients and extravagance from the brand.
10. Sadhev Herbal Body Lotion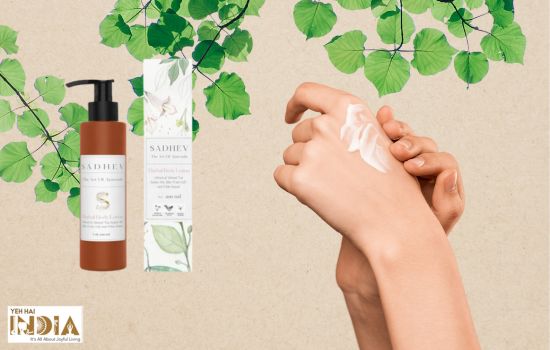 The herbal body lotion from Sadhev is an Ayurvedic recipe made from natural ingredients like aloe vera, blue water lily and almond nuts. It holds in moisture and improves the regeneration of the skin resulting in glowing and radiantly youthful skin.
Ingredients:
Sadhev Herbal Body Lotion contains almond nuts, aloe vera, Indian blue water lily, white dammar extract, natural vegetable oils, and natural emollients.
Pros:
Completely natural and Ayurvedic.
100% vegan and cruelty-free.
Free from petrochemicals, parabens, phthalates, sulphates, synthetic colours and artificial.
Suits dry skin best.
Gets absorbed fast.
Helps the skin attain a natural balance in oil secretion
Soothes rough and dry skin by moisturising it.
Relieves tightness and irritation in the skin.
Cons:
This is a luxury Indian Ayurvedic brand and hence their products can be expected to be on the higher side. This moisturiser costs about Rs 1100 for a 200 ml bottle.
This body lotion is not suitable for oily skin types. Since this is deeply hydrating, people with oily skin can end up with greasy skin in the summer.
Price: 1100 INR (200 ml)
Why did we choose this product?
If you are looking to indulge yourself with a safe and luxurious moisturiser, Sadhev's herbal body lotion is the way to go. The lotion is creamy, cool and light on the skin. It gets absorbed fast and deeply hydrates the skin.
This lotion also heals redness, bumps and scales on the skin with its unique blend of colloidal oatmeal.
Choosing the right product which suits your skin texture further adds to the stress of finding the right lotion. We believe this is about time you switched to chemical-free body lotions and provide your desperate skin with the love it deserves.
Also Read – Best Moisturisers for Winter in India 2021: Winter Skincare
Frequently Asked Questions
Which is the best chemical-free body lotion in India?
If you are looking for an organic body lotion to keep your skin hydrated and moisturised, check out Just Herbs Cascade Moisturising Day Care Lotion. There are also several other skincare brands offering great chemical-free body lotions.
Which is the best affordable organic body lotion available in India?
Biotque's range of body lotions is 100% organic, made from certified natural ingredients, cruelty-free and trustworthy. Here are some of their popular chemical-free body lotions:
Biotique Creamy Coconut Deep Nourish Body Lotion
Biotique Winter Cherry Rejuvenating Body Lotion
Biotique Gotu Kola Smooth Skin Body Lotion
Biotique Bio White Orchid Brightening Body Lotion
Biotique White Orchid Brightening Body Lotion
Which are the safest body lotions to use?
Body lotions that do not contain parabens, sulfates, phthalates, artificial fragrances and other harmful chemicals are safe to use. Body lotions without these ingredients do not cause any allergic reactions or breakouts in your skin.
Is Himalaya Body Lotion free of paraben?
No, the Himalaya range of body lotions contains Methylparaben and Propylparaben in their ingredients.
How do I know if my body lotion is paraben-free?
Paraben-free products always have labels that say "free from parabens" or "0% parabens". If you are still not sure, it is always better to check the full ingredient list available on the back of the packaging or the bottle.
Also Read – Product Review-Bella Vita Organic's Glowtion Face And Body Butter Lotion