This product from Bella Vita Organic is definitely going to take you by surprise with the way it works on your skin. It's a body butter lotion that helps rescue dry skin and other problems that continually sabotage the appearance and health of skin.
Glowtion Face and Body Butter Lotion, from Bella Vita Organic gives you plenty of reasons to invest in for all your moisturizing needs in winters. Enriched with Ayurvedic ingredients like shea and cocoa butter, this lotion comes packed with the goodness of body butter to provide deep nourishment to your skin.
Contrary to most other body butters, this lotion is formulated with ingredients to address moisturizing needs of your face as well.
It's easy to pack in your luggage without any need of carrying other variants that target different skin types.
Key Ingredients
Aloe Vera Extract
Cocoa Butter
Shea Buter
Glycerin
Vitamin E
Benefits it claims to offer: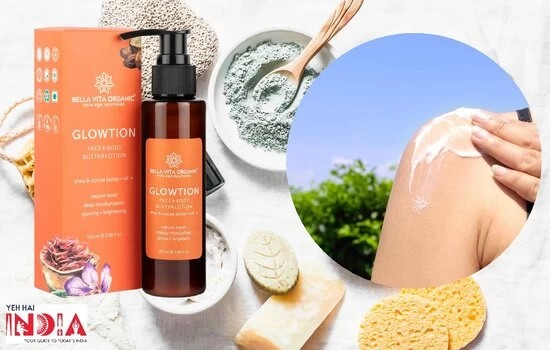 BUY Bella Vita Organic's Glowtion Body Lotion HERE
Shea butter and Cocoa butter help maintain skin hydration for upto 24 hours and also work to reduce blemishes and pigmentation. These two ingredients also prevent skin ageing.
Vitamin E brightens skin tone, repairs damaged skin and combats inflammation. It also protects skin from harmful UV rays.
Aloe vera supplies your skin with nutrients and moisture to get rid of dullness and signs of sun damage.
Glycerine infuses moisture to excessively dry skin that refuses to heal with mere application of regular cold creams. It also locks in the moisture and forms a barrier against external skin irritants.
Our Review on Using Glowtion Body Butter Lotion for a month
Touch & Feel
This product is a little lighter in texture compared to other body butters. A drop or two is enough to moisturize your hands though it depends on the weather conditions (if you are in dry areas like Rajasthan you might need a bit more as compared to Mumbai). It gets absorbed easily and leaves a pleasant mild fragrance.
Recommended Story – Bella Vita Organic – Reviewing their Best Products
This lotion easily lifts up the appearance of your skin and makes it visibly brighter and softer. You can also apply it to dry patches on your elbows and knees.
Our study of the ingredients and their impact
Shea and cocoa butter in this lotion efficiently manage dryness in parts like elbows, knees and hands. These two ingredients always tend to have long lasting effects on dry skin and are quite effective in restoring moisture in areas that are prone to dryness and these ingredients do a good job in this product.
It is enriched with Vitamin E and aloe vera and you would certainly find those ingredients to be working on your skin after a month of using this product.
We think, natural ingredients like shea butter, cocoa butter, and aloe vera extract work to offer intense moisturization to skin that stands a risk of getting severely dehydrated due to insufficient hydration levels.
Skin Types & Gender
This product can be used by everyone as a body lotion.
For the body to combat dryness it is a great product. Go ahead and buy it. It brightens your skin as well!
For Face
Those with combination skin can expect to receive its skin brightening effects with light application of this lotion (avoid the T-zone on face if its too oily)
Those with acne-prone or oily skin should not use it on face as it has a little greasy texture that might lead to breakouts and exacerbate acne but they can always use it as a body lotion.
For people with dry skin and slightly aged skin, it is a great product for face too.
This product claims to brighten your complexion and lessen the appearance of pigmentation. It does offer freedom from unappealing blemishes and pigmentation marks as it claims, though not completely, may be continuous use for more than a month can help.
It's rich texture infuses nutrients into your skin and leaves it soft and supple. It also addresses skin inflammation and soothes damaged skin.
Regular application helps speed up skin's own healing process and gets rid of pigmentation marks when coupled with weekly exfoliation.
Packaging:
We loved it! It is sleek and the pump works beautifully.
It comes in a compact and convenient pump container to deliver just the right amount of lotion your skin needs. It's travel friendly and minimizes the hassle of carrying those big body butter packs.
Price:
This product is very well priced and is a great value for money . Its priced at ₹199 for a 100ml bottle which lasts for about a month or more depending on your needs.
Where to buy?
You can buy Glowtion Face and body butter lotion from
BUY Bella Vita Organic's Glowtion Body Lotion HERE
Or you can also buy it from any of the online shopping sites like Amazon, Flipkart or Nykaa.
Pros:
Long lasting skin hydration
Freedom from repeated moisturizer use
Heals cracked or severely dry skin with single application
Brightens skin tone
Restores youthfulness
Forms a barrier against sun damage (though don't forget your sunscreen)
Non-greasy and non-sticky
Hassle free application
Cons:
Doesn't suit oily skin on face
Might exacerbate acne
Can clog skin pores
Repeat application may be needed on knees and elbows
How To Use: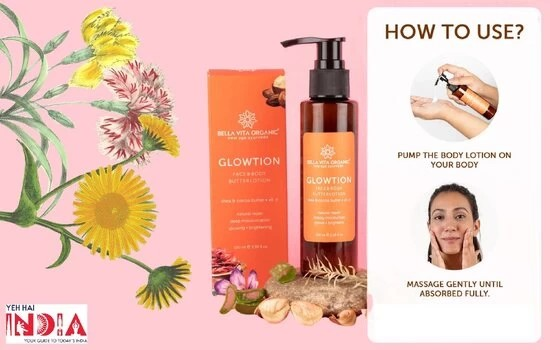 Massage the Glowtion Face and Body Butter lotion until it is absorbed completely.
Use a coin sized amount of the product and slather it on the targeted area and massage with circular motions for long lasting hydration in areas like your hands,legs, elbows and knees.
Final Verdict!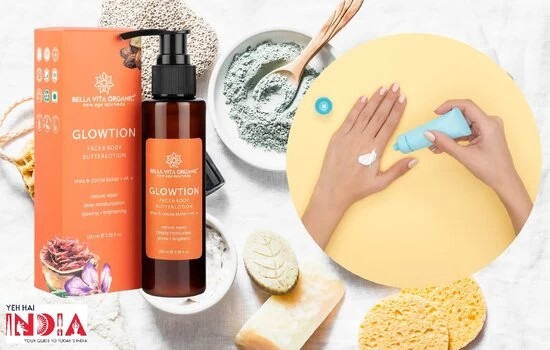 Glowtion face and Body Butter Lotion is meant for anyone with dry skin who's looking for a bit more than just moisturizing. It expertly manages issues that torment the appearance of dry and dull skin.
It's meant for both men and women belonging to all age groups.
Given a vast list of skin beautifying ayurvedic ingredients like shea butter, cocoa butter, aloe vera, and vitamin E, this lotion is just right to maintain proper hydration levels in your skin and all ingredients are safe.
The price is just right and being a trusted skin care brand, Bella Vita Organic has already built its reputation as a reliable manufacturer of Ayurvedic skin care products.
So, don't think twice and try it out for yourself to find out how it transforms your skin!
Also Read – Best Moisturizers for Winter in India 2021: Winter Skincare