When the summers become turbulent, find refuge in traditional Indian drinks proven to beat scorching heat.
Indian summers are known to be quite erratic and staying outdoors for longer hours often leads to depletion of water levels and nutrients brought on due to excessive perspiration.
To stay zestful and spirited in summers needs a few lifestyle tweaks. Replacing boring meals with salads, smoothies and cooling drinks not only keeps you hydrated but also supplies essential nutrients that are lost due to excessive sweating.
In India, no matter which place you travel to in summers, you're likely to be greeted with a refreshing drink native to that particular place.
These summer drinks are prepared with just the right ingredients meant to banish scorching heat and it's resulting effects on our health.
So, before the rainy season drenches the sun-baked outdoors and turns everything hot and humid, have a couple of drink ideas ready to let you survive the terrible heatwave.
Here's a look at India's 10 best traditional summer drinks to help you tide away the effects of terrible heatwave.
10 Refreshing Traditional Indian Summer Coolers: 
1. Mint Chaach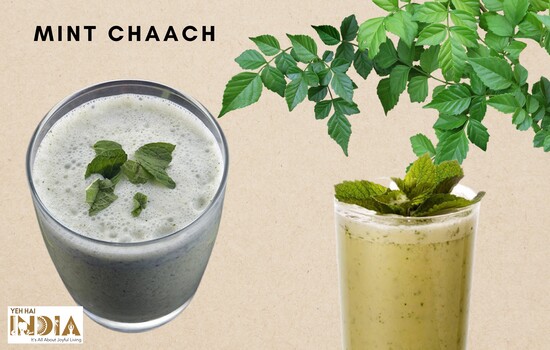 When it comes at knocking the fallouts of soaring temperatures, nothing comes close to 'pudina' aka Mint Chaach. 
Mint is celebrated as a medicinal herb with an outstanding ability to treat a range of maladies that erupt specifically in summer season.
Together with chaach and a few other ayurvedic spices namely, zeera, black salt, and some crushed ice it easily helps you sail the dreadful summer days.
Recommended Story – 10 Benefits Of Drinking Water Stored In A Copper Vessel
2. Aam Ka Pora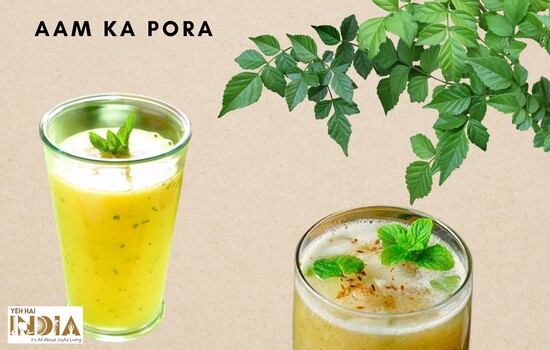 Aam ka pora is a Bengali take on the much famous Aam Panna. This recipe calls for mangoes to be roasted over open flame to eliminate the heating element of mangoes, a process that leads to more intensified smoky flavour, when blended with other ingredients, namely black pepper, mint leaves, jaggery, roasted coriander seeds and roasted cumin.
Prior to roasting the mangoes, the spices are milled together into a fine powder and added into the pureed mangoes along with crushed or pureed mint leaves.
This distinctly flavored hearty drink makes frequent appearance in important occasions and festivals in Bengal.
3. Kaanji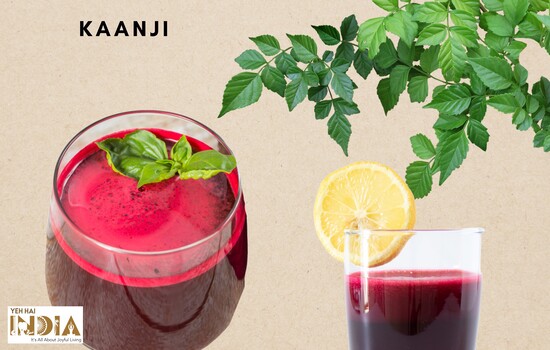 Terming this luscious drink, native to North India, particularly, Punjab, a health elixir would do complete justice to the labour that goes in its preparation.
Made from black carrots or kaali gajar, a special type of carrot known to be rich in iron and phytonutrients, this drink has a sharp flavour that comes from the addition of mustard seeds.
Yet, the beautiful dark colour of the carrots, and the sweetness, make it easily palatable for first timers.
The procedure of making a kaanji enlists fermentation of carrots in cooled distilled water flavored with asafoetida, mustard seeds, salt and some sugar.
4. Neem Flower Sherbat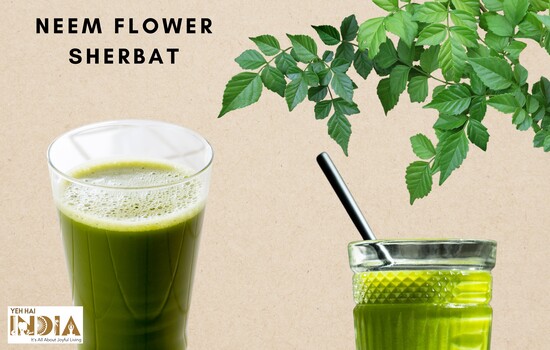 Beating the deadly heat with a detoxifying summer cooler is what every hyderabadi likes to do to get respite from the disastrous effects of summer season.
Neem Flower sherbat is the best summer saviour that continues to be a favorite among locals when the flowers are in season.
Concocted from Neem flowers and jaggery with hints of black pepper, salt, adrak and raw mango cubes, this drink quenches summer thirst better than any store bought readymade drink.
5. Kashmiri Babribyol Treish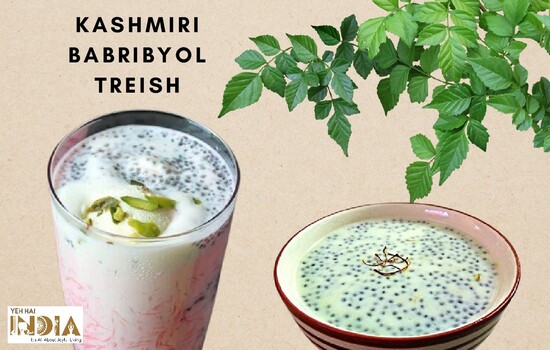 This cooling sherbat from Kashmir is usually consumed during Ramadhan and is perfect to be had to beat the treacherous summer heat.
The highlight of this summer cooler is the addition of soaked Babribyol aka sabja seeds, that impart a wonderful crunchy texture to this drink.
To make this sherbat, you have to soak sabja seeds for over two hours till they turn gelatinous, and then add milk, water, sugar, sliced coconut (dry) and cardamom powder to the seeds and give it a good mix.
6. Coconut Shardai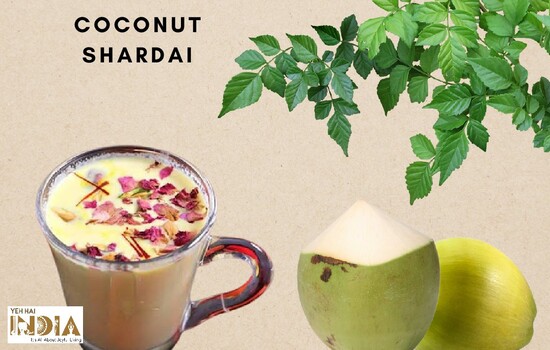 This drink often makes an appearance in the bustling streets of Rajasthan and is accompanied with meals to banish the relentless heat when summer is at its peak.
The subtle sweetness of raw coconuts acquires intensification with the addition of sugar and cardamom powder in this drink.
Just like thandai, it easily rescues you from the ill-effects of summer season and can be made from raw coconut shells that most people like to throw away after consuming coconut water.
7. Kulukki Pineapple Sherbat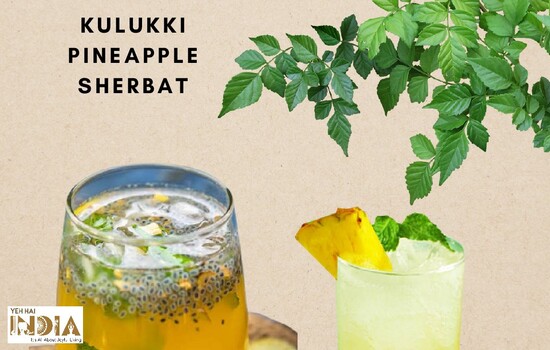 On hot summer days, when you're in need of some instant gratification, this summer cooler from Kerala perfectly fits in.
Loaded with chilled pineapple juice, pineapple cubes, lime juice, sugar syrup, basil seeds and green chillies, it gives a perfect break from boring summer days to energize you.
You can skip adding chillies if you wish and use your imagination to give this drink a new twist, for instance sprinkling pomegranate seeds over the drink or tipping in fresh apple chunks to take it to another level.
Recommended Story – Best Apple Cider Vinegars Available In The Market: 2022
8. Kaala Khatta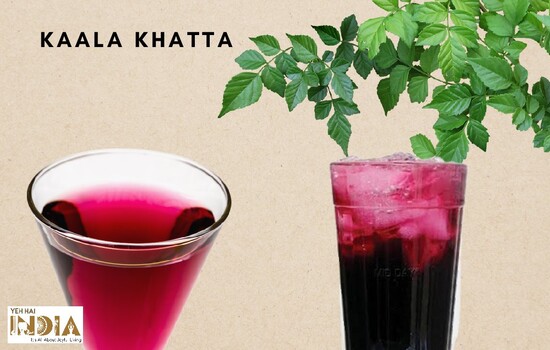 Just when you think the summer season is going to be over, a craving for blackberries or jamun begins to take root and makes you want to grab these luscious berries whenever you visit the market.
Kaala Khatta, a rare speciality from the state of Gujarat is a summer delight that reminds you of your childhoods and of all the things that made those days memorable.
For the very few days these berries are in season, enjoy this drink concocted from jamun, sugar, black, salt, black pepper and lemon juice, spiked with a sprig of mint and some crushed ice.
9. Jigar Thanda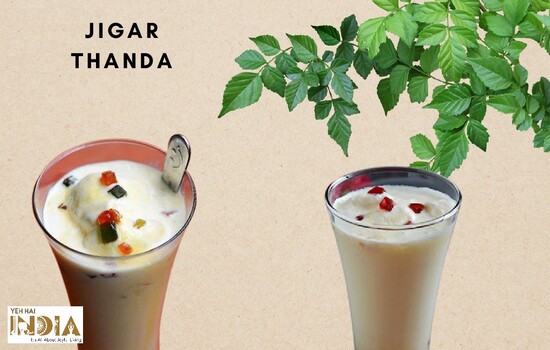 Jigarthanda, literally meaning 'liver cold', is a drink native to Madurai. An ultimate cure for the tormenting summer heat, it immediately cools you and prepares you to brave any hot summer day.
The ever rising popularity of this drink has made it a daily summer affair in other parts of India as well. To make this drink, you need almond gum, milk, nannari syrup, sugar and two big scoops of ice cream to go on top, perfect to enliven your days.
10. Pan Sherbat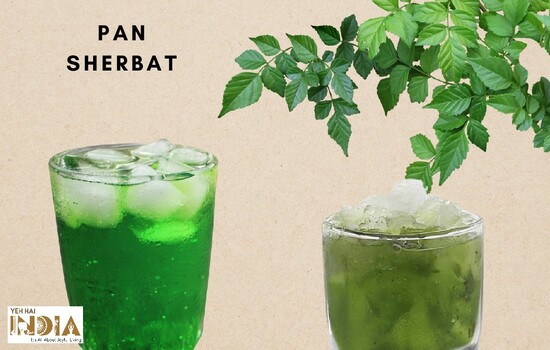 A routine sight in Rajasthan in summers is paan sherbat, made from betel leaf, sugared fennel seeds, pistachios and a few other ingredients like gulkand and milk.
The cooling flavour of betel leaf along with sweet gulkand helps quench your summer thirst and leaves a soothing aftertaste.
This drink is best had right after a spicy meal to balance the heat of spices and of the searing desert summers.
Move over packaged drinks and juices, and treat yourself with the natural goodness of these colourful traditional summer drinks from India.
Also Read – Best 5 Super-Easy Homemade Drinks to Boost Your Immunity