The monsoon season is the perfect time to sample all the different flavours of Bengali Cuisine.
Bengalis are widely known for their sweet mishti doi and maacher jhol. However, their cuisine is much beyond that and holds recognition as the most favoured cuisine for a variety of vegetarian and non-vegetarian dishes it serves, compared to other Indian cuisines.
Artistic in its way of preparation with all the aesthetic qualities, Bengali cuisine uses a unique combination of spices such as poppy seeds and mustard seeds and is entirely dependant on mustard oil that lends a wonderful sharp and warming flavour to bring out the real taste of each and every vegetable or meat preparation.
Of course, the staple dish in Bengal will always remain Maccher and Bhaat (fish with boiled rice) prepared with mustard as its key ingredient, there are many other dishes that use mustard as a base for various kinds of dishes.
This particular ingredient gives Bengali cuisine an interesting twist as it merges beautifully with fish and vegetable dishes to bring out the real essence of Bengal.
Given below, are some Bengali dishes that are both popular and mind blowing in their combination of ingredients and flavours.
13 Most Flavourful Dishes From Bengal:
1. Baigan Bhaja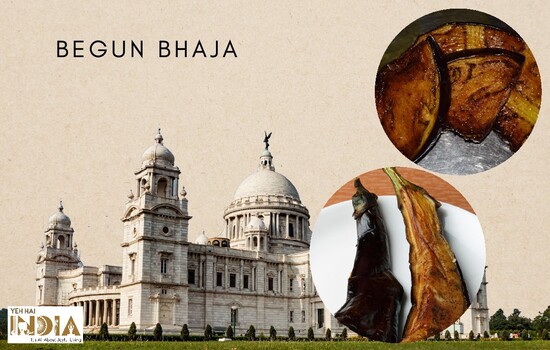 Baigan Bhaja, commonly known as Baingan Bhaja is a dish made from raw tender eggplants. They make an amazing snack or an appetizer to relish on.
Thin slices are cut, seasoned with exotic spices and coated with either besan or rice flour, then fried in mustard oil. Begun Bhaja is best served with rotis, pulaos, dal, rice or Khichdi. 
Recommended Story – 10 Dishes of Andhra Pradesh You Must Try
2. Ghugni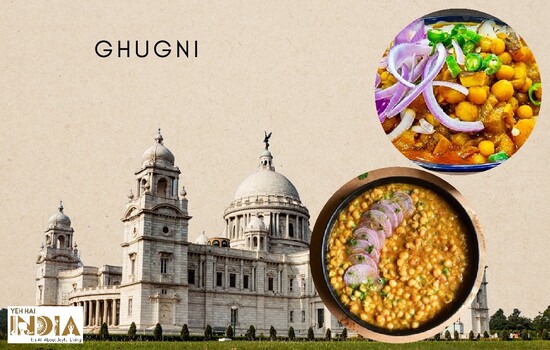 Ghugni is one of the most popular Bengali snacks. It is a curry made of aromatic spices and yellow peas. The secret to a perfect ghugni that is totally out of this world, is to not overcook the yellow peas.
Less watery and more slurpy is just the right consistency for a mouthwatering, spicy delight. You'd be surprised to know that this snack is fully packed with protein, fiber and so many more nutrients.
It is good both for the health and for your taste buds and quite easy on the pockets as well. Bengalis occasionally add chicken, eggs or minced meat to this snack. They also use ghugni as a base for many of the street dishes like Jhal Muri, etc.
Best way to enjoy the essence of this dish is to garnish onions, tomatoes, coriander and some green chillies on the top.
3. Aloo Posto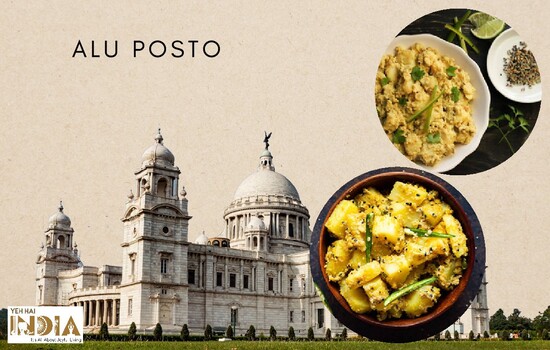 Bengali Alu Posto is a dish that requires very minimal effort and makes a very good comfort food for the soul. In Bengali, Posto or Post-Dana means white poppy seeds.
Aloo Posto is basically potatoes cooked in a unique paste of poppy seeds. The seasoning of this dish is very delicate yet flavorful.
After a tough day, having a simple lovely meal like Dal Bhaat and Alu Posto for dinner will instantly lift your mood up and make your day better.
4. Chorchori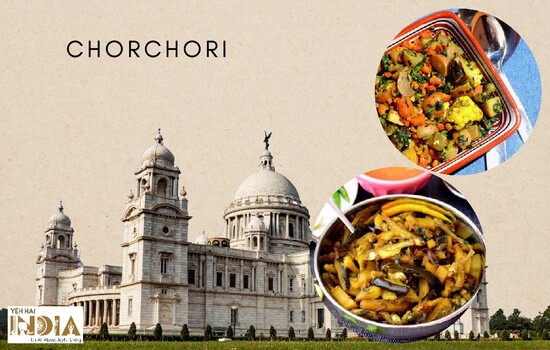 Sometimes eating a plain sabzi with one single vegetable can feel pretty monotonous. Chorchori or charchari is the best alternative one can go for to enjoy more than one vegetable and flavor.
The unique flavours and vegetables along with authentic Indian spices all blended and made in mustard oil is truly a gem from West Bengal.
Chorchori also has a vivid variety of versions such as Aloo Chorchori, Aloo Fulgobhi Chorchori, Begun Chorchori, etc.
5. Cholar Dal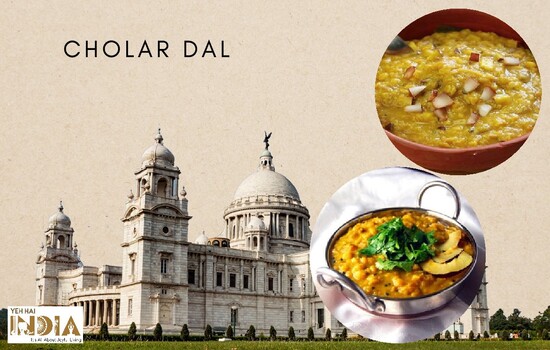 Durga Pooja is incomplete without this delectable dish made from Bengal gram. It is an essential and significant dish in most of the Bengali festivals, weddings and ceremonies.
Cholar dal is a lentil curry which includes cooked chana dal that is seasoned with assorted spices, ghee and most importantly fried coconut. This lentil dish has a subtle flavour yet it is fully packed with nutrients and is low in fat content.
Moreover, it tastes heavenly when served with steamed rice and bhaja alongside a generous portion of pickle.
6. Chingri Malai Curry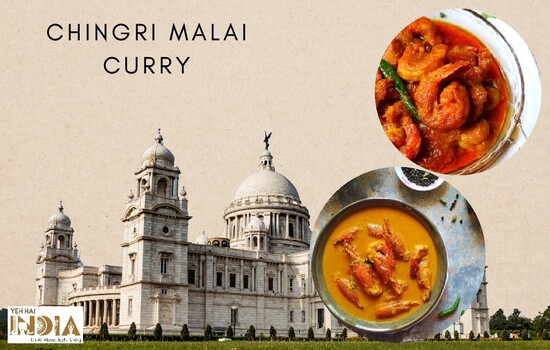 This mind blowing dish is basically a prawn curry made with tiger prawns (bada chingri) or giant freshwater prawns (golda chingri) in a subtly flavored, creamy coconut-milk sauce.
By the looks of this dish, it seems like this curry requires a lot of time and effort but in reality it is much easier than cooking chicken or egg curry.
It is believed that this prawn curry was introduced to Bengalis by Malaysian traders. Hence, 'malaikari' is actually 'Malay' that over time became 'Malai'.
7. Lau Chingri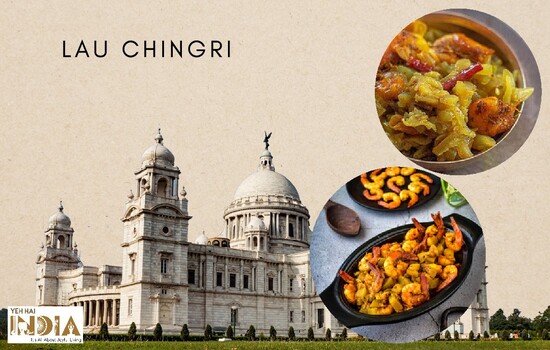 Lau Chingri is one of the most popular comfort foods in Bengali households. It is a dish made from tender bottle gourd cooked with shrimps.
The shrimps enhance and give this bottle gourd curry a complete makeover and taste excellent.
It is also a dish which requires no garlic and no onion. Lau Chingri with steamed rice and Cholar Dal is a meal to devour and hog on. 
Recommended Story – 10 Famous Dishes From Lucknow You Must Try
8. Ilish Macher Shorshe Bata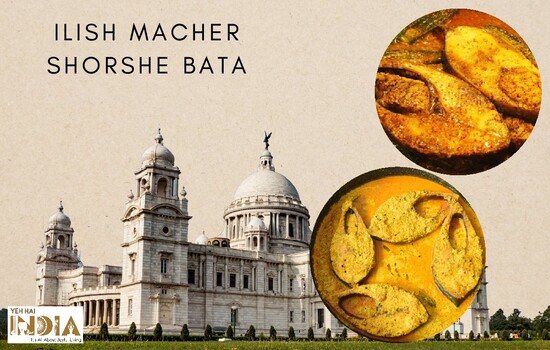 Shorshe Ilish is a traditional Bengali dish prepared since ages in every Bengali household. It is a typical and unique way of cooking Hilsa fish. Hilsa fish holds a very significant place in every Bengali's life.
It is the most beloved and a must have famous Bengali dish. It is believed that, when you bring Ilish home, you bring a celebration home.
Slices of Ilish maach are cooked in a thick and strong mustard gravy with some slit chillies and exquisite mustard oil. The mind boggling flavour of mustard gravy and oil takes Ilish to a whole different level.
9. Murgir Jhol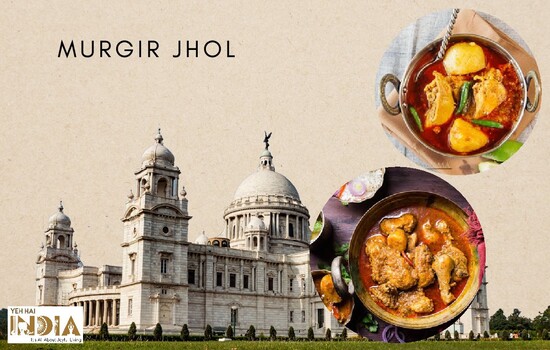 Murgir Jhol is a unique and interesting chicken curry made with the addition of potatoes in it. It is spicy and best to slurp on.
Jhol is basically a stewed version of curry in Bengali cuisine. Spices used to make this slurpy delight is different from ordinary Indian spices and hence are meant to be fresh.
Yoghurt is also an essential ingredient used to prepare Murgir Jhol. A plate of hot rice with some Murgir Jhol with a pinch of lime is a great combination to munch on for lunch.
10. Aam Kasundi Murgi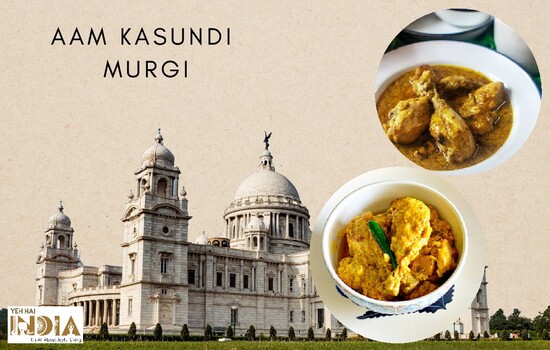 Mustard is an ingredient that Bengali cuisine is incomplete without. This dish made from mangoes has this special ingredient and is a must have during the summers.
Aam kasundi refers to raw mango mustard sauce that is prepared in every Bengali household after drying the mustard and spices for weeks. These spices are then pounded together and added into the sauce which is then stored in sealed jars for a couple of months.
Only an authorized person was allowed to take small portions of this sauce right after taking a bath and wearing sun dried clothes. Fish cooked in mustard sauce is a common Bengali delicacy; however, cooking chicken in a raw mango mustard sauce is a very rare and unique combination.
Served with either rotis or rice, beat the heat and bless your taste buds with Aam Kasundi Murgi on a hot summer day.
11. Kosha Mangsho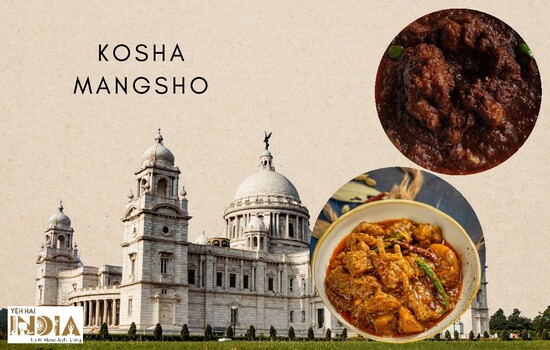 Kosha Mangsho or Mutton Kosha is an iconic Mutton curry in Bengali cuisine. It is a dish that requires a lot of patience to prepare. However, every minute used to prepare this masterpiece is worth it.
Melt-in-mouth mutton pieces are cooked in a spicy, flowing refreshing curry that is rich in both colour and taste. Kosha refers to gravy that is cooked slowly on low flame for a very long time.
Kosha Mangsho tastes heavenly with either pulao or paratha. Steamed rice is also a simple yet best combination to have with this delightful dish.
12. Nolen Gur Rasgulla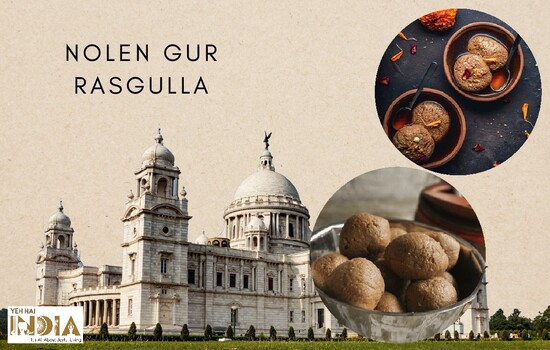 Nolen Gur Rasgulla is one of the most popular winter desserts in Bengal, which immediately brings a smile to your face and fills your heart with joy.
This dish comprises cottage cheese balls dipped in Date and Jaggery syrup, these little balls are equivalent to bites of heaven. People wait for winters desperately only for the availability of this dessert.
13. Kheer Kodom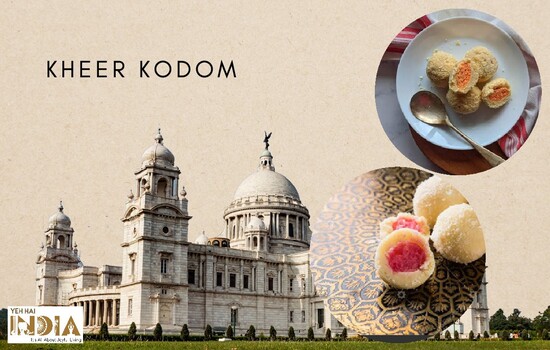 Kheer Kodom also known as Ras Kadam is a dessert which consists of three layers. The first layer is a layer of grated mawa, second layer is a layer of lightly sweetened mawa and the third is the one with flavorful rasgulla.
This dessert is a treat with three different textures and lovely layers that are an absolute blessing to your taste buds.
Summary: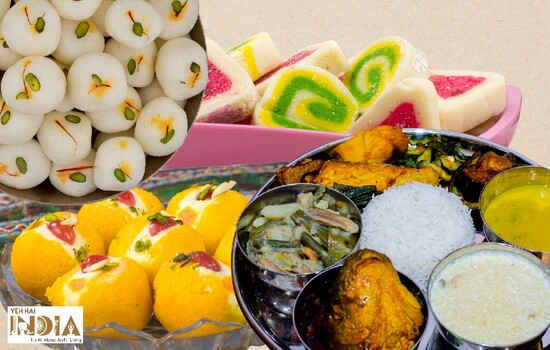 The friendly nature of Bengalis is best showcased in the regions delicacies, a reason that invites every visitor to try the outstanding dishes made lovingly by the locals. When you are in Kolkata, you'll sense a unique culture maintained by the locals of paying special attention to the visitors.
The food here is not just limited to fish, prawns and shrimps as most people like to believe. There's a vast amount vegetarian dishes they must be tried to know the true heritage of Bengali cuisine.
From a simple jhol or curry, deep fried eggplant fritters, creamy potato curries to sweet delights like rasogolla and kheer kodom, each dish represents the vast knowledge of locals about the spices and other exotic ingredients earned many centuries ago.
These heavenly dishes from Bengal will definitely surprise you with their exquisite flavors, showcasing the unique culture of West Bengal.
Also Read – 10 Maharashtrian Dishes Worth A Try