Known all over the world for its profound flavours, the cuisine of Andhra Pradesh stands to be the spiciest of all other Indian cuisines.
Telugu Cuisine is one of the fiercest cuisines in the world. It comes as no surprise as Andhra cultivates red chillies of the highest quality in the country. Its coastal regions have a distinctive flavour in their dishes, as do the Rayalaseema and Telangana regions.
Telangana may be separated from Andhra based on political and administrative reasons but Andhra Pradesh and Telangana will forever be a part of each other with the love they share for the local food.
Rice is a staple food in Andhra Pradesh closely followed by Ragi. Their cuisine has been influenced by Hindu royals, Nawabi royals and Hindu Brahmin cooking practices adopted over the last few hundred years.
The Nawabs' biryani is now known all over the world as Hyderabadi or Andhra Biryani and remains a hallmark of the state's cuisine.
Some popular recipes from Andhra Pradesh have made their way into the neighbouring states of Karnataka and Tamil Nadu, tweaked to fit the local standards and taste buds.
Most of these recipes are centuries old and still cooked with elaborate processes with only a few minor changes taking place over time.
Andhra Cuisine involves a lot of spices, red chillies and tamarind in its recipes. The cuisine does not ever fail to drool people with all its rich flavours and hot spices. They also have a slew of desserts that go perfectly with spicy dishes.
Like all other southern states, Andhra also has a number of breakfast dishes that are filling and delicious. They also have chutneys, podis and sambar as accompaniments along with these dishes.
A vegetarian lunch in Andhra constitutes an elaborate meal including rice, podi, sambar, rasam, curd and a variety of vegetables cooked with pulses or separately. They also have sweets that are usually served in the beginning of the meal.
Rice is served with hot ghee poured on top and eaten with sambar, rasam or curd mixed in it.
It is not a simple task to choose only 10 dishes from this rich, flavoursome cuisine. Here, we have compiled a list of dishes you need to try from the Telugu cuisine if you ever feel like gorging on a hot and tempting South Indian meal.
Recommended Story – Top Indian Food Bloggers
10 Best Foods From Andhra Pradesh That Make You Drool:
1. Gongura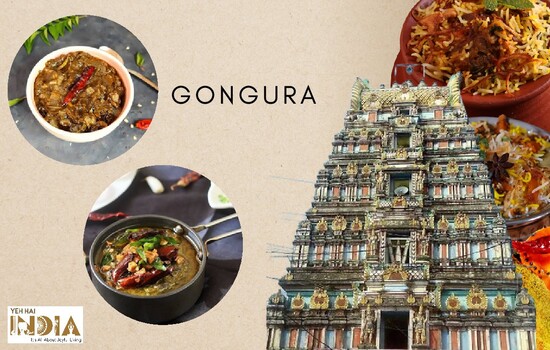 A pickle or a chutney made from Gongura leaves, is a staple in all Andhra households, hostel rooms and bachelor pads. Gongura can be prepared and stored for longer periods of time and they can also be had along with rice, rotis or anything else.
This spicy pickle is famous in and out of the state and must be tried when you visit Andhra.
2. Andhra Chicken Biryani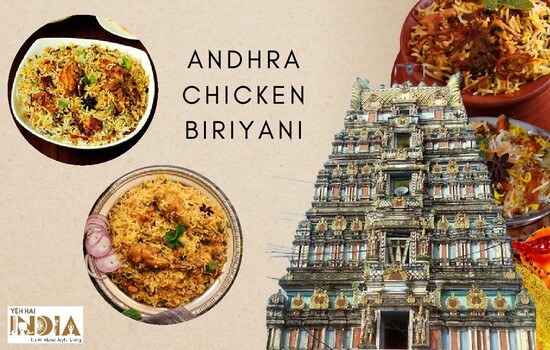 There is no rice dish in the world to rival the spicy Andhra Chicken Biriyani. The masala that infuses flavour to the steamed rice is made with onions, curry leaves, bay leaves, cinnamon, cloves, ginger, garlic and a hoard of other spices that make it mouth-watering.
The masala and rice are then cooked in dum, the process of layering the rice and masala in a vessel closed with a lid placed on a mild flame or a pile of hot coals.
3. Uppindi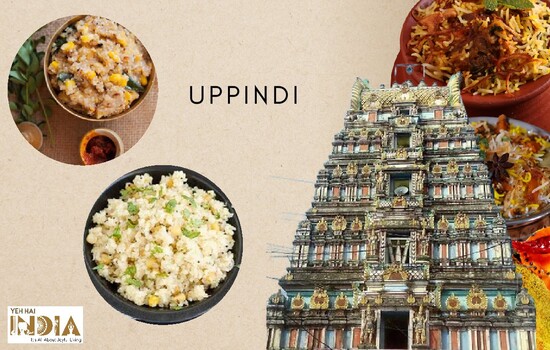 A breakfast dish made with broken wheat cooked in hot water along with onions, ginger, chillies, and other spices fried in oil. This is a type of dry porridge that is usually served as breakfast.
Uppindi can also be made with broken rice, green gram, sooji or sabudana. The dish is usually served with thick curd and a pickle on the side.
4. Pesarattu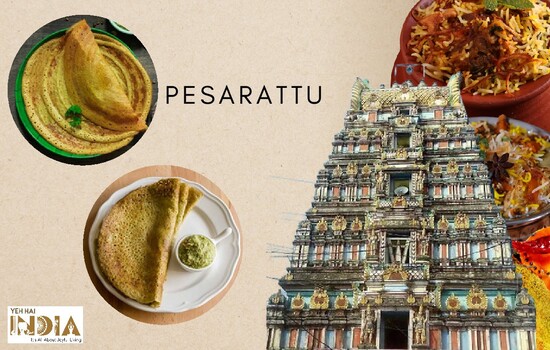 Pesarattu is a dosa dish where the dosa batter is made with green grams instead of rice. It is also served with a filling inside sometimes.
The filling is upma made of sooji. Pesarattu is accompanied by a spicy chutney made from red chillies or ginger chutney. When it is served with Upma, it is called Upma Pesarattu and is a heavy breakfast dish served on special occasions.
5. Andhra Chepala Pulusu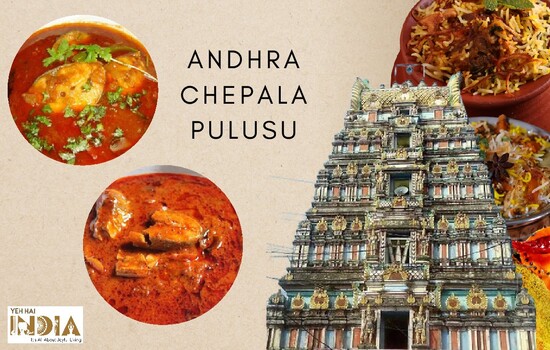 Chepala Pulusu is a fish curry that is made with tamarind extract in Andhra Pradesh. The curry is hot and spicy made with a lot of cooking oil, tamarind sauce (tamarind soaked water), herbs, spices and of course, red chillies.
There is no restaurant in Andhra that does not serve this traditional fish curry. It is generally served with hot, steamed rice for lunch.
6. Gutti Vankaya Koora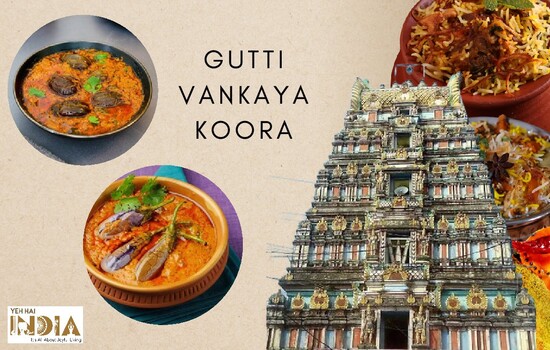 Like the red chillies and rice, brinjal is another staple in Andhra cuisine. People in Andhra use a lot of brinjals in their day-to-day cooking.
The Gutti Vankaya Koora is a stuffed brinjal curry served with rotis and rice. The brinjals are filled with roasted herbs and spices and cooked tenderly.
They are added to a curry made out of tamarind paste, onions, mustard seeds and other spices and allowed to let the flavour infuse into the vegetable. 
Recommended Story – Famous Street Food of Mumbai
7. Andhra Pepper Chicken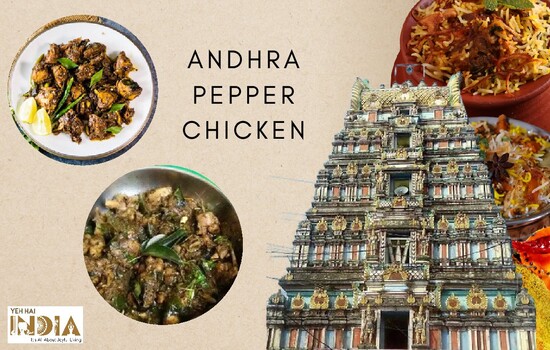 As the name implies, this chicken dish is cooked in ground black pepper in oil with mustard, onions, curry leaves, ginger-garlic paste and green chillies.
It is extremely spicy and can be served as gravy for rice and rotis or as a dry appetizer.
8. Puliyogare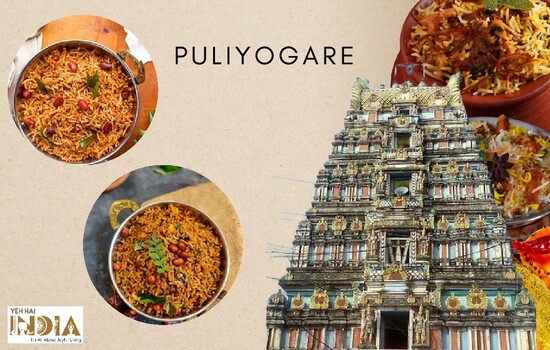 Puliyogare or tamarind rice is also known as Chitrannam. It is usually served in temples, feasts during festivals and celebratory gatherings. Mustard seeds, daal, green chillies, onions and tamarind juice are fried in cooking oil and the mixture is added to steamed rice.
Some recipes include dal and spices fried, ground and added to this mixture as well. Puliyogare is spicy and tangy and a definite crowd-pleaser even if you are not a fan of spicy food.
Pulihora is prepared with a lot of variations in different regions depending on the available ingredients.
9. Andhra Sambar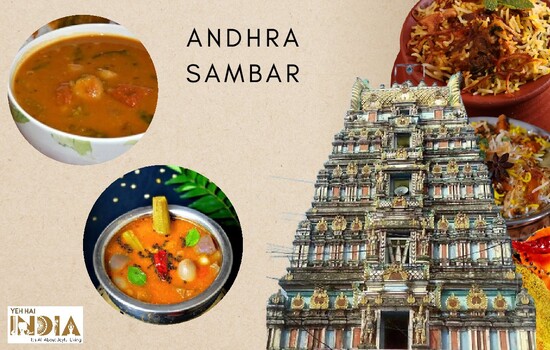 Andhra Sambar is very different from the sambar recipes of Karnataka and Tamil Nadu. It is also a staple in any vegetarian Andhra meal.
The Andhra Sambar is a lentil curry made with shallots, tomatoes, tamarind paste, asafoetida, and curry leaves that sometimes include other vegetables.
It is served with idli and dosa for breakfast, with rice for lunch, and also with vadas and similar snacks. It is one of the spiciest dished from Andhra you have to taste once.
10. Panasa Puttu Kooru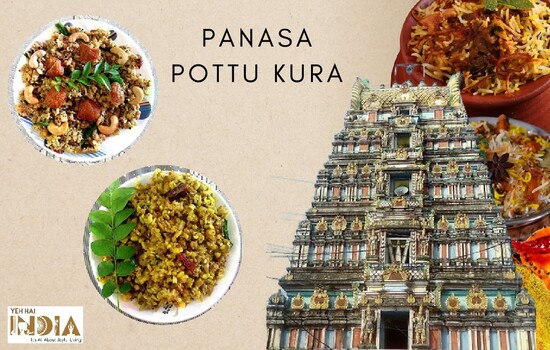 Ever heard or tasted jackfruit in a curry! Well, Andhra Pradesh has a unique recipe for you. This is a dish that has contrasting flavours of unripe jackfruit and hot spices in curry.
The raw fruit is marinated in spices for the flavours to infuse and provide you with a burst of melt-in-mouth flavours with each bite. These marinated fruit pieces are then stir-fried or cooked in a curry with grated coconut, mustard seeds, sesame seeds and green chillies.
Desserts of Andhra Pradesh: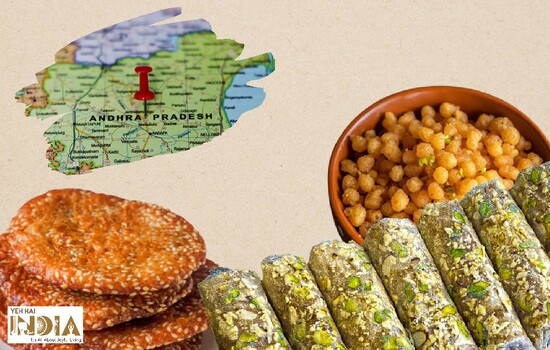 Andhra Cuisine has innumerable recipes that are authentic in flavour and employ use of ingredients grown within the state. The above list only mentions a few of our favourites.
Although the cuisine is known for its liberally spiced dishes, there are a number of desserts that please your senses with their unique flavours and complement the dishes well enough.
One of them is the Pootharekulu, a paper-thin sweet stuffed with a sweetened mixture of dry fruits and jaggery. Andhra also has a variety of payasams (milk-based desserts), ariselu and laddus to delight your taste buds.
These melt-in-mouth dishes are in every way a treat for those looking for a satisfying meal.
Also Read – 10 Famous Dishes From Lucknow You Must Try