The 'land of nawabs' is famous for its irresistable cuisine that highlights Lucknow's deep affection for food.
Lucknow, the city of nawabs, is known for enchanting monuments, elaborate traditions, royal clothing and extravagant vibes. The exceptionally delicious food of Lucknow perfectly complements the overall nawabi lifestyle.
Food lovers should never miss out the traditional Awadhi cuisine that Lucknow is known for. From appetizers to desserts, everything in lucknow has a dash of extravaganza in the form of rich flavor, aroma and heavy ingredients.
There is nothing "simple" about Lakhnavi food! Here we present a list of the best dishes from Lucknow you must try while exploring the city!
10 Best Dishes From Lucknow
1. Kebabs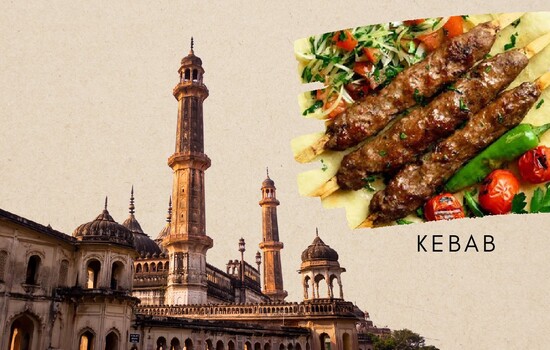 Lucknow is best known for kebabs and nobody should miss out on these aromatic and delicious meat preparation, while in the city. With a unique mix of spices, soft texture of meat and a crispy outer layer, kebabs are the perfect fantasy for non-vegetarian lovers.
You can enjoy kebabs on its own or with rumali rotis which complements the kebabs with its soft and chewy texture which melts in your mouth.
Even though authentic kebabs are usually made from mutton, chicken or beef, if you are a vegetarian then there is no need to be disheartened as various equally appetizing vegetarian kebabs made from paneer or soya are available in most shops.
Where: Tunday Kababi
Recommended Story – 10 Maharashtrian Dishes Worth A Try
2. Biryani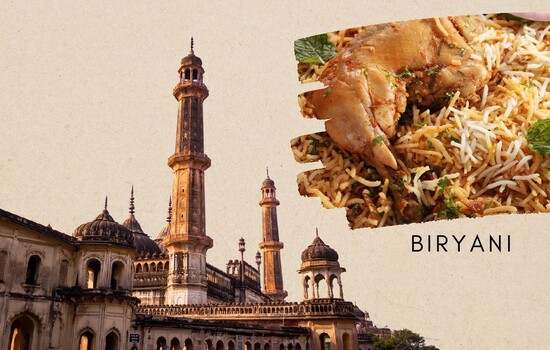 Biryani is one of the most famous dishes in India and every region has its special variety. Lakhnavi biryani or Awadhi biryani originated from the Awadhi cuisine and has an incredibly enchanting taste full of exquisite spices, vegetables and meat.
One can enjoy biryani as a stand alone dish or with other meat based curries as side dishes. Multiple options are available for vegetarians such as paneer, soya mushroom or even eggplant biryani.
However, to experience the authentic taste of this biryani, it is recommended to opt the non-vegetarian version, specially mutton biryani. The blend of exquisite spices and other ingredients taste best with mutton or chicken.
Where: Wahid Biryani, Aminabad
3. Kulcha Nihari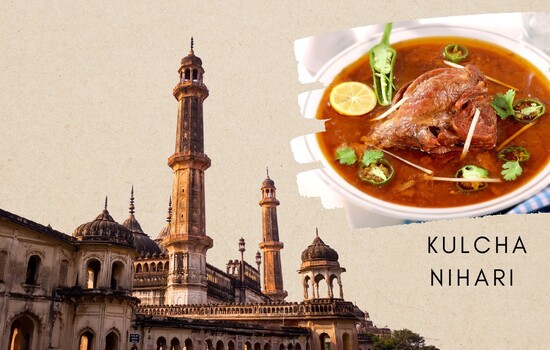 Nihari is a meat based dish with spicy, thick and aromatic gravy and soft chicken, mutton or beef. It is best enjoyed with kulcha which is a soft and thick bread made of wheat flour.
The most famous place to have nihari is Rahems which serves this delicious dish at only Rs. 60 per plate.
Where: Akbari Gate, Shahganj
4. Veg Kebab Rolls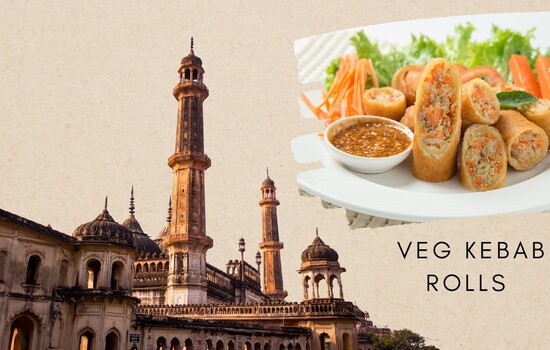 Even though Lucknow is the hub of best non-vegetarian food in India, there's no reason for vegetarians to feel disappointed with a variety of vegetarian versions of famous Mughal dishes.
Vegetarian kebab roll is a delicious mixture of vegetarian kebabs rolled inside soft rumali roti, along with mint chutney.
One can enjoy these kebab rolls with masala tea for breakfast or evening snacks or have them as a stand alone meal. Vegetarian kebabs go well with parathas as well.
Where: Kapoorthala or Chappan Bhog
5. Shawarma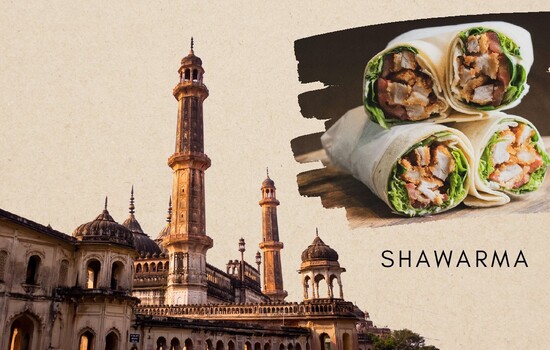 Shawarma is yet another dish that makes every local proud of Lucknow's rich heritage. It is a roll stuffed with chicken or mutton and has influences from Arabic cuisine. However, it is very different from a regular wrap or roll because of the method of preparation.
Unlike regular rolls, shawarma has a filling of grilled meat cooked for as long as a whole day giving it a unique juicy and soft texture. Shawarma is found in many places but only a few have shawarmas as delicious as the Lakhnawi shawarma.
The nawabi city has some of the most delectable shawarmas having meat mixed with some sauteed veggies, spices and sauces such as mayonnaise. Therefore, nobody should miss this particular treat from a good restaurant or stall selling Lucknawi fare.
Where: Patrakarpuram
6. Sheermal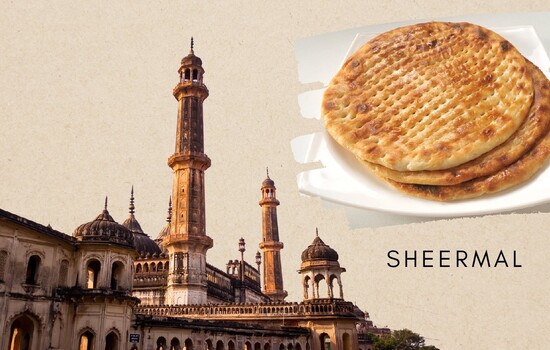 After having a lot of spicy and tasty food, one might be craving something to satisfy their sweet tooth and Lucknow has a lot of desert options for you to try. One unique dish is the Sheermal which is a sweet naan.
Yes, you read it right—a naan which is prepared just like a desert with milk, saffron and nuts. The unique and delicious dish is a must try for all dessert lovers in Lucknow.
Where: Chowk
Recommended Story – 10 Most Exotic And Flavorful Dishes Of Rajasthan You Must Try
7. Puri Kachori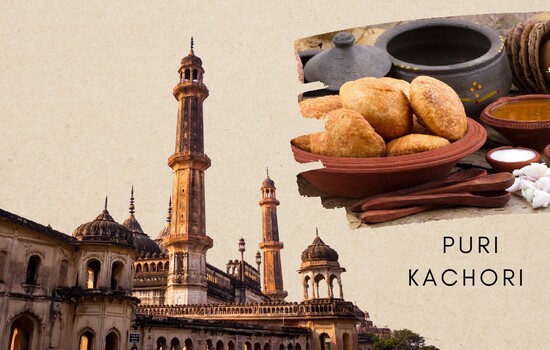 If you want a lip smacking breakfast or snack that is light on your pockets then Puri Kachori from the streets of Hazratganj, Lucknow is for you.
Puri kachori is a comfort food popular among the local people of Lucknow and definitely a must try for the travelers in the city.
The crispy kachoris are served with a delicious spiced side of potatoes which makes it a simple yet complete meal.
Where: Rati Lal's Khasta Kachori
8. Momos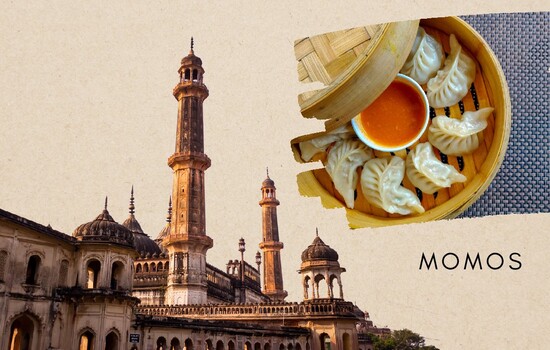 A variety of momos are available all over Lucknow but the most famous are the Nainital momos served with extremely spicy red chutney.
The mild taste of momos with a simple yet succulent filling and the extremely flavourful and spicy chutney makes it a scrumptious dish to try out.
A plate of steaming hot momos may be the answer to all your winter blues even though the same may be an equally great experience during the summer rains.
Where: Gomti Nagar
9. Kulfi Faluda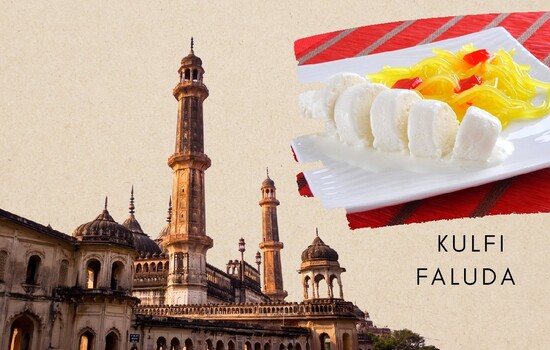 Lucknow experiences some of the hottest summers in India and what better way to beat the heat than some cooling delicious dessert like kulfi faluda.
Kulfi is made of creamy milk, cardamoms which add flavour and crunchy nuts like cashews, almonds and pistas. The kulfi is topped with faluda and different syrups which enhances the taste of this delicious dessert.
Where: Prakash ki Kulfi, Aminabad
10. Shahi Tukra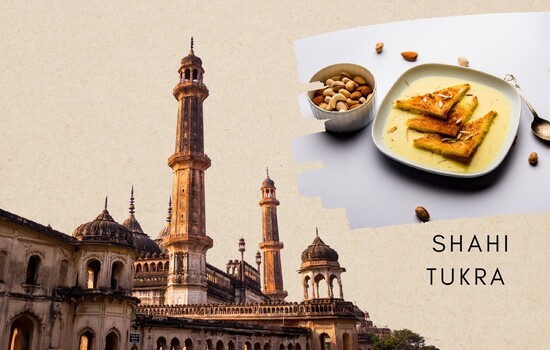 Shahi Tukra is a famous mughlai dessert made with fried bread dipped in flavourful sugar syrup and topped with delicious creamy Rabdi. This royal dessert can be found in many places across the city and best enjoyed after a heavy mughlai meal.
The sprinkling of nuts adds a wonderful crunch to the mushy and succulent bread pieces or tukras. When paired with Rabdi, it tastes heavenly.
Where: Naushijaan, Tulsi Theatre Building, Hazratganj
Summary: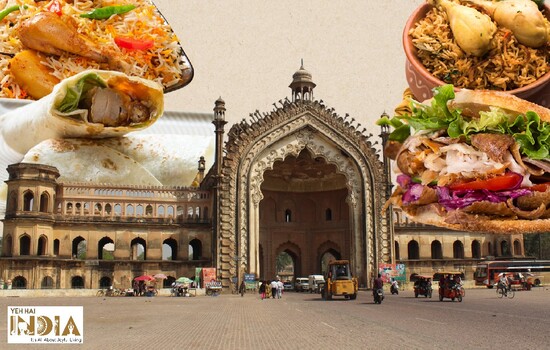 Lucknow is a hotspot for food lovers due to an incredible variety of Awadhi and Mughlai dishes it serves. Even though Lucknow is famous for its non-vegetarian fare, there are immense options for vegetarians as well to get a taste of Lucknow such as paneer biryani and veg kebab rolls made with paneer, soya and other meat substitutes.
Most of the dishes in Lucknow are famous for their rich and spicy flavors. One should not forget to taste the delicious desserts like Shahi tukda, kulfi falooda at different street stalls in Lucknow to get the best of Lucknow.
When in Lucknow, grab a bite of these lip-smacking dishes to truly understand the keenly preserved heritage of this place.
Also Read – Top 10 Things to Buy in Uttar Pradesh