Rajasthani cuisine is a wonderful mix of flavors and ingredients that are a must to survive the hot and arid climate of the desert region.
Popularly known as the 'Land of Royals', the state is famous for its spectacular culture, vibrant colours, castles, and history. Hospitality has always been a significant tradition in Rajasthan.
Regardless of extreme climatic conditions, wars and other circumstances, food was and has never been compromised and has always been one of the greatest highlights of the state.
The culinary palette of Rajasthan includes vivid grains such as jowar, bajra, sesame, ragi, pulses, gram, etc. These grains can survive harsh weather and extreme climatic conditions and keep you full for longer durations.
Use of rice and bread is comparatively lower, however, you'll find a lot of berries, roots and beans in the dishes which make up for the greens in their diet.
Ghee and milk are the best alternatives to water used by cooks in Rajasthan households. Most of the people there prefer food items with a higher shelf life.
Rajasthan is a state where several wars took place and for this very reason, most foods of Rajasthan comprise of items that can be stored for longer periods of time and were ideal for war.
Here are some of the most delectable dishes from Rajasthan that are every traveler's delight.
10 Best Dishes From Rajasthan:
1. Pyaaz ki Kachori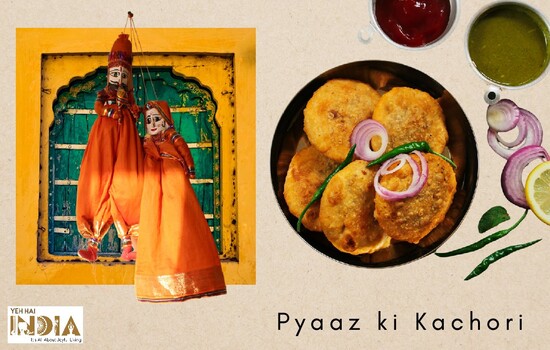 Thoughts of Jaipur and Pyaaz ki Kachori always go hand in hand. This mouth watering snack is very popular and a must have in Jodhpur, Jaipur, and anywhere in Rajasthan.
Namkeen and Sweets shops are the go to places to find this piping hot, flaky, deep-fried savory filled with onion and sometimes potatoes.
Best served with spicy and sweet tamarind chutney and garlic (lasoon) chutney, this is the perfect food to have as a breakfast dish or as an evening snack.
Recommended Story – Famous Street Food of Mumbai
2. Mirchi Vada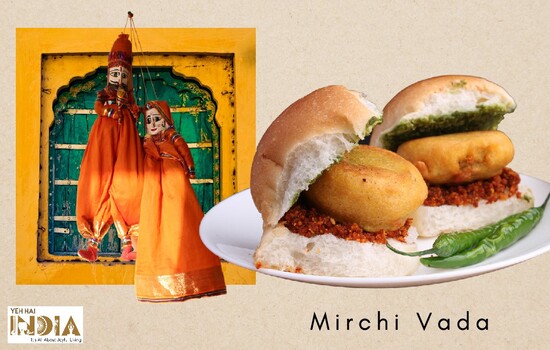 Mirchi vada is a famous street staple from Rajasthan. Originated in the city of Jodhpur, it is renowned for its rich and spicy flavor and a taste that makes you thrive in the hot climate of Rajasthan.
It is believed that the water in Jodhpur gives it a totally different taste making it unique and specific. Mirchi Vadas are basically chilli fritters made with bhavnagri or green chilli jalapeno and batter made of chickpea flour along with a spicy potato filling.
This snack is usually served with meethi chutney or green chutney and for spicy lovers, best with lasoon chutney.
3. Ker Sangri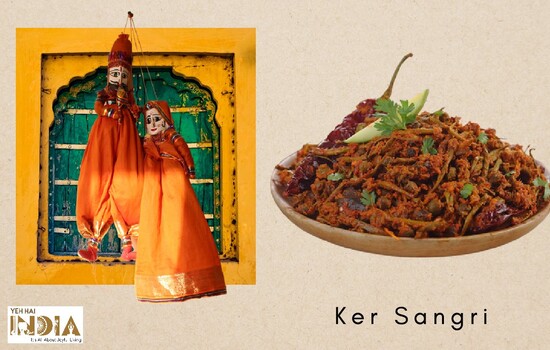 Ker Sangri is an amazing combination of bean and berries. It is a very unique and one of the best foods of Rajasthan, besides being a flavorful Rajasthani delicacy. The process of making this piquant dish is very usual in essence, using red chilli powder and a couple of more spices.
However, the dried beans and berries enhance and infuse a totally different taste that lingers on your tongue. Addition of raisins to this delightful dish in turn adds to the richness of it and makes it delectable.
Ker Sangri makes a great accompaniment with Kadhi, Phulkas and Steamed rice along with ghee, a perfect meal to be had on any given day.
4. Shahi Gatte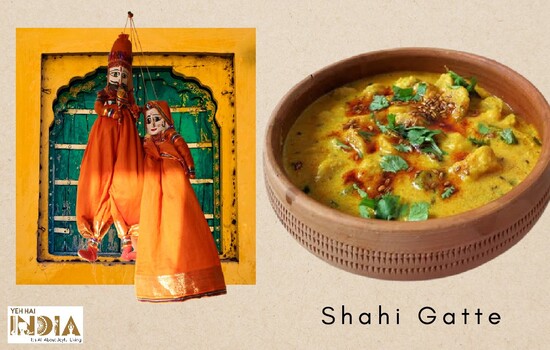 Shahi Gatte, popularly known as Govind Gatta is a royal dish of Rajasthan. It was often served in royal meals. This dish is not as popular as the other Rajasthani Gatte dishes.
However, the taste and the flavor of this version is to die for. Gattes are stuffed dumplings made of chickpea flour in rich aromatic tomato nut curry.
The process of making this delicacy is a bit longer than usual, but every second put into it is totally worth it.
5. Dal Baati Churma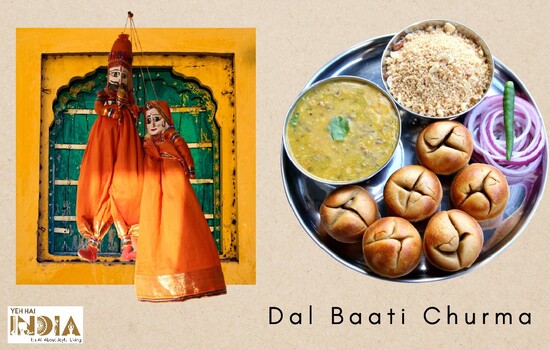 The traditional Dal Baati Churma is one of the most famous foods of Rajasthan. It is also a three-in-one combination of sweet and spicy flavors, perfect to satisfy your tastebuds and the appetite.
Fresh and hot baatis, drowned in dal with an amazing ghee tadka that works as a 'cherry on cake' is an ideal meal to accompany the Churma. Apart from having an amazing taste, this dish also holds a lot of historical significance.
According to some legends, in the Rawal dynasty, the soldiers made balls of dough called baatis and buried these dough balls under the sand. When they returned from the war, these baatis were freshly baked.
From that time, Baatis became a great war-time snack and meal. It was only until later, the combination of dal and baati became popular. Churma was believed to be invented by mistake. Sugarcane juice once fell over the baatis making them softer and moist, further evolving into a new kind of dish named as churma.
Ghee is the most important ingredient that goes in the process of making this delicious meal and adds a warm and appealing flavour to this traditional food of Rajasthan.
6. Kacchi Haldi ki Sabzi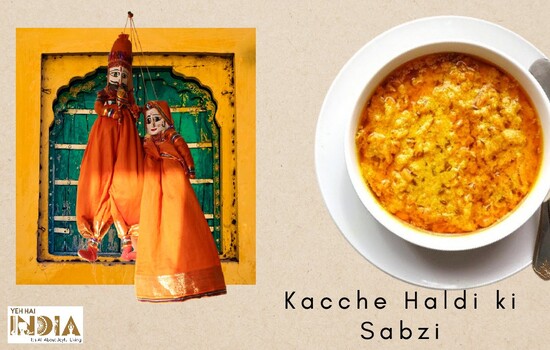 Kacche Haldi ki Sabzi or Raw Turmeric curry is an exotic dish of Rajasthan. Made especially in the winter season, roots of the turmeric usually give warmth and help with curing cold and joint aches.
Peas and cauliflower is also usually added in kacche haldi ki sabzi. Mainly to get rid of the bitterness of turmeric, it is fried in desi ghee.
This dish is perfect to serve during marriages, parties, and special occasions and is made only with raw turmeric.
Recommended Story – These Top 6 Regional Cookbooks Will Walk you Through the Roots & Flavours of India
7. Rajasthani Kadhi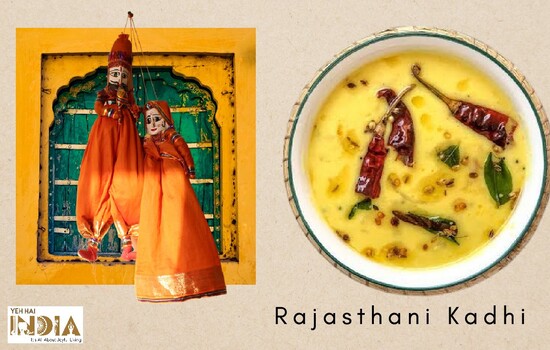 Rajasthani Kadhi is a common dish among the households of Rajasthan and one of the Best Rajasthani recipes. It is an exquisite combination of curd and spices. Moreover, the spices used in this kadhi is different than usual, which makes it stand out from the kadhis belonging to different parts of the country.
Kadhi is naturally cooling and refreshing. It is also very light, good for the appetite, heart and mind. Due to extreme climates in Rajasthan, this dish makes an ideal meal to be consumed and devoured with chapatis and steamed rice.
Sometimes, pakodas are added to this spicy delight to add some crunch and crispiness and to treat the taste buds.
8. Laal Maans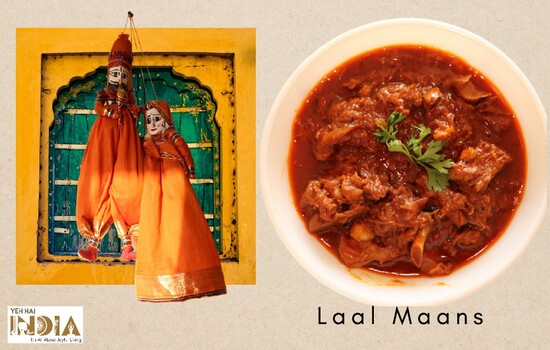 Laal Maans is a famous dish of Rajasthan. It is a spicy lamb curry made with authentic spices as hot as red Mathania chillies. The curry also has sizzling flavors of clove, cinnamon, and most importantly garlic.
Originally, laal maans was prepared with meat derived from a wild boar or a deer. This dish gets a bright red colour due to the mathania chillies.
Laal maans also has a sweet aftertaste which makes it stand out from most of the lamb curries found around the world.
9. Ghevar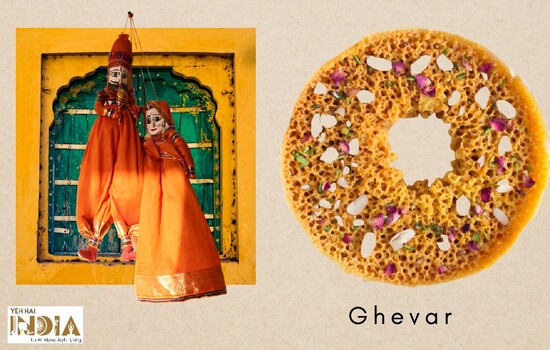 Ghevar is a traditional Rajasthani delicacy made with ingredients that are easily accessible to anyone in the kitchen. It is made mostly on festive occasions like Raksha bandhan, Shravan or Teej.
It's deep fried in ghee and then immersed in flavoured sugar syrup.
10. Rajasthani Mawa Kachori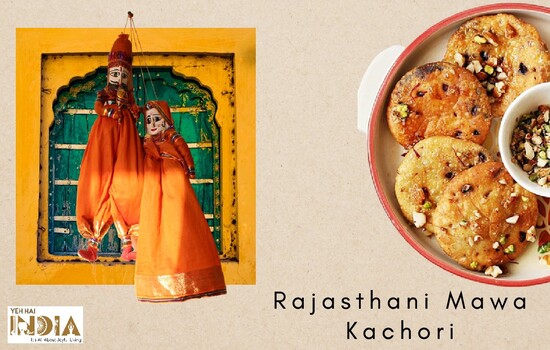 Mawa kachoris are the sweeter version of kachoris, an extremely addictive and flavorful snack to munch on.
The sugar syrup and dry fruits on top of the kachoris make it so delightful and melt in your mouth with every bite you take.
The crunchiness and the filling of this amazing delectable contribute to its richness and makes you crave for more.
Give these rare dishes from the desert state a try to get to know the immense culinary wealth of Rajasthan.
Also Read – Top Indian Food Bloggers