In life, we often take two things for granted- mother and immunity. Ironically, both of them fight for our maximum wellbeing with an invisible sword (the latter uses immune cells though)!
The thing is, the immune system plays a vital role in every living being. An absurdly intricate network of cells is constantly at work to protect us from dangerous viruses and other microbes. And in 2020, boosting immunity has become the need of the hour.
So, even if you have a healthy immune system, gotta look after it, or else it won't take care of you. Not to mention, it's always better to be safe than sorry.
The ongoing pandemic has altered people's lifestyle and eating habits to a large extent. While there is no fool-proof method of warding off the risk of getting infected, you can strengthen your immunity naturally.
There are a plethora of food items that can substantiate immunity. However, often it becomes time-taking, especially when made in huge quantities. So, to make life easier for you, here comes the list of immunity-boosting drinks and their quick recipes that you need to try.
Kadha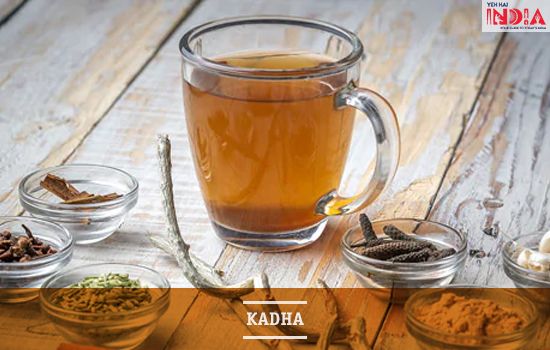 Homemade kadhas prepared with common kitchen ingredients is one of the most traditional drinks consumed by people of every age.
Ingredients
2 tsp green tea leaves
1 tsp cardamom & cinnamon powder
4 to 6 fresh tulsi leaves
4 to 5 cloves
Grated ginger
1 tsp ajwain
1/2 tsp turmeric
1/2 tsp black pepper
Methi (optional)
Recipe
Take 2 cups of water in a sauce pan and boil it. In the meantime, gather the necessary ingredients to prepare kadha. As the water starts to boil, put all the ingredients, and cook for 15 to 20 minutes on medium flame until the amount of water is reduced to half.
Once done, wait for 5 minutes to cool it down. Next, strain it in a cup and sweeten it with honey or jaggery before serving. It's as easy as this!
Kadha Benefits:
Consuming kadha on a daily basis offers the following benefits:
Brimming with antioxidants and anti-inflammatory properties, kadha is extremely beneficial to fight cold and flu during the monsoon.
The presence of basil in the drink reduces mucus in the body.
Kadha is also effective in treating stones and having twice daily for 6 months can give surprising results.
Black pepper increases the absorption of turmeric by 2000% and helps in treating respiratory disorders.
Kadha also aids in improving gut health and regulating blood sugar levels.

Recommended Story – Health Benefits of Amla (Indian Gooseberry)
Honey Lemonade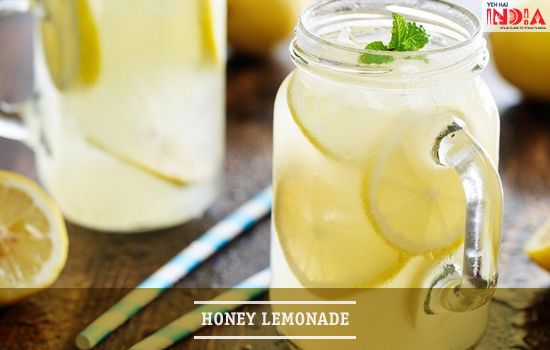 Sipping on a hot cup of honey lemonade can be described as a healing elixir in the world of health and wellness.
Ingredients
Juice of 1 lemon
2 tsp raw honey
1 tsp grated ginger
1-inch cinnamon stick
3 chopped garlic cloves
1 tsp mint juice
Recipe
This is another easy-to-prepare drink with zero hassle. Boil 3 to 4 cups of water in a deep pan and add all the ingredients except honey. As the herbal blend decoction is reduced in quantity, cool it for a few minutes before straining. Before serving add honey and drink warm.
Honey Lemonade Benefits:
This divine duo of honey and lemon offers a plethora of advantages:
Honey has always been used in Ayurved and the Baltic culture to treat sore throat symptoms and cough. Moreover, it keeps the respiratory tract hydrated and fights off extra mucus.
Lemons are high in the antioxidant vitamin C. Thus, when combined with honey, lemon helps in thinning the congestion of mucus and brings relief in the airways.
Presence of ginger and garlic aids in treating infectious diseases as they have antimicrobial compounds.
Turmeric Tea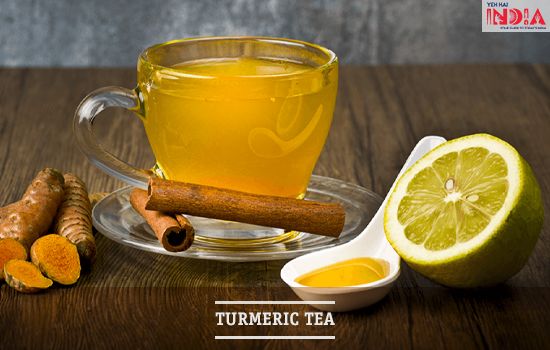 Turmeric tea is a popular form of consuming turmeric to bolster immunity. Moreover, the preparation has a subtle but unique flavour to relish on every sip.
Ingredients
1 tsp freshly grated turmeric (preferable) or 2 tsp turmeric powder
1 tsp grated ginger
1 tsp honey
1 tsp lemon juice
Recipe
This bright-yellow health drink is one of the easiest yet effective healing drinks you can encounter. Simply take and boil 2 cups of water. Now, pour over the boiling water and allow to infuse for 4 to 5 minutes. Lastly, strain through a sieve, add lemon and honey.


Turmeric Tea Benefits:
As turmeric has several medicinal properties, having this home-made drink will give the following benefits:
Turmeric contains curcumin. According to research, curcumin improves immunity. with its antioxidant, anti-inflammatory, antiviral, and antibacterial properties.
Curcumin can boost the overall immune system even in individuals with immune disorders.
Turmeric tea also helps ease inflammation and pain.
Turmeric Ginger Milk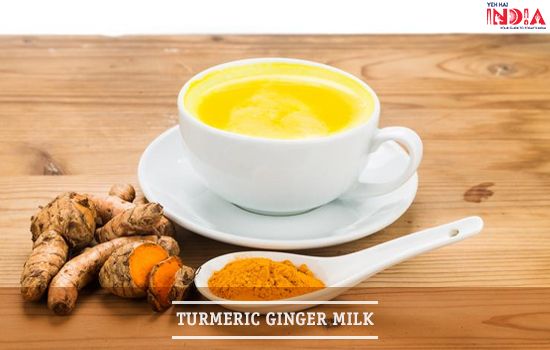 Turmeric ginger milk aka golden milk is another popular home-made remedy you should count on.
Ingredients
1/2 unsweetened milk
1 tsp of grated turmeric/ turmeric powder
1 pinch of black pepper
1/2 grated ginger
1-inch piece of cinnamon
2 tsp raw honey
1/2 cup light coconut milk (optional)
Recipe
To make the golden milk, combine all the ingredients in a deep pan except honey. Heat the mixture on a medium flame for 10 minutes until it becomes flavourful. Next, strain the drink and add honey before serving. You can refrigerate the drink and store it for 4 to 5 days. Make sure to reheat it before consuming.
Turmeric Ginger Milk Benefits:
The key ingredients of golden milk are loaded with antioxidants to stave off illness. Some of the major benefits are:
The combination of curcumin, ginger, and cinnamon boasts potent anti-inflammatory properties that may reduce inflammation and joint pain.
Several test-tube studies have revealed that curcumin has antiviral, antibacterial, and antifungal properties and aids in fighting infections.
Furthermore, the presence of ginger extract may fight the human respiratory syncytial virus.
Cinnamaldehyde is an active compound found in cinnamon prevents the growth of bacteria and may help to treat fungi-driven respiratory tract infections.
Recommended Story – Ayurveda-An Overview
Green Refreshing Smoothie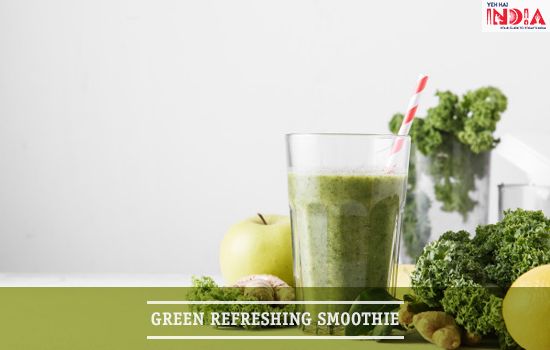 Great for immunity and digestion, there are almost 101 ways to make green smoothies. Check out this special one infused with the goodness of green and flavour of Indian regular spices.
Ingredients
1 cup of chopped baby spinach
1 sliced banana
A handful of mint
1/2 cucumber
Small piece of amla
1/2 cup of yogurt
Rock salt according to the taste
1/2 almond milk (optional)
Honey (optional)
Recipe
Making this evergreen smoothie is as easy as ABC. Take all the ingredients in a mixer and blend until it becomes smooth. You can add any seasonal fruits like mango, apple, or pineapple instead of banana. To make it more refreshing and comforting, you can have it with ice cubes.
Green Refreshing Smoothie Benefits:
Thanks to the hefty veggie and fruits, the smoothie offers a multitude of benefits apart from a delectable taste:
Packed with antioxidants like β-Carotene and vitamin C spinach augments the fighting ability of the immune system.
The good bacteria in the yogurt also boost immunity and prevent attacks by harmful microorganisms.
Start Drinking Today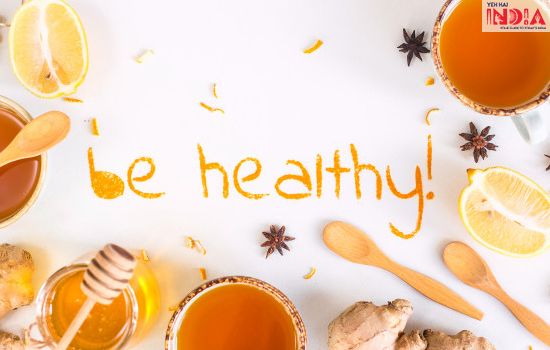 …the immunity boosters of course!
And incorporate more immune-supporting nutrients into your diet to stay healthy and fit. Rummaging through your spice racks and kitchen will get hold of all the essentials required for these drinks. So, what are you waiting for? Try out these recipes and let us know how much you liked it!
Also Read – COVID-19: Immunity boosting products by famous Indian FMCG Brands