Acne is a highly distressing condition that can be managed utilising do-it-yourself home cures.
Summers don't just mean sunny beaches, holidays and fun; they also mean humidity, sweaty, oily skin and breakouts.
Acne is a very common skin problem caused due to a variety of reasons beginning from genetics to our daily diet. Acne can present in many forms, the worst of them being the pimple.
Acne is a skin condition when the pores in the skin of your face get blocked with dust, oil, sweat or dead cells.
The pores are connected to the oil glands and when plugged, lead to the accumulation of sebum (produced by the sebaceous glands) and increased chances of infection by bacteria.
Not all types of acne occur to the same degree of severity in every skin. Some of the common forms in which acne shows up are pimples, blackheads and whiteheads.
Before we go into the ways of managing the many symptoms of acne, let us look at the causes.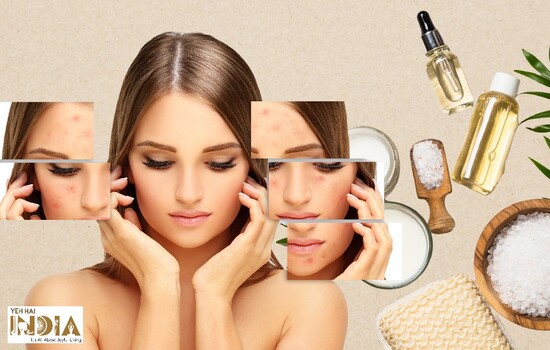 Causes of Acne
Genetics – Some people have oily skin that produces excess oil and blocks the pores
Climate – With increased exposure to sun and heat in summers, the skin tends to get dry, red and irritated
Physically demanding activities – Increased sweating also causes blocking or constriction of the pores.
Hormones – Hormonal changes in adolescents and women are also a common causes of acne
Medications
Daily diet – Regular consumption of food rich in fats and carbohydrates.
Insufficient water intake
10 Easy Ways to Overcome Acne this Summer
1. Aloe Vera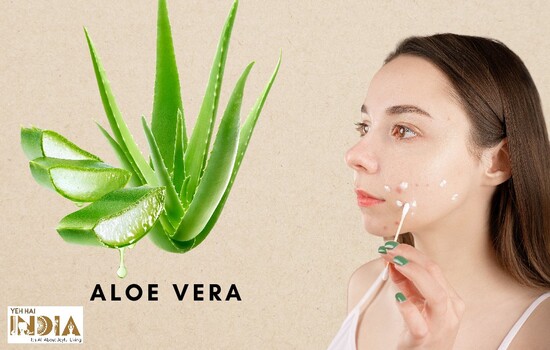 Aloe vera is one great ingredient for aggravated skin. It soothes, cools and hydrates the skin which counteracts the oiliness, drying and inflammation. Aloe vera contains salicylic acid and sulphur in itself which have excellent anti-acne effects.
You can just slather aloe vera on your face anytime and feel better as it has no restrictions when it comes to quantity. It will only keep it cool and fight further breakouts.
A home recipe consisting of a tablespoon of aloe vera gel, a tablespoon of honey and a teaspoon of cinnamon – all mixed into a smooth paste and applied to your face regularly works like a charm for acne-prone skin.
Recommended Story – Organic Kitchen: A Trustworthy Brand for Natural Skincare Regimen
2. Turmeric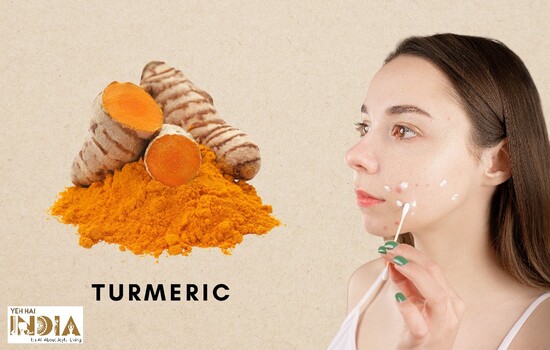 Turmeric has been a constant ingredient used for maintaining glowing, smooth skin by Indian women since ancient times. Women usually use it as an exfoliating paste by mixing it with a little water while bathing.
Turmeric also possesses natural anti-oxidant and anti-inflammatory properties that are great for acne-ridden skin.
A pinch of ground turmeric mixed with honey, and 3-4 drops of castor oil are refrigerated for 15 minutes and then applied to the face. It is left for another 20 minutes and then washed off gently with water.
You can also include turmeric into your daily diet which is not difficult in an Indian household. A pinch of turmeric is added in most South Indian recipes traditionally.
You can also add a little turmeric to your breakfast smoothies and to the vegetables you cook for lunch. The anti-inflammatory properties of turmeric can add to your skin healing from the inside.
3. Sandalwood Paste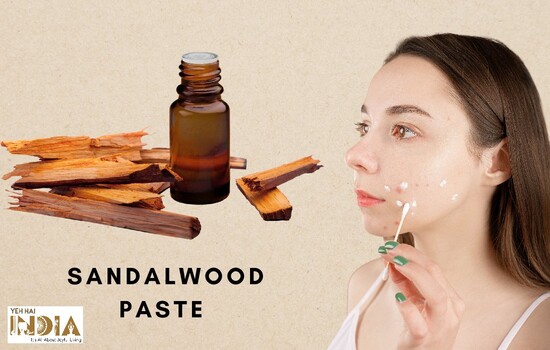 Sandalwood paste is another traditional ingredient used for healthy skin. Women have been using it all over the body for its cooling effects and healing properties.
Sandalwood paste contains anti-oxidants that can help with the blemishes and scars on your face. It also adds a natural healthy glow to your skin.
One or two tablespoons of organic sandalwood powder can be mixed with a bit of water and made into a thick paste. It is applied all over the face and allowed to dry after which it can be gently washed off.
Another home recipe using sandalwood powder includes – 3 tablespoons of sandalwood powder, 1 teaspoon of cinnamon powder, half a teaspoon of methi seed powder, and a few drops of lemon juice and honey mixed into a sticky paste.
This mixture is applied only to the pimples and left untouched overnight or at least for a few hours.
The combined anti-oxidant, anti-inflammatory, anti-bacterial and soothing properties of all these ingredients help fight back acne.
4. Green Tea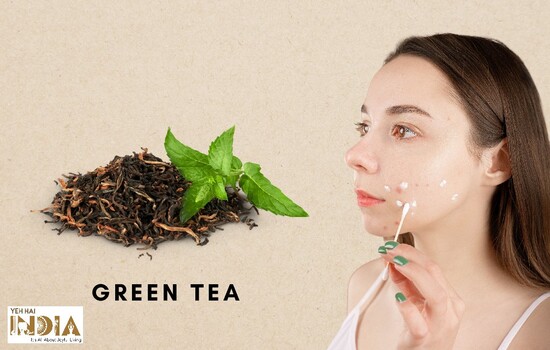 Green tea is rich in polyphenols that possess amazing anti-inflammatory and antioxidant properties. They are not just good for your digestive system, they also work wonders on your skin.
A mildly brewed green tea can be applied to the skin with acne using a soft cotton ball soaked in tea.
The green tea extract reduces the oil produced by your skin which in turn decreases the breakout. This might not work great for a severe case of acne but for milder ones, you can give this a try at home.
5. Tea Tree Oil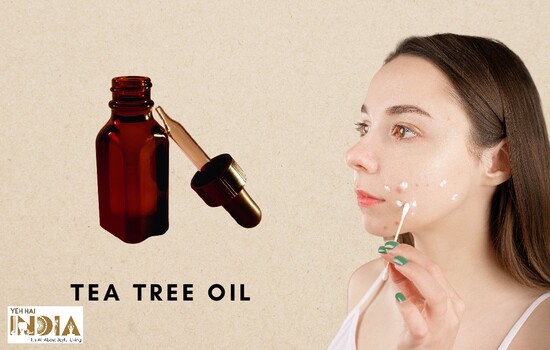 Tea tree oil is one of the popular and natural anti-acne ingredients. It fights infection and cools down the skin at the same time. 5 per cent tea tree oil can be applied to acne-prone regions of the face.
The oil also contains anti-septic compounds like terpinine which fights against bacterial infection in the pores due to severe clogging.
6. Apple Cider Vinegar Rinse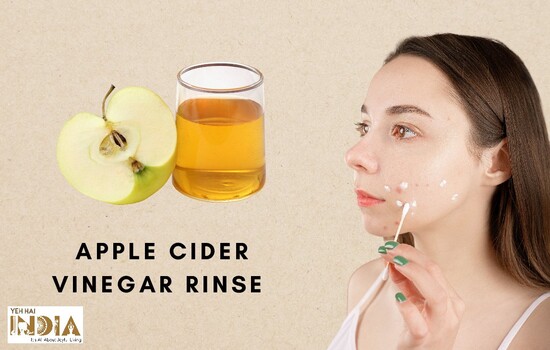 For acne-prone skin, it is never advisable to use alcohol-based toners. Apple Cider Vinegar is a great alternative to alcoholic toners as it has natural astringent properties.
It is a pretty strong ingredient, so it is always preferable to dilute it in water before applying. It could also cause mild allergic reactions in some people, so a patch test is also advisable for people who are trying apple cider vinegar for the first time.
Apple Cider Vinegar contains citric acid, maintains the skin's pH and destroys the bacteria present on the surface of the skin.
Although it shows remarkable changes in skin damaged by acne, ACV has to be used carefully and in small amounts to avoid other irritations to the skin from overusing it.
7. Neem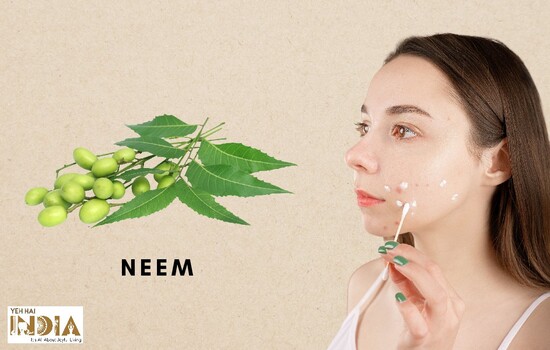 People have been using neem in treating several health conditions for hundreds of years. Neem leaves have a cooling effect on the skin and are widely known for their anti-bacterial properties.
They also contain calcium, anti-oxidants and vitamin E – all of which are great for healing damaged skin.
To use them, neem leaves are simmered in water for about an hour over very low heat. The water is left to settle overnight, strained and the leaves are then ground into a paste for the areas with the breakout. After about 15 to 20 minutes, it is washed with warm water.
Neem not only fights the bacteria but also boosts collagen production in your skin giving you a healthy glow to your skin.
8. Exfoliate Often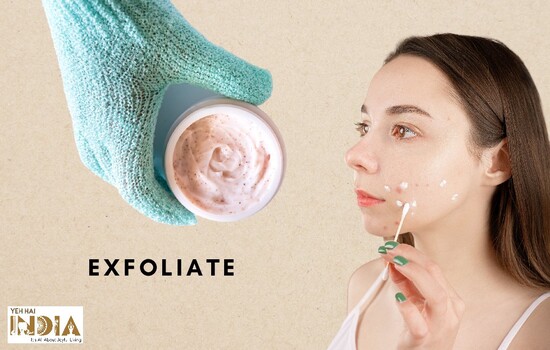 The best way to prevent breakouts is to keep your skin free from all the dead cells, oil and dust accumulating on it. Wash your face twice a day. Use a mild but cleansing face wash.
A gentle scrub is recommended, either homemade or a fruit enzyme that will clear all debris off your face.
Avoid harsh scrubbing with washcloths or rough cloths. Do not pinch the pimple or rub your face too often and too hard.
9. Water & Ice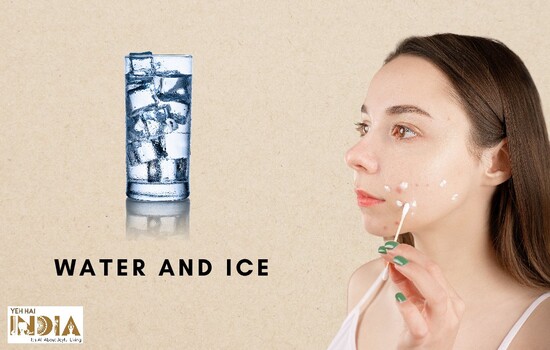 The ice is for your skin to keep cool while the water is for your body. Keep yourself hydrated to keep your oil and water content balanced. A well-hydrated body can also function efficiently to detoxify on its own.
Ice cubes can be used as a temporary relief to itchy, dry or inflamed skin. The immediate cooling effect from the ice cubes gives you relief from the sting of the broken skin.
Do not apply the ice directly to the affected area. Wrap it in a soft paper towel and apply it to the affected regions for a few seconds at a time.
10. Steam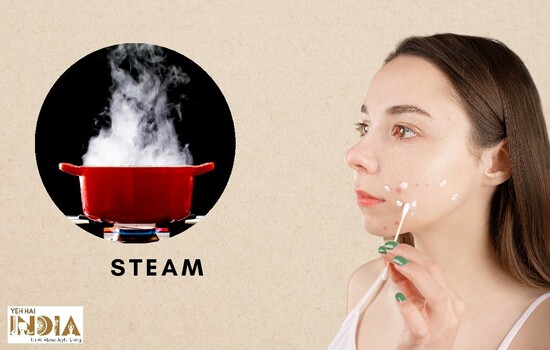 Steaming is a popular way to unclog your pores. It opens up the blocked pores and makes it easier to wash away the dirt, oil and sweat on the skin.
Steaming is an excellent way of detoxification and also improves blood circulation in the face. It gives you a natural and healthy blush along with purified skin.
A mask of your choice and need can be used following good steaming for the complete removal of all impurities.
With these remedies you can easily achieve flawless skin that glows from within.
Also Read – Top 10 Aloe Vera Gels To Soothe Your Skin