In a world filled with millions of hair care products, still old age remedies rule the hair care world. When it comes to old age remedies, henna has a remarkable place on it. Being a timeless beauty secret for centuries, henna holds the power to improve your hair condition in several possible ways.
It's time for you to explore the benefits of henna for hair, what makes the henna best for your hair, and also know the best 5 DIY henna recipes that can improve your hair growth, nourish and condition your hair, and cover your grey hair.
Benefits of Henna for Hair
1. Improves Hair Growth
Henna is actively used as a key ingredient in several hair growth products. It accelerates hair growth and is used as a formula to prevent hair loss in Ancient Egypt. 
2. Reduces Hair Fall
No matter what your hair type is, Henna can reduce your hair fall and improve the follicle health. Henna also prevents split ends and reduces hair damage.
3. Conditions Hair
Henna is used as an herbal conditioner for hair to keep it moisturized. With the right combination of henna and other ingredients, it moisturizes hair and reduces hair breakage and split ends.
4. No More Dandruff
Henna is best to remove excess sebum from the scalp. When there is no production of excess sebum, it prevents a greasy scalp that causes dandruff.
5. Alternative to Chemical Hair Dyes
With the help of Henna, you can refrain from the potential damage of synthetic chemical dyes on your hair. Henna has been used as a natural dye since ancient times and it is one of the best, safest, cost-effective, and easy-to-use natural hair dyes.
6. Balances pH Level
A balanced pH level is what maintains your scalp and hair healthy. Henna balances the pH level of your scalp and inactivates the overproduction of sebaceous glands. This balance in pH level eventually manages greasy hair and dandruff production.
7. Natural Hair Color
If you are looking for a safe hair colour, Henna is one of the best options. Applying henna directly on the scalp or lengths adds a natural rich brown shade to your hair. It is safe to use and does not affect your hair condition.
8. Reduces Itchy scalp
An itchy scalp can damage your skin and hair follicles over time. But you can reduce it with the help of Henna. As henna is enriched with anti-inflammatory and anti-microbial properties, it soothes the scalp and reduces itchiness.
9. Reduces Oxidative Stress
When the production of free radicals in our body is unequal, oxidative stress occurs. This oxidative stress makes you lose hair, damages hair strands and increases premature grey hairs. As henna has antioxidant properties, it reduces oxidative stress and improves your hair condition.
Here's what henna contains that benefits your hair
Henna contains several natural compounds that help your hair shine and add rich colours to your hair naturally. It is rich in a dye molecule called Lawsone aka Naphthoquinone that gives the dyeing property to the henna. This lawsone reacts with the keratin in your hair and gives it a permanent colour. 
Henna also has gallic acid and traces of alkaloids that help to improve hair condition. The Tannins in Henna reduce the premature graying of hair and Vitamin E helps to maintain the hair smooth.
How Does Henna Help with Hair Greying?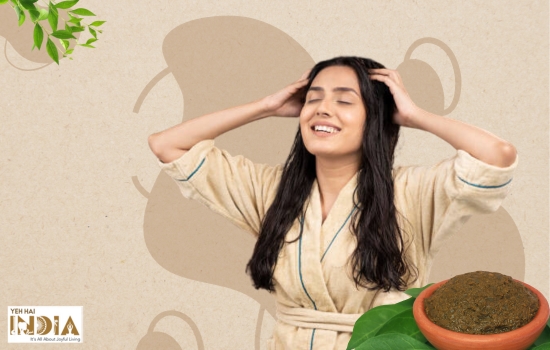 Covering up grey hair is not a walk in the park. It involves choosing the right hair dyes that are toxin-free and easy to apply. Henna is widely used to cover up gray hair and it is still a popular choice among people. Henna is best at covering up the hair and it isn't directly involved in reversing or preventing hair graying.
1. Hides Grey hairs
The greatest thing about Henna is its ability to dye hair. It gives you a natural reddish-brown to auburn hue to your hair and perfectly camouflages the grey strands. So, with the frequent henna application, you can hide those silver strands and maintain your young look.
2. Fights off Oxidative Stress
Premature greying of hair is often associated with oxidative stress. With its antioxidant properties, Henna effectively reduces oxidative stress and manages premature greying of hair.
3. Natural Alternative
Unlike synthetic hair dyes, Henna is a naturally derived hair dye, and it is known as one of the best plant-based alternatives to chemical hair dyes. It is free of toxic chemicals that damage your hair and is an ideal option to tackle hair greying.
Recommended Article: Choosing the Perfect Hair Mask for Hair Growth: Our Curated Picks
DIY Henna Recipes for Hair Care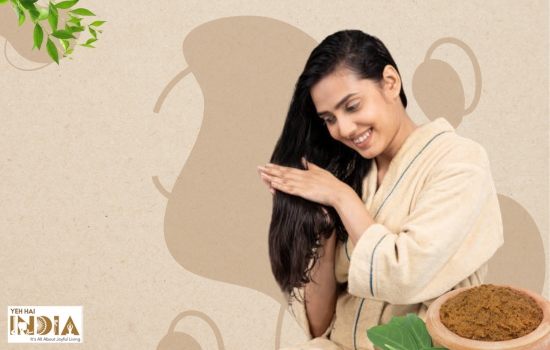 1. Henna and Fenugreek Hair Pack
If you want to improve your scalp health with henna, try this Henna and Fenugreek hair pack. Fenugreek seeds in this hair pack may improve hair growth and make your scalp healthy. Apply this henna and fenugreek hair pack once a week for better results.
Ingredients
Henna powder or fresh henna paste
½ cup – Fenugreek seeds
Processing time – 45 minutes
Instructions
Soak the fenugreek seeds in a bowl overnight.
Grind the soaked fenugreek seeds and add henna powder or paste.
Mix this hair pack well and apply this all over your scalp and hair length.
Let it on your hair for 45 minutes and wash it with a mild shampoo.
2. Henna and Aloe Vera Hair Pack
To nourish your hair, this Henna and Aloe vera hair pack is ideal. Aloe vera is a cooling agent that helps to soothe your scalp and reduces scalp irritation and dandruff. Apply this henna and aloe vera hair pack once a week to get the desired results.
Ingredients
Henna powder/paste
Aloe vera gel
Processing time: 30 minutes
Instructions
Mix the henna powder/paste and aloe vera gel and make a consistent paste.
Apply this henna and aloe vera mixture to your scalp and hair.
Leave on this hair mask for an hour and wash it with gentle shampoo.
3. Henna and Hibiscus Leaves Hair Mask
Hibiscus leaves can stimulate hair growth and improve blood circulation. It is also known to strengthen and nourish hair and balance the pH of the scalp. This henna and hibiscus leaves hair mask can control dandruff and improve hair growth.
Ingredients
Henna leaves
Hibiscus leaves
Processing time: 20 minutes
Instructions
Grind the henna leaves and hibiscus leaves into a thick paste. Add water to grind it.
Apply this henna and hibiscus leaves paste on clean hair.
Leave this mask on for 20 minutes and rinse it off with mild shampoo.
4. Henna and Curd Hair Pack
Henna and Curd hair packs can moisturize, condition, and improve your hair and scalp health. Rich in fat and proteins, Curd is good at moisturizing and conditioning your hair. By applying this hair pack once a week, you can condition your hair well.
Ingredients
¼ cup of henna powder
⅔ cup of curd
Processing time: 1 hour
Instructions
Take the required amount of henna powder depending on your length and thickness.
Mix the henna powder and curd in a bowl until you get a smooth, thick paste.
Apply this henna and curd mixture to your hair.
Leave it on for an hour and wash it off with a mild shampoo.
5. Henna and Amla Hair Mask
To stop hair fall and enhance hair growth, this protein-rich henna and amla hair mask is best for you. Amla is known for conditioning your scalp, promoting healthy hair growth, minimizing grey hairs, and increasing hair volume. Try this hair mask once every week for better hair growth.
Ingredients
Henna powder
Amla powder
Curd
Processing time: 1 hour
Instructions
Mix the appropriate amount of henna and amla powder based on your hair length and thickness in a bowl.
Add curd into the henna and amla powder mixture and mix it well into a smooth paste.
Apply this mixture to the clean hair and leave it on for 45 minutes.
Final Thoughts
Henna is one of the best universal and natural solutions for better hair growth and covering up grey hairs. It can provide you with several benefits, like improving hair growth and reducing oxidative stress. This magic herb also acts as the best alternative for synthetic hair dyes and allows you to cover up your silver strands.
Henna, in addition to other ingredients, can also work well and give you better results for your hair. The hair care DIY recipes mentioned above are some of the best henna homemade hair packs to achieve better healthier hair. Apply these DIY henna hair packs once a week and get strong, healthy hair that everyone envies.
Recommended Article: 10 Best Henna Products for Hair: A Natural Solution to Premature Greying
Frequently Asked Questions
Q. Can Henna Completely Reverse Gray Hair?
No, Henna cannot completely reverse grey hairs, but they are best at covering it up. It covers up your grey hair by adding a natural reddish-brown hue to your hair. If your hair starts greying due to ageing or genetics, henna lacks the power to prevent grey hairs.
Q. Is It safe to apply henna on chemically treated hair?
Of course, you can apply henna on your chemically treated or coloured hair. But, it is always best to patch test before applying the henna paste on your entire scalp and hair. If it doesn't provide you with any adverse reaction for 24 hours, you can continue using henna on your chemically treated hair.
Q. How often should you apply henna for noticeable results?
It depends on your specific hair needs. If you want to improve hair growth, condition your scalp, cover up grey hair, and apply the henna mask once a week for a month or two. When you apply the henna mask consistently, you can get noticeable results soon.