Hair masks are the ultimate saviour for hair that refuses to respond to mere oiling and conditioning treatments.
Owning a glossy, bouncy and luscious mane is every woman's dreamwish that takes a great deal of effort to come true.
Though, it might be a tad difficult to achieve the hair of your dreams, with certain measures in your hair care regimen, you can be well on your way to achieve hair that bounces with health.
If your damaged, lustreless and unruly hair have begun to threaten your peace of mind, there's a magical cure to regain the volume and lustre your hair so rightly deserves.
An intensive Protein Therapy is what your hair needs at a stage when oiling fails to restore damage and health lost due to poor nutrition and harsh styling procedures.
Externally treating lacklustre and breakage prone hair with a protein rich concoction is believed to instantly replicate its texture, resulting in a fuller and luminous looking mane.
When thinking of a protein hair treatment, the first thing that comes to mind is an at-home egg mask.
Though it does work wonders to restore volume and lustre, the messy application procedure and the unpleasant odour it leaves behind prove to be a deterrent in utilizing its goodness to full extent.
Opting for vegan hair masks is the ultimate solution to end the struggle you have to put up with gooey egg mask.
So, if you are looking to upturn the ailing condition of your unruly tresses, we bring you a collection of ready-for-use Protein hair masks designed to repair damaged hair, better than oiling, that too minus any stickiness on your scalp.
Here are some of the best protein Hair masks you can put on your damaged hair to get hair that shines with health and stays in place.
10 Best Organic Vegan Protein Hair Masks In India:
1. The Earth Collective Protein Nourishment Hair Mask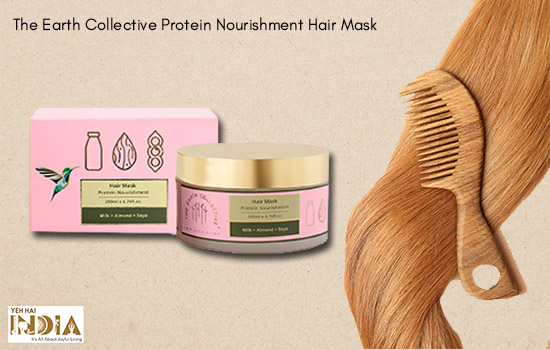 A triple blend of milk, almond and soy protein in this nourishment mask works to replenish damaged hair fibers and add strength to each strand of hair, thereby preventing breakage and splitting.
All the three ingredients are interspersed with coconut oil to assist in easy application and removal.
Follow up with a shampoo and conditioner from The Earth Collective for lasting nourishment.
Price: ₹1,050.00
Quantity: 200ml
Recommended Story – What makes Mamaearth Hair Serum a great investment for women?
2. Bella Vita Organic Growth Protein Hair Mask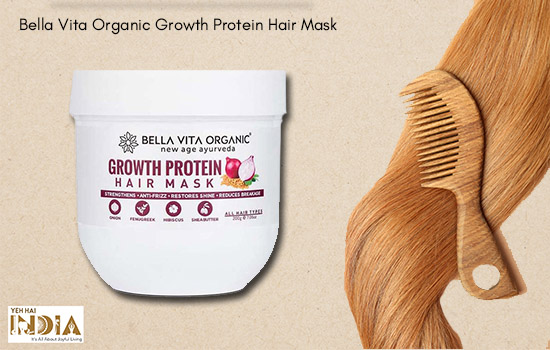 A truly brilliant product from Bella Vita Organic, this mask utilizes the goodness of Ayurvedic herbs to maximize its hair nurturing effects, when applied consistently.
Loaded with onion seed oil, Fenugreek seeds, Hibiscus, Shea butter, Cocoa butter and Mango butter, this hair mask not only reverses damage but also speeds up hair growth for longer and shinier mane.
Natural butters along with the antioxidants found in Hibiscus work to stop breakage and tame frizz while onion seed oil stimulates the scalp to promote hair growth and improve hair density.
Price: Rs. 399.00
Quantity: 200gm
3. Nat Habit Fresh Hair' Curry Sesame Hair Mask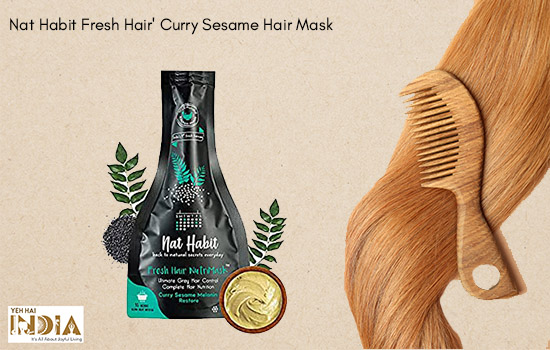 Coming straight from Nat Habit' Ayurvedic Kitchens, this mask is made from everyday ingredients to restore health and vitality to lifeless hair.
Assimilating the goodness of around 15 herbs namely; Black sesame, Fenugreek seeds, Curry leaves, Amla, Bhringraj, Shikakai and Neem leaves, as key ingredients, this mask boosts hair health and colour.
Black sesame is the star ingredient that checks and treats premature greying which makes this mask a great investment for those dealing with greying.
Price: Rs. 145.00
Quantity: 40 gm
4. Fix My Curls' Protein Powered Hair Mask
This hair mask brings to you the goodness of protein in Quinoa, one of the key ingredients, to fix brittle and lacklustre hair from root to tip.
Enriched with Avocado oil and Brown algae extract, it easily fuses into your hair without any need for repeated massaging and speeds up protein absorption to quicken hair repair process.
With just one application, you'll be delighted with the way this protein powered mask works on your curly mane to prevent breakage and frizz.
Price: Rs. 2000.00
Quantity: 200 gm
5. Re'equil Pea Protein and Ceramide Hair Mask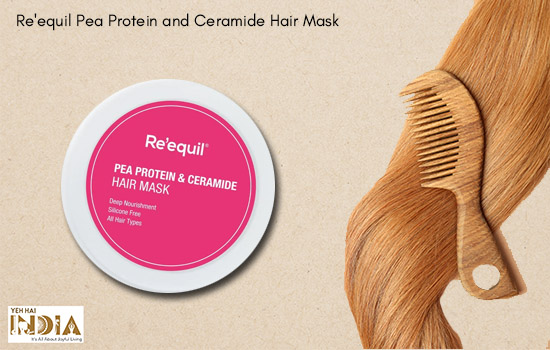 This hair mask is a perfect fix for severely damaged hair that's needing some instant replenishment to revive its texture and prevent breakage.
The key ingredient Pea protein along with damage reversing ceramides infuse a healthy dose of nutrients to restore body and shine to your starving tresses.
For added moisture, Behentrimonium Methosulfate, a non-sulphate derived from rapeseed oil in this mask immediately fixes dryness and replenishes damaged hair surface to even out hair texture.
Price: Rs. 695.00
Quantity: 200 gm
6. Pure Sense Macademia Deep Nourishing Hair Mask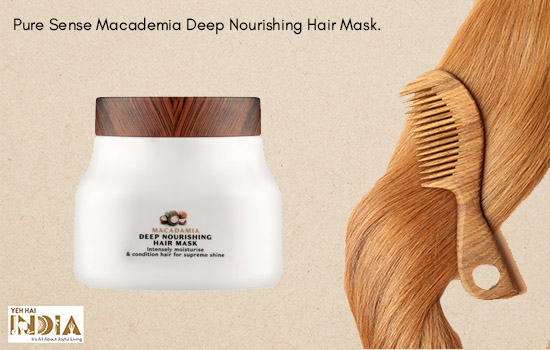 Powered with the goodness of pure Macadamia Nut oil, this mask hydrates, softens and relaxes your tired, moisture-less tresses like a pro.
Hydrolysed Rice protein in this mask works to nourish each hair strand from root to tip and helps trap in moisture for lasting hydration.
Coconut oil serves as a health booster to treat scalp inflammation and lets your hair soak in the nutrients better to give your hair instant shine and volume.
Price: Rs. 540.00
Quantity: 140 ml
Recommended Story – Top Organic Beauty (Cosmetic ) Brands in India Offering Best Organic Skin Care Products
7. Earth Rhythm Restorative Pea Protein Hair Butter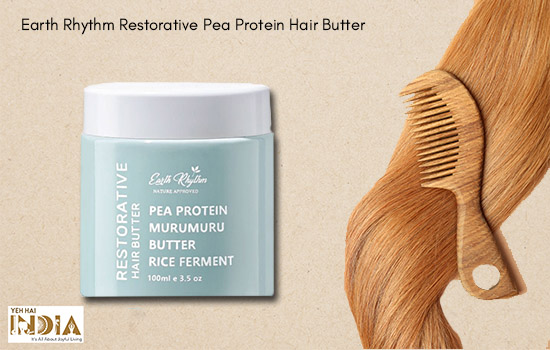 Let your hair recover from damage and lack of moisture with this intensely hydrating hair butter containing Hydrolysed Pea Protein as an active ingredient, that lets your tresses fight damage and dullness.
Murumuru butter in this mask helps quicken hair regeneration to repair damaged parts and leave every strand nourished from within.
Rice Ferment helps grow your hair long and conditions hair surface to make it more resilient.
Price: Rs. 569.00
Quantity: 100 gm
8. Amayra Kiara Hair Masque with Soy And Corn Protein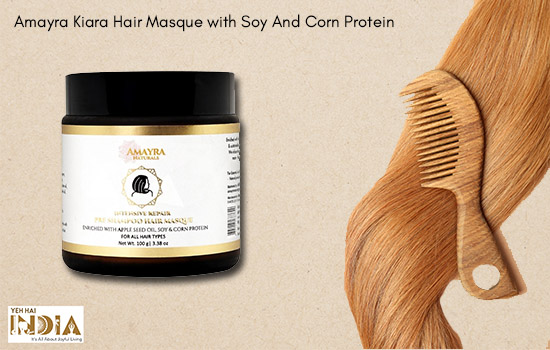 Transform your lifeless hair with this concoction of ethically sourced ingredients into fuller, shinier and bouncier mane that thrives in all conditions.
Packed with Soy and Corn protein, this masks delivers a rich dose of hair building nutrients to revamp hair texture.
Apple seed oil reaches the innermost surface of hair to heal damage with its affluent nutrient structure.
With this mask, you also get the added advantage of hair detoxification and collagen repair that comes from Hemp seed oil added into this mask.
Price: Rs. 899.00
Quantity: 100gm
9. St. Botanica Biotin and Collagen Hair Mask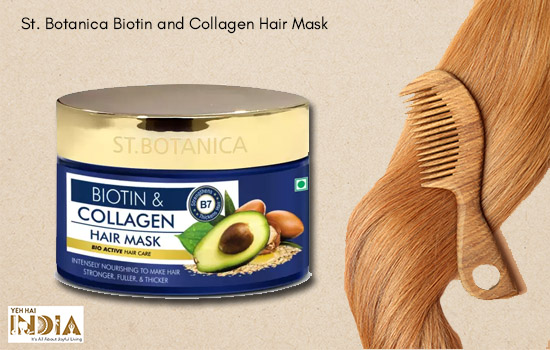 This is a truly irresistible mask loaded with hair building actives that breathe life into your barren tresses the moment it comes in contact with your hair.
Rich in readily available Biotin and Collagen, it revives damaged hair surface to smoothen and even out its texture, making it easier to comb through without any tangles.
Avocado oil helps intensify the nutrient absorption of the rest of the ingredients and also supplies an active dose of vitamins E, B and Omega fats to sustain hair health.
Oatmeal extract works to curb scalp inflammation, relaxes tired hair and softens hair cuticles to make your hair manageable.
Price: Rs. 599.00
Quantity: 200ml
10. Auli Repair Hair Spa Damage Reversing Mask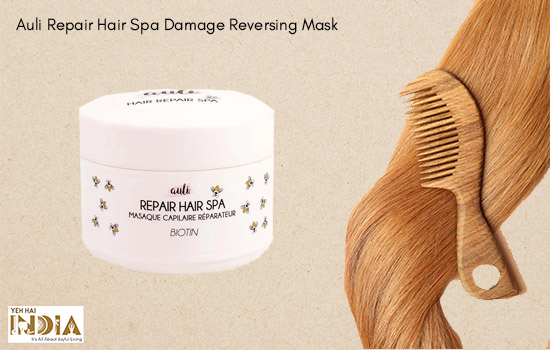 This hair mask does a wonderful job in restoring density, lustre and strength to undernourished hair.
Using this mask equals a salon visit for it immediately transforms unruly hair into a luminous and well conditioned mane that's easy to style and stays perfectly in shape without any flyaways or frizz.
Packed with Biotin, Honey, Milk protein, Fenugreek and Olive oil, it delivers all the nutrients your hair needs and keeps them intact to recover from damage inflicted by hair colorants, chemical sprays and heat styling procedures.
Price: Rs. 799.00
Quantity: 200gm
For hair that constantly bears the brunt of pollution and chemical treatments, vegan protein masks formulated with natural extracts work like a miracle in reloading the nutrients to rebuild damaged hair on cellular level.
Ace your hair repair regimen with deeply nourishing organic hair masks enriched with vegan protein and get free flowing, damage proof tresses that bounce with health.
Also Read – How To Regrow Hair On Bald Spot & Fight Hair loss