Switch to natural hair dyes to address premature graying and stay protected from the ill-effects of chemical hair colorants on your hair and overall well being.
Of all the beauty routines, the one that takes the most effort and constant rethinking is coloring your hair.
From instant hair dyes to dyes that claim to keep your hair colored without any chemicals or artificial hair colorants, you can easily be convinced of their ability to get the job done without any pitfalls.
While these hair colors claiming to be blended from all natural ingredients might seem to ease the struggle you've to endure with chemical hair colorants, what remains a mystery is the actual ingredients that are sneaked into these Instant natural hair dyes, which on long term use might lead to allergies, scalp infections and hair thinning.
Repeated use of hair dyes is known to harm hair health and damage the scalp from where the hair draws all its nutrition.
Disadvantages of using chemical hair dyes: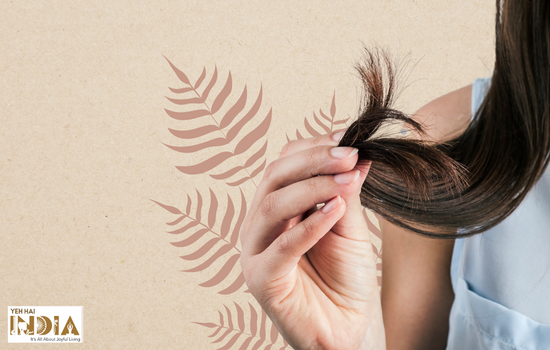 Hair Thinning
Dry and Itchy scalp
Hair Loss
Dull and lifeless hair
Frizzy Hair
Hair Breakage and splitting
Eye Irritation
Facial Swelling
Contact Dermatitis
Anaphylaxis
If you think you're hair has begun to show signs of damage after repeated use of hair dyes and ammonia based hair colors, seek refuge in these homemade hair dye recipes concocted from natural ingredients.
It might however take a bit more effort and thoughtfulness to make these recipes work for you, compared to what it takes with instant hair colors but if you take our advice and follow the natural methods consistently, you can see some amazing results and noticeable improvements in your hair quality.
Here are some tried and tested DIY Natural Hair Dyes To Hide Your Grays:
10 Best Natural Hair Dye Recipes To Camouflage Premature Graying:
1. Amla Juice + ACV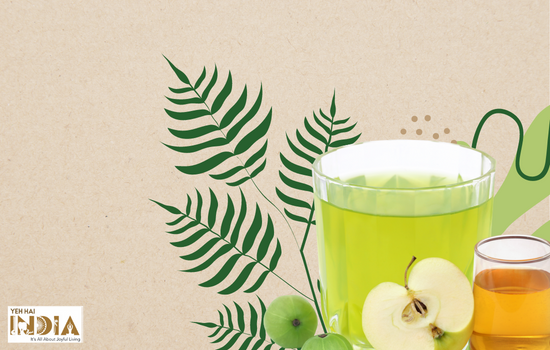 Indian gooseberry or Amla has remained an eternal favorite among Indian women to attain forever youthful, black tresses.
Now, what places it among the most sought after hair darkening ingredients is its exceptional abilities to add a darker hue to graying hair without disturbing the scalp health or the health of hair.
To get this ingredient work for you, whisk together equal parts of Amla Juice and Apple Cider Vinegar and leave it for 5 minutes to acquire a darker color.
Massage this liquid all over your hair and scalp, paying special attention to the roots where grays are most likely to be visible.
Leave this dye on your hair tied neatly in a bun, secured with a shower cap, for six to eight hours or overnight, whatever suits you, and wash it off the next morning with a mild shampoo.
Follow this ritual every week to obtain a darker hue and hide grays more effectively.
Recommended Story – Mystiq Living DIY All-in-one Hair Kit
2. Soy Sauce + Olive oil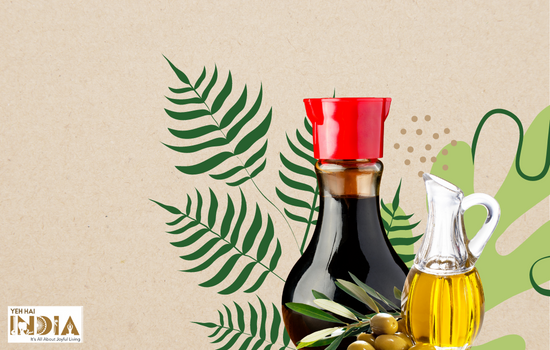 Mix together a tablespoon of dark soy sauce with 5-6 drops of olive oil and work it over your hair to cover grays.
Remember to secure the hairline with coconut oil to prevent this dye from staining your skin.
Leave it on for an hour and wash off with a smoothing shampoo. Repeat the application on the next day if needed.
3. Pomegranate Juice + Black vinegar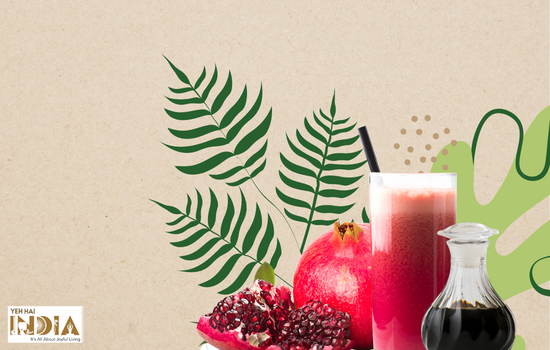 This dye not just helps cover greys but can also help you get a radiant red tone on your hair.
Stir together 2 tablespoons of pomegranate juice and black vinegar and apply this mixture on your hair evenly to get a more evenly distributed color.
Rinse after one or two hours with warm water. Reapply this blend next week to obtain a darker color.
4. Coffee + Indigo Powder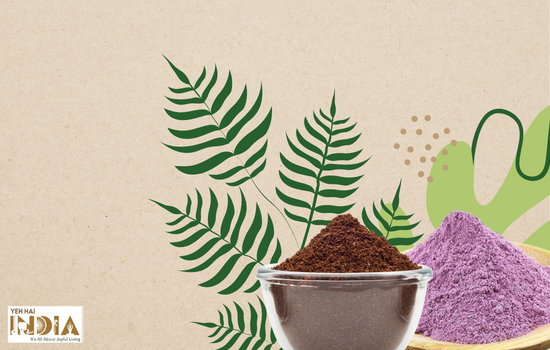 In a small bowl, blend equal parts of coffee and indigo Powder using some water to obtain a runny paste.
Keep stirring this mixture until the coffee grains get evenly blended with water. Using a hair dye brush, work this mixture onto the roots and the length of the hair. Leave it on for 45 minutes and rinse it off.
Repeat the application every three to four weeks to get rid of unappealing grays and obtain a more refined colour.
5. Beetroot Juice + Amla powder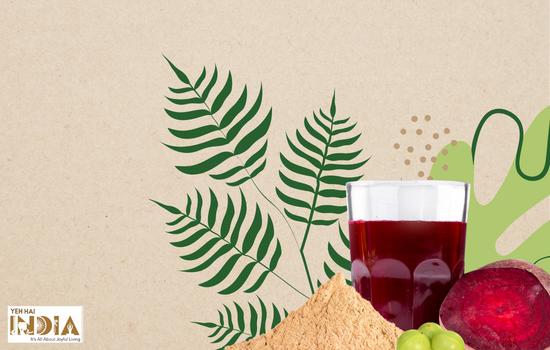 This recipe is best for those with brown or reddish brown hair. Beetroot juice imparts a deep red to purplish hue to greying hair, that's why we're using it with amla powder to help attain an evenly distributed color in people with dark brown or black hair.
To make this recipe work, mix 3 tablespoons of beetroot juice with 2 teaspoons of amla powder. You can, however, change the quantity of both ingredients to get a shade you desire.
Apply this concoction onto your hair, paying special focus on gray strands. End the procedure with a few touch ups on the roots of hair to evenly hide grays and lightened hair.
6. Black Tea + Indigo powder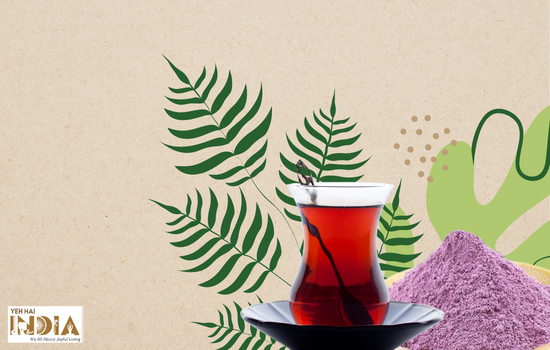 Brew half cup of black tea in two cups of water. More the tea you use, darker will be the color.
So, if you have light brown hair, you can easily hide gray hair with the tea mixture itself, but in case of darker hair color, it will help to add a quarter or half teaspoon of Indigo Powder to get a more intense color.
Work this blend onto your hair and scalp to let the color distribute evenly. Finish the process with touch ups to cover the grays.
7. Walnut Shells + Henna Powder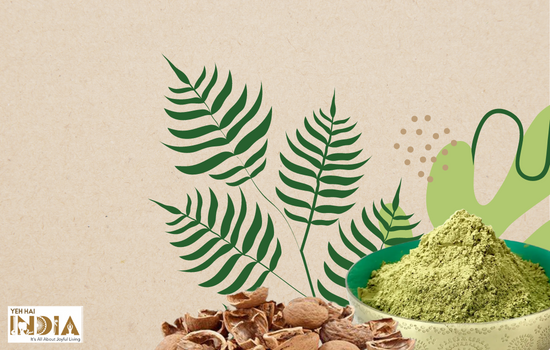 Walnut shells are a time tested natural hair colorant that are routinely added in commercial hair dyes. For Indian hair they work the best owing to the profound dark black color they create, perfect to address premature graying in black or brown hair.
To make a dye, brew a handful of walnut shells in a litre of water. You can use more shells to obtain darker color but start with less to get to know how much would be the right quantity to address your hair coloring requirements. Turn off the stove after 30 minutes.
Let the liquid cool, add a teaspoon of henna powder and stir it evenly. Use this mixture to color your hair and cover greys. Put on a shower cap and let your hair soak the liquid. Retouch graying hair to ensure a flawless finish after you wash your hair.
Wait for 30-45 minutes and rinse your hair with warm water to eliminate all the traces of the dye.
8. Blackberries + Food color
Now, no need to throw away those few damaged blackberries in the refrigerator, you'd completely forgotten about! Use them up instead to hide gray hair.
In a bowl, deseed 5-6 blackberries and mash them up into a smooth mixture with a fork. Add a little water to obtain the right consistency. Sprinkle a pinch of orange food color and give it a good mix.
Before beginning to apply it straight to your tresses, wait for five to ten minutes to let the colors disperse together evenly.
Start applying the hair color to slightly damp hair, paying special attention to the roots where you're likely to find more grays than in other parts of your hair. Massage the leftovers evenly onto your scalp once again to ensure complete absence of grays.
Put on a shower cap and let this dye work it's magic for about 45 minutes. Wash off the residues with warm water. Apply a soothing hair serum to seal in the color.
9. Black Carrot Juice + Sage tea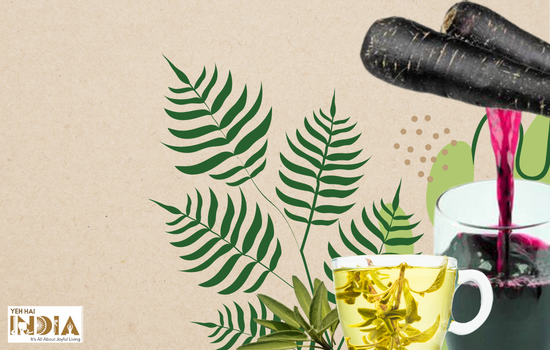 If you've skipped buying black carrots for a long time due to their ugly appearance, we give you a reason to bring them home this time you go vegetable shopping.
Not only are they full of antioxidants and carotene, they also give you a beautiful deep dark red color you can see only when you peel them. This dark pigment works best when used as a hair dye.
Mix half cup black carrot juice with half cup of cooled brewed sage tea. Stir the liquids together evenly and apply it onto graying hair using a cotton ball. Leave on for 30 minutes and wash off.
10. Molasses Syrup + Curry Leaf tea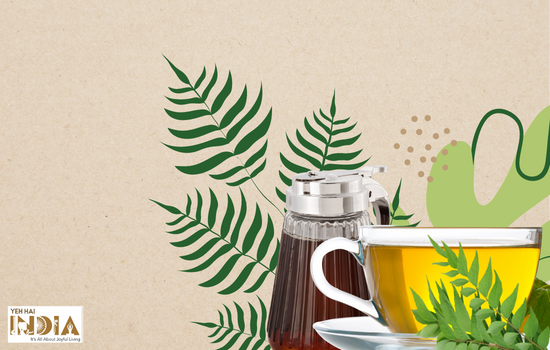 Molasses syrup is a little known secret to hair that stays black without any signs of graying for as long as you want them to be. You can either include them in your diet or use the syrup diluted in some other ingredient to hide grays
Blackstrap molasses, a byproduct of sugar is a highly sticky substance and before putting it on your hair, always remember to dilute it with tea, vinegar or lemon juice to prevent your hair from getting caught up in the gooey black substance.
To color your hair with this dye, we suggest you to mix a teaspoon of blackstrap molasses syrup with half cup of curry leaf tea. Gently start rubbing this liquid over your hairline, hair partings and the length of hair to lock in color.
Keep applying the mixture onto your hair until it starts to dry and stops dripping. Put on a shower cap and wait for an hour before rinsing your hair to eliminate any extra color.
Summary:
When using natural hair dyes, be willing to reserve the first few applications as a trial and not jump into drawing conclusions about their efficacy right after first application.
It does need a great deal of patience and will power to obtain the results you desire from these at-home hair coloring blends and make changes, afterwards, in the amount of ingredients used and the time you allow to let your hair soak in all the pigments to their best effect.
Natural doesn't always guarantee absence of side-effects or allergies. Some store bought natural agents might contain traces of allergic ingredients. Therefore, caution must be exercised while using such agents.
Only buy branded organic ingredients to prevent any possibility of adverse reactions and do a patch test on your skin to ensure complete safety before putting any such product on your hair.
Save your tresses from the damaging chemicals found in instant hair colours employing homemade ingredients that help nurture hair health in infinite ways.
Also Read – Hemp In Haircare: Secret To Strong, Lustrous And Voluminous Hair