The ultimate saviour for scorching summer season, these cold pressed juices are an ideal way to stay nourished and hydrated on any given day.
Summer is almost here and the importance of keeping ourselves hydrated sufficiently cannot be stressed enough. Water may be important, but replenishing essential nutrients and minerals is also equally important daily.
Processed drinks filled with sugars look attractive at this time and may even provide you with instant gratification. But they are not healthy in the long run. Health is now a major concern among everyone and it has inevitably given rise to various fad diets and crash courses.
One of the earliest fad diets was the juice cleansing diet in the early 2000s which increased the popularity of natural juices, especially cold-pressed juices.
Natural fruit and vegetable juices are unquestionably the best drinks available out there with a rich source of vitamins, minerals and enzymes that are required by the body for nourishment and strength.
The one major practical hurdle urbanite working people tried very hard to sidestep was the shelf life of these natural juices. It was only possible to retain their freshness throughout the day with refrigeration or storing them for more than a day or two.
Cold-pressed juice is the answer to these inconveniences whilst not compromising on the nutritional value of the juices.
Cold Pressed Juices: Know what you drink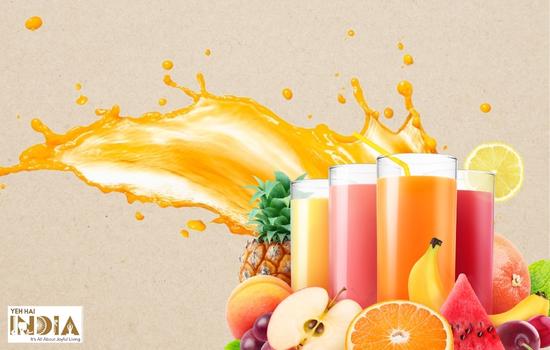 Cold-pressed juices are extracted from fruits and vegetables through a different process called hydraulic pressing. There are 2 general steps involved here- the first one is the shredding of the fruits and vegetables into a pulp.
In the next step, the pulp is pressed between 2 plates under extreme pressure to extract the juice from them. The juice content is collected in a tray while the squeezed-out pulp is usually recycled or composted.
The collected juice can be consumed directly or can be preserved through specific methods to prolong its shelf life. The commonly used preservation methods are Pasteurisation or Pascalisation (also called High-Pressure Processing) which kills the microorganisms that spoil the juices faster.
These processes also delay the degradation of the nutrients and phytochemicals in the juices which usually happens in less than 5-6 days.
Recommended Story – Cold pressed oils: Are they healthy and would they replace cooking oils?
Preservation vs Cold-Press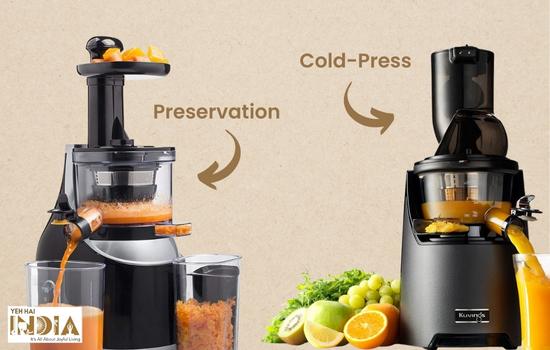 Generally raw, cold-pressed juices are not pasteurised or preserved through pascalization.
Pasteurisation is a temperature-controlled heating process that helps destroy the microorganisms that spoil the drink and lets you store the juice for a longer time.
Cold-pressed juices that are generally available in the market with a shorter shelf life of one week are those that are not preserved using any of these methods.
There is an ongoing debate on whether cold-pressed raw juices retain the highest level of nutrients or preserved juices do. Results from various studies vary based on the juice type, method of extraction and the preservation process involved.
Which one is better for you?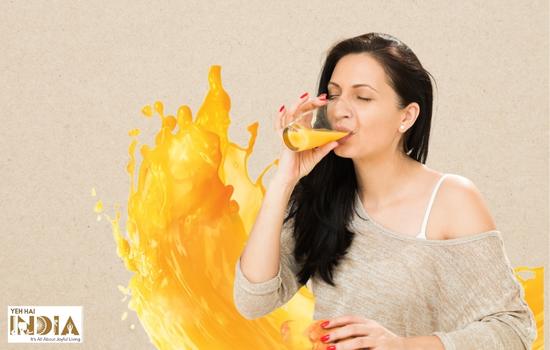 If you are debating between buying pasteurised Orange juice or cold-pressed Orange juice, you need to consider some factors.
The first is, you might get a lot of nutrients from cold-pressed juices but since all the pulp is thrown out during extraction, you miss out on the fibre content of the fruits and vegetables.
The second factor is again the shelf life; you cannot store raw, cold-pressed juices for more than a few days. They turn sour or bitter. Also, there is no actual data to support the fact that cold-pressed juices are better than other juices.
But if you compare carbonated, sugary drinks that going to erode your teeth and gut, cold-pressed juices are the best alternative to them.
Also, for those who cannot squeeze fresh fruits every morning, this is the next best thing you get. Their prices are on the higher side when you compare them with other preserved juices or non-fruit drinks.
This article has curated 10 Cold-Pressed Juice brands from India that offer a wide range of deliciously cool fruit and vegetable juices.
10 Most Popular Cold-Pressed Juice Brands in India:
1. RAW Pressery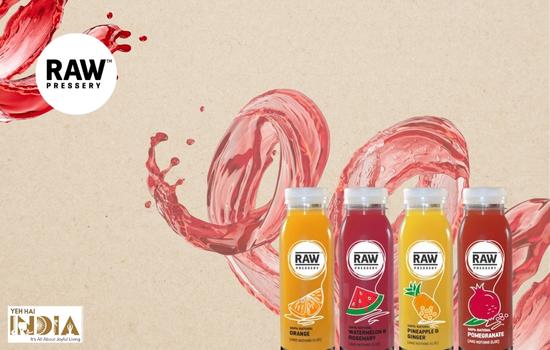 The most popular of all brands in India, RAW Pressery has grown not only in range but also in their borders.
From delivering directly to homes of Mumbai and Pune to becoming a branded store highly craved by Amazon, RAW Pressery has definitely proved its worth, quality and reliability in the last 10 years.
They offer plain cold-pressed fruit juices as well as a variety of mixed flavours for a very affordable price.
They also have combos and specially curated packs for people who prefer juice cleansing. Their juices are 100% organic and packed with nutrients and minerals essential for our body's health.
Price: Rs 30 to Rs 150 (100ml)
2. RUS Organic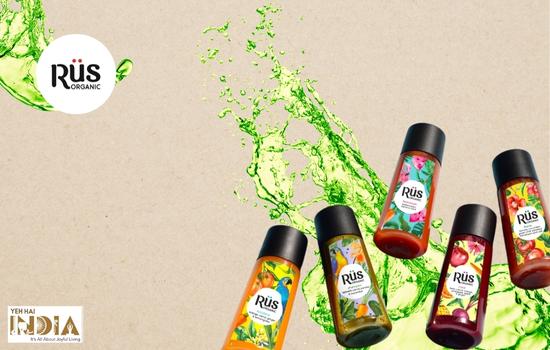 RUS Organic is a 100% organic Indian juice brand that offers several cold-pressed organic juices and cocktails made from fresh fruits and vegetables.
They source their produce directly from organic farmers and use only organic produce as they contain 30% to 40% more nutrients than conventional produce.
Using pesticide-free organic produce not only gives us healthier juices but also helps preserve the soil integrity, and maintains the biodiversity and ecological balance in nature.
RUS Organics offers cold-pressed juices that are slow-pressed to decrease oxygenation which does not diminish the natural taste of the fruit or vegetable.
These juices are even packaged in recyclable bottles to sustain our environment. All RUS Organic juices are completely gluten-free, dairy-free, additive-free and purely vegan.
Price: Rs 65 – Rs 150 (200ml)
3. Antidote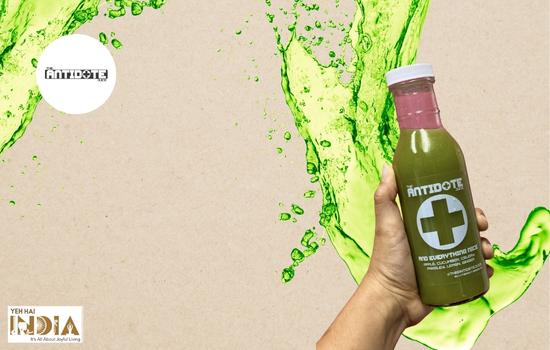 The first thing you notice on an Antidote juice is its packaging. Unlike other fruit juices in clear plastic or glass bottles, Antidote has chosen an amber-toned bottle for their juices.
Founded by sisters Nadia Singh Bahl and Carol Singh, Antidote was conceived in Delhi and sold 5 different types of juice cleanses named very creatively. They include Skinny Down, Light Up, Horsepower, Nine Lives and Exhale.
Antidote uses a unique combination of fruits and vegetables for these juice cleanses. They also offer 1-day cleansing packages and subscription plans for months based on your personal requirements.
4. Rejoov
Rejoov is a Bangalore-based juice brand with various flavours on offer, right from apple and orange to kale, celery and spinach. The juices serve as snack replacements and curb your hunger between meal times.
These juices may sound boringly healthy, but they are also just as delicious and refreshing. Rejoov has all the details of the juices right on their bottles so you can pick the right combination based on your specific needs.
Rejoov products are available on Instagram, Nature's Basket, Big Basket, Spar Supermarkets, etc.
5. Juicifix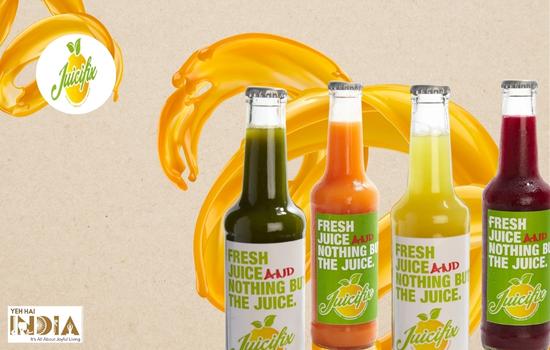 A very popular cold-pressed juice from Mumbai, Juicifix offers a wide range of exciting flavours right to your doorstep.
They also have specific combinations of fruits and vegetables specially made for detox, skin health and radiance, antioxidant boost, etc. Their juice cleanse includes a pack of eight juices that are made from several fresh fruits and vegetables.
A 1-day juice cleanse costs about Rs 1,200 while a 3-day juice cleanses from Juicify costs Rs 3,600.
6. Fruitilicious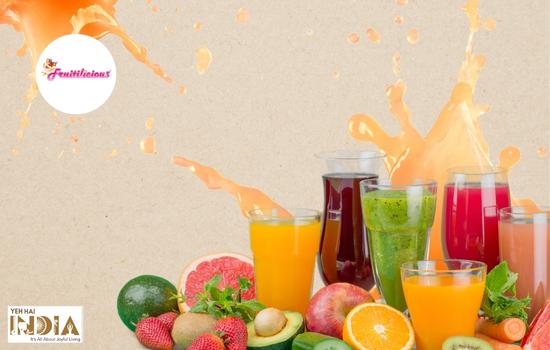 Fruitilicious is a Mumbai-based brand that offers fruit-based cakes, platters and juices. Their cold-pressed juices are locally sourced and made from fresh, tasty fruits such as pineapples, oranges, kiwi, guava and pomegranates.
They also offer mixed fruit combos that come in a pack of 8 with cute, little bottles.
Prices vary depending on flavours and range between Rs 140 – Rs 160 (100ml).
7. Cleanse High
Cleanse High believes deeply in the juice-cleansing diet for a healthier life. They offer combo packs for a 1-day cleanse, a 3-day cleanse and a weight loss package for 15 days.
Prices of these combos vary from Rs 1500 to Rs 13,500 based on the package. Apart from this, they also offer smoothies, soups, teas and special botanical tonics on their website.
8. Fresh Pressery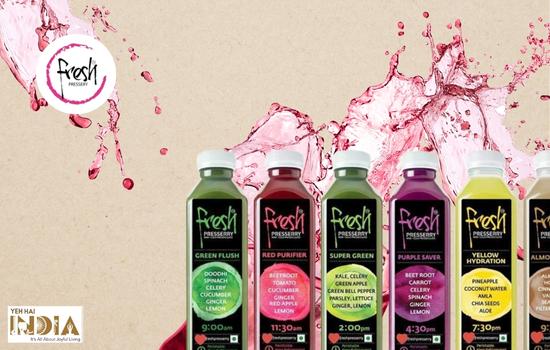 A Bangalore- based brand that offers 9 different types of cold-pressed juices made from a combination of a variety of fruits and vegetables.
They have specially curated packs and combos that act as cleansing packages with 7 bottles of cold-pressed juices each 400 ml in quantity.
You can buy their cold-pressed juices separately as well for a price of Rs 143 (200ml) and Rs 238 (400ml).
9. Juice Cult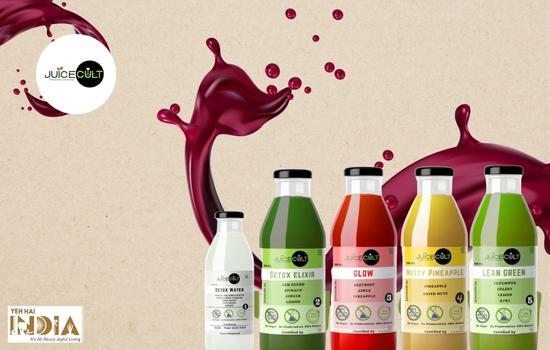 Juice Cult has been in the market since 2019 with a signature line of cold-pressed juices curated by Jatin, a certified Juice therapist.
Their cold-pressed juices are sold individually, as predesigned combos or custom-made packs tailored to suit your needs. Juice Cult also offers monthly subscriptions for those who want to follow the juice cleanse regularly.
Deliveries are made every day for members in and around Mumbai, based on the juices of your choosing.
10. Frugivore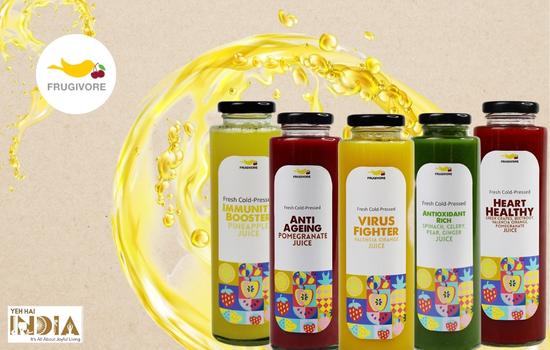 Frugivore began as a delivery service for fresh, high-quality food products across the Delhi, Gurgaon, Noida, Ghaziabad and Faridabad regions.
They also offer their own products under Frugivore Originals which include a line of healthy, cold-pressed juices made from fruits and vegetables for weight loss, detox and boosting immunity among other benefits.
You can find their cold-pressed juices on their app or website.
Make your pick to reap a wealth of benefits that come from cold pressed juices to give a healthy start to your day.
Also Read – 9 Miraculous Benefits of Aloe Vera Juice