As part of her daily fitness diet plan, Katrina Kaif's Mother-In-Law Makes Sweet Potatoes for her to help her manage post-wedding weight gain.
During a recent appearance on The Kapil Sharma Show, Katrina Kaif revealed something about her marriage.
"Mummyji used to push me really hard to eat parathas at first, but I cannot since I'm on a diet," she explains. "And now that I have been married for over a year, my mother-in-law makes sweet potatoes for me".
It is no surprise that Katrina Kaif happens to be one of the fittest actors we have today and a large part of that is attributed to the strict diet regimen she never fails to follow.
Without a doubt, sweet potatoes figure among the healthiest foods that provide body both energy and nutrition and are an inseparable part of a balanced diet plan.
They're a source of complex carbohydrates and can be counted as a nutrient dense food
They also pack in healthy fibre, several vitamins and minerals and therefore makeup as a healthy substitute to junk food.
Sweet Potatoes are a rich source of vital micro nutrients such as beta carotene, phosphate, calcium, carotenoids, thiamine, potassium, and Vitamin C, all of which work to support the immune system, help build stronger bones and promote heart health.
If you want to spike it's flavor a bit, then have it roasted which intensifies its sweet flavor yet keeps all the nutrients intact, within its skin. You can also make a variety of dishes from this simple vegetable.
Health Benefits of Roasted Sweet Potato:
1. Good for diabetes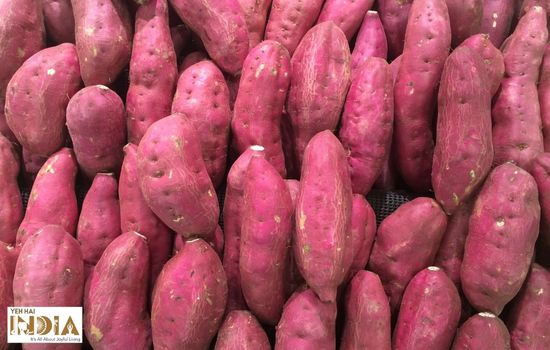 Sweet potatoes have low glycemic index compared to potatoes which makes it suitable for diabetes patients. However, they can only be helpful if consumed in moderation. You can have them boiled to manage blood sugar.
They're a good source of magnesium and insoluble fibre which helps regulate blood sugar and curb insulin resistance in people with type 2 diabetes.
However, if you experience a sudden rise in blood sugar levels, you should only consume sweet potatoes on the advice of your doctor. 
Recommended Story – Diet And Nutrition Tips for the Wedding Season
2. Good for eyesight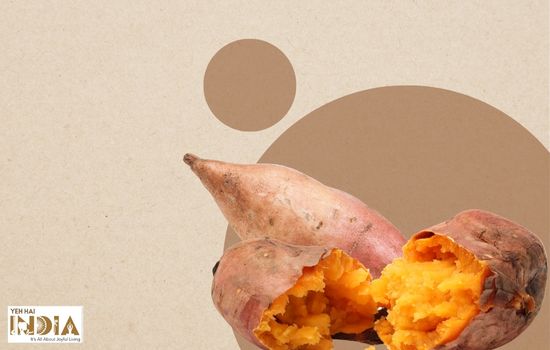 Consuming sweet potatoes can help keep your eyes healthy. Sweet potatoes contain high levels of beta-carotene and vitamin A.
These nutrients are known to protect the eyes and lower the risk of eye diseases.
3. Helps manage weight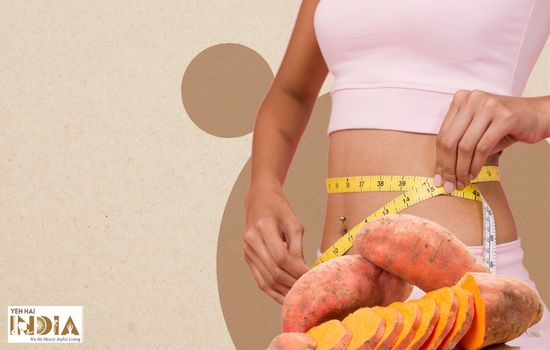 Sweet potatoes are high in fibre, which help inhibit the growth of fat cells to assist in weight loss.
In the body, sweet potatoes aid in reducing inflammation. Eating a bowl of roasted sweet potatoes makes you feel less hungry, which aids in gradual weight loss.
4. Reduces the risk of cancer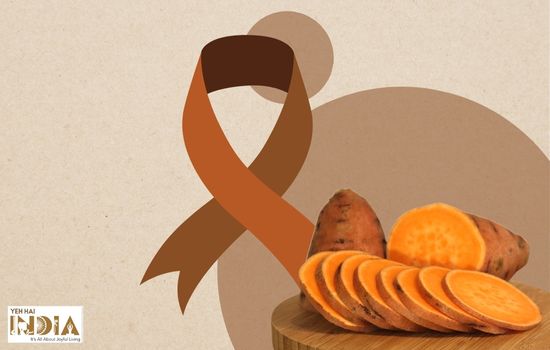 Eating sweet potatoes ensures cancer prevention due to the presence of carotenoids that help fight free radical damage.
Moreover, sweet potatoes are an abundant source of an ànti-oxidant anthocyanins, a natural compound that helps reduce the risk of developing colorectal cancer.
However, you need to consult your doctor to know whether it's safe to consume sweet potato, especially if you already suffer from cancer or any other chronic health condition.
5. Good for cholesterol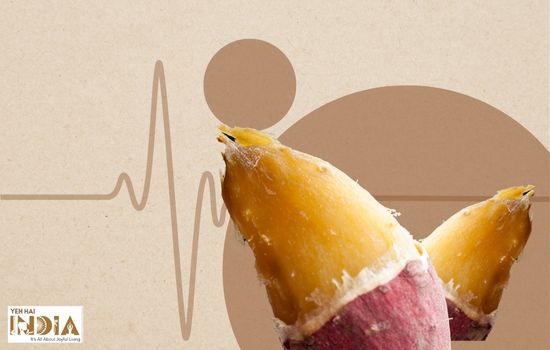 Sweet potatoes must be included in your diet to improve heart health. It reduces bad cholesterol while increasing good cholesterol and lowers the risk of heart disease.
6. Helps to improve skin texture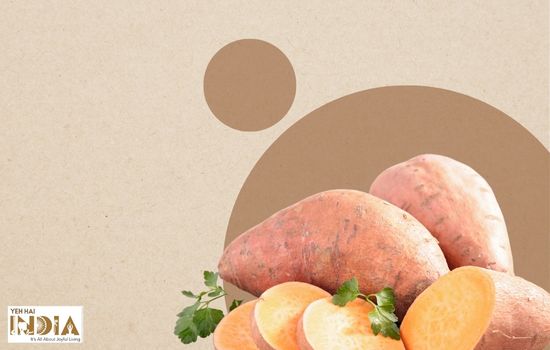 Sweet potatoes are an ideal skin food with all the the different types of nutrients they contain, namely, antioxidants, vitamins A, C, and E.
Eating this vegetable helps maintain ideal levels of vitamin C that our skin needs to manufacture collagen, the structural protein that makes skin elastic and resilient.
7. Boosts immunity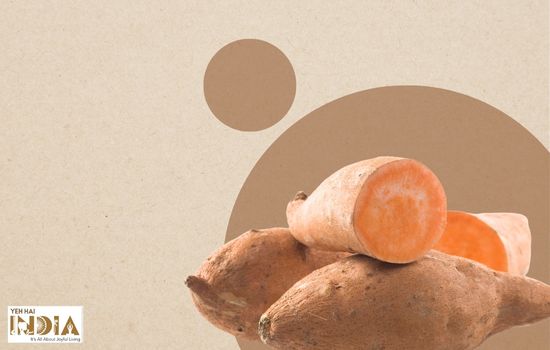 Sweet potatoes with orange flesh are high in the antioxidant beta-carotene. This beta-carotene gets converted into vitamin A which is needed by our body to build immunity and prevent diseases.
It also helps maintain the natural gut bacteria to ensure optimum absorption of skin nutrients.
8. Good for digestion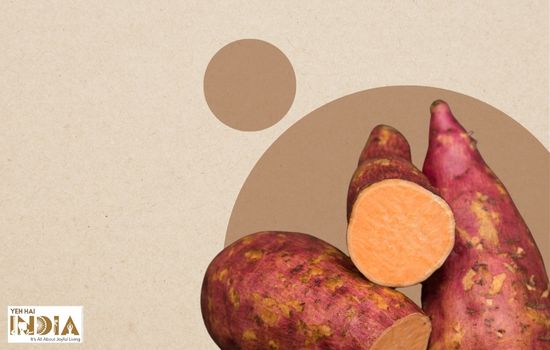 Sweet potato is the most easily digested food item that is high in both soluble and insoluble fibre. This helps the digestive system absorb nutrients more easily and also assists in toxin removal without straining the vital organs.

For this reason, this food can safely be consumed by children and older people.
It also contains significant amounts of phytosterols, which not only protects the digestive system but has the potential to prevent and treat gastric and duodenal ulcers.

Keeping in view all the great benefits of sweet potatoes, it is no wonder that more and more people have started to adopt it as a health food in their daily diets.

It protects, nurtures and easily qualifies as a post-work-out meal to meet the high energy needs of high intensity workouts on a day-to-day basis.
All praises for Katrina Kaif's MIL and her wonderful choice of health food she lovingly prepares for her newly wedded Daughter-In-Law!
Also Read – Ayurvedic Diet: 10 Rules To Stick To For Disease Free Life