Potato is a remarkable kitchen staple that has the power to make your skin glow like never before.
Want respite from those unsightly blemishes, spots and unevenness wreaking havoc on your facial beauty!
We have a cure that not only helps clear up your skin within a week but is way more convenient and lighter on your pockets than commercial skin clarifying treatments.
Raw potato is something that has not got the recognition it deserves, in spite of being an expert skin corrector. The only beauty purpose it served in the past was treating dark circles and eye bags.
However, as we got to know more ways of obtaining beautiful skin, this ingredient became an essential element in daily skin care.
Potato juice is a natural bleaching agent that helps lighten scars, spots and blemishes. It's skin lightening properties come from a special enzyme called catecholase found in abundance in potatoes.
With consistent use on your face, you can notice visible improvements on your face and skin texture. It not only clears up your skin, but also helps manage issues like acne, enlarged pores and dullness.
For skin that needs instant rejuvenation, potato juice offers the right mix of nutrients to help revive it. This translucent liquid moisturizes the skin from within and leaves it nourished, hydrated and radiant.
For oily skin, it works as an astringent that helps tighten skin pores and regulate sebum release to minimize greasiness on skin.
If you're needing inspiration on how to use raw potato for your particular skin concerns, then here are ten beauty recipes that can help address the issues you've been facing.
How To Get Clear And Glowing Skin With A Potato In 10 Different Ways:
1. Raw Potato and Oats Skin Clarifying Facial Scrub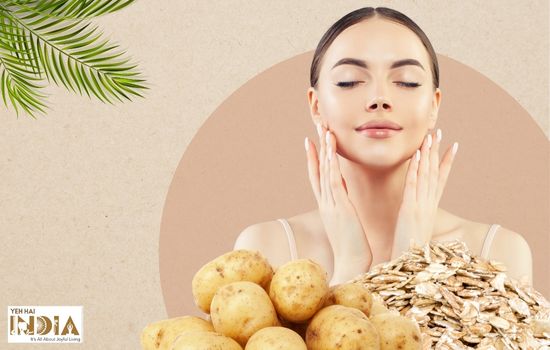 Dullness on the face often results from poor circulation and lack of proper care your skin requires to look glowy and nourished.
You can easily use raw potato with oats to restore vitality and rosiness to your drab looking face.
What You Need:
1 Raw Potato (medium sized)
1 teaspoon Aloe Juice
How To Use:
Pierce the potato with a fork to release its juices
Place the cut up potato over oats
Sprinkle a teaspoon of aloe juice over the oats sticking on to the potato
Squeeze the potato to let the juice soften the oats a little more
Once the oats soften, rub this potato drizzled with oats and aloe juice over your face, neck and forehead evenly to cleanse away grime and debris hiding inside the pores
Wash off after ten minutes
Frequency:
Once  a week or every five days
Recommended Story – 10 Best Natural Exfoliants To Get Clear, Glowing And Youthful Skin
2. Potato Juice and Honey Anti- Ageing Face Cleanser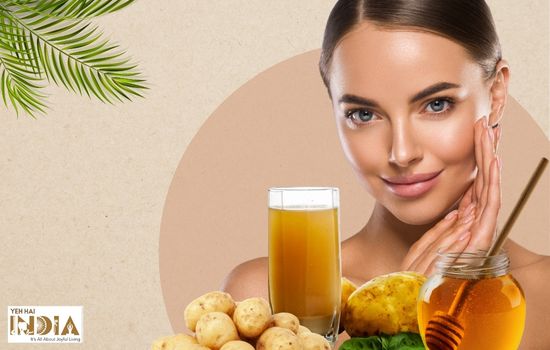 Honey is not only a miraculous skin purifier but also boasts of its inflammation reducing and wrinkle prevention qualities.
Using it with potato juice is a great way to tap into its wonderful skin correcting abilities.
What You Need:
2 tsp Potato Juice
1 tsp Honey
Cotton ball
How To Use:
Mix together honey and potato juice in a small bowl
Soak this mixture in a cotton ball and dab it all over your face
Reapply on the corners of nose, forehead, and chin to soften and remove any extra grime and black heads
Wash off after 15 minutes
Frequency:
Twice every week
3. Potato and Turmeric Scar Removal Face Mask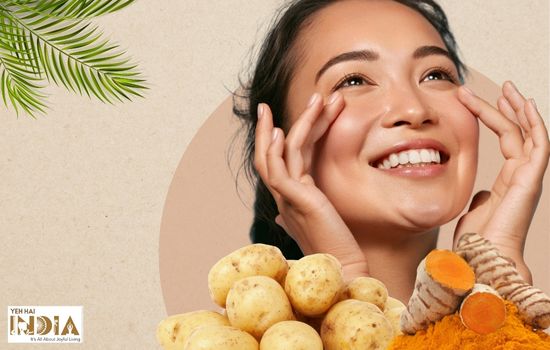 Potato has incredible scar reducing abilities. Just rubbing a potato on acne scars for over a month can greatly help in reducing their appearance.
Pairing it with Turmeric, another expert skin brightener helps quicken the healing process to give freedom from scars and unevenness on your face.
What You Need:
1 Raw Potato
4 tsp Organic Turmeric Powder
A pinch Baking Soda (optional)
How To Use:
In a blender, puree one potato, stir in Turmeric powder and blend again
Whip this mixture evenly to form a smooth yet thick paste that's easy to apply to your face
You can add a pinch of baking soda if you want to this blend to quicken the scar removal process and prevent future acne break outs
Apply this mask either all over your face or just on parts where you have acne scars brought on by previous acne flare ups
Wash off after 20 minutes
Frequency:
Twice or thrice a week
4. Potato Juice and Rice Flour Blemish Control Face Pack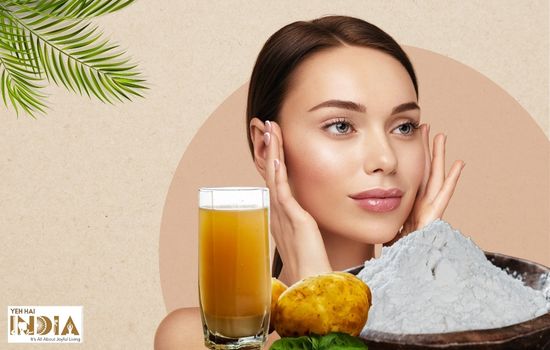 Rice flour is a superb skin revitalizer that not only replicates skin texture externally but works to restore nutrients and moisture to dry, damaged skin.
Incorporating it with Raw Potato Juice takes things to another level and in turn, leaves your skin youthful, radiant and blemish-free.
What You Need:
2 tbspn Rice Flour
3 tbspn Potato Juice
5-6 drops Almond oil
How To Use:
Mix together Rice flour and fresh potato juice and stir evenly
Add a few drops of Almond oil if you're skin is dry
Blend to assimilate the oil evenly in the mixture
Apply this mask onto cleansed face, nose, forehead, chin and neck
Wash off after 20 minutes
Frequency:
Every Two Weeks
5. Raw Potato and Cucumber Eye Mask for Dark Circles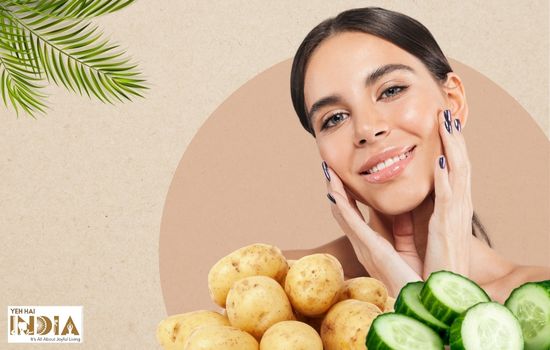 On days when the intense summer heat begins to take a toll on your vision and makes you feel like taking a break, this two-ingredient mask comes handy to let your pretty peepers rest and calm down.
It's fused with cucumber and raw potato that work to reduce strain on eyes to prevent fluid retention and dark circles.
What You Need:
1 Raw Potato (peeled)
½ Cucumber (peeled)
How To Use:
Put the potato and cucumber in a blender and blitz it to turn it into a fine mixture
Pour this mixture in a small bowl and stir it once again
Start applying the blend under your eyes and above your eyelids
Cover your the eyes with a few sheets of tissue paper to secure the mask
Wash off after 15 minutes
Tip:
Use the leftovers for the rest of your face, neck or arms to soothe your skin
6. Potato Juice and ACV Anti-Acne Skin Toner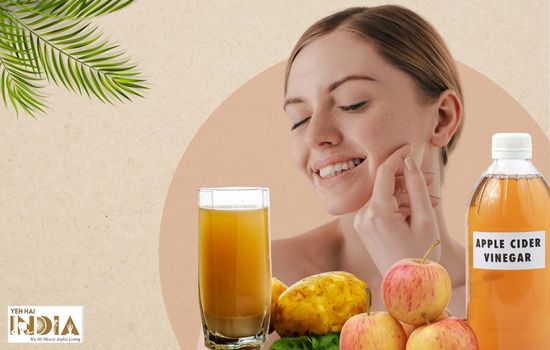 Those with enlarged pores need not worry as this face toner is formulated just for you. It not just helps tighten and shrink the pores but also helps cleanse the debris and sebum that is likely to collect on skin.
ACV is a remarkable ingredient that helps treat facial flaws better than any store bought anti-acne potion.
What You Need:
1 tsp Potato Juice
½ tsp Apple Cider Vinegar
How To Use:
Stir both the liquids together in a small container
Close the lid and shake it
Use a cotton ball to apply this blend onto cleansed face to tone and firm up the skin
Wash off after 10 minutes
Frequency:
Twice or thrice a week
7. Raw Potato and Aloe Vera Gel Anti-Wrinkle Face Pack
Those with ageing skin can now expect to overturn their ailing skin condition with simple kitchen ingredients. For wrinkles raw potato is no less than a blessing. You can get crease-free skin just by rubbing a potato over wrinkles.
Together with Aloe vera, it gets easily absorbed into the skin without disturbing the pH levels.
What You Need:
1 Raw Potato
6-7 " Aloe Leaf (Freshly Picked)
How To Use:
Halve the Aloe leaf lengthwise to extract it's gel
Scrape off the gel with a clean knife an reserve this in a separate bowl
Rinse this gel with a little water and beat it into a fine blend to be mixed with potato
Grate the potato and stir in Aloe vera gel
Mash this mixture with a fork to incorporate both the ingredients well
Cover your face with this blend leaving the eyes and mouth and secure with a tissue paper mask
Use a damp towel to prevent the mask contents from coming off your face
Wipe off the mask after 20 minutes and wash with warm water
Frequency:
Every five days
8. Potato Juice And Gram Flour Face Glow Pack
If you have a special event to attend and don't have time for a facial, use this
instant glow face mask made from gram flour and potato juice to unleash clear, plumped up and radiant skin.
What You Need:
1 tbspn Potato juice
2tsp Gramflour
How To Use:
Blend Potato juice and gramflour together in a bowl
You may add a little water to get the right consistency
Stir again and apply on cleansed face in upward strokes
Once the mask begins to dry after 20 minutes rub it off with your fingertips
Wash off the remnants with cold water
Dab some olive oil to protect your skin from build up of bacteria
Tip:
Use this mask a day before the event to give your skin ample amount of time to recover from the exfoliation process
Frequency:
Once a month
9. Potato Juice, Glycerin and Olive Oil Face Pack For Dry Skin
This face mask expertly breathes life into dry damaged skin. It immediately works to restore moisture and nutrients to help quicken the healing process of skin and rescues it from any further damage.
What You Need:
1 tsp Potato Juice
6 drops glycerin
1)2 tsp olive oil
How To Use:
Whisk together Glycerin and Olive oil in a small bowl with a fork
Stir the juice evenly with glycerine and olive oil
Reserve this liquid in a bottle and shake it we'll
Apply it on your face as a face serum and use the leftover on your hands
Cleanse your face with a foaming face wash after 20 minutes
Frequency:
Once a week
10. Potato Juice and Fuller's Earth Anti-Acne Face Mask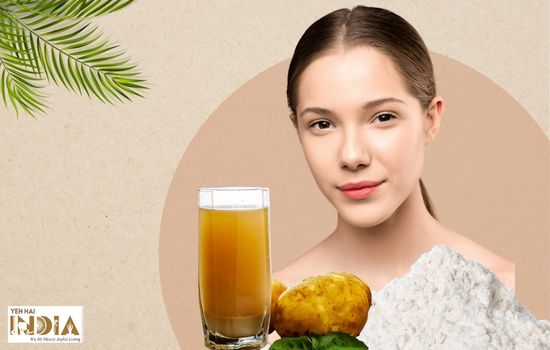 Managing acne-prone skin becomes easy with this potato mask that uses the goodness of Fuller's Earth in controlling sebum release.
It infuses a radiant glow to your skin and cleanses impurities, blackheads, whiteheads and reduces the appearance of scars.
What You Need:
2 tbspn Potato Juice
2 tsp Fuller's Earth
How To Use:
Whisk together Fuller's Earth and a tablespoon of Fuller's Earth
Stirring the blend, slowly add more juice to make the paste smooth and easy to apply
Once the desired consistency is obtained, apply this face pack onto cleansed face
Pay special attention to forehead, nose, chin and neck to get rid of oiliness and blackheads
Wash off after 20 minutes
Frequency:
Once a week or once every fortnight
Summary:
Potato is such a humble vegetable that makes it a must-buy no matter what purpose you have in mind.
You can use it not only to prepare yummy dishes but can also benefit from its amazing beauty recipes that help you attain your most cherishing beauty ambitions, at no extra cost.
So, instead of splurging on highly-priced beauty potions that come with their own set of skin concerns, bring home some Potatoes everytime you go shopping and use a portion to make beauty recipes for your particular skin condition.
Untap the wealth of skin beautifying effects of potatoes and get freedom from skin issues that keep erupting from time to time.
Also Read – 12 Ultimate Morning Drinks To Get Healthy, Glowing Skin