Give your mornings a perfect start with these drinks made from fresh ingredients and superfoods to look and feel your best.
Having an energizing drink in the morning is considered great for the body's metabolism and digestive system.
Drinking one or two litres of water in the morning is believed to help your body function better and eliminate all metabolic wastes, which helps obtain clear skin.
In a society where everyone strives for perfection, people will do anything to have skin that is clear and healthy-looking.
Sometimes the issue is internal when people develop skin problems when they try to experiment with different kinds of cosmetic items including masks, face wash, creams, gels, packs, scrubs, and exfoliators.
It's vital to detoxify your body from time to time because the accumulation of toxins may contribute to skin conditions like pre-mature ageing and acne.
Consumption of detox drinks in the mornings is the easiest way to remove these waste products s from the body.
If you think you need to get a detoxifying therapy to infuse a youthful glow to your skin then here are some delicious, easy-to-make drinks that can help you remove toxins from your body and achieve healthy, bright skin.
12 Morning Drinks For Fresh, Dewy Skin:
1. Lemon Water and Honey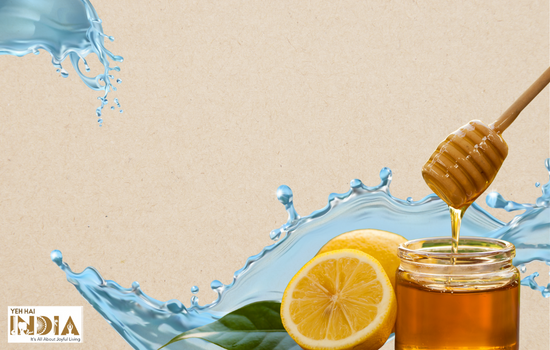 Drinking warm water flavoured with lemon and honey may be very good for your skin.
According to some studies, lemon juice is quite effective against the growth of fungal organisms that cause skin illnesses.
It also contains vitamin C, which helps the skin regenerate and encourages the production of healthy skin cells. 
Recommended Story – Should You Be Eating Fruit In The Morning?
2. Fruit Juices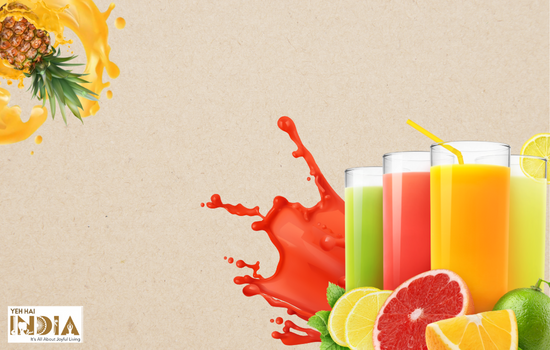 Freshly squeezed fruit juices are loaded with vitamins and other nutrients that are healthy for your skin. Apples contain antioxidants that help prevent early signs of ageing on the skin, while oranges contain vitamin C, which fights free radical activity in the skin.
Pomegranates also contain anti-aging properties that help skin cells regenerate. Drink a glass of your favourite fresh fruit juice to add a healthy glow to your skin.
3. Green Tea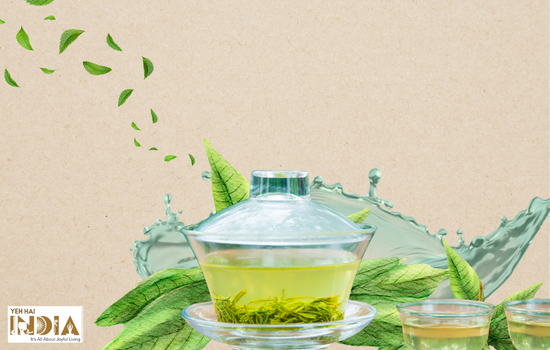 Green tea increases the body's metabolic rate. We have a slow metabolism in the morning, and beverages like green tea help to enhance metabolism.
Green tea also contains catechins, an antioxidant flavonoid that slows the ageing process of the skin.
A cup of green tea in the morning can help with acne, unclog pores, and other skin-related issues. The green tea polyphenols have the ability to prevent or delay the development of skin cancer.
4. Turmeric Milk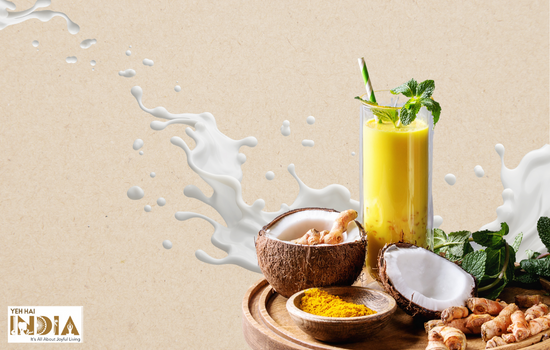 Widely known for its numerous skin and health benefits, turmeric milk has also been used as a conventional antibiotic and antiviral drug in Ayurveda.
While turmeric's antibacterial qualities help to prevent acne, whole milk hydrates the skin. It contains a lot of antioxidants, which slow down the ageing process and in turn give you a youthful skin.
5. Raisin Water
Water has a crucial function in maintaining the health and clarity of our skin. Raisin water, also known as "Kishmish Water," is a hot beverage created by soaking raisins overnight.
This drink helps cleanse blood and helps boost blood circulation and treats conditions like anaemia, hypertension and diabetes.
You can have naturally glowing skin, free of acne and pimples by drinking raisin water every day.
6. Pineapple Juice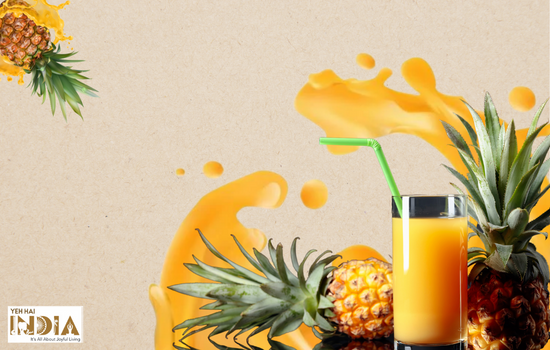 Drinking pineapple juice can help with acne treatment, sun protection, and skin tone balancing for a uniform and radiant complexion.
Because of its high vitamin C content, anti-inflammatory, and antibacterial qualities, pineapples help to maintain healthy skin.
7. Orange, Carrot and Ginger juice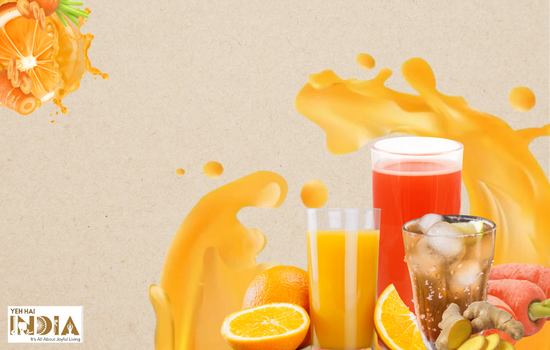 The tart fruit is well renowned for maintaining youthful-looking skin! It contains vitamin C, which encourages the synthesis of collagen and improves skin suppleness.
Additionally, carrot and ginger undoubtedly offer your skin a healthy glow.
8. Water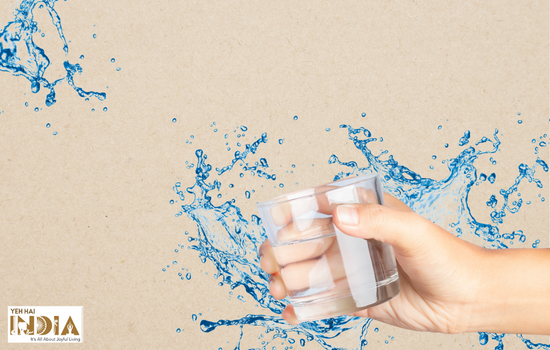 Water consumption is known to produce excellent health effects. Our body is 75 percent water in the form of fluids, and water performs a number of tasks that keep skin clear and healthy; on the other hand, dehydration results in dry, itchy skin.
Drinking 4.5 to 5.5 litres of water early in the morning each day gives your body a complete detox, helping it get rid of pollutants. This therapy is known as water therapy that is widely used to improve different body functions and cleanse the digestive system.
9. Apple juice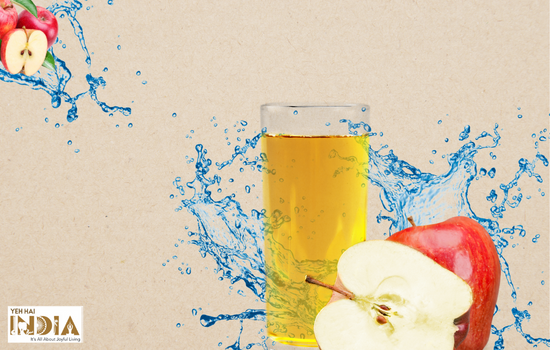 The old saying 'An apple a day keeps the doctor away' does make sense! These miracle fruits are excellent for your skin and general wellbeing.
Apples are rich in collagen, which gives your skin its softness and shine.
Additionally, they include antioxidants that stop wrinkles and skin tissue damage, and prevent early ageing symptoms.
10. Papaya Juice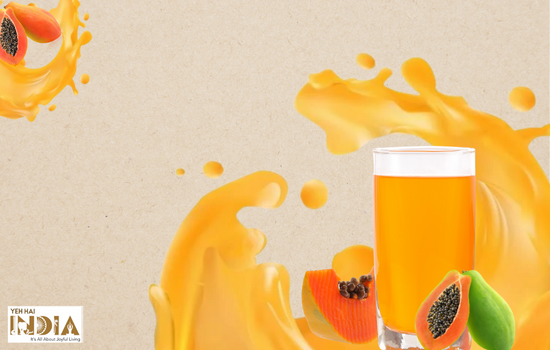 This fruit has always been known for its digestion improving capabilities and has always provided assistance when required.
It includes the papain enzyme, which aids in removing skin contaminants and revealing clear, radiant skin.
For silky, radiant skin, frequently consume papaya juice.
11. Pomegranate juice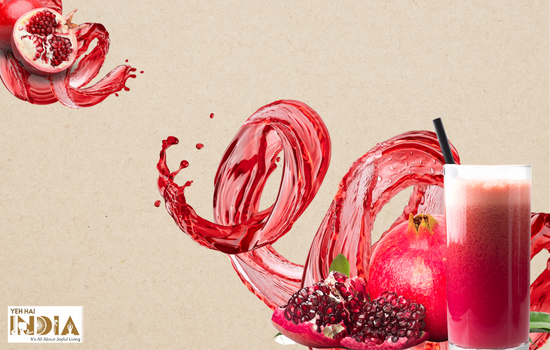 Pomegranate juice has the capacity to cleanse blood and can aids in nourishing and enhances skin radiance.
Additionally, it possesses anti-aging qualities that promote cell regeneration, which results in youthful and attractive skin.
You should definitely sip on some pomegranate juice every day!
12. Aloe Vera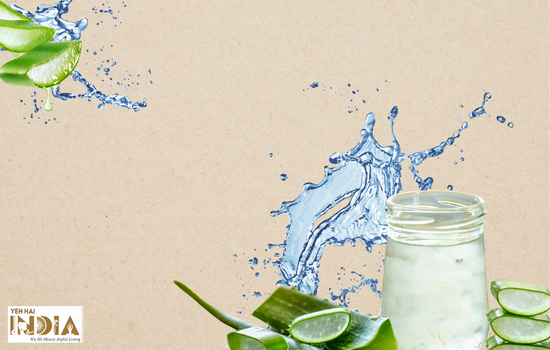 Aloe vera, one of the best herbs in the world, is a flexible treatment for the majority of your health problems as well as skin difficulties.
It is well known for its calming effects and is fantastic for giving the skin the maximum amount of hydration. It lessens skin swelling and discomfort while also accelerating the synthesis of collagen.
It is also a helpful treatment for any skin injuries or wounds and speeds up healing. Most importantly, it gives your skin a delicate amount of hydration and aids in the development of a healthy shine.
Remember to get your dose of nutrients every morning with a drink that best suits your health needs in order to add a youthful glow to your skin.
Also Read – 10 Benefits Of Drinking Water Stored In A Copper Vessel