Are you afraid of playing Holi because of the side effects of Holi colours? You don't have to be anymore! With these safe organic holi colours, you can now play Holi to your heart's content!
Holi is one of the biggest festivals in India and marks the beginning of the delightful spring season. The festival is celebrated with joy, enthusiasm, spirit of friendship and love among the people and these days organic holi colours are much in demand to celebrate this festival.
Holi started out as a harvest festival but today it holds a wider cultural significance and reflects the colourful nature and diversity of our country. It has religious significance as well and begins on the Purnima Tithi of the month and Holika Dahan is performed.
However, playing with colours is the most important aspect of Holi across the many states where it is celebrated.
What Are The Side Effects Of Holi Colours?
The colours that are used most commonly contain hazardous chemicals like lead oxide, mercury sulphate, powdered glass, silica, etc. These chemicals are related to increased risk of severe diseases like asthma, kidney failure, liver problems, cancer, allergic reactions, dermatitis, etc.
To make this festival a safe and beautiful celebration it is important to make sure the colours you are using are safe for your skin. Many people are afraid of going out in Holi because of the deplorable quality of chemical colours that cause allergic reactions in many people.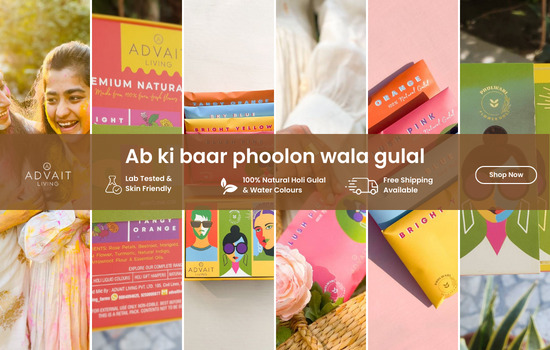 To avoid such problems, brands have come up with collections of organic gulaal that don't contain these harmful chemicals.
The people who were once unable to enjoy Holi can play as much as they want to now without worrying about the side effects.
What Are Organic Holi Colours?
Organic Holi colours are made from natural materials like recycled waste flowers, natural dyes that are used to dye clothes, etc. The colours made from these materials are just as bright and vibrant as regular colours.
Are Organic Holi Colours Safe?
Organic Holi colours are completely safe and equally beautiful provided they are manufactured using the right ingredients and correct technique in a standard facility. It is important to check background of a brand before buying organic Holi colours to ensure the colours are chemical-free and non-toxic.
Let's take a look at the top brands that are selling the best organic Holi colours.
Recommended Story – Top 10 Food Items to enjoy on Holi
1. Advait Living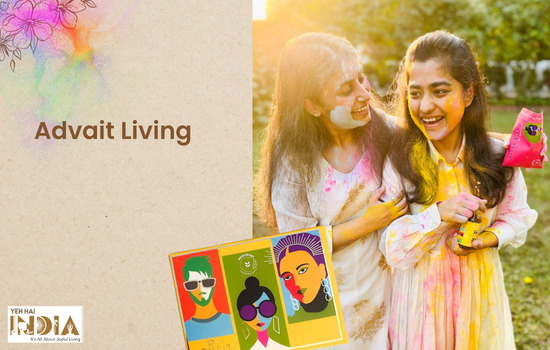 Advait Living brings forth a collection of plant based colours manufactured from 100% edible produce cultivated in its farms. Crafted from gentle and pure ingredients, their Holi colour range consists of organic Gulals and liquid colours in pastel shades – blue, green, yellow, pink and tangy orange.
These organic colours are handmade utilizing flowers and vegetables sourced from its own farms to create colours that are soft in texture and gentle on the skin. Contrary to non-organic colours that are full of harsh chemicals, Advait Living Holi colours range does not damage plants and can be safely discarded without polluting the surroundings. They're easier to wash off and do not leave any kinds of stains on the skin.
Advait Living takes extreme care in packaging all its products to promote sustainable living. Its Holi products are wrapped in plastic free, sustainable and recyclable packaging to help minimize waste.
Price: Rs. 135/100 grams
2. Phool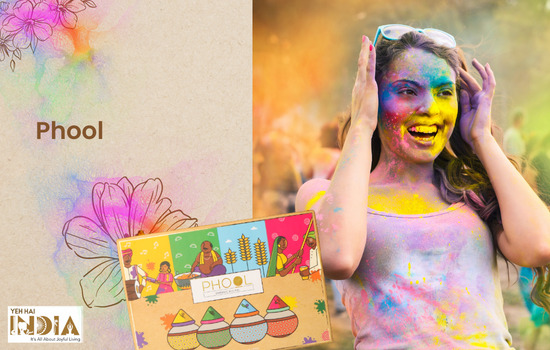 As the name suggests, the brand uses flowers to make chemical-free gulaal. They usually use temple flowers and nirmal from the Ganga river and extract colours from it to recycle it. You can buy the organic gulal box from Phool which contains four colours and a premium delicious thandai.
When it comes to the ingredients, you can be sure that there is no contamination from any chemicals because the Phool Holi Colours are tested and certified by Industrial Research and Toxicology (IIRT). The colours are made of flowers and rice flour and do not create any stains on clothes or skin.
Price: Rs. 120/100 grams
3. Little Canvas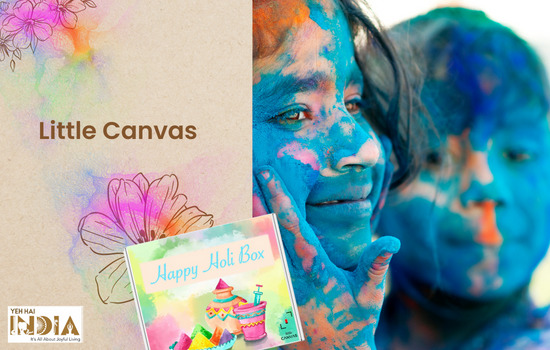 Little Canvas is an amazing brand which produces completely safe and organic Holi colours. They sell Holi colours in cute little boxes called "Little Holi Box". The colours in this combo include yellow, orange, pink and green.
You can buy this Little Holy Box for enjoying a natural and healthy Holi without worrying about chemical damage to your skin and hair as these colours are made using natural ingredients like flowers and dyes.
Price: Rs. 250/100 grams
4. Nila Jaipur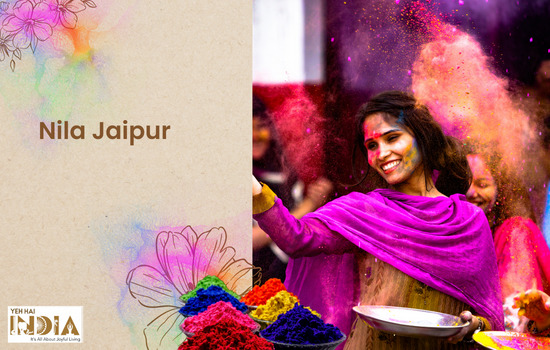 There are multiple reasons for choosing this brand as it provides an all-round great combination of features. Their gulal are handmade from organic and natural materials and are also very eco-friendly.
They have collaborated with a company called Banyan roots which employs forest dwelling communities in Rajasthan and helps them promote the traditional farming methods.
The Nila Jaipur Non-Toxic Holi colours are extracted from these naturally farmed products including flowers, vegetables, beetroot, etc.
5. Antarkranti Naturals Herbal Holi Gulal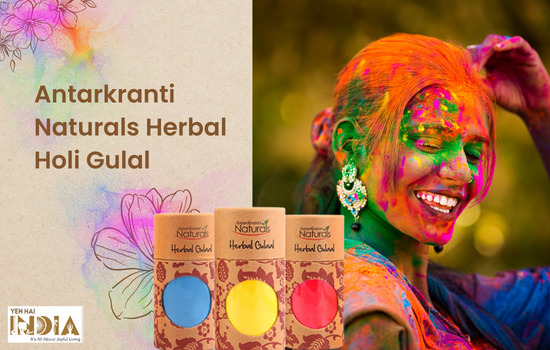 Antarkranti has some of the best offers in Holi gulal. The colours are non-toxic, made from edible materials including food colours, flower petals and other ingredients. The colours are rich and natural looking and easy to wash off.
The prices are very cheap as compared to other organic brands and the colours are made by prisoners and people from rehabilitation centres. Buying their products will also help to give these people a second chance at life.
The packaging is very sophisticated intricately designed which makes it a great choice for gifting.
Price: Rs. 125/100 grams
6. Organic India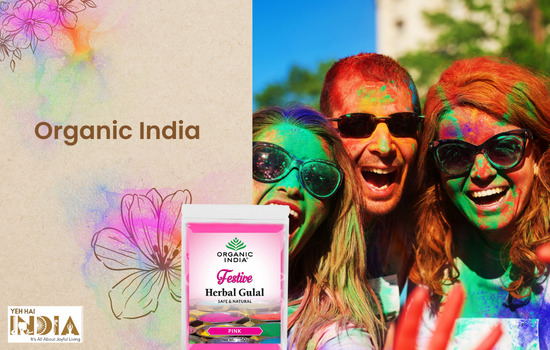 Organic India is a famous brand which sells different types of organic products.
They also have their own collection of herbal Holi colours. They are friendly to the skin and made from 100% organic ingredients like arrowroot powder, cornstarch powder, spinach leaf powder, red rose powder, turmeric all of which provide unique shades to the beautiful Holi colours.
Unlike the regular colours, they also have pleasant fragrances which will make your Holi a beautiful experience.
7. Avacayam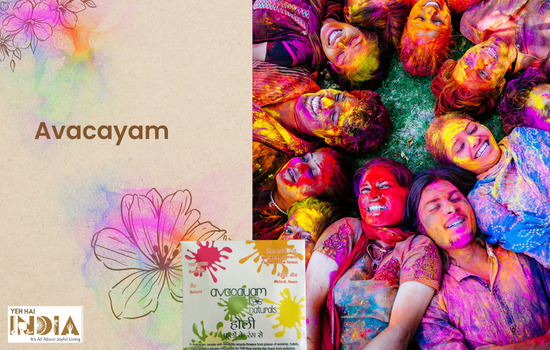 Avacayam is a brand which focuses on recycling waste materials to produce beneficial products.
Their Holi colours are made from temple flowers which generate a lot of waste on an everyday basis. The temple flowers which are dumped along the major rivers like Ganga, Yamuna and Narmada are collected, sorted, cut, dried and hand rolled to make these colours.
Moreover, these colours are made by differently abled people. Thus, buying the colours is a great way of making Holi a happy celebration for yourself, for others who are involved in making these colours and also for the environment by supporting the recycling initiatives.
Price: Rs. 100/100 grams
8. TWF Flours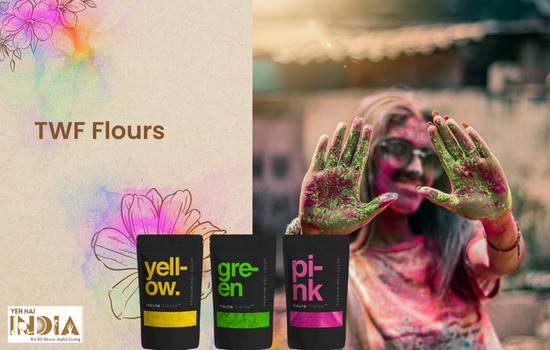 The TWF Flours manufacture gulal from regular edible kitchen ingredients like rose, saffron, turmeric, beetroot, cranberry and wheat.
Because of this, the products are very natural and soft on your skin and don't produce any allergic reaction.
These colours are biodegradable and thus an eco-friendly choice. They sell the holi colours in the stylish pack of three which includes vibrant yellow, green and pink colour.
Price: Rs. 198/100 grams
9. Ahaeli's Organic Holi Colours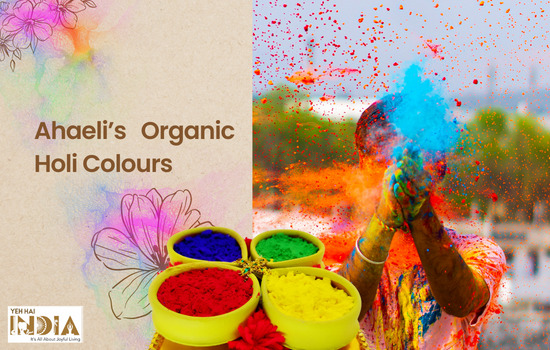 This brand not only cares about the chemical problem of Holi but also about the water crisis that can arise due to the festival. To make the festival truly eco-friendly, they produce colours which require 50% less water to wash off, thus creating less water wastage.
The colours are made of natural ingredients: arrowroot powder, beetroot, Indigo powder and kumkum which are absolutely non-toxic and are very less likely to produce any allergic reaction. They sell a combo of four colours red, yellow, green and blue at an affordable price.
Price: Rs. 400/100 grams
Also Read – BURA NA MAANO, HOLI HAI!
10. Satavic Farms
Satavic Farms have been manufacturing and distributing herbal Holi gulaals made from vegetable and fruit extracts, turmeric, herbs and flowers since 2010. The colours are easy to wash off after a fun celebration. The non-toxic and natural Holi colours will make your Holi even more colourful!
Satavic Farms Holi colours are safe for kids as they are free from talc and other dangerous chemicals. You also don't need to worry about your skin and hair while playing with these colours making them a thoughtful gifting option! Coming to the range of colours, there is no dearth of options and you can order their products directly from Amazon.
Price: Rs. 72/100 grams
11. My Pooja Box
My Pooja Box offers 100% organic and safe Holi colours for a safe and enjoyable celebration. You can order My Pooja Box Holi colours online from their website from the comfort of your home. They provide a wide range of vibrant and bright colours like purple, orange, yellow, green, blue, and red.
The brand aims to turn your Holi into the most colourful and happy one. The colours are made with herbs, turmeric, vegetable, and fruit extracts. Holi is not only about colours but also about a demonstration of love and affection through gifting.
You can find a lot of curated gift boxes which includes sweets, chocolate, thandai and herbal gulaals for gifting to your loved ones.
Price: Rs. 100/100 grams
12. Servdharm
Servdharm is a brand specializing in pooja essentials and provides quality products in vibrant and beautiful eco-friendly packaging. Servedham offers safe and organic Holi colours in a variety of hues including blue, yellow, green and pink, packed in tubes which are just as bright and beautiful as the colours themselves.
The colours also contain fresh and natural fragnance for an enhanced experience. You can buy a set of 4 or 6 colours as well which includes the shades: yellow, red, pink, green, orange, and blue.The colours are NABL lab tested, proving their authenticity.
Price: Rs. 99/100 gram
13. Nirmalaya
Nirmalaya is known for its recycled flower incense sticks but they also manufacture organic and herbal Holi colours from temple flowers. The brand aims to make Holi a festival of joy and colour instead of a festival filled with toxic chemicals by offering a safe and organic gulaal range which is safe for people of all age groups and also does not harm your skin and hair.
The colours are made by combining flowers with food colours, and herbs, and spices like neem, Palash, and turmeric. The essential oils added to the Holi colours fills them with beautiful aroma enhancing the Holi vibes.
The products are made by the underprivileged section of the society and provide livelihood to them. The products come in eco-friendly packaging and aims to reduce waste production and help the marginalized community of India.
Price: Rs. 118.75/100 grams
14. Ama Herbal
The herbal gulaal by Aam Herbal is developed by their dedicated Research & Development team and tested on several important parameters. The gulaal is made from natural extracts of bark, flowers and leaves and is blended to create eco-friendly and non-toxic Holi colours which does not harm your skin and hair and is full of soothing aroma to brighten up your Holi.
The Lustrous Herbal Gulal is so easy to wash off that when you walk into your office the day after Holi, nobody will be able to tell that you played with colours. The product is packed in eco-friendly packaging material making it a great choice for the environmentally conscious.
The brand also manufactures other products like face paint, liquid paste, glitter powder and glow powder which can brighten up your Holi even more and are great for kids.
Price: Rs. 65/400 grams