Rangoli Stickers not only infuse a festive spirit to your outdoors when you have little time to spare for decorations, but also allow you to be your best creative self.
It's the season of festivities and for Indians no other festival comes close to the grand celebrations that take place on the festival of lights, Diwali.
The biggest festival of Hindus earns recognition mostly due to the decorations and diyas, that add a lively feel to the festival.
Keeping aside diyas, candles and string lights what truly catches the eye is the Rangoli that is made to decorate the entrance or the main door.
It is believed that creating Rangoli patterns brings good luck and prosperity into the house and also acts as a beautiful welcome for guests.
However, the traditional application of Rangoli is an arduous process that requires skill and time a modern household may not have. This is where Rangoli stickers come in.
They are recreations of Rangoli designs in vinyl form that can be placed easily on to the threshold of your household and peeled off just as easily at the end of the festival.
Here are some best Rangoli decals you can buy to decorate your home this Diwali!
10 Best Rangoli Stickers To Buy This Diwali:
1. Kanha Store's Brij Sugandhas Lakshmi Charan Paduka Rangoli Vinyl Sticker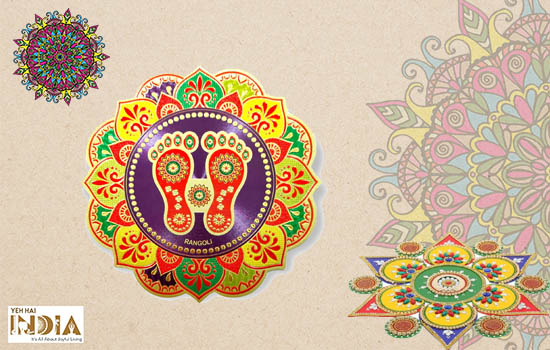 Diwali is said to be the day when Goddess Lakshmi chose Lord Vishnu as her consort and married him.
It is highly auspicious for this reason and why we begin the festival of Diwali by conducting Lakshmi pooja.
This beautiful vinyl sticker from The Kanha Store honours Goddess Lakshmi. It features a design of her ornate feet and comes in a pack of five.
It is meant to welcome her into your house on the day of Diwali when families to seek her blessings for a happy and contented life.
Price: ₹169 on Amazon
2. Creatick Studio's Floral Rangoli Combo Sticker for Diwali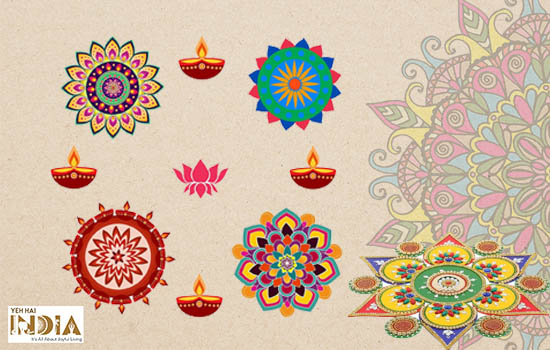 Creatick Studio incorporates the finer traits of Diwali festival in their Rangoli designs.
This particular pack features traditional floral motifs including a decal of a lotus and diyas.
The vinyls are incredibly high quality, waterproof and durable. These are rangoli stickers that will last on your threshold for as long as you need them to.
They are also easy to peel off from the floors when Diwali ends.
Price: ₹179 on Amazon
Recommended Story – Diwali 2022: The Best Diwali Hampers To Gift To Your Loved Ones
3. BDS CREATIONS' Paper Rangoli Pattern Floor Sticker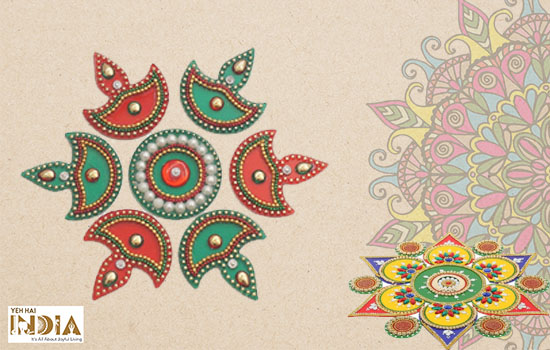 BDS Creations' has an impressive range of modern and reusable Rangoli designs.
Their Rangoli stickers feature elaborate kundan work that sets them apart from any other Rangoli stickers on the market.
These rangoli designs are truly stunning and delightful in every way, and add a festive feel to your doorway.
These acrylic stickers can be pasted to your wall or floor with any kind of glue or tape as well as rearranged as per your liking.
Price: ₹199 on Amazon
4. DecorVilla PVC Vinyl Kolam Rangoli Floor Sticker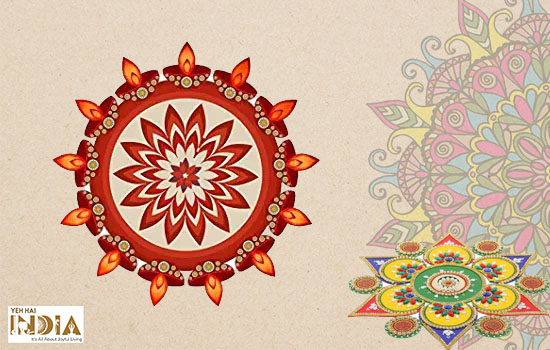 DecorVilla creates stunning vinyl designs in many forms that can be used to decorate either your wall or floor during Diwali.
All you need to do is be careful about application in order to ensure that there are no air bubbles.
This particular design is a stunning red Kolam design which is a type of Rangoli that people in Tamil Nadu make on special occasions.
It is traditionally drawn with rice flour, white stone powder, chalk or some other natural coloured powder.
Price: ₹159 on Amazon
5. Ascension ® 4 Diwali Decorative Rangoli Sticker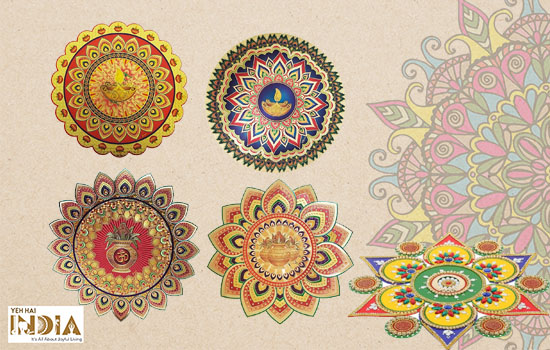 Ascension's stunning Diwali designs come in a pleasing circular shape and in vibrant colours.
They feature devotional and floral images and come in a pack of four to let the users pick the best one that goes with their home decor.
Ascension's rangoli designs gear you up for the festive season while still being an incredibly convenient and swift way to do so.
The designs are beautiful and made out of quality vinyl sheets.
Price: ₹299 on Amazon
6. Sticker Studio Happy Diwali Decorative Rangoli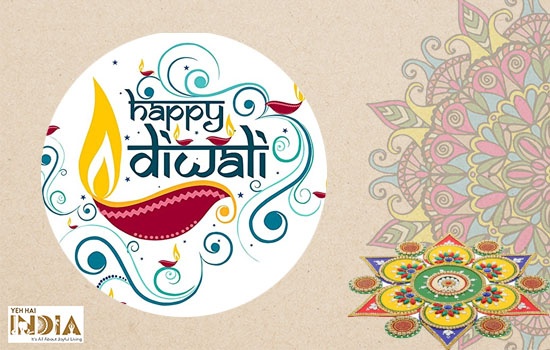 Sticker Studio presents 40 cm long decals which cheerfully wish the onlooker 'Happy Diwali!'
They come in a set of two and are perfect for the busy bees who don't have the time to do the decorations themselves.
These stickers last for four to seven years. They are also perfectly reusable although you may have to reapply the adhesive.
This makes them an ideal choice as you get to reuse it several times with a one time purchase.
Price: ₹229 on Amazon
7. Woopme® Mandala Rangoli Floor Art Diwali Sticker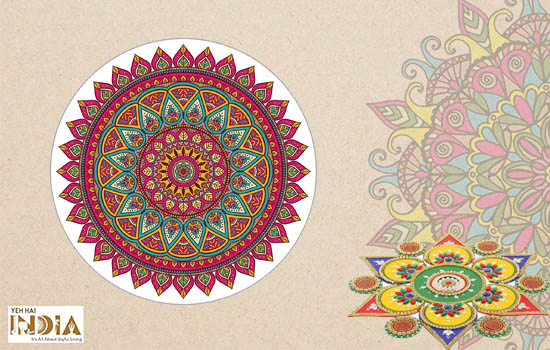 Woopme pays homage to a very traditional Diwali with their stunning Rangoli stickers featuring Mandala patterns that need to be completed by hand.
This rangoli comes in an elaborate design but minimalistic colours to suit every kind of home decor.
The colors have a matte finish and makes having a beautiful rangoli design outside your door infinitely easier.
It is also waterproof so that it can be cleaned easily and reused with just a reapplication of an adhesive.
Price: ₹189 on Amazon
8. Decor Kafe Floral Rangoli Combo Sticker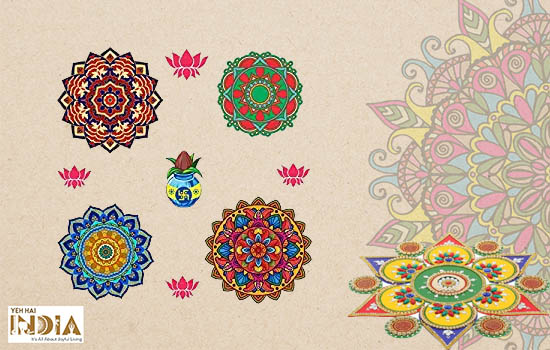 Decor Kafe's Rangolis come in a range of pleasing geometrical and floral designs that look absolutely stunning in the way they adorn any kind of flooring or wall.
They have a matte finish and stay on for a long time.
This Rangoli combo comes in a pack of four and includes embellishments like a traditional kalash and lotus blooms.
However, it is recommended that you paste them on a smooth surface as rougher textures can create air bubbles and weaken the adhesive.
Price: ₹189 on Amazon
9. ALL YOUR DESIGN Diwali Diya Rangoli Vinyl Floor Sticker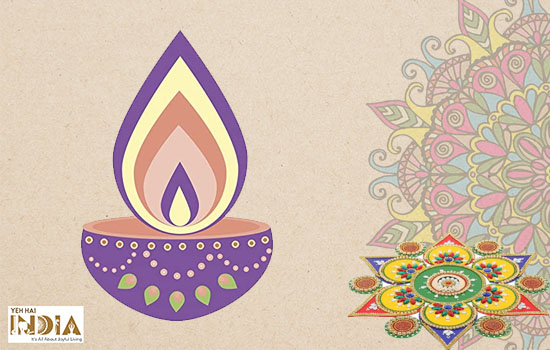 It is believed that during the 13 days of Diwali, lighting Diyas each day helps keep negative energy at bay and invites good health, prosperity, and knowledge into our homes.
However, for those too busy to pay attention to the upkeep of these diyas or for those who simply do not want to risk the safety of their homes due to fire hazards, these stickers are a god-send.
Simply peel off the back and place them on your floor.
Price: ₹215 on Amazon
10. 100yellow® Diwali Rangoli Vinyl PVC Self Adhesive Floor Sticker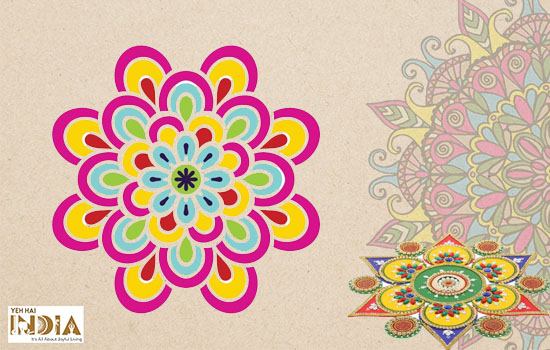 This beautiful 23 inch floor decal depicts a beautiful yellow and blue floral design that suits any home in search of a theme that highlights a certain level of sophistication.
It is water resistant so you do not have to worry about it coming off with floor cleaning.
You just have to peel off the backing and allow it to stick it to the floor in order to add warmth and auspiciousness to your home.
The adhesive on this product is strong enough to last a couple of days.
This Diwali opt for convenience and maximum beauty with minimum effort by forgoing traditional Rangolis in favour of these stickers!
Get set to embark on Diwali festivities with rangoli stickers at your dispense to celebrate the true spirit of the festival.
Also Read – Top 10 Summer Folk Festivals Of India