Imroz Bhringraj hair oil effectively targets issues like hair thinning, dandruff and scalp irritation to give you hair that shines with health.
In today's world, it is more important than ever to use products to ensure that your hair stays healthy and full of shine.
The dusty and polluted air we come across daily has made it harder than ever for our hair to hold on to moisture which leads to damaged, dry and brittle hair. This is where the necessity of hair oil comes into play. Although it is more crucial than ever to pay attention to your hair and its needs, the use of hair oil is nothing new as it dates back thousands of years when Hair oiling originated in Ayurveda.
It is one of the easiest ways to gain a whole range of benefits with a very simple act. But with advanced science and technology, the oils have been refined to perfectly serve the needs of a modern user.
One such hair oil is Ananta Hemp Works' Imroz Bhringraj Hair Oil. Imroz is a line of products from Ananta Hemp Works that is natural, affordable and most importantly, effective.
The Bhringraj Hair Oil, like all of its products, is infused with the wonder herb hemp. Hemp is a miracle worker when it comes to nourishment and moisturization.
It is a versatile herb utilised mostly for its medicinal and nutritive values to make medicine and nutritional products.
The most brilliant part is that when the herb or oil is extracted from the hemp plant, the leftover material is utilized in the manufacturing of bioplastics and paper, thereby minimising the threat that synthetic fibres pose to the environment.
Key Ingredients: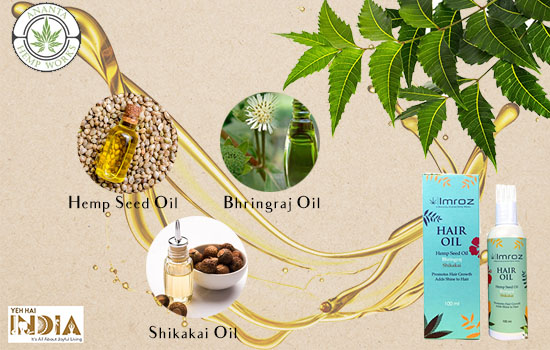 Hemp seed oil
Bhringraj oil
Shikakai oil
Price: ₹345/-
Product Claims:
Promotes hair growth
Reduces hair fall
Improves hair volume
Fights scalp inflammation and infections
Helps grow long, lustrous and shiny hair
Our Review of Imroz's Bhringraj Hair Oil
Feel:
This hair oil is lightweight and a little sticky to the touch. When applied to hair, it instantly permeates the hair surface and reaches the scalp to coat and nourish each hair strand from root to tip.
It is easily absorbed into the hair and quickly takes effect, making the hair shiny, soft and healthy. It is the perfect choice for any type of hair as it uses the knowledge of Ayurveda to promote the strength and density of your beautiful hair.
Within 20 minutes to half an hour, it can be rinsed off.
Recommended Story – Best Ayurvedic Hair Oils For Voluminous Hair
Our study of the ingredients and their impact: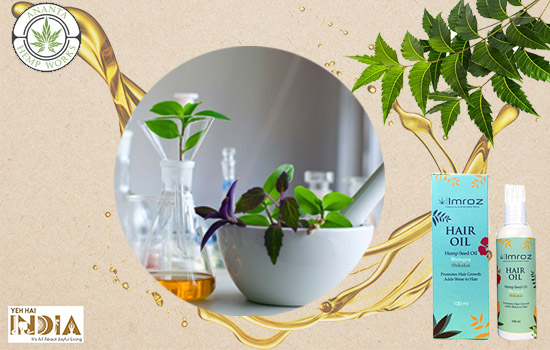 Hemp seed oil is rich in omega-3 and 6 fats. The major benefit of hemp seed oil is to the scalp which helps grow healthy and strong hair. It also prevents hair breakage and nourishes the hair.
The oil retains moisture and thereby, strengthens hair and adds shine to it. It also helps to revive hair, reduce hair fall and promote greater hair growth.
It also helps maintain normal equilibrium levels when it comes to the moisture absorbed by hair, ensuring that it does not absorb too much.
Bhringraj oil is rich in calcium, iron, vitamin D, vitamin E and magnesium. It promotes the circulation of blood in the scalp and into the roots of hair which encourages new growth.
It also deals with other hair problems such as dandruff and premature greying. Bhringraj oil also cools down the scalp which helps to reduce stress and nervousness.
Shikakai is an ancient Ayurvedic herb that is loaded with anti-bacterial and cleansing properties. It has been used for generations to treat dandruff, skin infections and other issues of the hair and scalp.
Shikakai is known to naturally soften and smoothen hair by releasing essential oils and vitamins that are important for the growth of healthy and soft hair.
It helps maintain the right texture and feel of hair.
Who can indulge in Imroz' Bhringraj Hair Oil?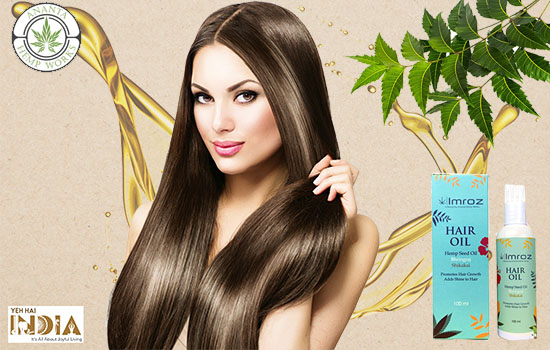 Imroz's Bhringraj Hair Oil contains no harmful chemicals and is sulphate, paraben and cruelty-free.
It can be used by persons of any gender with any hair type as it is equally nourishing to all as long as they are not allergic or sensitive to any of the listed ingredients.
It is recommended that you do a patch test beforehand to ensure your safety.
Packaging: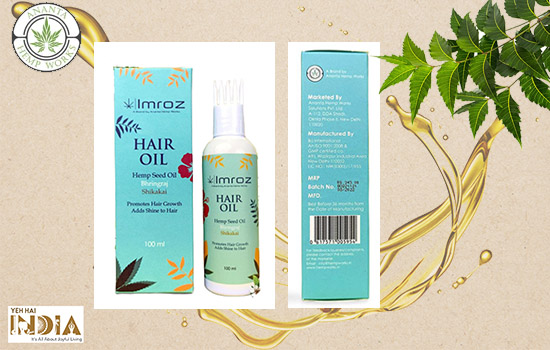 The Bhringraj Hair Oil is packaged in a sleek and beautiful bottle with a flip-top lid. It can be stored easily making it the ideal travel companion when you want something to care for your hair on the go.
Price:
The Bhringraj Hair Oil is priced at ₹345/- for a bottle of 100 ml.
True to Imroz's motto, the hair oil is affordable and accessible to everyone. Since it is an extremely effective and fast-acting oil, it is completely worth the price. 
Where to Buy?
You can buy Imroz's Bhringraj Hair Oil on their website or online marketplaces like Amazon.
Pros:
Promotes hair growth
Makes hair shiny, soft and strong
Reduces hair fall
Heals scalp infection or inflammation
Improves the quality and strength of hair
Cons:
Needs constant repurchasing as it is only available in 100 ml bottles.
How to use: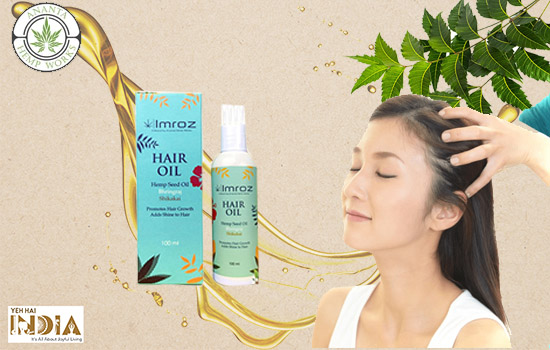 Apply Imroz's Bhringraj Hair Oil to your scalp with slow circular motions.
To optimise the results, wrap your hair up in a hot towel for the next twenty minutes to half an hour.
Rinse your hair thoroughly afterwards. It is meant for regular use and should be applied once a day for maximum benefit.
Final Verdict: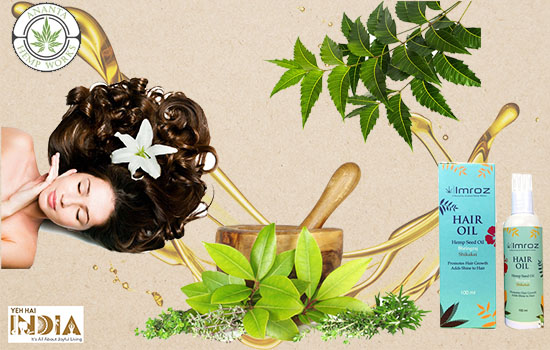 Imroz's Bhringraj Hair Oil is the perfect remedy for all kinds of hair issues. The oil is based on Ayurveda and is made out of Ayurvedic herbs proven to support scalp and hair health.
It fights hair loss and encourages the growth of new hair. Along with restoring shine and strength to your hair, it also prevents premature greying.
Its anti-bacterial and cleansing properties also prevent itching and irritation on the scalp.
It is free from any artificial or harmful chemicals and is a perfect Ayurvedic alternative when it comes to reducing hair fall, encouraging hair growth, preventing irritation and dandruff, and restoring shine to hair.
All in all, Bhrinraj Hair Oil is a one-stop solution for all your hair care needs. It is fast-acting and effective.
With regular use, you can heal even the most frizzy, driest and lifeless hair and restore your hair to its former glory all while being convenient and easy to use.
Transform your hair health with Imroz' Bhringraj hair oil and reap the additional rewards of hemp seed oil and shikakai added into the mix for lustrous and bouncy hair.
Also Read – Essential Oils For Happy and Healthy Hair