Hemp is emerging as a powerful anti-ageing ingredient with effects similar to an expensive beauty treatment that not only makes your skin glow but does much more to renew it on the cellular level.
Industrial hemp or 'Hemp', is a particular variety of the plant Cannabis sativa that is used in the manufacture of skincare, hair care, medicinal products and even other commercial products such as paper and rope.
A lot of us confuse hemp with weed or marijuana which is a form of cannabis used as a recreational psychotic. However, industrial hemp contains a very low quantity of THC compound which causes intoxication in people consuming weed.
Hemp-infused products are completely legal and safe to use and offer a wide range of benefits to us.
Hemp has been used throughout history for various purposes as it has many beneficial properties. Its powerful healing properties are now being utilised in healthcare, beauty and wellness products.
Hemp is being used in a variety of forms. The stem, leaves, seeds and oil extracted from the seeds are popularly used to create health and beauty products that serve to improve overall health naturally.
Anti-Ageing & Anti-Wrinkle Properties of Hemp Seed Oil:
Hemp extract contains a lot of beneficial compounds, the most important ones being Vitamins A, C and E along with fatty acids and antioxidants:
Antioxidants responsible for anti-ageing effects of hemp are: tocopherols, flavonoids and phytosterols. They strengthen skin's natural barrier to protect itself from sun damage and other environmental pollutants.
They also help reduce oxidative damage caused by constant exposure to UV rays and stimulate the regeneration of skin cells by increasing collagen production.
Hemp contains high concentrations of fatty acids like linoleic acid and linolenic acid also known as, omega-6 and omega-3 fatty acids respectively.
These fatty acids help treat skin inflammation caused by sun exposure, dust, acne, eczema, etc. They also nourish the skin and keep it hydrated, supple and radiance.
With regular use of hemp-infused products, the skin begins to shed the damaged cells to regenerate newer, softer and clearer skin.
The increased collagen production induced by Vitamin C has another important effect on the skin. The lines around the corners of the mouth and eyes, wrinkles and fine lines on the forehead and neck and other signs of ageing diminish with regular use of hemp seed oil.
Formation of new collagen firms the skin, improves its elasticity and gives younger-looking skin.
Vitamin E is another effective and essential free radical scavenger. It hinders the production of free radicals formed due to oxidative damage caused by sun exposure and skin ageing.
As an anti-ageing product, hemp seed oil produces results that can only be achieved from high-end chemical skincare products. The important difference is that hemp extract is 100% natural and chemical free.
Additionally, compared to the prices of other products in the market, hemp-infused products come at a an affordable price. Several Indian brands are now offering a wide range of hemp-based products at reasonably low prices.
Brands like Ananta Hemp Works, Indian Hemp and Co., etc use ingredients that are not just locally sourced, but also 100% natural, vegan, cruelty-free and completely chemical-free.
From hemp-infused soaps to face serums, these brands offer an exclusively curated list of products that are steadily gaining more and more popularity.
Recommended Story – The Booming Indian Hemp Industry: A Brief Analysis
Hemp Skincare Brands in India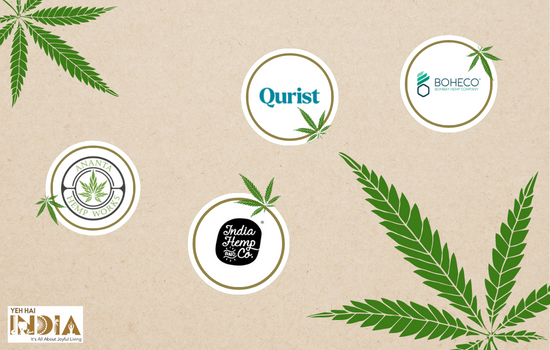 Ananta Hemp Works, BOHECO, Qurist, and India Hemp and Co. are some popular growing hemp-based brands in India. These brands each have their exclusive line of hemp-infused skincare, hair care, pet care and also health and wellness products.
Ananta Hemp Works, a leading hemp-based wellness and personal care brand has its line of skin care products using hemp, Imroz. Imroz is quietly becoming very popular among consumers with its limited but very effective skincare products.
Currently, Imroz includes 6 well-curated, highly beneficial and affordable skincare products.
Products from Imroz by Ananta Hemp Works: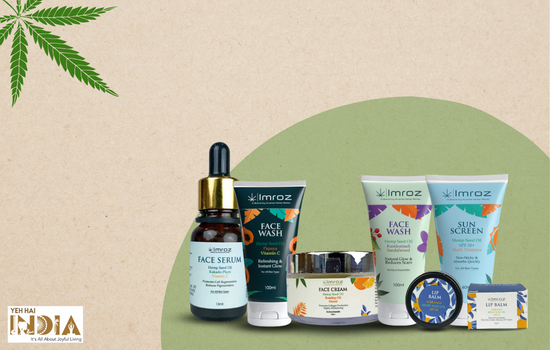 Ananta Hemp Face Serum with Kumkumadi, Hemp seed oil and Rosehip oil – Rs. 999
Imroz Vitamin C Face Serum with Hemp Seed Oil and Kakadu Plum – Rs. 360
Imroz Face Cream with Hemp Seed Oil, Rosehip Oil and Neroli – Rs. 349
Imroz Face Wash with Hemp Seed Oil, Papaya Extract and Vitamin C – Rs. 270
Imroz Face Wash with Hemp Seed Oil, Kumkumadi and Sandalwood oil – Rs. 290
Imroz Sunscreen with Hemp Seed Oil – Rs. 325
Imroz Lip Balm with Hemp Seed Oil and Narangi – Rs. 199
Other Skincare Benefits of Hemp: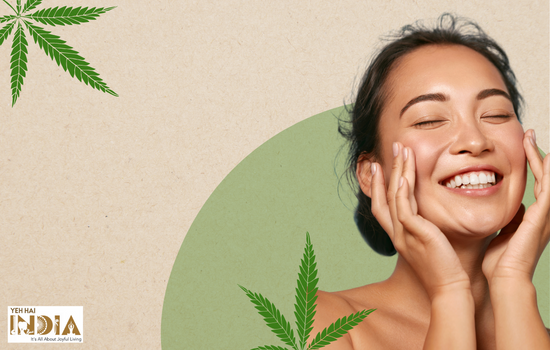 Hemp oil is becoming increasingly popular in skincare products, as it offers so many benefits. It's packed with essential fatty acids and antioxidants, making it a great choice for those looking to nourish and protect their skin.
It also has anti-inflammatory and moisturizing properties, allowing it to soothe even the most sensitive skin.
Hemp oil contains nutrients such as Vitamins A, C, and E, plus omega-3, omega-6 and linoleic fatty acids. It is a great source of antioxidants that protects the skin from free-radical damage.
The oil is light and easily absorbed and makes for an excellent moisturizer for all skin types.
Hemp oil can be very soothing to the skin which makes it an essential ingredient in products that are designed to help reduce inflammation and redness.
It can also be used to nourish and hydrate the skin, improving its health and texture.
Hemp oil is greatly effective for dry, flaky, itchy or otherwise irritated skin. Its anti-inflammatory and antioxidant properties calm down the skin and reverse dryness, redness and itchiness. The omega-3 in the oil helps to keep the skin smooth and supple.
Hemp Oil in Health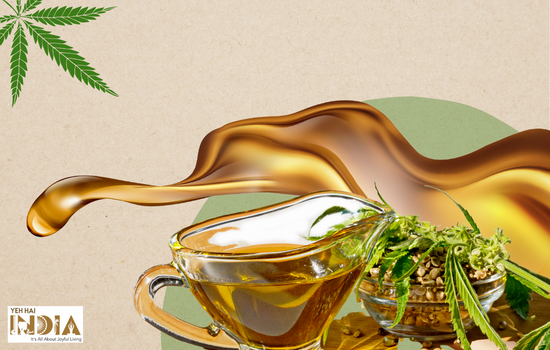 Hemp oil has also been used for centuries to treat various skin conditions, including eczema, psoriasis and acne. Its anti-inflammatory properties can help reduce redness and irritation, while it provides essential hydration to protect the skin barrier.
Ayurveda has been known to utilise Hemp in its medicinal formulations in ancient times. With the increasing popularity of holistic living and awareness of about the use of natural products in everyday life, hemp seed oil is returning in every way.
Summary:
Hemp has long been part of human history and its various uses can be traced back as far as 8000 BC. It was used to produce a range of products including fabrics, paper, oils and medications.
It was even used to construct ships and other sailboats at one point in time. Hemp is rich in omega-3 and omega-6 fatty acids that improve the condition of skin and hair. It also contains high fibre, anti-inflammatory and antioxidants. Its constituent CBD is now increasingly being researched in the realm of health and wellness.
Hemp oil-infused skin care products are widely gaining popularity today due to their beneficial effects without any of the adverse effects of using chemical-based products. Hemp oil helps reduce inflammation and irritation of the skin while regenerating skin cells and boosting collagen production.
Regular inclusion of hemp seed oil in our daily skincare routine produces a reverse in ageing signs such as wrinkles around the eyes and lips, lines and even skin tone.
With the boost in collagen production and protection from sun and other damage, it greatly improves the skin's firmness and keeps it looking young and healthy.
Knowing the vast benefits of 'Hemp' in preserving skin youth , it's worth purchasing your favourite skin care essentials with the added goodness of hemp seed oil in them.
Also Read – Imroz Vitamin C Face Serum from Ananta Hemp Works – Product Review