The sudden inclination towards hemp in healthcare has brought out the true potential of this rare herb that was once hailed only for its intoxicating qualities.
The term 'hemp' written on health and beauty products refers to the medicinal variety of hemp that's used to extract the health benefits for a range of illnesses and skin concerns. 
Though it's easy to be misguided by the name of this medicinal plant, as quoted by the brands, it's in reality, a wonder ingredient with miraculous abilities to heal and revive ageing skin.
Its health benefits, however, outweigh its effects on skin health making it one of the most trustworthy ingredients. 
Hemp is a variety of the Cannabis sativa plant, grown specifically for its long, strong fibres, which can be used to make various products and is also known for its use in the production of CBD oil.
Hemp: A Brief History
Humans have been using hemp for thousands of years for a variety of purposes, including food, medicine, fuel, and fibre. The earliest known evidence of hemp cultivation dates back to 8000 BC in ancient China.
From there, the plant spread to other parts of Asia, the Middle East, Europe, and eventually the Americas. Hemp fibre was used to make rope, sails, and clothing, while the plant's oil was used to make soaps, paints, and other products.
Hemp was also used as a medicinal herb to treat a variety of ailments. In the United States, hemp cultivation was especially important during the colonial era.
In 1619, the Virginia Company of London required colonists to grow hemp for the British Navy. Hemp was also used during World War II to make rope, parachute webbing, and uniforms.
Unfortunately, in the 20th century, the cultivation of hemp was forbidden in the United States due to its association with marijuana.
In the past few years, however, there has been a resurgence of interest in hemp and hemp-based products due to their many potential uses and benefits. Hemp is now being used to make paper, plastics, construction materials, and even fuel.
General Uses of Hemp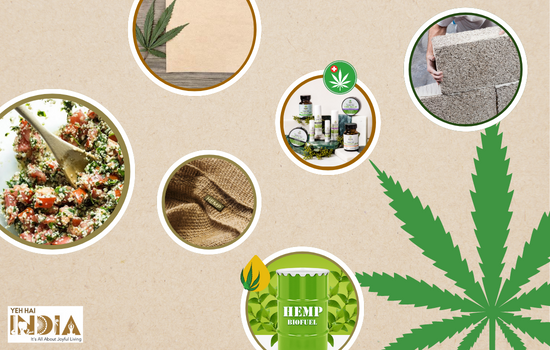 Hemp has many uses, including:
1. Food
Hemp seeds are a great source of protein, fibre, and essential fatty acids. They can be eaten raw, ground into a meal, sprouted, or made into dried sprout powder.
2. Textiles
Hemp fibres are incredibly durable and can be used to make clothing, ropes, and other textiles.
3. Building materials
Hemp can be used to make composite building materials, such as hempcrete and hemp fiberboard.
4. Biofuel
Hemp can be used to produce biodiesel and ethanol.
5. Paper
Hemp can be used to make paper, which is more sustainable than tree-based paper.
6. Medicines
Hemp can be used to make CBD oils, which are used to treat a wide range of ailments.
Recommended Story – Ananta Hemp Works: An Ayurvedic Health & Beauty Brand
Hemp in Beauty Products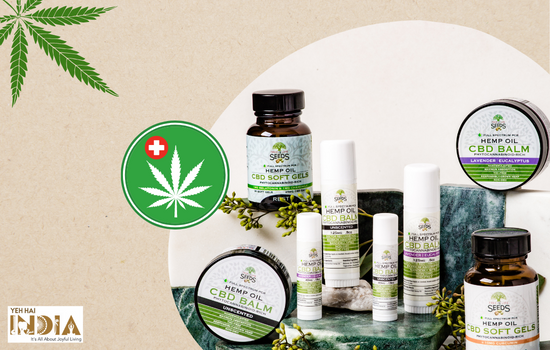 Hemp is increasingly being used in beauty products due to its many beneficial properties. Hemp seed oil is a popular ingredient in face creams, moisturisers, body lotions, and other beauty products.
It is a rich source of omega-3 and omega-6 fatty acids, which are known to help reduce inflammation and nourish the skin. Hemp oil also contains vitamins A, C, and E, as well as minerals such as iron, calcium, and magnesium.
Hemp oil is a great source of antioxidants and has been found to help reduce wrinkles, protect against sun damage, and premature ageing and even treat acne.
Health benefits of Hemp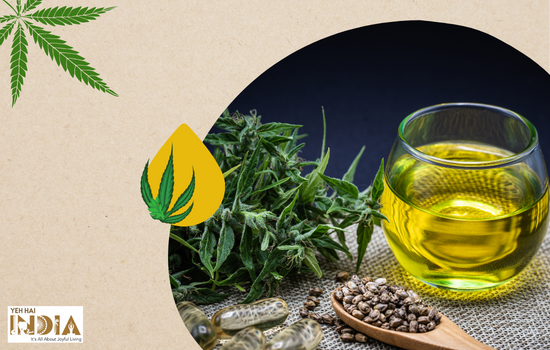 Hemp has been used for medicinal purposes for centuries, and more recently many healthcare professionals and researchers have begun to look into the potential health benefits of hemp.
Hemp is being studied for its potential to reduce inflammation, improve cardiovascular health, and even reduce the risk of certain types of cancer. Hemp oil is beneficial for skin conditions such as eczema and psoriasis.
Hemp-based products have also been found to be beneficial for those suffering from anxiety and depression.
Additionally, hemp has been found to have anti-inflammatory and antioxidant properties, which can help to improve overall health and well-being.
Growth trends in Indian Hemp Industry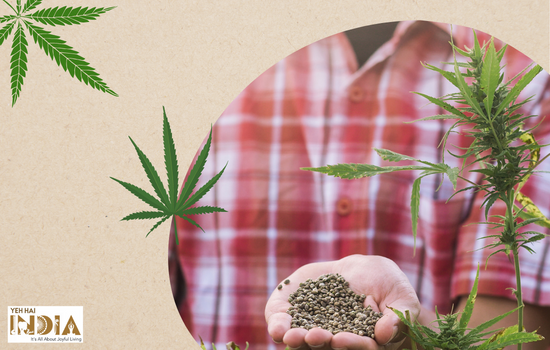 Hemp has been used in India for centuries, primarily for its fibrous properties and as a common material for making ropes, sacks, and other products. In addition to its uses in industry, hemp has also been used in India's traditional healing practices.
Cannabis was used medicinally in ancient India and is still used today in Ayurveda. Hemp has also been used in religious ceremonies, especially in Hinduism and Buddhism.
In recent years, hemp has been grown in India for industrial purposes, though it is still illegal to grow it for recreational or medicinal use.
The taboo surrounding hemp in India is largely rooted in the stigma attached to the plant due to its association with the use of cannabis for recreational purposes.
This has led to many misconceptions about hemp and its various uses, leading to a lack of awareness and appreciation of its many potential benefits.
The Indian government has also historically been reluctant to allow the cultivation of cannabis and hemp due to its perceived links to drug abuse.
As a result, hemp-based products are still largely unavailable in India and their cultivation is largely illegal. This state is gradually changing in recent years.
The 2022 Asian Cannabis Report by Prohibition Partners has a lot of statistics and information regarding the growing hemp industry in India.
The report states that any advances in India will have a massive impact on the global stage, as the sheer size of the population poses a very lucrative opportunity for operators and investors. The first hints of this progress have already been seen in recent years.
Recommended Story – Hemp In Skincare: What Makes Hemp A Promising Ingredient?
Legality of Hemp in India
CBD oil is not considered a narcotic, unlike cannabis oil. CBD oil manufactured under the Drugs and Cosmetics Act (1940) can be legitimately used for medical purposes, with a prescription.
There is a rise in CBD oil brands that are readily available online without a prescription. These brands sell broad-spectrum CBD oils, derived from hemp plants, without a THC level.
In India, only CBD products that come with a Lab Report and a Certificate of Analysis from a certified third-party lab are legal to buy.
The Great Legalisation Movement (GLM), formed in Bengarulu in 2014, is a non-profit research organisation that advocates cannabis legalisation.
The group launched the cannabis health centre for cancer patients in collaboration with Vaurora Health Care Organisation in the same year.
It also collaborated with 'The Reforming India Foundation' to create awareness all over the country.
When it comes to plant-based products or Ayurvedic recommendations in general, people are usually sceptical about nutritional and skin care products particularly. The lack of knowledge about certifications and approvals among the masses is the main reason for this.
Vikram Bir Singh, Co-Founder of Ananta Hemp Works, explains about everything that goes into producing hemp-based products in India legally. He says that it is not that easy to get the license to manufacture medicines of hemp as it has to go through a whole lot of scrutiny and approval by various government departments from the Excise Department to the AYUSH Drug Department.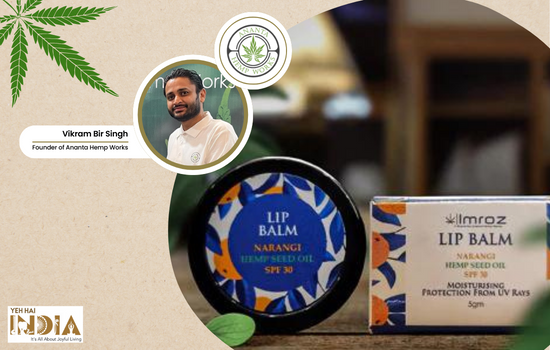 At Anata Hemp Works, they submit each product's R&D reports with approval from an authorised Ayurvedic Doctor. The extract batches during production are tested at every stage for important parameters such as shelf-life and toxicology. Ananta Hemp Works is one of India's 100% AYUSH-compliant companies.
Emerging Hemp Brands In India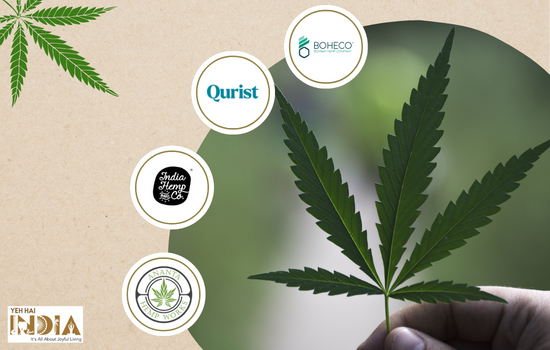 BOHECO, Qurist, India Hemp and Co. and Ananta Hemp Works are some popular brands from India producing hemp-based products.
From beauty to pet products, these brands are utilising hemp in safe, innovative ways and selling them in attractive packages.
The increase in the number of brands in the hemp sector is a major reason for the increase in consumers as they are breaking the taboos surrounding the hemp plant.
Brands like BOHECO, India Hemp and Co and Ananta Hemp Works. all say that their motivation behind entering the hemp sector came from personally experiencing the medicinal benefits of the plant and recognising the potential of a wild and potent herb that has been widely underutilised due to misconceptions and misinformation.
On the matter of educating potential hemp consumers in India, our source from BOHECO said, "With the cultural and spiritual significance attached to bhaang in India, educating customers is not challenging. Evolving global perceptions leading to legalization, research studies, clinical trials and the rise of cannabis as an ingredient in health and wellness has contributed to increased awareness and education in India."
BOHECO's pain management, stress & insomnia, nutrition and skincare products are more popular than most. There are brands like Ananta Hemp Works that utilise hemp oil in manufacturing amazing skin care products that have been received well in the market.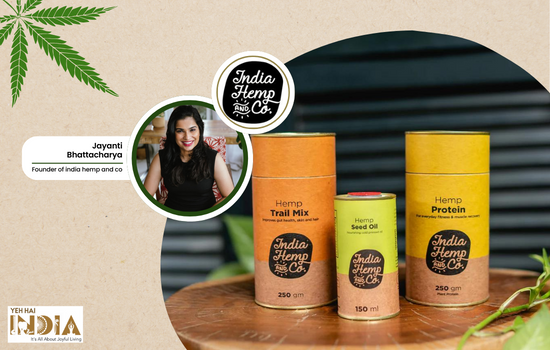 Jayanti Bhattacharya, co-founder of India Hemp and Co. mentioned that their brand is looking to expand its hemp-based pet line and beauty line to pain management products as the market looks promising with the consumer evolution.
Vikram Bir Singh of Ananta Hemp Works is very proud of their newly launched line of skincare and hair care range. Imroz by Ananta Hemp Works is a very new line of personal care products that are 100% natural, effective and easily affordable. Vikram says that Imroz has been launched with the idea of making hemp-based products the new normal in terms of skincare in India.
Ananta Hemp Works offers a wide range of products in their Nutritional, Personal Care and Wellness lines. Their hemp medicines are sold in various forms including, sub-lingual tinctures, capsules, tablets, etc. that can be used for the management of pain, insomnia, stress and anxiety (with a prescription from an Ayurvedic doctor). Ananta's hemp-infused face serum, face wash and hemp charcoal soap have been receiving raving reviews online since their launch.
Some Other Lucrative Hemp-based Start-ups
In November 2021, the Food Safety and Standards Authority of India (FSSAI) issued a notification to allow hemp seed, hemp seed oil and hemp seed flour to be sold as food or used as a food ingredient.
India's first café advocating cannabis plants opened in Kasol, Himachal Pradesh in April 2022. The café is called 'Off Limits' and promotes locally grown cannabis.
Bombay Hemp Company (BOHECO) and The Hemp Factory collaborated in April 2022 to form the first-ever hemp-based cloud kitchen. They also have a hemp-infused beauty line that does not contain any ingredient with psychoactive properties.
Kaya brand offers hemp seed oil night masks for moisturising. Arata is another brand that sells 'Hempocado Oil' for strengthening and nourishing hair.
India Hemp and Co. even produced festive-themed hemp-fused Indian snacks this Diwali.
Future of Hemp Market in India
Jahan Peston Jamas, Co-founder and Chief Strategy Officer of BOHECO, stated in the expert interview for The Asian Cannabis Report, "The potential today is closer to about $7-8 million because the goal is for the industry to reach 250 – 275 million in value.
We are looking at about a $110-120 million dollar market opportunity purely based on illicit cannabis and opioid users alone (who are looking to switch over from medical cannabis to combat their pain-based conditions)."
India's National Health Survey shows at least 2.5 to 3.5 million people who could potentially adopt medical cannabis therapeutic regime if it's made available legally.
It should also be noted that BOHECO is currently the only company in India that is working with medical and academic institutions to conduct human-grade clinical studies on cannabis leaf-based Ayurvedic medicines to treat multiple illnesses.
In the next 10 years, the hemp industry can be expected to focus on domestic demands. India has the potential to become a base for a lot of clinical research and formulation development and also for the export of medical cannabis products.
"By 2027, we're anticipating at least 500 companies that will be directly or indirectly working in hemp and cannabis in India", says Jahan, BOHECO's Co-founder.
With the right marketing and exposure, hemp-based start-ups and brands can gain the consumers they deserve. India Hemp and Co. has witnessed 234x growth with their presence on Shark Tank. It is the first hemp-based brand to air internationally.
BOHECO is currently present on 30+ different online third-party e-commerce platforms to make their products available beyond just the tier-one cities.
They are also planning to expand to at least 10,000-15,000 stores, pharmacies, and chemists in 200 different cities across India within the next ten years.
Hemp in Ayurveda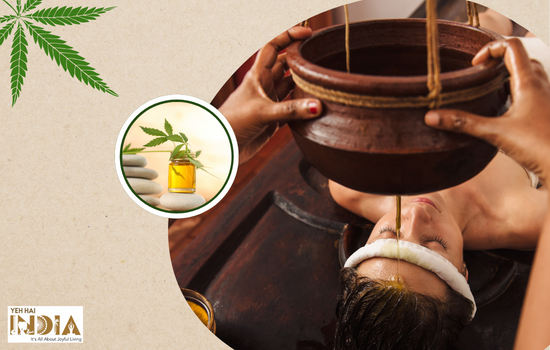 The trend in healthcare has largely changed with the onset of COVID-19. It is especially true in India, where we have an alternative medicine system that is arguably better in terms of therapeutic effects and as a lifestyle compared to the western medicine that is widely practised now.
'COVID accelerated the case for cannabis. A mental health crisis took over India during the pandemic, it's estimated that 70-72% of Indians are either suffering from stress or anxiety disorders. In India, people rely more on plant-based solutions, because they don't have access to psychiatrists.'

BOHECO-Bombay Hemp Company, India.
People are looking for healthcare that will not just treat their diseases but also have a long-term beneficial effect and inspire a better quality of life.
Ayurveda incorporates cannabis in its medicinal formulations which lost its popularity for the same reasons we discussed earlier in the article.
With the increasing attention towards a holistic way of living, people are starting to look at hemp-based products, both for beauty and medicinal purposes, as nothing more than plant-based products, with no stigma attached.
With rising awareness about hemp and its potential benefits for overall health, it's about time to tap into its wondrous effects on our health and lifestyles.
Also Read – IMROZ By Ananta Hemp Works: A Reasonably Priced Beauty Care Brand