When it comes to traditional outfits, nothing matches the elegance of a saree handwoven intricately to represent the colourful Indian culture.
Handloom sarees are traditional sarees made using manual weaving techniques. They are made from silk, cotton, and other fabrics, and are known for their intricate designs, bright colours, and intricate patterns.
Handloom sarees are often considered to be the most traditional and elegant form of sarees. These sarees can be passed down from generation to generation, and are often seen as a symbol of cultural heritage.
Handloom saree websites in India offer a wide selection of handloom sarees, from traditional designs to contemporary styles. Customers can buy handloom sarees online and have them delivered to their doorstep.
Many of these websites feature exclusive collections of handloom sarees with intricate designs and craftsmanship. Customers can also find various special offers and discounts on these websites, making them a great place to buy handloom sarees at affordable prices.
Many of these websites also provide detailed information about the fabric and design of the sarees, making it easy for customers to choose the perfect sarees for their special occasions.
It is often difficult to travel to the weavers to find these exquisite sarees. To make them easily attainable, we have compiled a list of some of the country's best handloom weavers and their websites here in this article.
10 Best Shopping Sites Selling Handloom Sarees In India:
1. Ekaya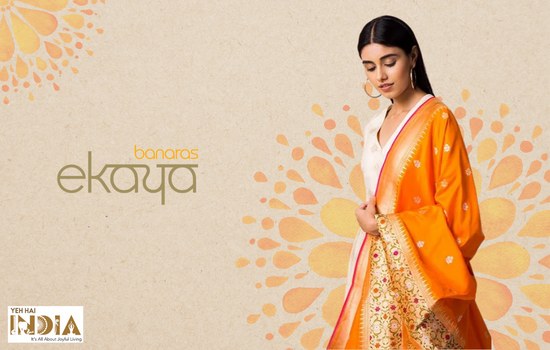 Ekaya handloom sarees are produced by Ekaya, a brand based in Banaras, India. Founded by Kavita Jain in 2004, Ekaya specializes in producing hand-woven saris that are unique and of the highest quality.
The brand is committed to preserving the traditional art of weaving and works with master weavers from different parts of India. Their sarees are made from natural materials like silk, cotton, and muslin, and are crafted with intricate designs and hand-stitched details.
Ekaya also works with NGOs to create employment among weavers and local artisans. It is known for its sustainable practices and for promoting traditional weaving methods.
Ekaya employs over 10,000 weavers thus empowering the community as well as producing beautiful sarees.
2. Suta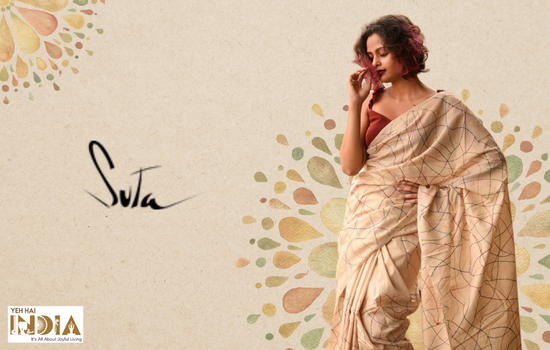 The Suta brand of handloom sarees is one of the more popular brands in India, and they specialize in creating beautiful and bold designs.
They use quality fabrics and traditional weaving techniques to create their sarees, and they often feature intricate motifs, such as paisley, floral, and geometric patterns.
3. Loomfolks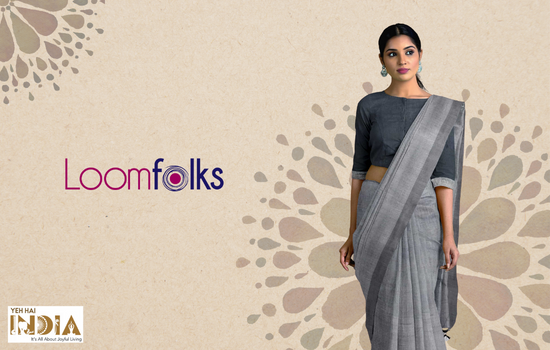 Loomfolks is a handloom saree brand that creates beautiful and traditional sarees with vibrant designs, patterns, and colours.
They use traditional techniques such as block printing, embroidery, and hand weaving to create their sarees.
Their products are sourced from weavers in rural India, and their mission is to promote the revival of the traditional art of handloom weaving. They also work with weavers to ensure fair wages and sustainable practices.
4. Madhurya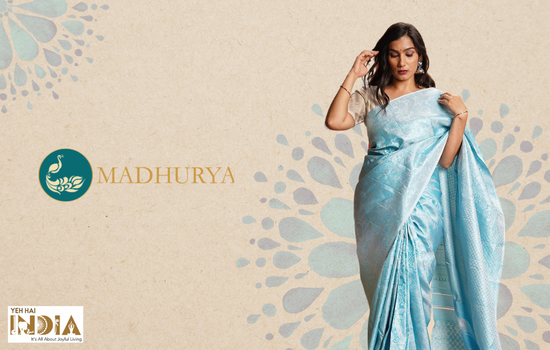 Madhurya handloom sarees are handcrafted sarees made in South India. They are known for their intricate designs and beautiful fabrics. Madhurya sarees are usually made from traditional weaves such as Kanchipuram, Chanderi, Maheshwari, and Banarasi.
The sarees come in a variety of colours and patterns and are often embellished with intricate embroidery and beadwork. Madhurya sarees are timeless Indian garments and are perfect for special occasions and festivals.
Smt. Bhanumathi Narasimhan founded the organization in 2007 and later went on to support many Indian craftsmen that brought life to traditional Indian weaves and crafts.
Their first retail store was opened at The Art of Living International Centre in Bangalore. They also donate a part of their profits towards female education in India.
5. Gaatha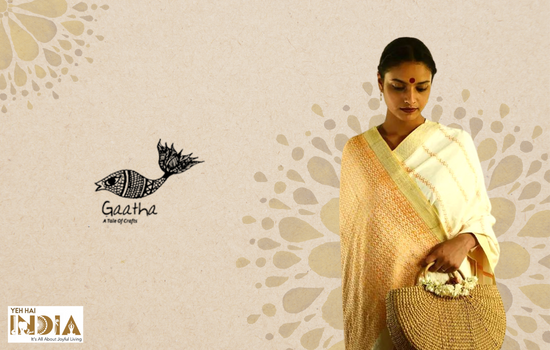 Gaatha Handloom is an Indian brand that is known for its quality of fabric, intricate designs, and intricate craftsmanship. They use traditional looms and techniques to create sarees that are perfect for any occasion.
The brand is committed to the revival and support of Indian handloom artisans and uses natural materials like cotton and silk to create their sarees. Gaatha Handloom sarees come in a variety of colours, patterns and designs, ranging from traditional patterns to modern designs.
They also offer customization options, so customers can have a saree tailored to their style and preferences.
Founded in November 2009, they were begun with the main interest in documenting Indian crafts and traditions. Later on, they expanded their support to craftsmen through their e-commerce platform which was started in 2013.
6. Chidiyaa
Chidiyaa Handloom Sarees is an online store that offers sarees made from traditional handloom fabrics such as Kota, Chanderi, Banarasi, and Maheshwari. They also offer a range of custom-made sarees to suit any occasion or taste.
All of their sarees are hand-finished with intricate embroidery and unique prints, making them a unique and stylish choice for any event. They provide free shipping within India, and also offer worldwide shipping.
Their products are created from the villages of Ajrakhpur in Gujarat and Phulia in Bengal. They incorporate eco-friendly measures to ensure sustainability from beginning to end of the creation of their products.
Chidiyaa's priorities have always been traditional Indian handlooms with a slightly modern influence, high-quality products and environmental consciousness. Their crafts have been showcased all over the country in arts & crafts events and exhibits.
7. TheiaScape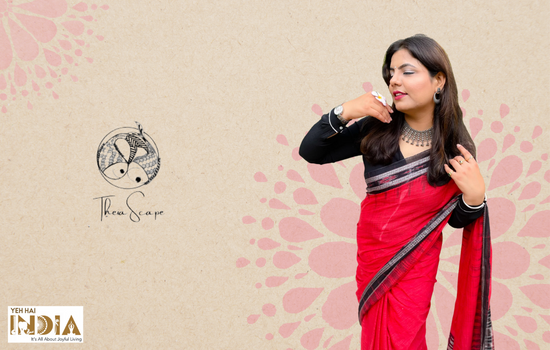 TheiaScape handloom sarees are made from the finest handloom silk weaves from India. They feature vibrant yet elegant designs and a luxurious feel. TheiaScape sarees are made with intricate zari work and traditional motifs.
They are incredibly lightweight and comfortable to wear. TheiaScape sarees are perfect for special occasions and weddings. They are also a great way to show off your cultural heritage.
They offer weaves, trinkets and other lifestyle goods all of which are handcrafted, eco-friendly, and fashionable with a unique story to each of them. Reach them at
8. BharatSthali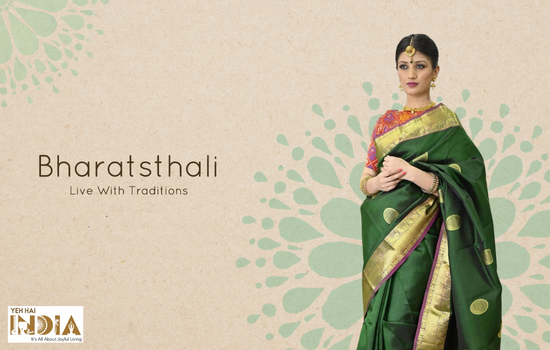 BharatSthali is a leading online store for handloom sarees. It was founded in 2016 with the mission of reviving handloom sarees in India. The company works with skilled weavers in rural India to create traditional yet modern handloom sarees.
All the handloom sarees from BharatSthali are made from natural fibres such as cotton, silk, and linen. The sarees feature intricate designs and embroidery and are available in a wide range of colours and styles.
BharatSthali also offers a range of accessories such as scarves, stoles, bags, blouses and more.
Their products are sourced directly from artisans and allow 100% control over creativity to the artists.
9. ForSarees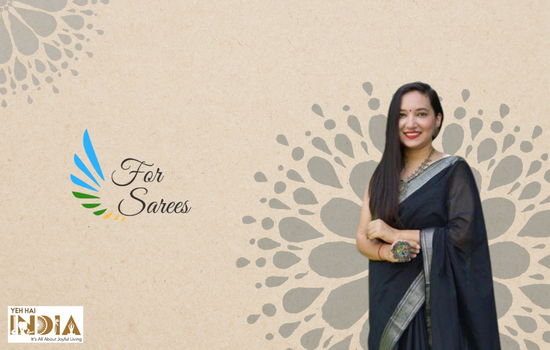 ForSarees is an online marketplace that sells handloom sarees from small-scale weavers across India. ForSarees is committed to creating opportunities for small-scale weavers to reach a larger market and grow their businesses.
They offer a wide variety of handloom sarees, including cotton, silk, and more, from various parts of India. Their products are ethically sourced, ensuring that the weavers receive fair wages for their work, and the quality is top-notch.
ForSarees has also taken steps to ensure that the sarees are made using sustainable practices. The company also offers customization options for customers, so that they can get a saree that is perfect for them.
10. Parisera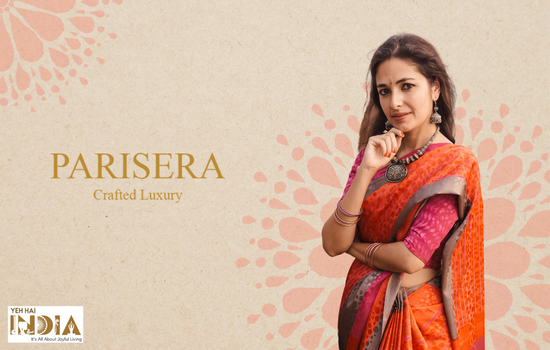 Parisera handloom sarees are made using traditional techniques and are crafted in India's various weaving clusters by skilled artisans. They are made using luxurious fabrics like pure silk, cotton and khadi, with intricate designs and patterns.
Parisera also sources handloom sarees from weavers in various parts of India, including Bengal, Gujarat and Andhra Pradesh. The sarees come in a range of vibrant and beautiful colours and are perfect for special occasions.
They are a great way to celebrate and honour Indian culture and craftsmanship.
Parisera means "environment" in Sanskrit. It was founded in 2014 as an online platform that connected artisans and enthusiasts all over the world. They host both established and small brands as long as they sell completely authentic products.
If you are thinking of giving your wardrobe and your looks a fresh new twist, have a couple of these exquisitely woven sarees made with the best fabric materials.