If there's one place that grabs your attention instantly with its awesome collection of handloom sarees, then it sure is Edhini, a one-stop destination that has everything you want in a saree.
Handloom sarees have traditionally been celebrated in India as a symbol of its colorful culture. The elegance they portray through a series of mesmerising patterns and designs, colours is indescribable.
A variety of weaves, styles and designs have been treasured for a long time by the artisans which makes India truly rich in terms of heritage. Sarees emphasise the elegance and grace in women. May it be any occasion a saree will never let you down.
Edhini brings you a unique and highest quality of Indian handloom saree art collection crafted by the talented weavers from corners of India. 
The tales of handloom sarees have now reached throughout the world. Handloom saree art is being appreciated far and wide. The artisans of India work relentlessly in creating and preserving this art form.
Each handloom saree is unique in every way and is woven with great amount of dedication, love and care which takes months to complete to get the right patterns weaved onto the fabric.
These motifs hand woven on lavish, rich and natural fabrics are astonishing in both appearance and quality.
Geographically, India is divided by different varieties of handloom saree arts found in various parts of the country. Named after the place of origin, each region has its own weaving style, embroidery patterns and designs that are cherished and admired everywhere.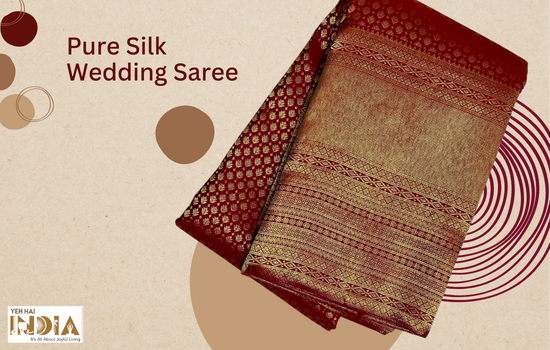 Kanchipuram in south India is famous for handloom Kanchipuram pure silk sarees. They're revered for their fine collection of patterns that are reserved for weddings and festivals.
The bright and rich coloured pure silk fabrics on which gold and silver zari threads are embedded in intricate and beautiful designs stand out beautifully showcasing the high quality weave of the fabrics used for making of such sarees.
Handloom Banarasi pure silk saree named after its place of origin has given Banaras enough reason to be proud of. Ornate designs of zari on pre silk fabrics depict magnificent craftsmanship of the artisans of B
These sarees generally have huge borders and pallu of zari that comprises intricate floral motifs.
Recommended Story – A-Z List of Traditional Sarees from states of India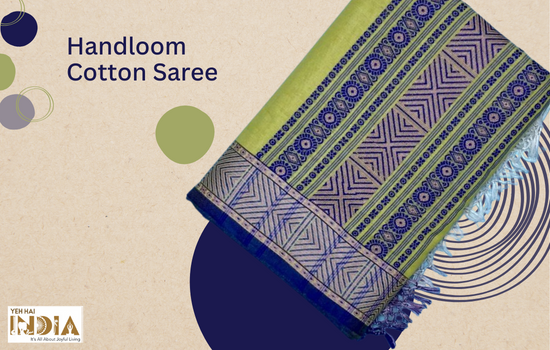 Kolkata is renowned for handloom cotton sarees distinguished by the soft, comfort and light fabric they offer. Handloom pure cotton sarees are the best choice not only during summer but any casual occasion because of the comforting and easy to handle nature of fabric.
Scroll through Edhini's finest collection of authentic Pure Silk Handloom Sarees and rediscover your passion for ethnic clothing.